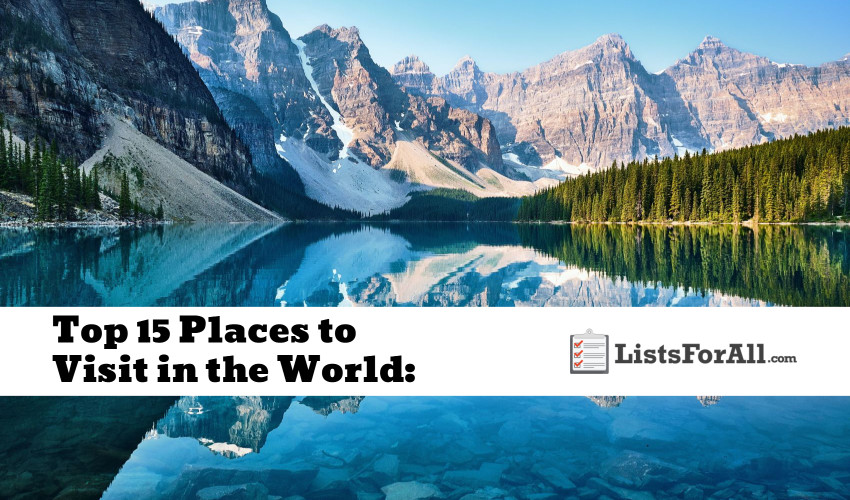 Best Places to Visit in the World: Discovering the Top Places to Visit in the World
When it comes to picking the best places to visit in the world, the list could go on and on. There are just so many unique and amazing places around the world to travel to and visit. So it wasn't easy trying to narrow down our list, but that also means these top places to visit in the world are the best of the best.
This list of the best places in the world will highlight the top travel destinations and will offer something for everyone. Whether you prefer the energy of a big city, the sun and waves of the beach, or something else, this list will have it.
All you need to do is figure out which one is best for you (of course, it might be a couple of destinations).
Many of these places will not only have stunning views and plenty of things to keep you entertained, but they will also have so much more. From new cultures to history to new foods, you will have all that your senses can handle. So start planning your next trip to one of these fantastic places, and get ready to have the adventure of a lifetime!
For even more travel inspiration, make sure to visit our lists of the best vacation spots in the US, the best European destinations, and the best tropical vacations. Just be careful; your travel bucket list is sure to get a lot longer with all of these destinations.
Top 15 Places to Visit in the World:
Language: Italian
Currency: Euro
Destination Highlights: Colosseum, Pantheon, Vatican City
About Location: Rome is one of the oldest cities in the world, dating back to 753 BC. Thanks to this, Rome has been a popular travel destination for a very long time. It is the capital of Italy, and its historic monuments and attractions draw visitors who love history and culture from around the world.
For example, you can visit the Colosseum and tour the spots where gladiators battled. Or, visit the Pantheon, which was constructed as a temple to the gods. Vatican City is also located within Rome (though it is its own sovereign entity). Finally, don't forget to enjoy some fantastic Italian food and wine while you are visiting one of the best places to visit in Italy and the world.
Language: English
Currency: Pounds
Destination Highlights: Buckingham Palace, Big Ben, Museums, and shopping
About Location: London is one of the most visited places in the world, and as the capital of England it is also one of the best places to visit in England. Home to the Queen and millions of Britons, there are plenty of exciting things to do and see here in the heart of the United Kingdom.
For example, stop by the Queen's house, Buckingham Palace, for a tour and see how royalty lives. Or you can see the famous Big Ben clocktower in Westminster (though Big Ben is technically the name of one of the bells inside the tower). Also, as a historic location, England is home to some of the best museums in the world. But no city is complete without ample dining and shopping, of which London offers plenty of both.
Language: Thai
Currency: Thai Bhat
Destination Highlights: Beaches, dining, nightlife
About Location: Phuket is the largest island of Thailand, located on the country's southern tip. Since it is an island, it is, of course, surrounded by some of the most beautiful beaches in the world. Some of these beaches include Rawai, Kata Yai, Patong beach, and Nai Yong beach.
These beaches are great for activities like snorkeling and sailing. In addition, they feature some of the best sunsets in the world. And when the sun goes down, Thailand's renowned nightlife opens up. So enjoy every day and night in Phuket, as dining and entertainment abound.
Language: Japanese
Currency: Yen
Destination Highlights: Modern amenities, traditional shrines, and museums
About Location: Tokyo is Japan's bustling capital. The city is famous for its blend of traditional Japanese architecture and modern skyscrapers adorned with bright neon lights. There are also a number of traditional shrines and some of the most beautiful gardens in the world to visit. For example, the Meiji Shinto Shrine and the Shinjuku Gyoen National Garden are both located in Tokyo.
For a historical look at Tokyo, the Edo-Tokyo Museum traces the city's history back to its founding in 1603. Or, the Samurai Museum gives a fascinating insight into the historical role and symbolism of Japan's classical warriors.
Language: French
Currency: Euros
Destination Highlights: Eiffel tower, restaurants, cafes, and cathedrals
About Location: Paris is perhaps one of the most visited cities in the world, as it is the capital of France. Also, it's a global centerpiece for classical art, exquisite cuisine, and high fashion. It is known as one of the most romantic tourist destinations. This is attributed by many thanks to its classic architecture that gives Paris a pleasant old-world charm (think buildings like the Notre Dame Cathedral).
In contrast, it also includes the more modernist Eiffel Tower. However, one thing that doesn't change is Paris's cafe and restaurant culture. When walking the streets, you'll see diners enjoying light meals outdoors and taking in the beautiful Parisian atmosphere.
Language: English and French
Currency: Canadian Dollars
Destination Highlights: Natural views, hiking, and skiing
About Location: The pristine natural beauty of the Great White North is alive and well in Banff. Located in southern Alberta, the town of Banff is actually located within the Banff National Park, nestled cozily in the Canadian Rocky Mountains. It is also the first municipality in Canada to have been incorporated within a national park.
Because of its location in the Canadian Rockies, Banff is one of the best places to visit in the world for mountain activities like skiing and hiking. Breathtaking views of the mountainous landscape and crisp northern air compose an atmosphere that's sure to impress nature lovers.
Language: Dhivehi
Currency: Maldivian rufiyaa
Destination Highlights: Beaches, snorkeling, diving
About Location: The Republic of Maldives is a small chain of islands off the Indian subcontinent. It is one of the smallest countries in the world, and its capital is barely two square miles. But the Maldives packs lots of beauty and things to do in a small package. Because it's an archipelago in the Indian Ocean, there are, of course, many warm beaches to enjoy.
Consequently, these beaches offer the perfect spots for activities like snorkeling and scuba diving. In addition, the country's capital, Malé, is easily walkable and offers plenty of sights.
Language: Catalan
Currency: Euros
Destination Highlights: Beaches, architecture, food, nightlife
About Location: Barcelona is the second-largest city in Spain. However, the language of the city is not Spanish but rather Catalan, a mix of Spanish and Portuguese. That's because Barcelona sits in the Catalonia region of Spain. An interesting fact, as recently as the 2010s, Catalonia has pushed for independence from Spain.
Barcelona is a popular tourist destination for the classic architecture of the city and the attractions it offers. Specifically, the Sagrada Família basilica is one of the largest churches in the world. Also, Barcelona's beautiful beachfront clubs are fun spots to enjoy the warm waters and cool down with a drink.
Language: Balinese
Currency: Indonesian Rupiah
Destination Highlights: Mountains, wildlife, beaches
About Location: Bali is an island province in Indonesia that was first inhabited over 4,000 years ago. As a result, its culture and traditions are strongly developed and enriching for tourists. Bali's beaches offer perfect year-round weather for activities. However, the island also boasts impressive mountains, like Mount Agung, which challenge visitors to be rewarded with amazing views.
In addition, the natural wildlife is well-preserved as the native population holds a deep respect for their environment. But, visitors can still see some of this wildlife up close at places like the Sacred Monkey Forest Sanctuary. This natural preserve allows visitors to come face-to-face with some of Bali's native monkey species. Bali is great for visitors of all kinds but has especially been known to draw in newlyweds as it is one of the best honeymoon destinations in the world.
Language: English
Currency: US Dollars
Destination Highlights: Statue of Liberty, Times Square, Broadway
About Location: The Big Apple is the biggest city in America. This was the landing spot for many immigrants seeking opportunity in the New World. Now, you too can see the Statue of Liberty as it appeared to people as they arrived hundreds of years ago. However, today Times Square is perhaps the most popular tourist destination in New York City (known for its world-famous New Year's Eve ball drop).
For an entertaining evening, nearby Broadway offers famous shows like Wicked and Hamilton to entertain theatergoers. Or you can simply enjoy one of New York's many museums or world-class restaurants. Known as the city that never sleeps (thanks to its 24-hour subway system), New York City is located on the East Coast of the US and is one of the most visited places in the world.
Language: English
Currency: Australian Dollars
Destination Highlights: Sydney Opera House, beaches
About Location: Despite what many may think, Sydney is not the capital of Australia (that's Canberra). However, it is the capital of the province of New South Wales. As such, it is one of the largest cities in Australia and one of the most visited places in the world. Sydney is known for its iconic skyline.
Specifically, the Sydney Opera House forms the centerpiece of this skyline as it sits on the waters of the Sydney Harbour. But Sydney is also home to many beaches. For instance, Manly Beach, which offers great surfing waves, is about 10 miles from downtown. Also, Coogee Beach and Bondi Beach are well-known tourist destinations for those looking to soak up the beautiful Sydney weather.
Language: Quechua
Currency: Peruvian Sol
Destination Highlights: Historic civilizations, beautiful views
About Location: Set high in the Andes Mountains of Peru, Machu Picchu is a historical site for many tourists. Its construction dates back to the 15th century Inca Empire. At that time, it was built as an estate for the Inca emperor Pachacuti. However, today, tourists who hike will be greeted with amazing views of the surrounding mountain ranges.
Also, they will experience what it was like to walk within the walls of a 600-year-old civilization. The historic site sits over 2,000 meters above sea level. So, the altitude can be challenging for some. But many agree that Machu Picchu is well worth the trip as a place to visit before you die.
Language: Arabic
Currency: United Arab Emirates dirham
Destination Highlights: Luxury shopping, beaches, dunes
About Location: Dubai is one of the wealthiest cities in the world, and therefore, it has many fabulous and exciting activities to offer visitors. For example, you can take a yacht tour or go for an ATV ride on the dunes. There are also plenty of places to go shopping for luxury goods and designer brands.
In addition, some of the modern skyscrapers of Dubai have scenic viewpoints. One example is the Burj Khalifa. Here, visitors can get a birds-eye view of the fancy cars and attractions of the city below.
Language: Greek
Currency: Euro
Destination Highlights: Mountains, water, sunset cruises
About Location: Santorini's hilly landscape is due to a volcanic eruption that hit the area in the 16th century BC. As a result, houses built into the hills of the region give it a characteristic feel. The landscape also offers plenty of hiking and views of the water. In addition, the water is excellent for boating tours.
Hop on a catamaran for an all-day excursion in the Aegean Sea. Or treat you and a loved one to a romantic sunset cruise on the water. Whichever you choose, the bays and mountains of Santorini give visitors a fantastic experience sailing around one of the best islands in Greece.
Language: Spanish
Currency: Chilean Peso
Destination Highlights: Natural landscapes, untouched beauty
About Location: Home to the indigenous Tehuelche and fascinating wildlife, Argentina is a beautiful rural area. Getting to Argentine Patagonia involves traveling through Buenos Ares, which should give you an idea of how remote the region is. Once you're there, the three districts of Patagonia each offer unique sights.
The Lake District is great for skiing and views of one of the largest lakes in the area. The Atlantic section has the Punta Tombo Wildlife Sanctuary, where you can see penguins and other native animals. Finally, Southern Patagonia is where you can see glaciers like Perito Moreno. These natural landscapes are among the best places to visit in the world for anyone looking to get away from it all.
Best Places to Visit in the World Conclusion:
Hopefully, after reading through this list of the best places to visit in the world, you are sure to be feeling inspired to travel. Not only to travel but to experience all that a new place has to offer. Instead of just being a typical tourist, be willing to dive into the culture, language, food, and everything else that a city or region has to offer.
Not only will your trip be more fun, but it will be so much more meaningful. And before you know it, you will leave with a much greater appreciation for people that may do things differently than you. You might even want to start traveling more often and write about your adventures. This is how many travel blogs got their start as one trip turned into a lifetime of new places and adventures.
Having this positive mindset and embarrassing each culture will keep you from having your vacation ruined by other tourists. If you have done any amount of traveling, you have most likely experienced travelers that seem to think they are the only thing that matters and want to let everyone know when something doesn't go their way. Don't be that traveler. Instead, go with the flow and enjoy all of the sites, sounds, and smells of your trip.
To help you out on your travel adventures, make sure to visit our list of the best travel accessories. This list will make sure that you are fully prepared for your trip with all the essentials.
Have you been to any of the places on this list? If you have, we would love to hear your feedback in the comments below.