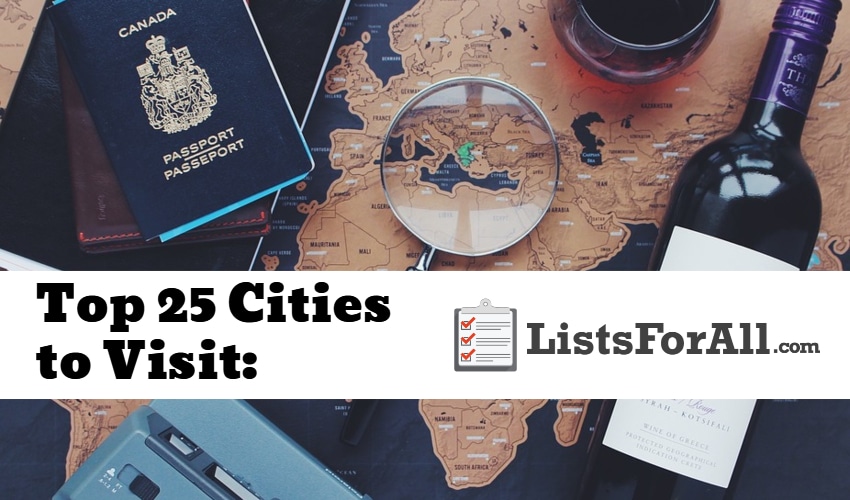 Best Cities to Visit: Discovering the Top Cities to Visit in the World
Sure, the countryside is pleasant, but for those who like to feel the pulse of a country, city life is where it all goes down. From towering skyscrapers to quaint alleyways lined with shops, many cities make ideal vacation spots. Whether you are looking for tried and true favorites or lesser-visited cities, this list of the 25 best cities to visit is for you.
This list of the best cities to visit will highlight the top cities from around the globe and all of the city life that comes with each city.  With this list, you can learn more about each of these top cities, and then, hopefully, plan a trip to visit a few of them at some point. 
Of course, the best cities, like anything else, are personal opinions, but we do not doubt that as you scroll through the list, there will be a city for you.
Top 25 Cities to Visit:
City Highlights: Floating Market, Wat Arun, Excellent Food, Night Life.
About City: From its temples to its food to its nightlife, Bangkok has something to offer for everyone. Add in the fact that Bangkok is one of the cheapest cities on this list to visit; your dollar will go a lot further here. With places in the city like the floating market and Wat Arun (The Temple of Dawn), you will have plenty of places to visit and go exploring.
City Highlights: State of the Art Buildings, Beaches, Waterparks, Luxurious Offerings.
About City: Plopped in the middle of the desert, the modern metropolis of Dubai is a city like no other. Home to the tallest building in the world, Dubai also offers an indoor ski slope just minutes from its lovely beaches and one of the best water parks in the world. This oasis of modern living is going to allow you to experience the newest and best when it comes to city life. Be ready to be amazed when you visit the city of Dubai.
City Highlights: Five-Star Dining, Iconic Landmarks, Activities 24/7, Unique Cultures.
About City: New York, New York! As the biggest city in the United States, New York's five boroughs offer world-class entertainment. Five-Star dining, museums galore, and iconic landmarks will satisfy the most discerning visitor. New York City is one of the most active cities in the world and is a must-visit if you enjoy experiencing new things.
City Highlights: European Feel, an Energy in the City, Excellent Food and Drinks.
About City: Although situated in South America, Buenos Aires has a decidedly European feel. Be sure to walk around at night, when the whole of Buenos Aires seems to come alive with Tango, food, and drinks. For a city that feels like it is alive, the city of Buenos Aires is not to be missed.
City Highlights: Fashion, Food, Iconic Monuments, History, Culture.
About City: If it isn't broke, don't fix it – Paris is one of the most visited cities in the world, and for a good reason. The city of lights offers fashionistas, history buffs, and foodies all something to rave about. Paris is indeed an experience that every world traveler must check off of their list. With monuments like the Eiffel Tower, the Arc de Triomphe, the Sacre-Coeur, and plenty of other unique side adventures, you will have plenty of great places to visit.
City Highlights: Scenic Views, Iconic Sites, Beautiful Countryside Surrounding the City, Michelangelo's David Sculpture.
About City: In the heart of lovely Tuscany, Florence, Italy, or Firenze in Italian, is a famous Italian city that is well connected to the rest of Italy. The terracotta tiled roof of the Duomo is just one of the iconic sites in Florence. Add in the rolling hills around Florence, and you have scenic views around every corner. Be sure to also visit Michelangelo's David sculpture while in town!
City Highlights: Charming Bridges, Fun Nightlife, Port Wine.
About City: Famous for its port wine production, Porto is a colorful coastal city in northwest Portugal. Charming bridges traverse the city, and the buzzing nightlife gives visitors a unique taste of the city. As the second-largest city in Portugal, Porto is a destination that should not be missed.
City Highlights: Historical Sites Around Every Corner, Excellent Dining, Amazing Culture.
About City: A bustling town full of life, there is always something to do in Rome. From shopping to dining to soaking in the ambiance, the capital of Italy is worth visiting any time of the year. The biggest issue that you will have is making time for all of the great sightseeing that is available.
City Highlights: Site Seeing Around Every Corner, Experience Unique Culture, Gardens, Excellent Dining.
About City: Iconic sites abound everywhere in London. Sites like Big Ben, Westminster Abbey, and Buckingham Palace are around every corner. Unique and quirky destinations also abound, though. Neighborhoods like Covent Garden feature fantastic restaurants, while neighborhoods like Camden feature a grittier, yet still fantastic take on London. You can visit London time and time again and still not discover it all. So be sure to allow for plenty of time when visiting this bustling city.
City Highlights: Beautiful Castles and Architecture, Excellent Dining and Beverages.
About City: Full of Old World charm, Prague is an affordable and charming city to visit. Home to one of the best castles in the world, as well as the largest castle complex. Prague also features the iconic Charles Bridge, plenty of good beer, and charming Art Nouveau architecture. For big-city offerings at affordable prices, Prague should not be missed.
City Highlights: Excellent Visiting Year-Round, Beaches, Iconic Buildings, Art and Culture.
About City: The capital and largest city of Catalonia, Barcelona is a cosmopolitan city. With mild weather, Barcelona is the perfect destination year-round. Gaudi's unique buildings can be seen around the city, including the famous still under construction Sagrada Familia Church. Also, don't forget about the popular Barcelona beaches for some fun in the sun.
City Highlights: Golden Gate Bridge, Close Proximity to Several National Parks, Unique Cultures Around the City.
About City: Situated on the water, San Francisco is a stunning city year-round. The Golden Gate Bridge makes for great photo opportunities, while sites like Alcatraz, Fisherman's Wharf, and Chinatown add to the appeal. Add in popular professional sports teams, and San Fran is a city that has it all.
City Highlights: Massive Skyscrapers, Beautiful Parks, Excellent Walking Paths, Unique Culture.
About City: A port city in southern Taiwan, Kaohsiung is a diverse city that features massive skyscrapers and tranquil parks. The Love River that cuts through the city is a popular tourist destination because of its walking paths, cruise ships, and numerous cafes. For a unique Asian city experience, Kaohsiung is not to be missed!
City Highlights: Diamond District, Excellent Sightseeing, the Art in the Rubens House.
About City: Full of history, Antwerp is a well-connected and well-situated city to visit other cities in western Europe. The city offers a wide variety of great sightseeing. A couple of must-visit places in the city are the diamond District, whether you need a diamond or not, and Rubens House, which offers period rooms featuring works of art by famous Flemish painter Peter Paul Rubens.
City Highlights: Culture, Art, Nightlife, Home to the Spanish Royal Family, Iconic Monuments.
About City: Madrid is the capital city of Spain and is full of life, culture, and plenty of great sightseeing. Home to the Spanish Royal family, palaces are mixed in with modern metropolitan areas of the city. A couple of the monuments that highlight the city are the Royal Palace and the Plaza Mayor. And, if you enjoy art, there is a vast art community in Madrid and plenty of museums and pieces to see.
City Highlights: Excellent Dining and Beverages, The Grand Palace, Museums.
About City: Belgian waffles, beer, and chocolate – what more could you want? How about a city that oozes European charm? Visit the Grand Place to people-watch, stop in one of the many museums the city offers, and then head over to one of many well-cared-for parks to rest and relax.
City Highlights: Explore by Bicycle, Boat Through Canals, Enjoy Dining in the Many Cafes and Bars.
About City: Amsterdam is a one-of-a-kind city, and the 3.5 million visitors that it boasts every year proves this. You will be able to explore a lot of the city by bicycle and boat through the different canals that weave throughout the city. With bars and cafes pretty much on every corner, make sure you have time to enjoy Amsterdam at the pace of the locals.
City Highlights: A Bikers and Boaters Paradise, Castles, Museums.
About City: The capital of Denmark, Copenhagen, is a biker and boaters paradise. With most residents commuting by bike or boat, Copenhagen is a unique Nordic city that is sure to impress. Be sure to visit Nyhaven, a waterfront, canal, and entertainment district, and then visit one of the many castles and museums the city has to offer.
City Highlights: Open Air Markets, Gardens, Palaces, Fun Exploring Around the Whole City.
About City: Marrakech is a feast for the senses. Its open-air markets in the heart of the Medina offer surprises at every turn. Be sure to taste the many varieties of Tajine (a delicious stew-like staple) while you are there. Marrakech is known as the "Red City" because of its buildings and ramparts that are made of beaten clay. This city is an explorer's dream. Marrakech's gardens, palaces, mosques, courtyards, and markets, will allow for epic exploring.
City Highlights: Unique Animals, World-Class Beaches, Water Sports.
About City: A beautiful down under experience, Sydney boasts some of the best weather in the world. Situated on the water, Sydney is a cosmopolitan city – people from all over the world flock to Sydney for its food and outdoor experiences. And, who wouldn't want to see a koala and kangaroo up close? For great weather, a great city, and an experience all its own, Sydney is a must-visit city.
City Highlights: Stunning Architecture, Beautiful Scenery, Unique and Welcoming Culture.
About City: Reykjavik is not a traditional, bustling metropolis. The city only has a few hundred thousand people calling it home. What the city lacks in size, though, it makes up for in character. Reykjavik boasts stunning architecture, out-of-this-world scenery and natural wonders, and friendly, welcoming residents. If you are looking for unique, Reykjavik is where it is at.
City Highlights: Excellent Dining, Aztec Temple Remnants, History and Culture.
About City: Mexico City has undergone a massive transformation in recent years. It offers revamped public spaces and a flourishing dining scene that is enjoyed by many. Culture also abounds here. From Aztec temples to remnants of the Spanish conquistadors, Mexico City is full of history and culture. For a true hustle and bustle city, the densely populated Mexico City is the place to be.
City Highlights: Mix of Old and New, The Great Way, Temple of Heaven, the Forbidden City, Tiananmen Square.
About City: Beijing is a mix of old and new. Here age-old markets exist alongside towering skyscrapers. After you get some Beijing street food, take a short ride out of the city to visit the famed Great Wall. Along with visiting the Great Wall, you will be able to spend hours and even days checking out all of the other great sights around the city. A few of our favorites are the Temple of Heaven, the Forbidden City, and Tiananmen Square.
City Highlights: Streets of Water, Excellent Dining, Unique Views Around Every Corner.
About City: Who wouldn't want to visit a city where one of the primary forms of transportation is a water taxi? Between your gondola rides, however, be sure to try some pizza and take in an opera performance. The city of Venice is a truly unique experience that will leave you with some great travel stories.
City Highlights: Charm and Quaintness, Excellent Sightseeing, a Unique Look at Spanish Culture.
About City: Not as high profile as some of the other European cities on this list. Seville still offers charm and quaintness aplenty. With its Moorish heritage, there is plenty of unique architecture around the city as well. And, after a long day of sightseeing, tapas is the perfect way to end a night. Seville will allow you to experience Spanish culture firsthand.
Best Cities to Visit Conclusion
Not only is there a bunch of amazing cities on this list. There are also some really great cultures that go along with each city. When visiting these cities, you will not only be able to see amazing buildings, eat great food, etc. You will be able to experience a different way of life.
So start planning your next trip to one of these fantastic cities! And, don't forget to take in everything around you when you do.
We would love to hear your feedback on any of these great cities in the comments below. So if you have been to one, please feel free to leave a comment.