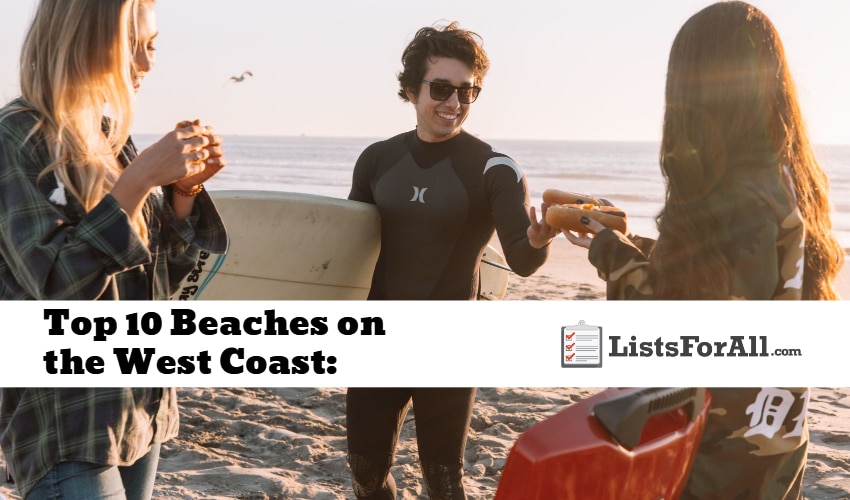 Best Beaches on the West Coast: Water, Sand, and Fun in the Sun
It is hard not to picture the West Coast without thinking about its amazing beaches. But what you may have not considered is just how many stunning beaches the West Coast offers along its coastline. From California up to Washington, there are numerous beaches that you could visit. That is why we wanted to create this list of the best West Coast beaches. This way, you will know exactly what each beach offers and how to best plan your trip.
From watersports like surfing to enjoying the sun and sand to exploring small beach towns, this list of the best beaches on the West Coast will have you covered. You will be able to find the perfect beach for you, or maybe even plan on visiting several of them on your trip.
When it comes to planning your trip out west, make sure to visit our list of the best travel sites, best travel blogs, and best travel accessories. These travel-related lists will make sure that you have everything you need to maximize your trip and help save you money and time.
Top 10 Beaches on the West Coast:
State: California
Highlights: Exceptional art galleries, scenic views, and world-class resorts.
About Beach: As one of the best Cest Coast beaches, Laguna Beach is the perfect setting for a well-rounded vacation. Located in Orange County, California, a plethora of local art galleries and museums fill the town. During the summer season, you can find artisans showing their work off at numerous art festivals.
Moving toward the ocean, cliff-side trails and secluded coves naturally give you plenty of outdoors to explore in the sea breeze. Following your day in the sun, stay at one of the renowned resorts that feature luxurious rooms, spas, and pools with ocean views.
State: Oregon
Highlights: Great day trip option from Portland and a charming beach town.
About Beach: Here at Cannon Beach, forests meet the beach in an enchanted, natural landscape. Firstly, follow the scenic route northwest from Portland through Tualatin Valley. Guided tours include historic stops along the way and incredible views. Once you reach Cannon Beach, divide your time between walks on the beach and poking around the quaint seaside town.
State: Washington
Highlights: The great outdoors, intimate beach experiences.
About Beach: Experience the finest of nature and wildlife flourishing right on the coast in one of the United State's best national parks, Olympic National Park.  Travel through the dense forest and across the Puget Sound from Seattle to reach 70 miles of picturesque beaches.
Additionally, with all this space, you have the option to find your own private-section beach where you might catch a glimpse of some whales or seals. The ideal time to visit is July and August when the rains and wind are lessened.
State: California
Highlights: Towering rocks and cliffs and gorgeous photography.
About Beach: Tucked away in Los Padres National Forest, Pfeiffer Beach ranks high on the list of best West Coast beaches because of its diverse collection of natural treasures. One of its most prominent features is Keyhole Arch, which is illuminated by sunset each evening to reveal a stunning photo opportunity.
With this view, undoubtedly, Pfeiffer beach ranks as one of the best beaches on the West Coast. In addition to viewing Keyhole Arch, you can also visit a shielded cove or check out the unique purple sand on the north end of the beach.
State: Washington
Highlights: Spectacular boardwalk and multi-use trails.
About Beach: Located on a peninsula in the southernmost corner of Washington state, Long Beach offers excellent outdoor activities and sweeping views of the Pacific. In a similar fashion to many beaches on the West Coast, Long Beach has a remarkable boardwalk that accentuates the landscape instead of packing in the rides. Last but not least, enjoy walking, running, biking, and more along the Discovery Trail.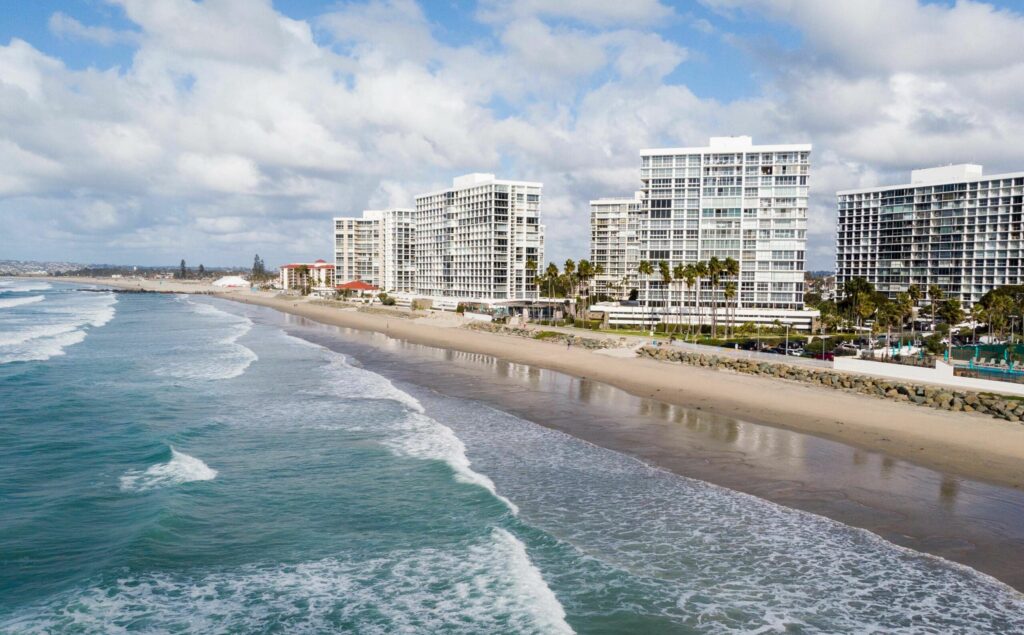 State: California
Highlights: White sand beaches and a vibrant beach town.
About Beach: Are you looking for relaxed, white sand beaches? Then add Coronado Beach to your list. Whenever you find yourself near San Diego, drop in and check out this island. On account of the pristine white sand beaches, Coronado Beach gives east coast beaches a run for their money.
Besides being one of the best beaches on the West Coast, the island also offers delightful shops and restaurants and the dreamy, Victorian-style, Hotel del Coronado. Moreover, you can catch the annual Surf Dog Competition and watch in awe as pooches of all sizes hang ten.
State: California
Highlights: Great family beach and a campground with a view.
About Beach: Just north of San Diego, up the I-5, you can stop by one of the most popular beaches on the West Coast, Carlsbad State Beach. When you arrive, immediately visit the bluff rising above the beach. Here you can also find a charming campground.
Once you have enjoyed the sea breeze and expansive view from up here, take the stairs that lead down to the beach. In addition to basking in the California sun, everyone can enjoy a wide array of activities such as swimming, surfing, snorkeling, fishing, and more.
State: California
Highlights: Surf city USA, updated resorts, and beach activities.
About Beach: If you are looking for surf central, look no further than a short dash south of Los Angeles, Huntington City Beach. Comparable to other world-class surfing spots, Huntington City Beach boasts the perfect waves for surfing. Subsequently, this beach has been calling surfers to its waters for over 100 years.
When you are ashore, stay at one of the beautifully maintained resorts nearby for easy beach access. First, before you hit the surf, start your day with some yoga or a quick bodyweight workout on the beach. Afterward, decompress in the evening by sitting around one of the 500 bonfire locations that line the shore.
State: Oregon
Highlights: Beach town with history and an impressive rock formation in the waves.
About Beach: Many of the best beaches on the West Coast feature incredible geological creations, but Rockaway Beach holds one of the most interesting. Rising significantly out of the water, Twin Rocks catch your eye from miles around.
Previously formed by lava flow, these ancient wonders give you a unique horizon to enjoy. Following your time by the ocean, explore the delightful beach town composed of Victorian-style buildings, unique bars with tasty mixed drinks, and retro shops.
State: California
Highlights: Close to Los Angeles, historic pier, and Roundhouse Marine Studies Lab and Aquarium.
About Beach: Manhattan Beach is one of the loveliest beaches along the West Coast and can be found right outside Los Angeles. Besides the abundance of water sports for your entertainment, you can also find lots of fun waiting for you on the historic Manhattan Beach Pier.
Perched on the end of the pier is the free-to-experience Roundhouse Marine Studies Lab and Aquarium. Despite all the seaside recreation, you can also find a variety of boutiques and restaurants waiting for you.
Best Beaches on the West Coast Conclusion
Not only are these some of the best beaches on the West Coast, but they also compare with some of the best beaches in the world. And as some of them are relatively close to each other, you could plan your trip around visiting multiple beaches on the West Coast.
Outside of the beaches, California, Oregon, and Washington are also some of the best states to visit and plan a vacation. So if the beach is only part of your vacation plans, you will also have plenty to do and see inland as well. With the right planning, you could visit the beach, see some of the best waterfalls in the world, visit a national park or two, and also enjoy some of the best cities to visit as well in Los Angeles, San Diego, etc.
All of this makes the West Coast one of the best vacation spots in the US and perfect for family vacations, spring break destinations, or any other type of trip. And if you are looking to check out some of the best beaches on the other coast, our list of the best East Coast beaches will have you covered.
Have you been to any of these beaches on the West Coast? If so, we would love to hear your feedback in the comments below.