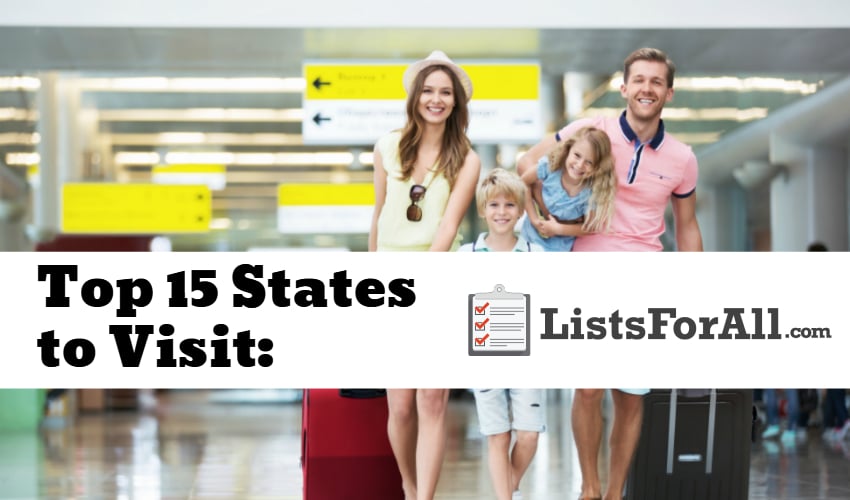 Best States to Visit: Everything You Need to Know
With 50 states to choose from, all with a different feel, the United States offers something for everyone. From rugged mountains to sandy beaches to vast farmlands, each state has its own beauty.
Besides the natural beauty of this great country, you also have the opportunity to enjoy a wide array of cultural differentiation within one state and even within one locale. America's reputation as a "melting pot" is accurate for plenty of reasons. On any given weekend during almost anytime of the year and definitely during the summer, you can find local celebrations celebrating a unique aspect of American culture.
From county fairs and festivals that celebrate the agricultural and industrial heritage of the northeast to community sales that stretch for miles in the southeast, rodeos in the central south and mid-west, and the never-ending variety of fun and culture in the western states American tourists can experience almost anything that humans developed.
And, if you walk away from any of them hungry or thirsty, there's no one to blame but yourself. If you haven't taken the time to enjoy genuine Cajun-Creole, Tex-Mex, amazing sea coast cuisine, traditional danishes, spaetzle, bratwurst, funnel cakes, and thousands of other unique food and drink classics from the places that make them the best, then you need to let yourself live a little.
In this list of the best states to visit, we have compiled 15 great states (in no specific order). With so much to offer, the states on this list are perfect for a first-time visit or a visit for the umpteenth time. Who knows, your perfect trip might be just around the corner!
For even more vacationing and travel advice, make sure to check out our lists of the best travel accessories, best travel blogs, and best travel sites.
Top 15 States to Visit:
Top Places to Visit: Boulder, Colorado Springs, Denver, Vail, Aspen
State Highlights: Great Outdoor Spaces for Adventuring, 300 Days of Sunshine a Year in Denver
About State: Home to the Rocky Mountains, Colorado is known for being progressive and outdoorsy. Visitors can enjoy fantastic skiing (Colorado is known for having some of the best skiing destinations in the US), fresh air, great hiking, a happening nightlife in Denver and Boulder, and year-round sporting activities.
Top Places to Visit: Fargo, Bismark, Devils Lake, Theodore Roosevelt National Park
State Highlights: Hunting and Fishing, Unique Towns, A vibrant Native American Culture
About State: An off-the-radar location until recent years, North Dakota is more than just oil. Located just east of Montana, North Dakota offers excellent hunting and fishing, as well as funky towns full of unique boutiques and eateries. A vibrant Native American culture also adds to the appeal. It also has one of the best national parks in the country in Theodore Roosevelt National Park.
Top Places to Visit: Richmond, Washington D.C., Virginia Beach, Charlottesville
State Highlights: Access to All the Monuments and Museums that DC has to Offer, Hiking and Exploring in the Blue Ridge Mountains
About State: Virginia is for lovers, and it should also be for you as well. Filled with history, the scenic Blue Ridge Mountains, caverns, theme parks, and so much more, it is a must-visit. Along with having so many great sites and attractions to visit, it is also right next to the nation's capital. This means that you will be able to hop over there for a day or two as well.
Top Places to Visit: Boston, Cape Cod, Martha's Vineyard, Nantucket
State Highlights: Seaside Towns, The History of Boston, Beaches, and Countryside
About State: Quintessential New England, Massachusetts, offers quaint seaside towns, as well as bustling city life. With seafood, beaches, greenery, and history galore, the small state of Massachusetts is big on personality. History buffs will especially love all the colonial history that Massachusetts offers.
Top Places to Visit: Honolulu, Oahu, Maui
State Highlights: Access to Six Different Islands, World-Class Beaches, Volcanoes, and Rainforests
About State: With six unique islands to choose from, Hawaii is an exceptional state. From world-class beaches to volcanoes to lush rainforests, Hawaii offers something for everyone. Whether you are looking for peace and tranquility or fun and adventure, Hawaii is perfect for visitors of all ages.
Top Places to Visit: Bozeman, Yellowstone National Park, Glacier National Park
State Highlights: Access to Two of the Most Famous National Parks in the Country, Hunting, Fishing, and Exploring
About State: Montana is the land of open spaces. It is the fourth largest state but only has the 44th largest population. This leaves open opportunities for exploring land that is still untouched by civilization. With some of the most breathtaking views in the 50 states and even the world, Montana is absolutely worth a visit.
Top Places to Visit: Louisville, Lexington, Mammoth Cave National Park
State Highlights: Whiskey Distilleries, Horses, A National Park, Food, and Sports
About State: Famous for its rolling hills, bourbon, and horses, Kentucky is perfect for families and individuals. The adventurous types will really enjoy Kentucky – top-notch caving, hiking, and biking abound here. In between all the activities, be sure to check out some of Kentucky's stellar food and sports scenes.
Top Places to Visit: Arizona, Grand Canyon National Park, Sedona, Scottsdale
State Highlights: Access to the Grand Canyon, Petrified Forest, and Monument Valle, Nightlife and Dining in Phoenix and Scottsdale
About State: The fact that the Grand Canyon is located in Arizona makes it worth a visit all on its own. Outside the Grand Canyon, though, there are still so many amazing places to visit. There is the Petrified Forest, Monument Valley, and a more civilized option in Phoenix and Scottsdale.
Top Places to Visit: Asheville, Charlotte, Great Smoky Mountains National Park, Raleigh
State Highlights: The Biltmore Estate, Hiking and Exploring the Great Smoky Mountains
About State: With rolling hills and a temperate climate, North Carolina makes for an ideal getaway. The Biltmore Estate is located here, but if mansions aren't your thing, North Carolina also offers a number of private and picturesque cabin rentals. Add in happening cities like Raleigh and Charlotte, and there is something for both the country lover and city lover.
Top Places to Visit: Jackson, Yellowstone National Park, Grand Teton National Park
State Highlights: Skiing, Hiking and Exploring, Access to Yellowstone and Grand Teton National Parks
About State: Rugged and unspoiled, Wyoming is the perfect place to get away from it all. Famous parks like Yellowstone and Grand Teton allow visitors hours of enjoyment. Additionally, a host of outdoor activities, as well as lodging, make Wyoming an ideal spot to visit.
Top Places to Visit: Portland, The Oregon Coast, Crater Lake National Park
State Highlights: Hiking and Exploring the Oregon Coast, Portland's Exceptional Downton, Dining, and Culture
About State: The Oregon coast is one of the most breathtaking places in the world and part of the reason why Oregon is one of the best states to visit. Throw the quirky and fun city of Portland into the mix, and Oregon is the perfect place to get breathtaking views, great food, an eclectic shopping scene, and stellar hiking trails.
Top Places to Visit: Miami, Orlando, Key West
State Highlights: Beaches, Theme Parks, World-Class Resorts
About State: Boasting some of the best beaches in the world, Florida is a haven for sun worshipers. Popular attractions like Disney World and Busch Gardens also make Florida a very family-friendly spot to visit. World-class dining and outlet shopping in the US also add to Florida's appeal. For a more in-depth look at the beaches in Florida, check out our list of the best beaches in Florida.
The great thing about these beaches in Florida is that several of them are close enough to visit all in the same trip. So an excellent option is to rent a car in Florida and then plan out several different beaches to visit on the same trip. This is fun because each beach and beach town has a different feel and is full of unique things to see and do.
Top Places to Visit: Los Angeles, San Francisco, Yosemite National Park
State Highlights: Hollywood, the Golden Gate Bridge, National Parks, Beaches, and Iconic Highway 1
About State: With a great climate and range of topography, California is one of the best states to visit and has something for everyone. Iconic sites like Hollywood, Los Angeles, the Golden Gate Bridge, and Coronado Island offer something for every member of the family. And, don't forget about scenic Highway 1, which is one of the most scenic drives in the world.
Top Places to Visit: New York City, Catskill Mountains, Upstate New York
State Highlights: Everything the Big Apple has to Offer, Hiking in the Countryside, Wineries, and the Catskill Mountains
About State: New York is a must-see, not just for NYC, the largest city in the United States, but also for its idyllic countryside and wineries. For both the city and the countryside, check out New York in the early fall, where colorful fall foliage is sure to awe and inspire.
Top Places to Visit: Dallas, Houston, San Antonio, Austin
State Highlights: A Vibrant Music Scene in Austin, the Space Program in Houston, Food, Beaches, and Historical Sites
About State: The largest state in the continental US, Texas, is home to great sports teams, fantastic food, and a surprisingly diverse culture. Be sure to check out coastal Texas, especially multicultural Houston, which boasts a space program and great nightlife.
Best States to Visit Conclusion
We could've found something in all 50 states that would be worth visiting, but unfortunately, we needed to narrow the list down a little more than that. We hope that this list of the best states to visit will inspire you to travel and visit some of these great places.
In a country as large and diverse as America, there's undoubtedly something to find that will fascinate and enrich everyone and provide some of the best memories ever. Educationally too, travel is an excellent aid for kids to learn and appreciate some of the things that they learn about in school.
Even with all the wonders of technology at our fingertips, there's still something to be said for being in the places you learn about in the history books. That's why schools still take field trips to museums and other interesting places that allow you hands-on learning.
If you take a trip to one of these great states, we would love to know how your trip went in the comments below!