Best Outlet Malls in America: The Top 25 List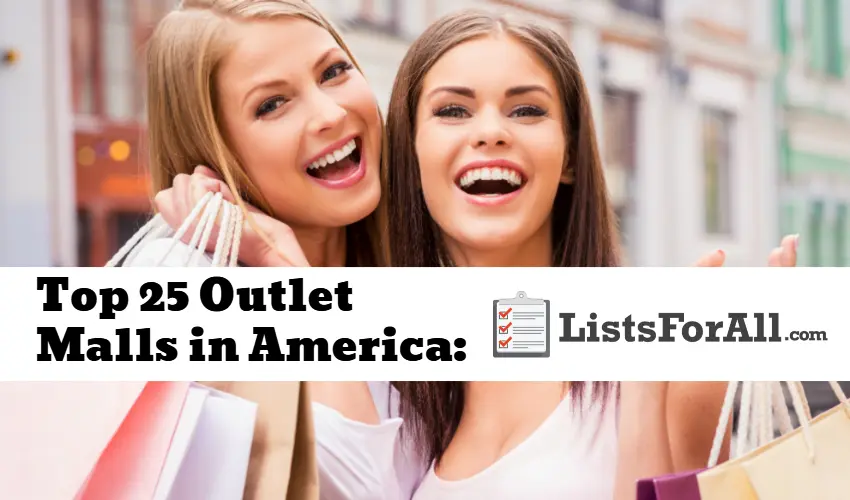 Outlet Malls in America: The Best Places to Shop and Save
Who doesn't love a good deal? Truly savvy shoppers know that to score rock bottom prices on designer brands, outlet malls are the way to go. In this list of the 25 best outlet malls in America, we detail outlet malls from all across the country. Some are small, some are big, some are West Coast, and some are East Coast, but all of the outlet malls on this list offer up considerable savings.
And, if you are looking to do some online shopping from where you are at now, make sure that you checkout our list of the best online shopping sites. Now, what are you waiting for? Let the shopping commence!
Top 25 Outlet Malls in America: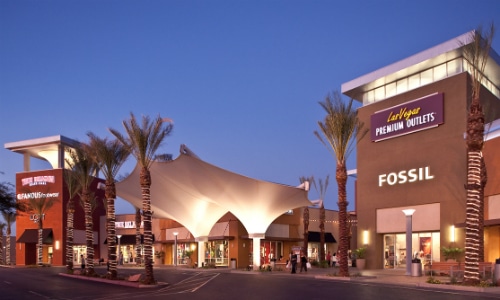 Featuring both a Premium Outlets North and South, the two Las Vegas Premium Outlets are located ten miles apart. Both locations feature approximately 150 outlet stores, with everything from Armani to Ann Taylor featured. Whether you visit one location or both, you are sure to get great deals on a variety of designer brands.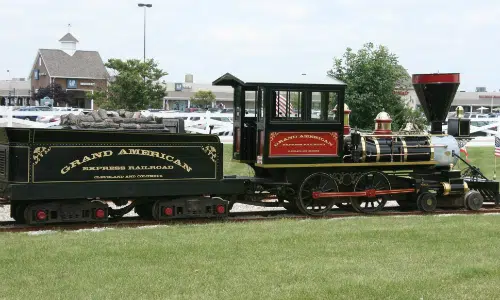 Featuring over 60 different stores and located 30 minutes from Akron, Ohio, the Lodi Station Outlets are a great choice if you find yourself in Ohio. Along with great shopping, the Lodi Outlets have an IMAX theater, trampolines and a vintage train with over 2 miles of track.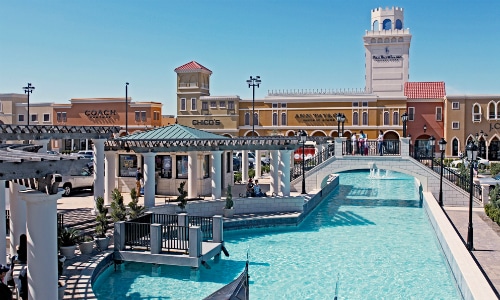 Designed after the Piazza San Marco in Venice, San Marcos Premium Outlet is a beautifully designed outlet mall north of Austin. The outlet's 145 stores include favorites like Michael Kors, Lululemon Athletica, and Victoria's Secret. For real savings, San Marcos is not to be missed.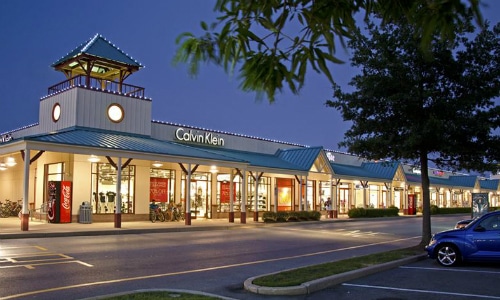 Right in the heart of the beach action, Tanger Seaside Outlets is easily accessible by beach-going tourists and locals alike. A number of popular stores are featured, including GUESS, Coach, J. Crew, and Vera Bradley. Delaware also features tax-free clothes shopping which means even more savings.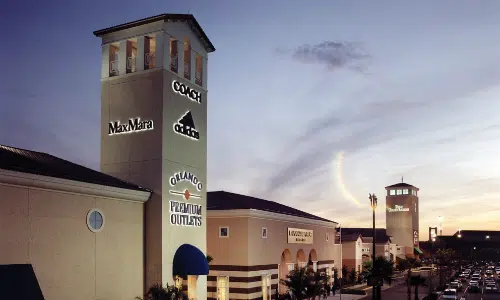 An outdoor shopping center that features over 160 designer and name-brand outlet stores, Vineland Premium Outlets is a popular shopping destination for locals and tourists alike. Shoppers can save up to 65% off popular brands, and with the Prime Outlets just a hop, skip, and a jump away, saving conscious shoppers can easily hit two outlet malls in one day.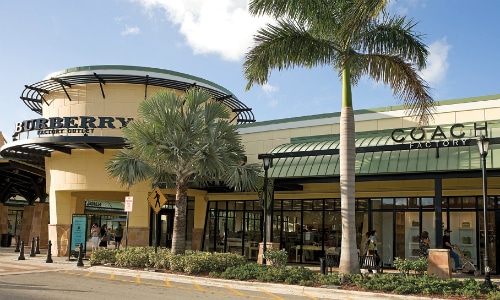 Featuring more than 350 stores, Sawgrass Mills Outlets is a massive outlet center. Enclosed and air-conditioned, Sawgrass Mills is just a short drive from both Miami and Fort Lauderdale. Popular outlet stores include staples like Nike, Gap, and Tommy Hilfiger, as well as luxury brands like Burberry, Jimmy Choo, Prada, and Versace.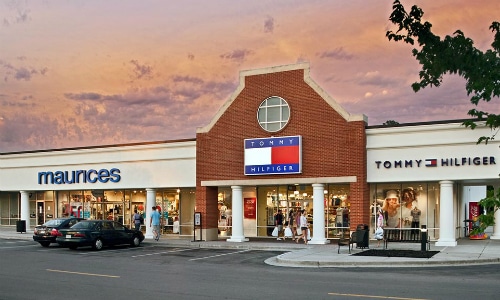 This is one of the smaller destinations on this list of the best outlet malls. What it lacks in size though, it will make up for in savings. Also, you will be able to enjoy your shopping in a more relaxed environment with less of a crowd. Checkout the Calhoun Premium Outlets to find your next great deals.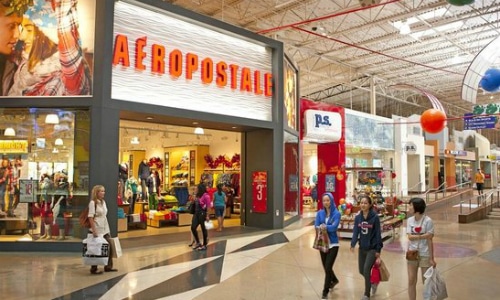 Arundel Mills is one of the larger outlets on this list with over 200 indoor stores that you can shop at. Along with shopping, there is also a movie theater, plenty of dining options, and activities for all ages.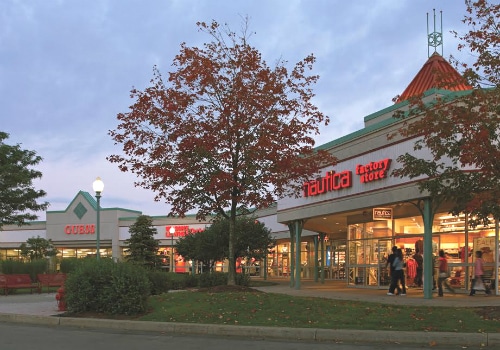 A beautifully designed outlet mall in the heart of Finger Lakes wine country, the Waterloo Premium Outlets features over 100 stores. Designer and name brand stores like Loft Outlet, Polo Ralph Lauren, Under Armour, and Nike are all featured at the outlets, and provide buyers with savings of up to 65% off.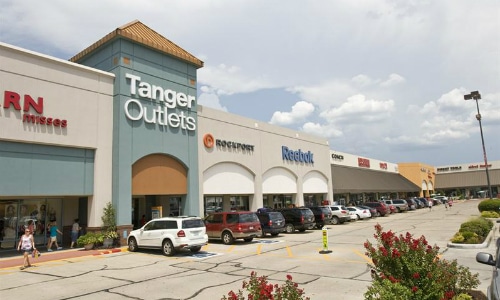 There are Tanger Outlets located all over the United States. One of our favorites though is located in Branson, Missouri. Make sure you checkout the Tanger Outlets mobile app to see what deals are happening at the outlets for extra savings.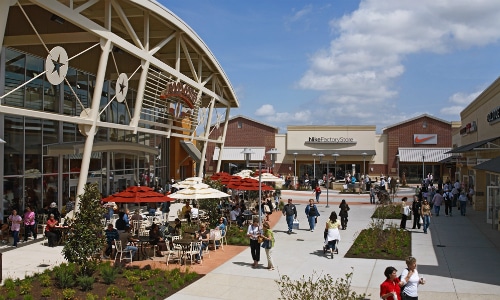 The Houston Premium Outlets offer 145 designer and name-brand outlets. There is a wide range of stores from designer jewelry to athletic clothing. Every day there is savings between 25% and 65%.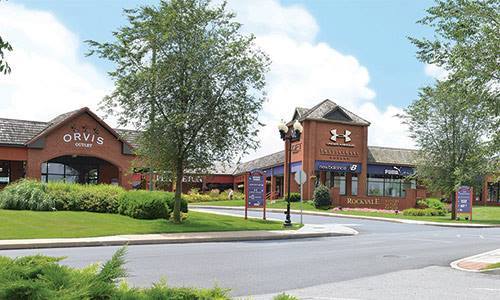 Situated in the heart of Pennsylvania Dutch country, the Rockvale Outlets offer a variety of deeply discounted, high-end premium brands. Over 80 stores are located at the outlets, as well as a number of restaurants. Pennsylvania's no sales tax on clothing and shoes will also help you save even more cash.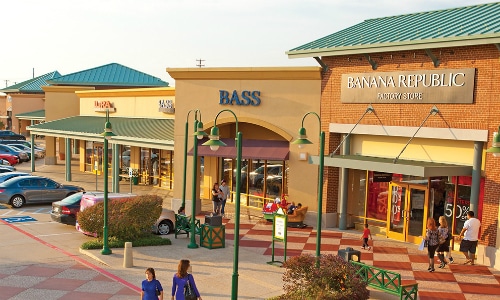 Located north of Dallas, this outlet center offers over 100 different stores. Some of the brands include designers like; Coach, Michael Kors, and Kate Spade New York. It also provides all the other popular chain outlets as well.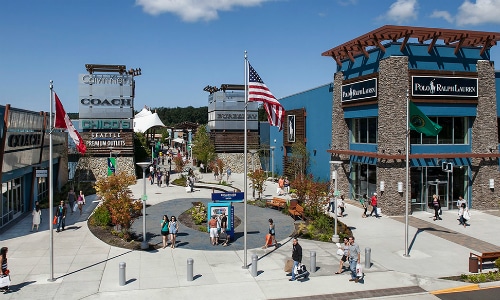 With over 125 different stores like; Adidas, Burberry, Calvin Klein, J. Crew, and other premium stores you are sure to be able to find everything that you are looking for, and at a great deal.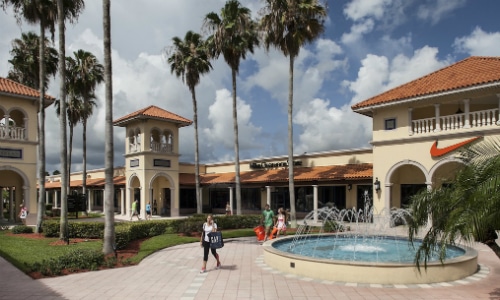 The Florida Keys is a paradise all it's own. Now add in some of the best shopping in the South East, and you have a winning combination. With 55 different stores, you will be able to get in some great shopping between the beaches, fishing, and other water sports.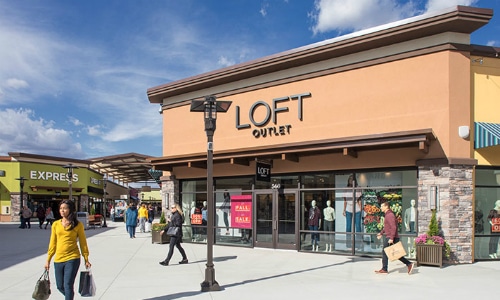 With over 40 different shops including stores like; Express, Levi's, Nike, and Loft you will be sure to find some great deals at the Outlets of Des Moines. Along with shopping, there are seasonal events and great restaurants as well.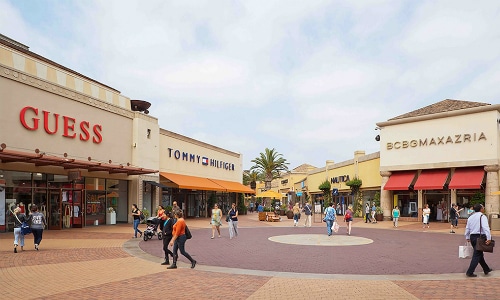 As Los Angeles' only retail outlet center, Citadel Outlets is a popular California outlet mall. The outlet boasts 130 stores and features popular stores like Juicy Couture, Banana Republic, Coach, and Perry Ellis. If you want to save some serious cash while shopping in Los Angeles, Citadel Outlets is not to be missed.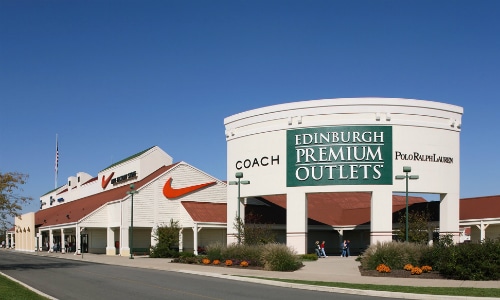 The Edinburgh Premium outlets boast 85 stores and offer up to 65% off every day. This makes for some great shopping at some excellent prices. Add in all of the shopping perks, and you will take your savings to a new level.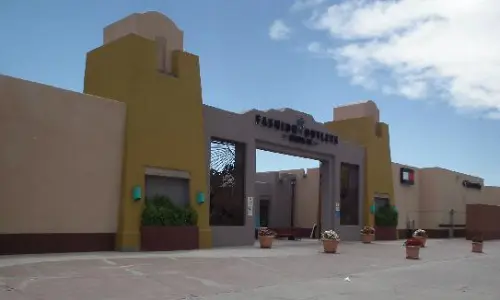 This is not one of the larger outlets on our list, but with up to 75% savings every day it is worth the trip. You will still be able to find stores like; Coach, Polo Ralph Lauren, Tommy Hilfiger, and other great outlets stores.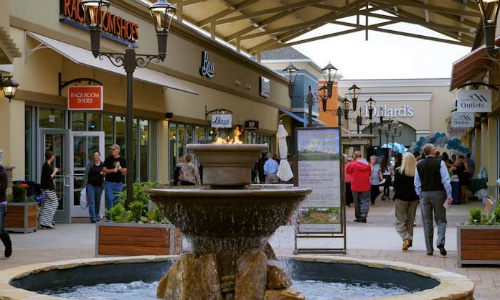 Located just outside beautiful Asheville you will be able to shop at over 60 different outlet stores. Some of the stores include; Vera Bradley, Cole Haan, Field and Stream, and the Nike Factory Store, just to name a few.
The largest outlet mall in Illinois, Gurnee Mills is conveniently located between Chicago and Milwaukee. In addition to popular stores like Neiman Marcus Last Call, Saks Fifth Avenue OFF 5th, and Bass Pro Shops Outdoor World, Gurnee Mills also offers a cinema, indoor ice skating, mini golf, and laser tag.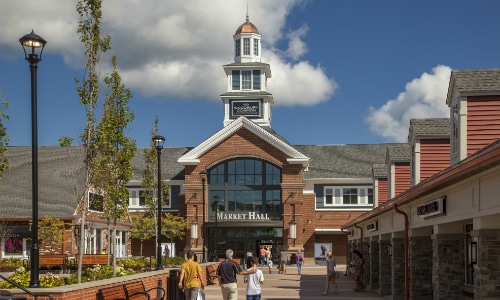 Just a short drive from NYC, Woodbury Common Premium Outlets features over 200 stores. Popular stores include Tory Burch, Nike, Celine, Michael Kors, and Coach. A new Market Hall also features a variety of dining options, ensuring that you have tasty food to fuel your shopping.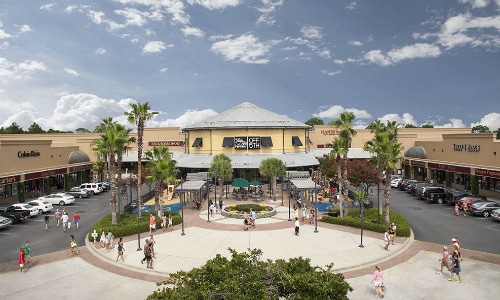 The Silver Sands Premium Outlets are located in the Florida Panhandle and include 100-plus stores. You have stores like Tommy Hilfiger, Banana Republic, The Nike Factory, Under Armour, and Nine West to name a few of the large selection of stores.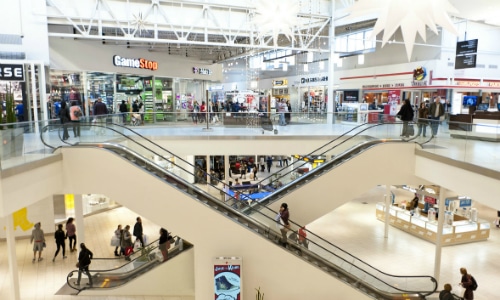 Only 30 minutes from Manhattan and 5 minutes from Newark Airport, this outlet center is right in the hub. This means that there are sure to be some great deals at the over 200 different outlet stores on the premises.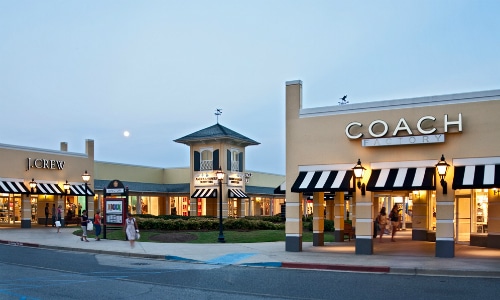 Gaffney Premium Outlets is going to provide shoppers with over 75 different brand name stores. This means savings on some of the best brand name products out there. Some of the stores are; Polo Ralph Lauren, Nike, Micheal Kors, and Kate Spade New York.
Best Outlet Malls in America
Any time you can combine great products with significant discounts, you are going to be able to set yourself up for a great day of shopping. This list of the best outlet malls in America is going to highlight outlet mall locations from all around the United States.
Hopefully one or two these outlets are close enough for you to make a trip to and get some shopping done!
If you are looking to do some shopping for a specific someone, checkout our lists of the best gifts for men and best gift ideas for women. Both are a true life saver when it comes to gift giving.