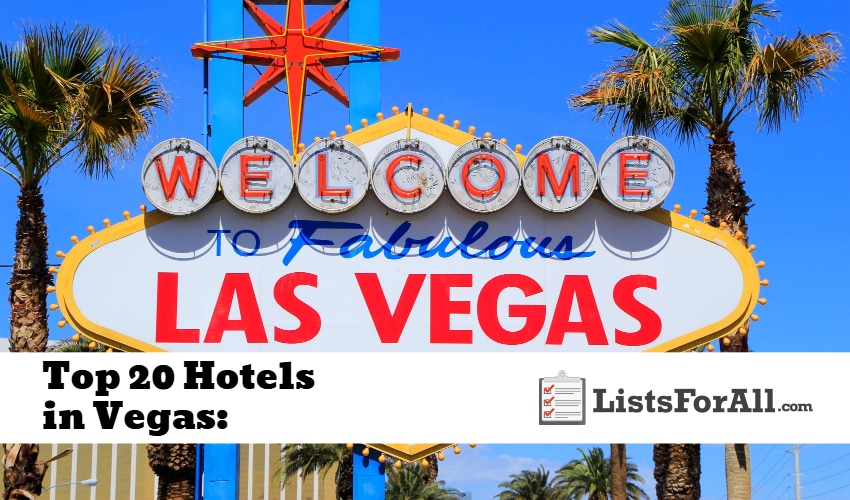 Best Hotels in Vegas: Finding Your Perfect Fit
Forget the gambling, the best part of Vegas is its over-the-top, world-class hotels. With views, personal butlers, world-renowned chefs, shopping, shows, and so much more, you may never leave the hotel.
This list is going to include some tried and true classics, as well as some newer up-and-coming hotels. And, while some of the hotels on this list will set you back a pretty penny, others are more reasonably priced. Regardless of longevity or price, though, every hotel on this list is truly remarkable. So find the hotel that is perfect for you, and that will allow you to experience
downtown Las Vegas
like never before.
Are you planning a trip to Las Vegas? Use our list of the
best travel sites
and
best travel blogs
to help book your trip and find all the insider details. With all of these lists, you will be able to take full advantage of your trip to Las Vegas.
Top 20 Hotels in Vegas:
Highlights: AAA Five Diamond Rating, Top-Rated Restaurants, Excellent Nightlife.
About Hotel: With a prestigious AAA Five Diamond rating, the ARIA Sky Suites is also a Forbes Five Star Award winner, making this hotel a winner across the board. Amenities include a renowned art collection, top-rated restaurants, and an enthralling nightlife.
Highlights: Direct Access to the Mandalay Resort and Casino, Forbes Five Star Spa, Access to 20 Different Restaurants.
About Hotel: The Four Seasons Hotel comes with direct access to the Mandalay Resort and Casino. It also boasts a Forbes Five Star spa as well as an array of other amenities like a nearby golf course and over 20 restaurants in the Mandalay Bay complex. With a variety of packages as well, you will be able to stay in style while also making your dollar go further.
Highlights: Luxurious Rooms, Fun and Exciting Nightlife, Famous Fountain Views.
About Hotel: Luxury, luxury, luxury – the Bellagio is an opulent hotel with its famed fountains and conservatory. That same luxury spills over into the well-appointed guest rooms and suites. It even makes its way into the ever-pulsing nightlife scene that the Bellagio offers as well. So if you enjoy a luxurious touch and want to spend your time in Vegas as if you were royalty, the Bellagio is for you.
Highlights: Top-Notch Spas, Golf, Plenty of Restaurants to Enjoy, Exciting Entertainment and Nightlife.
About Hotel: Wynn Resorts hold more Forbes Five Star awards than any other independent hotel company. So it is little wonder that Wynn Las Vegas is one of the best hotels in Vegas. Amenities at Wynn Hotel include two top-notch spas, an 18-hole golf course, restaurants galore, and an exciting array of entertainment and nightlife options.
Highlights: Excellent Amenities and Spacious Suites, Dog-Friendly, Some of the Best Dining in Las Vegas.
About Hotel: With a variety of excellent amenities and spacious suites, the Delano is also just steps away from everything that Mandalay Bay has to offer as well. Amenities like the Beach Club and Bathhouse Spa highlight what the Delano has to offer. Also, the hotel is dog-friendly, has excellent nightlife, and has some of the best dining in Vegas. And as a part of Mandalay Bay, you will be quick access to the world-class pools and casino as well.
Highlights: Exquisite Waterways, One-Of-A-Kind Hotel Stay, Excellent Amenities and Dining.
About Hotel: The goal of the Venetian is to bring the feel of Venice, Italy, to Las Vegas. From the detail of the suites to the lobby and hallways, everything has an elegant Italian touch to it. Along with elegance, The Venetian also offers excellent entertainment, dining, amenities, and more. For a one-of-a-kind hotel stay, plan to stay at The Venetian the next time you are in Las Vegas.
Highlights: Excellent Location on the Strip, Luxurious Pools and Spa.
About Hotel: Time and time again, visitors rank the Waldorf Astoria as one of the best hotels in Vegas. And no wonder, located at the entrance to Aria, the Waldorf Astoria boasts everything a world-class hotel should. It offers beautiful rooms, luxurious pools, a serene spa, and a location to die for.
Highlights: Rejuvenating Spas, Three-Acre Pool, Excellent Dining and Entertainment.
About Hotel: If you are looking for a trip to Vegas that highlights a spectacular spa, Red Rock Resort and Spa should be near the top of your list. Along with the spa, though, you will get access to entertainment, quality rooms/suites, dining, and so much more.
And, don't forget about the 87,000 square-foot-casino and three-acre pool that is available as well. So for all of your Las Vegas resort needs, make sure to check out the Red Rock Resort and Spa.
Highlights: Only Offers Suites, Located Off of the Strip, Rooftop Pool and Views.
About Hotel: Offering only suites, Vdara Hotel is an "off the strip oasis with a homier vibe." The kitchenettes and some of the other touches in each suite are going to add to this homie feel. And while the hotel is gaming-free, it is just a short walk from the main strip and casinos like the Bellagio. So you will be able to satisfy any gambling needs that you may have. Many guests also enjoy the rooftop pool and lounge that Vdara offers as well.
Highlights: 50,000 Square-Foot Spa, 8 Different Pools, Offers One of the Best Casinos in Las Vegas.
About Hotel: As one of the oldest and most well-known hotels in Las Vegas, Caesars Palace has been enjoyed by millions of guests. Highlighting the hotel's look is Roman architecture throughout. This architecture is featured in the 50,000 square-foot spa and eight different pools.
Outside of aesthetics, Caesars Palace also offers superstar entertainment and excellent dining options. Now add in that it also provides one of the best places to gamble, and it is easy to see why Caesars Palace made this list.
Highlights: Right in the Center of the Strip, Large Casino, Plenty of Entertainment Options.
About Hotel: If you are looking to be right in the middle of the Las Vegas strip, The Mirage is going to be an excellent option. Guests will get access to everything that is offered at The Mirage, but they are also able to experience everything else right on the strip. With a large casino, multiple pools, entertainment options like Cirque du Soleil, and more, The Mirage is a Las Vegas favorite for many.
Highlights: Located Off of the Strip, Top of the Line Pools, Excellent Relaxation Options.
About Hotel: Green Valley Ranch Resort Spa is an excellent off-the-strip hotel option. It is only minutes away from the strip but offers a wealth of privacy and relaxation for guests. Other highlights are excellent rooms and suites, gaming, top-of-the-line pools, and so much more. Also, when looking out from the hotel, you will be able to take advantage of the mountain scenery.
Highlights: Luxury Hotel Experience, 24-Hour Gym, Located Right Next to Fashion Show Mall.
About Hotel: The Trump International Hotel is going to tower over the Las Vegas strip offering excellent views. Outside of the views, the hotel offers a luxury hotel experience. Highlights of the hotel are the suites, pools, 24-hour gym, and spa. And, while there isn't gaming in the hotel, there is a free shuttle to Caesars Palace and other casinos to play.
Also, if you enjoy shopping, the hotel is located across from the Fashion Show Mall, which is one of the top malls in the US.
Highlights: Sporting Events, Excellent Dining and Accommodations, Lazy River and Pools.
About Hotel: If you enjoy any type of boxing or UFC, you probably already recognize the MGM Grand from its sporting arena. Outside of sports competitions, though, the hotel offers excellent gaming, dining options, and accommodations. Amenities include a pool with a lazy river, a spa, and plenty of places to relax and hang out. The MGM Grand is a well-known hotel on the strip and has been trusted by many a visitor over the years.
Highlights: 11-Acre Pool Complex, Ranked as One of the Best Kid-Friendly Hotels in Las Vegas, Excellent Dining and Entertainment Options.
About Hotel: Mandalay Bay offers a lot of great perks. One of the biggest though has to be all of their water offerings. Their 11-acre pool complex offers a lazy river, wave pool, and an adult-only pool. Outside of the water, guests will get access to excellent rooms and suites, fine dining, nightlife, a spa, and more. Also, if you are traveling with kids, Mandalay Bay has been ranked as one of the better kid-friendly hotels in Las Vegas.
Highlights: Rock and Roll Themed, Endless Party Options for Guests.
About Hotel: If you are a fan of music, look no further than the Hard Rock Hotel. And, more than just killer rock 'n' roll memorabilia, they offer guests a variety of excellent amenities. From the five-acre grotto pool area to the nightlife, the Hard Rock offers endless party options. When you are done partying, you will be able to enjoy comfy rooms and all the other relaxation options that the hotel offers as well.
Highlights: Roof-Top Pool, Prime Location, Excellent Dining Options.
About Hotel: The Cosmopolitan is a lively and stylish hotel. They offer a roof-top pool, chandelier bar, moving foyer pillars, a top-rated buffet, and so much more. Add in a prime location next to Planet Hollywood and world-class restaurants, and The Cosmopolitan is a great Las Vegas hotel choice.
Highlights: Excellent Surrounding Views, Top-Notch Spa Services, Forbes Four-Star Rated.
About Hotel: The M Resort Spa Casino boasts both views of The Strip and the Las Vegas Valley. It also offers a large selection of both day and evening amenities. From the hotel's Entertainment Piazza to the top-notch personal service, this hotel is well-deserving of its four consecutive Forbes Four-Star awards.
Highlights: Excellent Amenities, Fun and Exciting Nightlife, Upscale Gaming.
About Hotel: A world within itself, The Palazzo Resort Hotel Casino offers every amenity imaginable. Opulent suites and upscale gaming, pulsing nightclubs, and award-winning restaurants are all a part of the experience. The Palazzo provides around-the-clock amenities for even the most discerning visitors.
Highlights: Unique Pyramid Structure, Excellent Entertainment, and Dining.
About Hotel: Housed in a 30-story pyramid structure, the Luxor is a casino resort that caters to both the penny pincher and the penny spender. It is also a one-of-a-kind hotel experience as you will get to stay inside a pyramid. With fabulous entertainment, dining options, and the traditional Vegas casino scene, the Luxor is a true Vegas hotel.
Best Hotels in Vegas Conclusion
Staying in the right hotel for your trip to Las Vegas can make or break the trip. Las Vegas is meant to be experienced a certain way, and the hotel you stay in is a big part of that. This list will make sure that you only have the option of staying in the best hotels available.
So what are you waiting for? Start planning your trip to Las Vegas and enjoy everything that it has to offer.
We would love to hear your feedback on any of these hotels after staying in them. So please feel free to share it below in the comments.