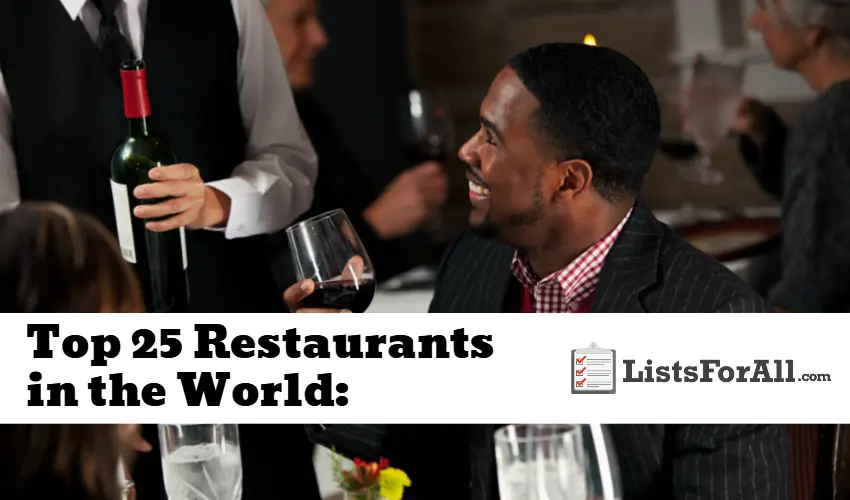 Best Restaurants in the World: Highlighting the Best Restaurants in the World for You to Visit
Calling all foodies – this list is for you! In this list of the best restaurants in the world, we detail 25 over-the-top, once-in-a-lifetime restaurants that are sure to impress. Narrowing it down to just 25 restaurants was a feat in and of itself, but with a variety of different restaurants featured from across the globe, the real achievement will be to try all of them.
This list of the best restaurants in the world will highlight the top dining options from around the globe. With everything from traditional Japanese cuisine to exotic Amazonian fare to contemporary Italian dishes to classic French dining, this list has it all.
For even more dining know-how, check out our list of the best restaurants in N.Y.C. and our best restaurants in the U.S. Also, if this list happens to inspire you to get in the kitchen to create your own masterpiece, our food lists are sure to help!
Top 25 Restaurants in the World:
Location: Girona, Spain
Restaurant Highlights: Modern Spanish cuisine, Outstanding wine list, High praise from food critics.
About Restaurant: Featuring modern Spanish cuisine in a tranquil setting, El Celler de Can Roca has received high praise from food critics across the globe. This remarkable establishment is run by the Roca brothers.
The three brothers, Josep, Jordi, and Joan, got their passion for food from watching their parents manage their own successful restaurant growing up. With traditional and cutting edge menu choices, coupled with outstanding wine, El Celler de Can Roca is an unforgettable dining experience.
Location: Bray, United Kingdom
Restaurant Highlights: Tree Michelin Stars, Provides a "food journey" for guests, Modern British food.
About Restaurant: Located in the village of Bray, The Fat Duck is tucked away in a 16th-century pub. Opened on August 16th, 1995, this high-profile establishment is run by British celebrity chef Heston Blumenthal who, with the help of his staff, has worked meticulously to develop the fourteen-course tasting menu they've become well-known for.
With three Michelin stars, the restaurant features a variety of playful dishes, resulting in a "journey" through food. For a unique take on modern British cuisine, The Fat Duck is definitely worth a trip.
Location: Lasarte, Spain
Restaurant Highlights: Has a high rating from Trip Advisor, Three Michelin Stars, Modern Spanish Haute cuisine.
About Restaurant: A fan favorite among Trip Advisor members, Chef Martin Berasategui's restaurant is well-deserving of its three Michelin Stars. It offers beautifully executed and styled modern Spanish Haute cuisine, and its lovely Basque hillside location adds to the appeal. So for excellent dining in a beautiful location, this is one restaurant that is sure to have what you are looking for.
Location: New York City, U.S.A.
Restaurant Highlights: Features New American and French cuisine, Exceptional wine collection, Three Michelin Stars.
About Restaurant: Led by chef Thomas Keller, Per Se is a standout N.Y.C. restaurant that features New American and French cuisine. The seasonal tasting menu and extensive wine collection make every experience unique and showcase all that this three Michelin star restaurant has to offer.
Fan favorites, however, include the vegetable tasting menu and the "Oysters and Pearls" dish. If you are planning a trip to N.Y.C., make sure that you also check out our list of the best museums in N.Y.C. as well. You will be able to incorporate culture and fine dining all in the same trip.
Location: Lima, Peru
Restaurant Highlights: Unique, Local ingredients, Michelin Guide Star recipient.
About Restaurant: This avant-garde Peruvian restaurant serves up native ingredients sourced from a variety of Peruvian altitudes. The urban garden and in-house filtration system make for fresh and inventive creations, allowing guests to sample delicacies found nowhere else in the world.
With the deep blue of the Pacific Ocean only blocks away, one could have a fantastic night out on the town. For a truly unique dining experience that pushes the boundaries, Central is a great choice.
Location: Menton, France
Restaurant Highlights: The menu is influenced by nature and the cosmos, Unique pairings, Locally sourced ingredients, Home-grown vegetables.
About Restaurant: This eatery housed in a 1930s-era rotunda building sits on an idyllic hillside surrounded by thriving foliage at the base of a mountain that looks out to the sea. The large windows in the dining room allow the space to fill with sunlight, creating a light and airy atmosphere for patrons while they enjoy their dining experience. With Chef Mauro Colagreco at the helm since its opening in 2006, it is no wonder why this restaurant earned three Michelin stars.
Location: New York City, U.S.A.
Restaurant Highlights: Offers private dining, Extensive wine collection, The recipient of many accolades.
About Restaurant: This fine-dining restaurant has been on the corner of 24th street and Madison Avenue since 1998, where it overlooks Madison Square Park. The historic Art Deco building that the restaurant resides in was wholly renovated in 2017 and offers an excellent dining atmosphere.
Chef Daniel Humm took over ownership in 2011, and since then, the food and overall experience have reached new heights. The main dining room offers an eight to ten-course menu, while the bar offers a shorter tasting menu, drinks, and light snacks.
Location: New York City, New York
Restaurant Highlights: Excellent Seafood choices and a Three-Star Michelin atmosphere.
About Restaurant: If you love Seafood, Le Bernardin in N.Y.C. is going to be your new favorite restaurant in the world. You will be able to choose from pretty much every fish and crustacean you can imagine. All while enjoying a three-star dining atmosphere that is sure to have you remembering your dining experience for a long time to come.
Location: Santiago, Chile
Restaurant Highlights: Zero-kilometre cooking, Sources indigenous ingredients.
About Restaurant: This unique establishment sits at the foot of the highest mountain in Santiago – Cerro Manquehue. The depths of Chile's diversity is seen through the dishes served at Boragó, giving guests the chance to explore variance in flavor and texture while enjoying the beauty of this country.
Chef Rodolfo Guzmán spares no expense finding ingredients from all over Chile that have long been forgotten or neglected in order to bring his food to life. The restaurant also grows many of its own vegetables in an orchard located about thirty minutes away, where cooks take a hands-on approach and help harvest produce for the kitchen. This is one of the many reasons Boragó is one of the top restaurants in the world.
Location: Mexico City, Mexico
Restaurant Highlights: Efficient wait staff, Produce is harvested from the restaurant's own garden.
About Restaurant: Quintonil is run by husband and wife duo Jorge Vallejo and Alejandra Flores, who opened the restaurant in 2012. The goal in creating the menu was to develop dishes that highlight Mexican ingredients and techniques traditional to the culture, and then translate them to our modern environment.
Vallejo works closely with regional producers to ensure the kitchen is stocked with quality ingredients from people who care about their communities and local ecosystems. The restaurant offers an à la carte option, as well as a tasting menu comprised of dishes that emphasize the varying flavors of Mexican cuisine.
Location: Alba, Italy
Restaurant Highlights: Extensive wine selection, Innovative dishes, Home-grown ingredients, Michelin Guide three stars.
About Restaurant: Run by world-renowned chef Enrico Crippa, Piazza Duomo opened in 2005. The restaurant offers à la carte choices and three tasting menus, all of which highlight the vast flavors of Italy. The fresh ingredients that bring their dishes to life come right from the restaurant's garden, which is visited daily by the chef, who personally handpicks vegetables, herbs, and flowers himself. In their garden, four hundred different plant species are cultivated and managed without the aid of synthetic chemicals and fertilizers.
Location: Melbourne, Australia
Restaurant Highlights: Light cuisine, Native ingredients, A vast assortment of wine.
About Restaurant: Attica is Melbourne's most acclaimed restaurant. Owned by Ben Shewry, the establishment was renovated in 2017 to give the place a more comforting atmosphere. The dishes are comprised of rare ingredients native to Australia, while the produce comes straight from Shewry's garden. Attica is a one-of-a-kind dining experience that shouldn't be missed if you are ever in Melbourne, Australia.
Location: Copenhagen, Denmark
Restaurant Highlights: Wide-ranging wine selection, Fireplace dining, Artful presentation, Michelin Guide three stars.
About Restaurant: Geranium is located on the eighth floor of a stadium building in the middle of Copenhagen, which offers its patrons a beautiful, uninterrupted view of the city. Chef Rasmus Kofoed's recipe selection makes up the innovative tasting menu that the restaurant is so famous for.
The tasting menu consists of more than seventeen courses, all of which contain organic, wild Scandinavian ingredients. With a unique menu and excellent wait staff, it's no wonder Geranium is one of the top restaurants in the world.
Location: San Sebastian, Spain
Restaurant Highlights: Traditional Basque cuisine, Michelin Guide (one star), restauranteur classes.
About Restaurant: The Arzark restaurant has a long, interesting history. The building in which it resides today was built in 1897 by Juan Mari Arzark's grandparents, where it first began its centuries-long life as a wine cellar and tavern. Then it became a food house run by Arzark's parents before Juan finally took over in 1966 with the help of his mother, who taught him everything he knows about traditional Basque cuisine.
Juan now runs the restaurant with the help of his daughter Elena. Next door is the Arzarks' laboratory where new ingredients and recipes are tested, and different concepts are studied and integrated into the menu. Their effort to keep innovating sets them apart and made them an easy choice for this list of the best restaurants in the world.
Location: London, United Kingdom
Restaurant Highlights: Varied wine selection, Three types of wine pairing, and Fresh produce from across the British Isles.
About Restaurant: Opened in March 2013, The Clove Club is one of the best eateries in East London. Located in Shoreditch Town Hall, the restaurant serves modern British dishes. The tasting menu is comprised of dishes that found their inspiration from places around the world as well as throughout Britain.
Patrons can also order off a shorter version of the tasting menu Monday through Thursday, a four-course menu for lunch, a traditional wine pairing, and a soft or ambient tea pairing. The blue-tiled dining room and open kitchen add to the laid-back vibe the restaurant aims for.
Location: Berlin, Germany
Restaurant Highlights: Gluten and dairy-free, Asian cuisine, Michelin Guide (two stars),
About Restaurant: Restaurant Time Raue was opened in 2010 by its namesake, famous German chef Tim Raue. The food is inspired by the flavors of Japan, Thailand, and China due to Raue's love for Asian cuisine, the result of his travels when he was young. Patrons have the choice of a la carte dining or two tasting menus.
Both options consist of Raue's interpretation of his favorite dishes. Raue is an advocate for healthy eating, favoring meals that bring energy to the body instead of weighing it down, so the restaurant does not offer bread, pasta, rice, refined sugar, dairy products, or gluten.
Location: San Francisco, USA
Restaurant Highlights: Woodfire cooking, Locally sourced produce, Extensive wine selection, Michelin Guide two stars.
About Restaurant: Owned by Joshua Skenes, Saison is a modern American restaurant that was opened in 2009. Saison has a highly revered tasting menu that has earned it much acclaim and made it one of the most exclusive eateries in San Francisco.
The kitchen and the dining room overlap, which allows patrons to see what is going on behind the scenes. The dining area consists of only eight wooden tables, each of which is adorned with handcrafted plate ware, creating an intimate environment for its guests. They also offer an extensive selection of cocktails and wine that is sure to satisfy any diner.
Location: Istanbul, Turkey
Restaurant Highlights: Regionally sourced ingredients, Unique rooftop setting.
About Restaurant: Mikla has been serving guests since its opening in October 2005. It is located on the rooftop of The Marmara Pera hotel, offering a stunning view of Istanbul that is certain to take your breath away. The menu is a reflection of the head chef/owner, Mehmet Gürs Turkish-Scandinavian background.
Contemporarily styled, Mikla is decked out in chrome furniture reminiscent of the 1950s and '70s, adding a sleek, urban feel to the setting. With great cocktails and friendly waitstaff, Mikla is a spot you don't want to miss.
Location: Kobarid, Slovenia
Restaurant Highlights: Locally sourced produce, Seasonal tasting menu, Extensive wine selection, Michelin Guide two stars.
About Restaurant: Hisa Franko is in the Soca Valley, where Chef Ana Roš, the world's best female chef, dazzles guests with her amazing dishes. While she initially had earned her degree in international diplomatic studies, Roš taught herself how to cook after marrying her husband and helping him take over his family's restaurant. Her specialty is ravioli and recipes that feature local produce that is harvested close by.
The restaurant offers an eleven-course tasting menu that changes based on the season and is strongly influenced by the diet familiar to the Soca region, which is based mainly on dairy and meat products. Hisa Franko resides in the same house in the countryside in which Roš and her family live, an interesting fact that sets it apart from some of the other world's best restaurants.
Location: Shanghai, China
Restaurant Highlights: Intimate, Multi-sensory atmosphere, Michelin Guide three stars.
About Restaurant: Ultraviolet is an exclusive hotspot, with only ten seats available all at the same table. The dining room is very minimalist, with no decor, artifacts, paintings, or even views because there are no windows. However, the dining room is still a sight to see, decked out with lights, sounds, images from projectors, and smells wafting from the kitchen.
The restaurant was opened in 2012 by Paul Pairet, a famous French chef, and the menu features twenty courses and a drink pairing that is inspired by French cuisine. The multi-sensory experience Ultraviolet offers is one no one should pass up.
Location: Kyoto, Japan
Restaurant Highlights: Only offers 16 seats for guests, Three Michelin Stars, Traditional Japanese kaiseki kappo dining.
About Restaurant: Japan abounds with stellar restaurants, but Mizai, located in Kyoto, is a truly special restaurant. This intimate, 16 seat restaurant only has one sitting each evening, but the traditional Japanese kaiseki kappo dining features exquisite dishes well-deserving of their three Michelin Stars. So if you ever find yourself in the great city of Kyoto, make sure you plan it out in advance to enjoy an intimate dining experience at Mizai.
Location: Modena, Italy
Restaurant Highlights: Offers contemporary Italian food and classics, Features local cheeses and produce.
About Restaurant: Nestled in northern Italy, Osteria Fracescana features contemporary Italian food. Both classics and revamped classics comprise the menu here, with the local cheese and produce serving as standout ingredients. Modern tasting menus are also offered, as well as exquisite snacks that highlight all the region has to offer.
Location: Roanne, France
Restaurant Highlights: Three Michelin Stars, Inventive appetizers.
About Restaurant: Located in southeast France, Mason Troisgras has held three Michelin stars since the 1960s. Attention to detail reigns supreme here, and the inventive appetizers, delicious main courses, and simple, yet strong desserts make for a truly delightful dining experience.
Location: Chicago, U.S.A.
Restaurant Highlights: Multi-sensory menu, Selective seating, Michelin Guide three stars.
About Restaurant: The only three-Michelin-starred restaurant in Chicago, Alinea, features a constantly changing tasting menu. Opened in 2005 and renovated from top to bottom in 2016, the restaurant features New American dishes that are highly creative and feature a variety of fresh and unique ingredients, making Alinea the go-to spot for foodies.
Location: Sao Paulo, Brazil
Restaurant Highlights: Selective seating, Michelin Guide two stars.
About Restaurant: A contemporary Brazilian restaurant that features Amazonian ingredients, D.O.M. features both a la carte and tasting menus. Unique Amazonian ingredients like jambu, a tongue-tingling herb, and priprioca, an Amazonian root, make for unique and tasty dishes that are sure to be remembered.
The restaurant is located at a discreet address in Jardins and is famous for its ambient atmosphere. Its stylish design is classic and modern and adds to the exclusivity of the establishment while providing its guests with a comforting experience.
Best Restaurants in the World Conclusion
Most of these restaurants reside in big cities, so even if you aren't currently living close to one of these fantastic restaurants, the next time you plan on visiting one of these cities, make sure that you mark an evening away. I would be willing to bet that you won't be disappointed that you did!
When you do plan your trip, make sure that you take advantage of our list of travel resources. With a little bit of help, you will be able to experience one of these fantastic restaurants and also everything that goes along with the city for a much more reasonable price than you thought.
Have you already eaten at one of these restaurants? We would love to hear your feedback in the comments below.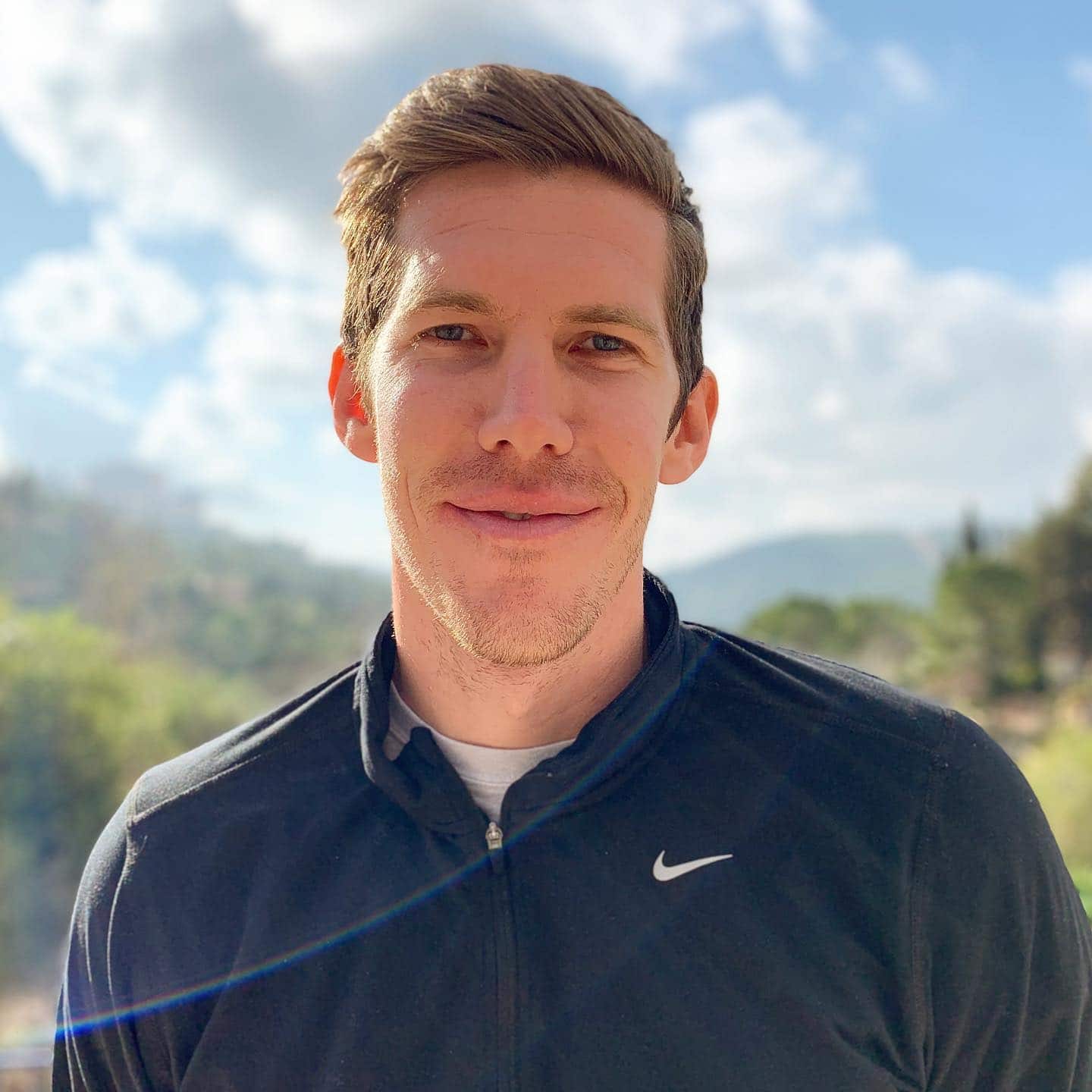 Kyle has a background in sports, fitness/health, and business. However, he also has a passion about researching all topics, and is dedicated to making lists that will help make your life easier.