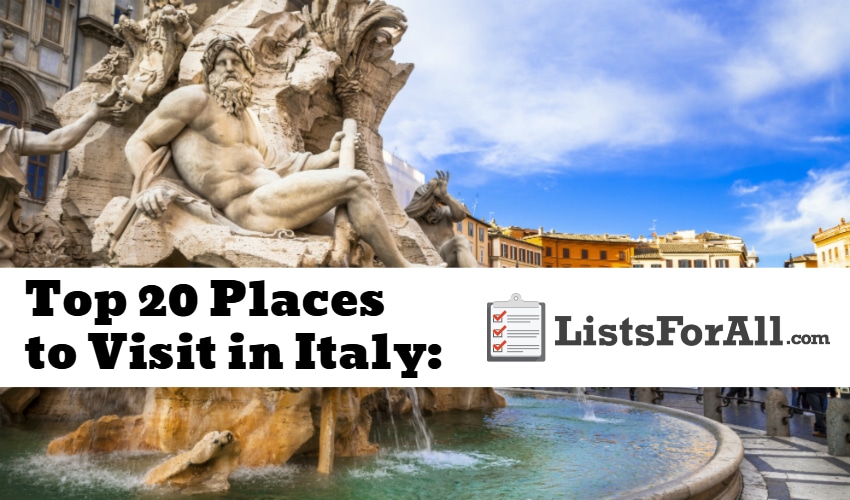 Best Places to Visit in Italy: Planning Your Perfect Trip to Italy
Home to rolling hills, vineyards, fashion, and centuries-old attractions, Italy is a wonderful place to visit. With so much to offer, however, narrowing down where to go in Italy can sometimes be difficult. To take out some of that difficulty, we have compiled this list of the best places to visit in Italy.
In this list of the best places to visit in Italy, we showcase Italy's scenic topography, world-class culture, and of course, its ever-delicious food scene. This will allow you to plan your perfect vacation to Italy so you can take full advantage of this amazing country. 
For even more travel suggestions in both Italy and beyond, check out our lists of the best vacation spots, best European destinations, and best cities to visit. Bon, voyage!
Top 20 Places to Visit in Italy:
Area Highlights: Beach-Side Towns, Excellent Exploring and Hiking, Top-Notch Hotels and Restaurants.
About Destination: The stuff of postcards, the Amalfi Coast, is home to picturesque towns like Positano and Sorrento. With plunging coastal mountains, top-notch restaurants, fantastic hotels, and great hiking trails, the Amalfi Coast is a stunning destination in Italy. It would be the perfect destination for a honeymoon, family vacation, or exploring on your own.
Area Highlights: Full of History and Art, Excellent Exploring Options.
About Destination: Beautiful and historic, Florence is bursting at the seams with great museums, palaces, and churches. If art and history are up your alley, Florence is not to be missed. Good pizza can also be found around every corner, ensuring that you have ample fuel for your exploring.
Area Highlights: Unique Water-Filled Streets that Can be Explored by Gondola, History, Grandeur, and Beauty Around Every Corner.
About Destination: Full of canals and gondolas, Venice is romantic and colorful. Indeed one of a kind, Venice, offers history, grandeur, and beauty. For a slice of pure magic, take a picture-perfect ride in one of Venice's many gondolas so you can experience Venice like a local.
Area Highlights: Off of the Beaten Path, Coastal City With Excellent Views.
About Destination: Almost completely surrounded by Slovenia, the coastal city of Trieste has developed its own unique appeal full of cafes, bars, and views. Not heavily visited, Trieste is perfect for those looking for a beautiful, off the beaten path city. Easy access to other countries in Europe also makes Trieste an excellent base camp city.
Area Highlights: Famous Operas, Close Proximity to Lake Garda.
About Destination: Famous for its operas and ties to Shakespeare (Romeo and Juliet are one of three Shakespearean plays set in the town), Verona is a picturesque town in northern Italy. Just a short drive from both Venice and Milan, Verona is also ideally located close to Lake Garda, a beautiful lake perfect for the summer holidays. Be sure to check out the historic center, complete with medieval lanes and buildings.
Area Highlights: Sunny and Coastal, Delightful Beaches and Cruises, Boasts Castles, and Other Historical Sites.
About Destination: Located in the heel of Italy, Bari is a lovely, sunny coastal location. There are many delightful beaches and cruises in Bari to keep you occupied, as well as top-notch Southern Italian cooking. Bari also boasts several castles and other historical gems, ensuring that you always have something to do.
Area Highlights: Picturesque Views, Charming Villages, Activities In and Out of the Water.
About Destination: The largest lake in Italy, Lake Garda offers a bit of everything: picturesque views, charming villages, mountain climbing, and of course, all the water activities you can imagine. On the edge of the Dolomites in Italy's north, it's a short distance from both Verona and Brescia. Popular among Italian tourists, Lake Garda is an ideal vacation spot for everyone!
Area Highlights: Comprise of Five Different Seaside Villages, Excellent Views, Famous for Their Seafood.
About Destination: Cinque Terre is one of the best places to visit in Italy and is comprised of five stunning seaside villages. Steep and rugged cliffs feature panoramic views at every turn, while the Liguria region's famous seafood is something to remember. While no longer as isolated as they once were, these five villages still provide old-world charm and remoteness.
Area Highlights: Medieval Brick Buildings, Authentic Tuscan Experience, Delicious Cuisine.
About Destination: A UNESCO World Heritage Site, Siena is a beautiful Tuscan city known for its medieval brick buildings. Il Campo, its central piazza, is known worldwide for the famous Palio horse race. For an authentic Tuscan experience complete with delicious cuisine, art, and museums, Siena is not to be missed.
Area Highlights: Stunning Beaches and Towering Mountains, Excellent Restaurants, Bars, and Shops.
About Destination: A large island in the Mediterranean, Sardinia boasts stunning beaches and towering mountains. Bronze Age stone ruins dot the interior, providing history buffs something to do, while great restaurants, bars, and shopping provide days of fun. For a true getaway experience, Sardinia is the place to be.
Area Highlights: Medieval and Renaissance Buildings and Porticos, Elegant and Charming.
About Destination: The colorful capital of the Emilia-Romagna region in northern Italy, Bologna, is lined with medieval and Renaissance buildings and porticos. Nicknamed 'La Rossa" (The Red) because of the red hue of most of the city's buildings and facades, Bologna is an elegant and charming Italian city that tourists from everywhere will enjoy.
Area Highlights: Large Port City, Excellent Sightseeing and Exploring.
About Destination: A large port city that is the gateway to the Riviera for many tourists, Genoa's charming medieval alleyways are a joy to explore. Piazza de Ferrari, the city's main square, also boasts a picturesque fountain and the Teatro Carlo Felice opera house. With something for everyone, the 6th biggest city in Italy is a sure hit.
Area Highlights: One-Of-A-Kind Island Experience, Beautiful 360 Degree Views.
About Destination: With the waters of Capri serving as the mythical home of Homer's Sirens, Capri has a long and magical past. Situated in the Bay of Naples, Capri's rugged landscape and stunning coastline draw the "It Crowd" from everywhere. The Blue Grotto, home to the electric blue sea glow, is another popular attraction on Capri that helps to make Capri one of the most visited locations in Campania.
Area Highlights: Excellent Skiing, Perfect for Families and Also High-End Resorts.
About Destination: This ski paradise in the Dolomites of Northern Italy is a perfect mix of both family-friendly and upscale resorts. Well-cared-for ski slopes and a slew of fine dining and luxury hotels help to make this area an ideal winter retreat. For your next ski holiday, skip the Alps and make your way to Corvara and the surrounding region.
Area Highlights: Excellent Exploring and Views Inside the City and Outside in the Countryside.
About Destination: Part of Tuscany and only a short drive from Florence, Lucca is full of cobbled streets and delightful piazzas. The surrounding hills of Lucca also offer up stunning villas and spas, making Lucca one of the best places to visit in Italy and worth the visit.
Area Highlights: Full of History, Excellent Dining, and Beautiful Architecture.
About Destination: The city of Rome is almost synonymous with Italy, and for good reason – Rome is home to The Vatican, the Trevi Fountain, St. Peter's Square, and the Colosseum. When you are not snapping pictures, be sure to people-watch while enjoying some Italian cuisine – Rome offers a wide variety of food styles, ensuring that you can always find something delicious to eat.
Area Highlights: Beautiful Resort Villages, Stunning Mountain Backdrop Views.
About Destination: Italy's deepest lake and a vacation home to many a celebrity, Lake Como's long perimeter is surrounded by stunning mountains and beautiful resort villages. With all of the water activities and hiking paths available, Lake Como is an outdoor lover's dream.
Area Highlights: Iconic Buildings and Sites, Full of History.
About Destination: Home to the famous Leaning Tower, the university town of Pisa also boasts many other attractions like the Square of Miracles and top-notch museums. As a center of culture and learning, Pisa is not to be missed, especially for history buffs.
Area Highlights: Close Proximity to Pompeii, Offers a Unique Mix of Culture in the City.
About Destination: Located two hours south of Rome on the Bay of Naples, the romantic city of Naples is the largest southern city in Italy. While Pompeii is just a short drive away, most of Pompeii's finds are housed in Naples, making Naples a must-see for anyone interested in the famed city of Pompeii.
Area Highlights: Largest Italian Island, Stunning Mountains, Volcanoes, and Excellent Seafood.
About Destination: Surrounded by three different seas, Sicily is the largest Italian island. On land, the island boasts stunning mountains and volcanoes, as well as top-notch seafood. For a unique Italian experience, Sicily is a great choice, especially for those looking for something different from the Italian mainland.
Best Places to Visit in Italy Conclusion
Italy is a one-of-a-kind place. With all of the beautiful scenery, structures, and history, it really is a must-visit. So if you are planning a trip to Italy, make sure that you use this list of the best places to visit in Italy as a playbook for seeing all of the top places; we don't want you to miss anything!
Planning a trip but not sure what to pack? Check out our lists of the best travel accessories, best travel blogs, and best travel sites. These lists will make sure that you have everything that you need for your trip.
Also, before planning your trip, make sure to check for any new travel restrictions. With the new ETIAS rules (European Travel Information and Authorization System) soon to go into effect, you want to make sure that everything is lined up correctly for a smooth trip.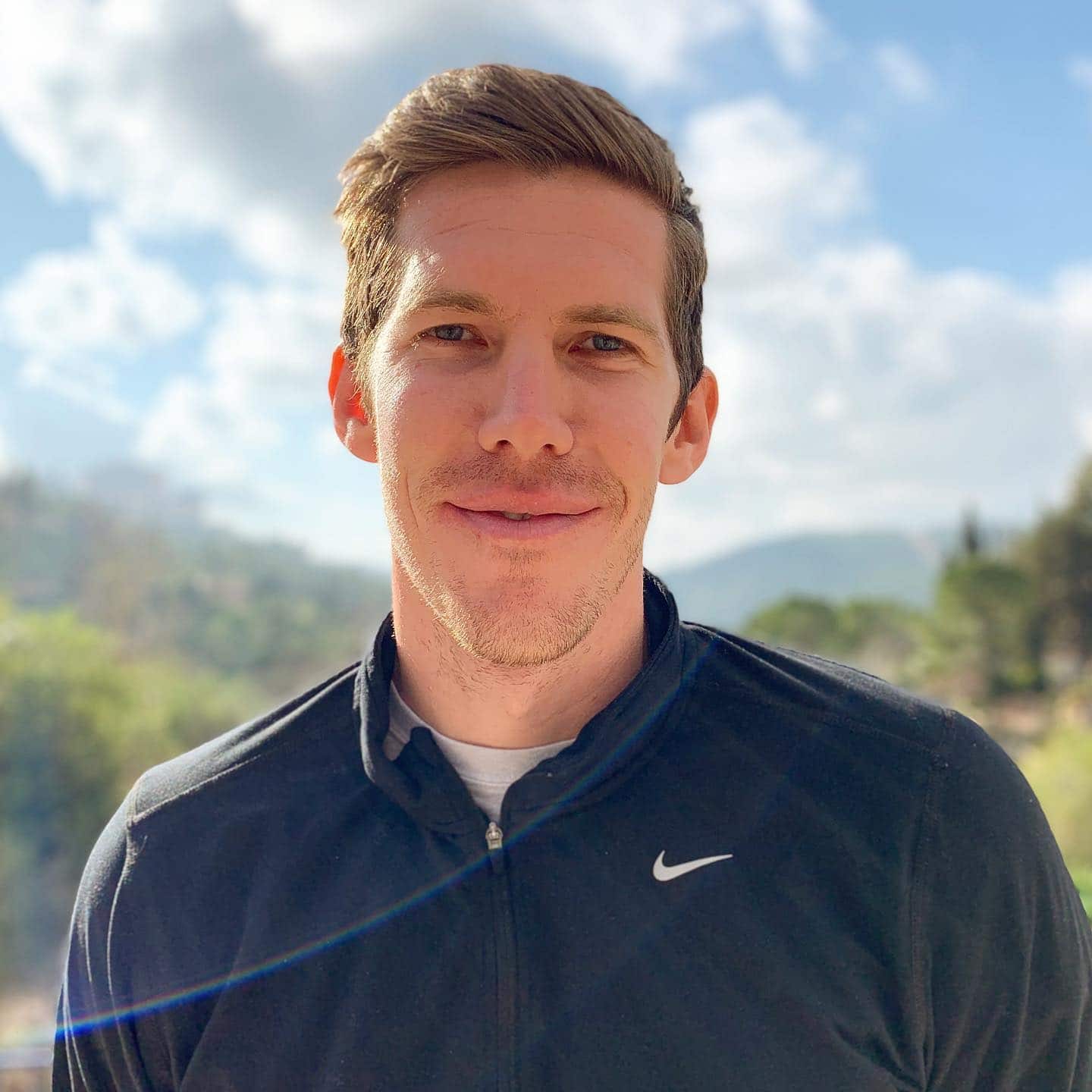 Kyle has a background in sports, fitness/health, and business. However, he also has a passion about researching all topics, and is dedicated to making lists that will help make your life easier.