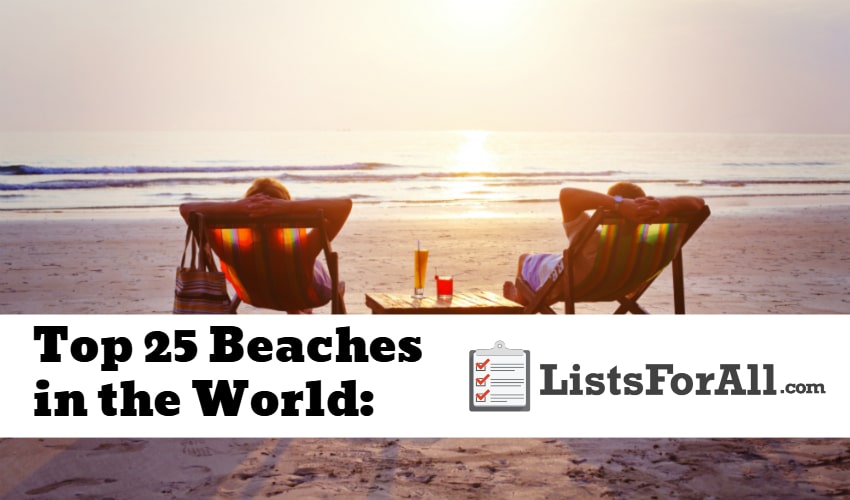 Best Beaches in the World: Discovering the Top Beaches in the World
An overwhelming choice for most people's vacation plans, beaches are famous for a reason. The lull of the waves, the warmth of the sand, and all of the activities associated with the beach keep vacationers coming back year after year. In this list of the best beaches in the world, we have compiled a list of 25 beaches that are in a class of their own.
This list of the best beaches in the world will highlight the top beaches from all around the globe. Whether you are just a fan of cool beaches and curious, or whether you are planning a beach vacation to one of these top spots, this list will have what you need. 
From the Pacific to the Atlantic, this list showcases some of the best pieces of real estate in the world. So put on your sunblock, and pack your best swimsuit, because these beaches will have you headed for the shores in no time!
Top 25 Beaches in the World:
Location: Rio de Janeiro, Brazil
Beach Highlights: Full of Activity On the Beach and Off, Beautiful Mountain Background.
About Beach: For killer views (both of the beach and the people!), and for a fun, party atmosphere, Ipanema Beach is where it is at. The waterfront also boasts a number of galleries, boutiques, and restaurants, earning the area the moniker "Little Paris."
Location: The Maldives
Beach Highlights: Pristine Sand, Tropical Fish, Secluded Island, Luxury Resorts.
About Beach: With warm waters full of tropical fish and pristine sandy beaches, the whole of the Maldives is a beachgoer's dream. However, while almost every beach in the Maldives is top-notch, Angaga Beach is ideal for those looking for a luxury resort experience on a secluded island.
Location: Palawan, Philippines
Beach Highlights: Coral Reefs, Limestone Cliffs, Close Proximity to Other Islands that You Can Explore.
About Beach: El Nido is known for its natural beauty and ecosystem. It was even ranked by Conde Nast Traveler as the most beautiful beach in the world. White-sand beaches, coral reefs, and limestone cliffs abound, providing stunning views at every turn. And, as the gateway to the Bacuit archipelago, El Nido is the perfect base for exploring the many stunning islands of the area.
Location: Mykonos, Greece
Beach Highlights: Some of the Best Sand on the Aegean, Crystal Clear Water, Excellent Party Scene.
About Beach: Paradise Beach has some of the best sand on the Aegean and crystal clear water. It also offers a world-famous party scene that is enjoyed by guests from all around the world. Paradise Beach is a definite bucket list item for young and young at heart beachgoers. The area also boasts top-rated beach bars, aqua blue waters, and is in close proximity to other Greek islands that can be explored and enjoyed. 
Location: Grand Cayman, Cayman Islands
Beach Highlights: Plenty of Water Sports and Activities, Luxury Resorts, Prime Snorkeling and Diving.
About Beach: 7 Mile Beach is a haven for both sunbathers and water sports enthusiasts. Popular island destinations like the Cayman Turtle Farm and the capital city of Georgetown are also close. The area is also brimming with hotels, luxury resorts, and prime diving and snorkeling spots. All this comes together to make 7 Mile Beach a great place to be year-round and one of the best vacation spots in the world.
Location: Ko Phi Phi, Thailand
Beach Highlights: Small and Sheltered, Exceptionally Clear Water.
About Beach: The setting for the movie The Beach, Maya Bay, is one of the most scenic beaches in the world. The small and sheltered shores of Maya Bay also boast exceptionally clear water. This will allow visitors to see an array of colorful coral and fish.
Location: Bali, Indonesia
Beach Highlights: Protected by an Offshore Reef, Calm and Peaceful Waters, Scenic Backdrop.
About Beach: Bali, as a whole, is a surfer's paradise. Mengiat Beach on Nusa Dua, though, provides relatively calm and peaceful waters. It is protected by an offshore reef, which allows for the surrounding water to be calm and peaceful. Add in a scenic backdrop of temples and rolling hills, as well as some of the best hotels in the world, and the beaches on Nusa Dua island are a cut above the rest.
Location: Zakynthos, Greece
Beach Highlights: Steep Limestone Cliff Views, Only Accessible by Boat, Also Known as Shipwreck Beach.
About Beach: Navagio Beach is located on Zakynthos Island and is not only one of the best beaches in Greece but also the world. Because of steep limestone cliffs, it is only accessible by boat. This beach is also nicknamed "Shipwreck Beach."
It gets this nickname from the smuggler's ship that sits stranded on the beach from the 1980s. With a one-of-a-kind beach feel, stunning views, and some cool history, Navagio Beach was a natural choice for this list of the best beaches in the world.
Location: La Digue Island, Seychelles
Beach Highlights: Most Photographed Beach in the World, Reef for Snorkeling and Scuba Diving, Scenic Background Highlighted by Stone Outcroppings and Tropical Foliage.
About Beach: Having the title of "most photographed beach in the world," you know there is going to be some stunning beauty. Anse Source d'Argent is located in Seychelles and includes soft white sand and crystal clear water.
The waters also offer a reef that makes snorkeling and scuba diving something to dream about. With a background of rock outcroppings and tropical foliage, you will be able to relax in paradise on the island of La Digue and Anse Source d'Argent beach.
Location: Espiritu Santo, Vanuatu
Beach Highlights: Volcanic Bubbles in the Water, Offers a Natural Island Beach Feel.
About Beach: Champagne Beach gets its name from the bubbles that rise to the water surface from the below-water volcanic activity (don't worry, it is safe). This world-class beach is located on the island of Espiritu Santo. And, despite being popular worldwide, Champagne Beach does not have the feeling of overdevelopment. So if you want to get the natural island beach feel, Champagne Beach is a great option.
Location: Sydney, Australia
Beach Highlights: Excellent Surfing, Lively Beach Atmosphere, Soft Sand, and Beautiful Waters.
About Beach: You have most likely already heard of Bondi Beach (especially if you are a surfer) as it is one of the best places to visit in Australia and in the world. This beach though is worthy of its worldwide recognition with its soft sand and beautifully clear waters. If you enjoy festivals, markets, and events as well, you will like Bondi Beach. The area hosts a ton of great events and activities throughout the year.
Location: Maluku, Indonesia
Beach Highlights: Backed by Cliffs and Rugged Forrest, Beautiful Coral and Sea Life.
About Beach: Ora Beach is backed by cliffs and rugged forests. This will allow you to have a quiet beach experience surrounded by stunning views. With just as much beauty in the water with coral and sea life as well, you will be able to take in beauty above and below the water. If you want to get the full experience, try out a stilted bungalow over the water, you will really be living the island life.
Location: Ayia, Napa, Cyprus
Beach Highlights: Shallow Waters Make for Excellent Exploring, Plenty of Water Sports.
About Beach: When you picture a stunning beach in your mind with crystal clear water and pristine white sand, there is a good chance that it very closely resembles Nissi Beach in Cyprus. One of the things that highlight Nissi Beach is the small islet that splits the beach.
The shallow waters allow for walking and exploring the islet. It also offers an opportunity for plenty of different water sports as well. With plenty of resorts and amenities out of the water as well, you will always have something to do at Nissi Beach.
Location: Mugla Province, Turkey
Beach Highlights: Features Turquoise and Azure Blue Waters, Stunning Shoreline Views.
About Beach: Also known as the Blue Lagoon, Oludeniz Beach is located on the coast of Turkey. Its stunning shores make it a travel destination for beach lovers from all around the world. Water activities are highlighted by an inlet that features turquoise and azure blue waters. While outside of the water, there are world-class resorts and plenty of shops and restaurants to enjoy. Oludeniz Beach is a destination that beach lovers of all kinds will love.
Location: Mallorca, Spain
Beach Highlights: Beautiful Rocky Outcroppings, Offers a Unique Beach Going Experience.
About Beach: Cala Deia Beach is situated between rocky outcroppings that add to the beauty of the beach. It is located just a short distance from the old village of Deia in Mallorca, Spain. This is not a large beach filled with vast expanses of sand. However, Cala Deia Beach offers a unique experience for beachgoers. Visitors are able to enjoy the views, relax, and swim in the crystal clear water.
Location: North Island, New Zealand
Beach Highlights: Offers Black Sand Instead of the Traditional White, Known for Excellent Surfing, The Beach is Backed by a Sub-Tropical Forest.
About Beach: Piha Beach is going to have a little bit different of a look with black sand instead of the traditional white sand. If anything, though, this adds to the uniqueness and overall beauty of the beach. Located in New Zealand, Piha is known as a surf beach that can, at times, be "wild and mysterious."
One of the highlights of the beach is "Lion Rock," which stands guard over the beach and the wild waters. The beach is also backed by protected parkland that consists of a sub-tropical forest and plenty of wildlife.
Location: Vancouver, Canada
Beach Highlights: Unique Beach Beauty, Great Surfing, Fun Exploring.
About Beach: When you think of Vancouver, Canada, you most likely don't picture a world-class beach. However, Tofino Beach stands in defiance of that thinking. It offers a true beauty that makes it worthy of being on this list of the best beaches in the world. The area also offers great surfing as well as exploring.
Location: Clearwater, Florida, USA
Beach Highlights: Excellent Beach Community Feel, Soft, White Sand, Offers Something for All Ages.
About Beach: Clearwater Beach is consistently ranked as one of the best beaches in Florida and in the United States. The beach offers soft, clean sand, typically calm waters, and plenty of activities on and off the water.
Great for locals and tourists alike, Clearwater Beach is going to offer something for all ages. With an aquarium, fishing charters, and plenty of other activities, you will be able to choose between a relaxing beach day or a day filled with fun activities.
Location: Culebra, Puerto Rico
Beach Highlights: Shallow Crystal Clear Waters, Great for Exploring and a Safe Swimming Environment.
About Beach: Located in the Caribbean on the island of Puerto Rico, Flamenco Beach is special in many rights. From the clarity of the water to the stunning views to the great island feel, you will truly be able to enjoy paradise. One of the highlights of Flamenco beach is the shallow, crystal clear waters.
This is going to allow for exploring and a safe swimming environment. Outside of the water, the background is set by rolling hills and vibrant vegetation.
Location: Protaras, Cyprus
Beach Highlights: Large Beach with Plenty of Space, Small Islet that Can be Reached by Swimming or Boat.
About Beach: Another great beach located on the beautiful island of Cyprus, Fig Tree Bay is a large beach that stretches about 500 meters. With resorts and hotels backing the beach, you can enjoy staying right on the beach. This is going to allow you to stay in comfort and enjoy breathtaking views day or night. With a small islet that can be reached by swimming or boat, there is plenty of room for exploring as well at Fig Tree Bay.
Location: Galicia, Spain
Beach Highlights: Stunning Views and Excellent Exploring Opportunities, Natural Passages and Arches in the Stone.
About Beach: As Catedrais Beach, or Beach of the Cathedrals, is one of the more unique beaches on this list. This beach is going to offer stunning views and some of the best explorations you could hope for. The waters, over time, have chiseled out different formations in the rock.
This has resulted in natural passages and arches that can be walked through and explored depending on the tide. A truly unique beach experience in Spain, As Catedrais Beach is a one-of-a-kind experience.
Location: Tulum, Mexico
Beach Highlights: Some of the Whitest Sand and Bluest Waters in the World, Mayan Ruins, Excellent Water Activities.
About Beach: With some of the whitest sand and bluest water in the world, Tulum Beach is a must-visit. Add in the breathtaking views of different Mayan ruins, and you have an over the top beach experience. Along with plenty of history, there are also a number of shops and restaurants, as well as water activities in the area. All of this will ensure that visitors are never bored.
Location: The Big Island, Hawaii
Beach Highlights: Breathtaking Views, Fun for All Ages.
About Beach: Postcard-Worthy, The Big Island's Mauna Kea beach is a safe and fun beach for all ages. With plenty of palm trees, clear water, and white sand, Mauna Kea is sure to appeal to the most discerning beachgoer. This is a true beachgoer's paradise.
Location: Lampedusa, Italy
Beach Highlights: Can Only be Accessed by Boat, Excellent Diving Spots.
About Beach: Accessible only by boat, Rabbit Beach is a TripAdvisor member favorite. Rabbit Beach's crystal clear water also showcases great diving spots, as well as a number of playful dolphins and other marine life. Rabbit Beach was a natural choice for this list of the best beaches in the world. And while you are there, you might as well take advantage of everything else that Italy has to offer.
Location: Whitsunday Island, Australia
Beach Highlights: Natural Beach Beauty that Has Been Left Untouched, No Hotels on the Island.
About Beach: The largest of the 74 islands in the Whitsundays, Whitehaven Beach is an untouched, pristine beach that showcases Mother Nature's handiwork. While there are no hotels on the island, campsites are available, making Whitehaven Beach a year-round choice for nature lovers.
Best Beaches in the World Conclusion
If you are anything like us, you have probably already started daydreaming about being on one of these amazing beaches. Unfortunately, though you are still reading this article, that doesn't mean you can't start planning your trip today!
We hope that this list of the best beaches in the world has inspired you to add a few of these destinations to your bucket list. Whether you are looking for a family vacation, a honeymoon destination, or a solo trip, these beaches are sure to be full of sun, water, and fun.
If you live in the US, make sure to visit our lists of the best beaches on the East Coast and the best beaches on the West Coast. These two lists will provide you with spectacular beaches that are right in your own backyard.
Have you already been to one of these beaches? We would love to hear your feedback in the comments below.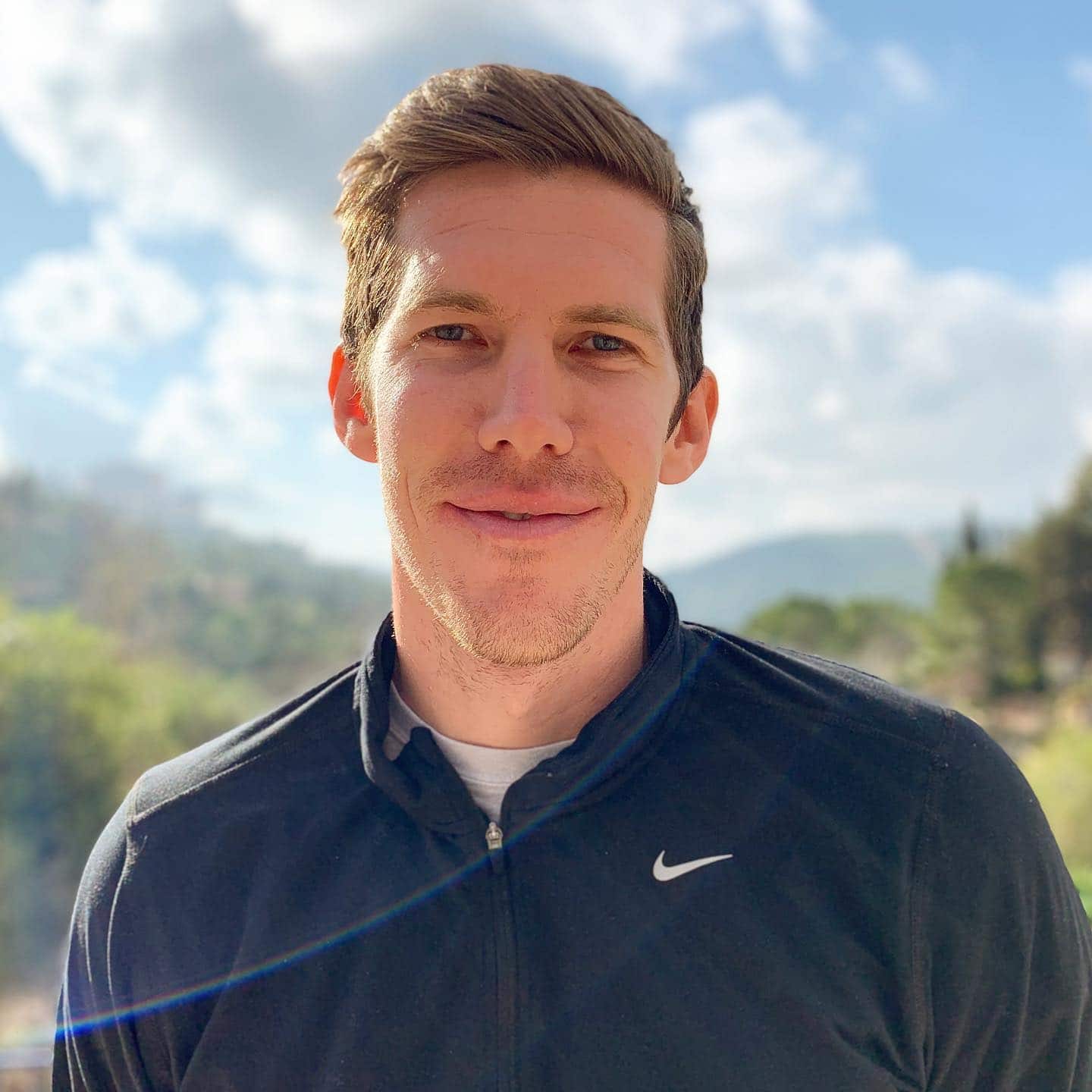 Kyle has a background in sports, fitness/health, and business. However, he also has a passion about researching all topics, and is dedicated to making lists that will help make your life easier.