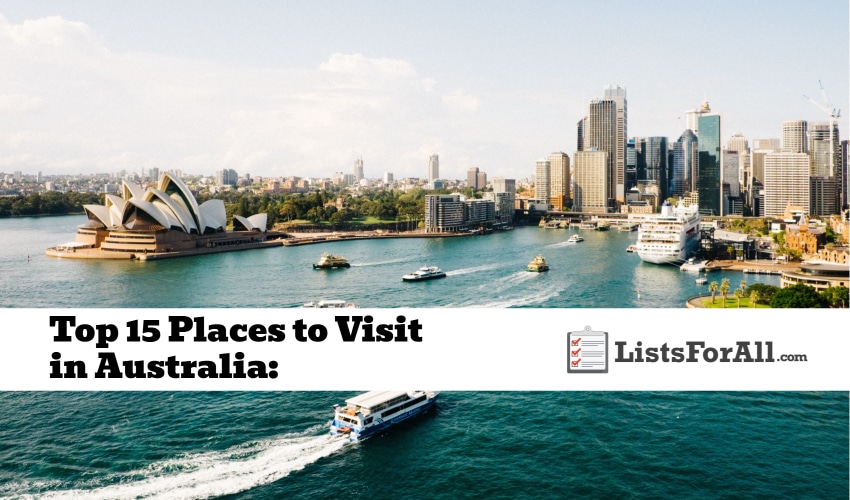 Best Places to Visit in Australia: Highlighting the Top Places to Visit in Australia
The Land Down Under, also known as Australia, is full of adventure and diverse regions. There is so much diversity, from stunning national parks to amazing cities like Sydney to the beaches and the great barrier reef. With all of these different things to see, this list of the best places to visit in Australia was a must.
This list of the best places to visit in Australia will highlight the top spots and help you plan your perfect trip. Whether you are looking for city life, wilderness, beaches, etc., this list of the top places to visit in Australia will have you covered. 
Along with plenty to see in Australia, there is also a unique culture to experience. Australia has a unique history, to say the least, between the unique culture of Australia's aboriginals and the island being settled by convicts from the old world. And of course, don't forget about all of the unique wildlife (just make sure you don't get too close to some of it!). With kangaroos, koalas, crocodiles, and plenty more, you will have all the wildlife you can handle, and that is not including all that the ocean has to offer, either.
So start planning your trip and use this list of the best places in Australia to make sure you make the most of it!
After you have finished with this list, make sure to visit our list of the best travel accessories and best travel blogs. Both of these lists will help you with all of your travel adventures.
Top 15 Places to Visit in Australia: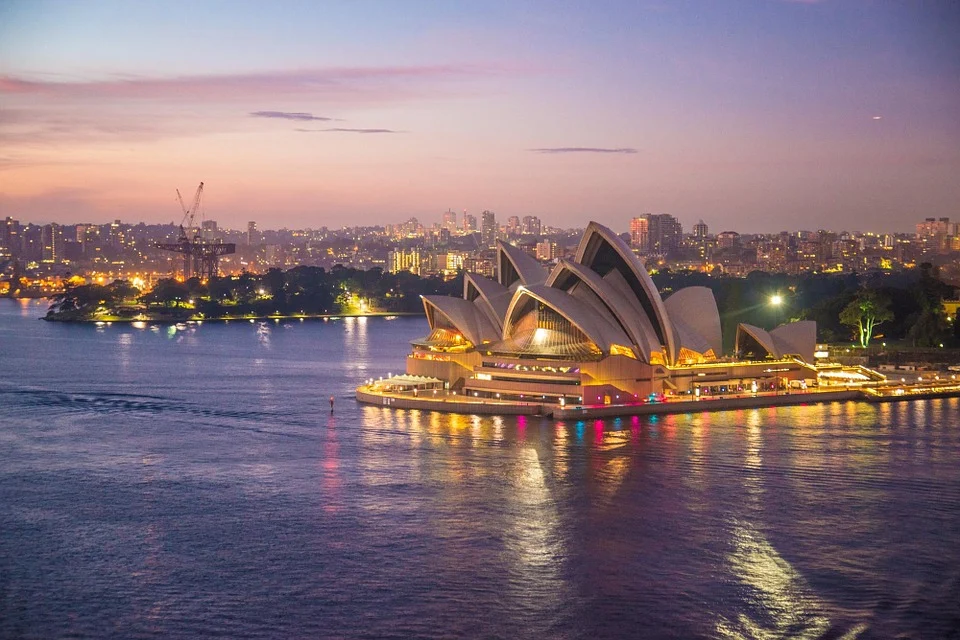 Highlights: Sydney Opera House, art gallery of New South Wales, and beautiful beaches.
About Destination: Regarded as Australia's crown jewel, Sydney makes our list of Australia's best places to visit. A city with iconic landmarks and some of the world's most beautiful beaches. It also contains world-class dining establishments that will help visitors of all ages have an unforgettable experience.
Outside of beaches and dining, you have the world-famous Sydney Opera House, a UNESCO World Heritage Site. And wildlife lovers will be thrilled by the Botanic Gardens that can be found in the city's heart or the Taronga Zoo.
Highlights: Snorkelling, scuba diving, Whitsunday Islands.
About Destination: The Great Barrier Reef is one of the world's seven natural wonders and a must-see sight in Australia. Visible from Outerspace, it is the biggest coral reef system on the planet. It is home to diverse marine life and offers adventure opportunities for everyone. There are many fun activities as well. Visitors can sail, dive, snorkel or swim in this living treasure.
Outside of the water, you have the Daintree Rainforest and the charming Whitsunday Islands. A trip to the reef is all about being surrounded by unique, beautiful, and unforgettable nature. If you are on your honeymoon or looking for something romantic, try out a seaplane flight over the famous Heart Reef. With all of this, it is definitely one of the best places to visit in Australia.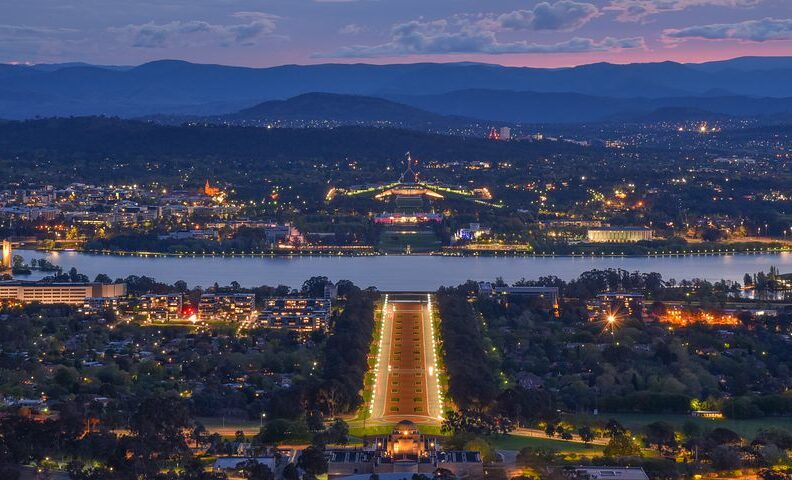 Highlights: Museums and galleries, beautiful parks, and something for everyone.
About Destination: Canberra is the perfect place to visit if you want to experience all that Australia has to offer. From its beautiful parks and gardens to its world-class museums and galleries, Canberra has something for everyone. So if you're looking for an unforgettable Australian holiday, be sure to include Canberra on your list!
Highlights: Natural landscapes, unique experience, and off-the-beaten path.
About Destination: If you're looking for an Australian alternative to the usual tourist traps, Byron Bay is an excellent option. Their hippie culture and stunning natural landscapes offer a unique experience that you won't find anywhere else.
Highlights: Nambung National Park, unique limestone formations, and close to the town of Cervantes.
About Destination: The Pinnacles are a must-see destination for anyone traveling in Australia. Located within Nambung National Park, these striking limestone formations are just minutes from the small town of Cervantes.
Rising dramatically out of the desert floor, The Pinnacles resemble weathered tombstones and number in the thousands. Together, they make for an incredible sight as sand from the coastal dunes constantly blows through the otherworldly looking landscape.
Debates rage over how The Pinnacles were formed, but one thing's for sure – it's an amazing place to visit!
Highlights: Off the beaten path, beautiful scenery, and amazing beaches.
About Destination: If you're looking for an amazing Australian vacation spot that's off the beaten path, then Broome is definitely worth checking out. This small town on the northern coast of Western Australia is home to some of the most beautiful scenery in the country, and it's a great place to relax and unwind.
Cable Beach is one of the highlights here – it's widely considered to be one of the most beautiful beaches in Australia. So if you're looking for a scenic and secluded beach getaway, Broome is definitely worth considering!
Highlights: Incredible scenery, nature reserves, and plenty of wildlife.
About Destination: Kangaroo Island is a stunning island and one of Australia's most beautiful and untouched spots. With incredible scenery and abundant wildlife, this island is a must-visit for tourists. There's something for everyone on Kangaroo Island from huge dunes and towering cliffs to large caves and remarkable rock formations.
Be sure to visit its nature reserves to see echidnas, koalas, and kangaroos in their natural habitat, or head offshore for a chance to spot penguins, sea lions, and dolphins!
Highlights: Perfect climate, Mount Coot-Tha, and a koala sanctuary.
About Destination: Brisbane is a subtropical paradise that lets you choose your adventure. No matter your interests or budget, Brisbane has something for you. Visitors are assured of a memorable time highlighted by some of the best beaches in the world. There are also majestic mountain peaks, mouthwatering meals, and so much more. 
On offer are exciting festivals and comfortable weather all year long. If you love the great outdoors, this is one of the best places to visit in Australia. Also close by are the World Heritage rainforests and Moreton Bay. Both are glorious havens overflowing with beautiful wildlife only a short drive from the city.
Highlights: Burrungkuy rock art, Twin Falls Gorge, Gunlom Plunge Pool
About Destination: Kakadu National Park is Australia's largest national park and covers as much space as half of Switzerland. This 20,000 SQM Park is the traditional home of the Bininj/Mungguy people and offers a rich, diverse range of environments. It also contains a fabulous collection of animals and plants, thundering waterfalls, lush rainforests, and ancient rock art.
All of this makes it an outdoor lover's dream destination. One specific area that you make want to visit in the park is the Gunlom Plunge Pool. It is a magical combination of seasonal waterfalls and a serene plunge pool with shaded picnic areas. The best time to visit Kakadu is during the dry season, as visits during the wet season can be a bit challenging. If you love the quiet beauty of national parks, make sure to visit our list of the best national parks after you finish with this one.
Highlights: Dine under the stars, Field Of Light, Explore the Impressive Kata Tjuta.
About Destination: The Gold Coast is a metropolitan area on Australia's east coast located south of Brisbane. The Gold Coast is well-known for its long beautiful beaches and surfing. There are also intricate inland canals, beautiful waterways, and so much more. All of this makes it one of Australia's leisure capitals.
There are pristine beaches, shopping, restaurants, significant events, and more. A planned Gold Coast vacation will certainly provide a full range of engaging entertainment. On offer are stunning amusement parks, excellent kitsch museums as well as thrilling rides. In addition, there are exotic animals and unending waterslides to help you relax on hot days.
Highlights: Escape to the Hinterland, 10 Diverse Wildlife Experiences, Gastronomy Delight.
About Destination: Perth is the capital and most populous city of the Australian state of Western Australia and is an urban oasis amid Western Australia's vast wilderness, which is part of the reason residents adore it. Art galleries, outdoor breweries, a laid-back neighborhood, and unique events coexist in perfect unison.
A trip to Perth is therefore sure to be memorable. On offer are neighboring wineries and pleasant quokkas. Perth, Australia's warmest capital city, beautifully combines urban cool with fresh, natural style. When you visit Perth, go on a shopping spree, visit cultural sites, or Kings Park (the world's biggest inner-city park).
Highlights: Heart Reef, Whitehaven Beach, Overnight crewed sailing, Bare boating.
About Destination: The Whitsunday Islands are a group of 74 continental islands of varying sizes located off the central coast of Queensland. Visitors come from all over the globe to unwind on the natural white sands of Whitehaven Beach as it offers tons of fun activities and experiences. For instance, you can fly over the Heart Reef in a floatplane or go snorkeling.
Also, sailing, scuba, and swimming are popular activities. The clear, guarded waters surrounding the island's isolated beaches and concealed bays ensure this. On the flip side, the continental side of The Whitsunday Coast is equally appealing. Beautiful beaches and national parks abound, and the coastal enclave of Airlie Beach is a popular spot for vacationers. 
Highlights: 4×4 buggy trekking, overnight cruising, Ningaloo Marine Park, Marine Eco Safari,  relaxing beaches.
About Destination: Coral Bay is a comparatively tiny town on the Ningaloo Reef, which protects it from the Indian Ocean. It is also the only fringing reef in Australia. However, unlike other areas, the coral begins right at the edge of the water, allowing coral and fish to be easily visible to everyone, including young kids.
You can also see fish and coral while snorkeling or on one of the Coral observation boats. All of this will allow you to discover the exotic underwater world of the Ningaloo Reef. If you are looking for something to do as a couple, there are romantic couple's tours and resort hotels. All of this makes Coral Bay one of the best places to visit in Australia and a tropical vacation destination for many.
Highlights: Valley of the Winds, The famous Cultural Center, Camel Riding, Walk into the Mutitjulu.
About Destination: The Uluru-Kata National Park is a contender for the top spot in Australia's list of must-see places. The Uluru-Kata Tjuta National Park is located in Australia's Northern Region and contains Ayers Rock, possibly Australia's most famous landmark.
All of this makes Uluru is a must-see location in Australia. While exploring, you will be able to take advantage of incredible landscapes, unreal sunrise and sunset colors, and more. All of this combines to provide the ideal setting for an unforgettable experience.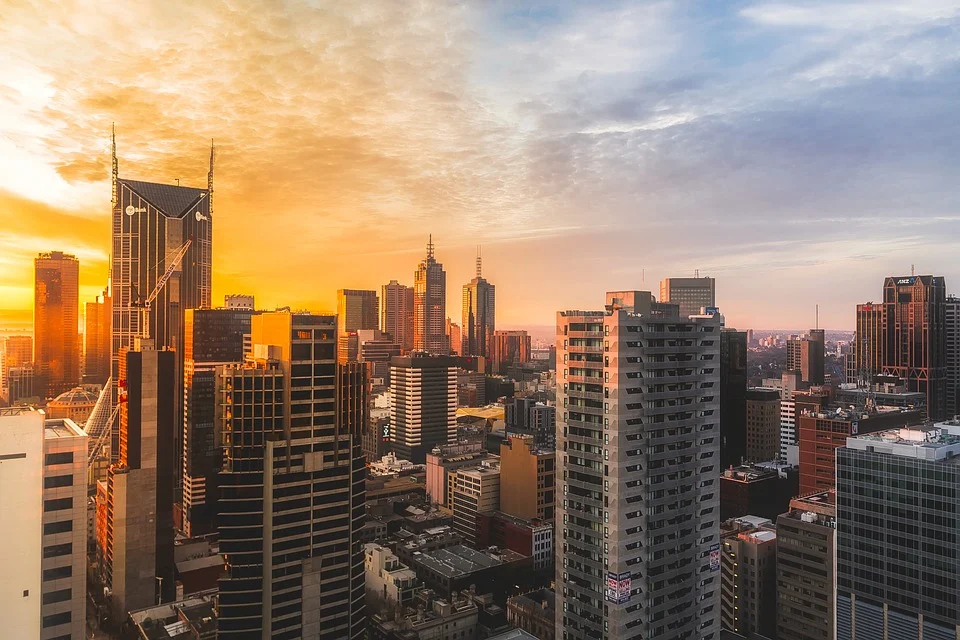 Highlights: Four unique seasons, Australia's cultural capital, Vibrant street arts, and fantastic wildlife.
About Destination: Melbourne is the capital of the Australian state of Victoria. It is situated on the southeastern coast, at the mouth of Port Phillip Bay. The city has many lovely parks and is certainly one of the best places to visit in Australia. Spring is the best time to visit, but Melbourne is an ideal destination year-round.
Those with a taste for structural design and history will find much that is unique and attractive. Melbourne also has a reputation for conservatism and financial stability, which has made a significant contribution to its development. It can be seen in the central city's surging skyline and the rapidly growing eastern suburban areas.
Best Places to Visit in Australia Conclusion
After reading this list, you may need to check your pulse if you are not inspired to travel. With all of the variety and unique offerings that Australia has, it is a traveler's dream destination. The only problem will be trying to get to all of these destinations in one visit. That is okay, though, this list of the best places to visit in Australia can be accomplished in multiple trips.
And while Australia is about as impressive of a destination as there can be, we also have several other travel lists that may pique your interest. If you are planning a trip to Europe, make sure to visit our list of the best places to visit in England and the best places to visit in Ireland.
Have you been to Australia before? If you have, we would love to hear what spots were you're favorite and what you liked about them. So please feel free to comment below.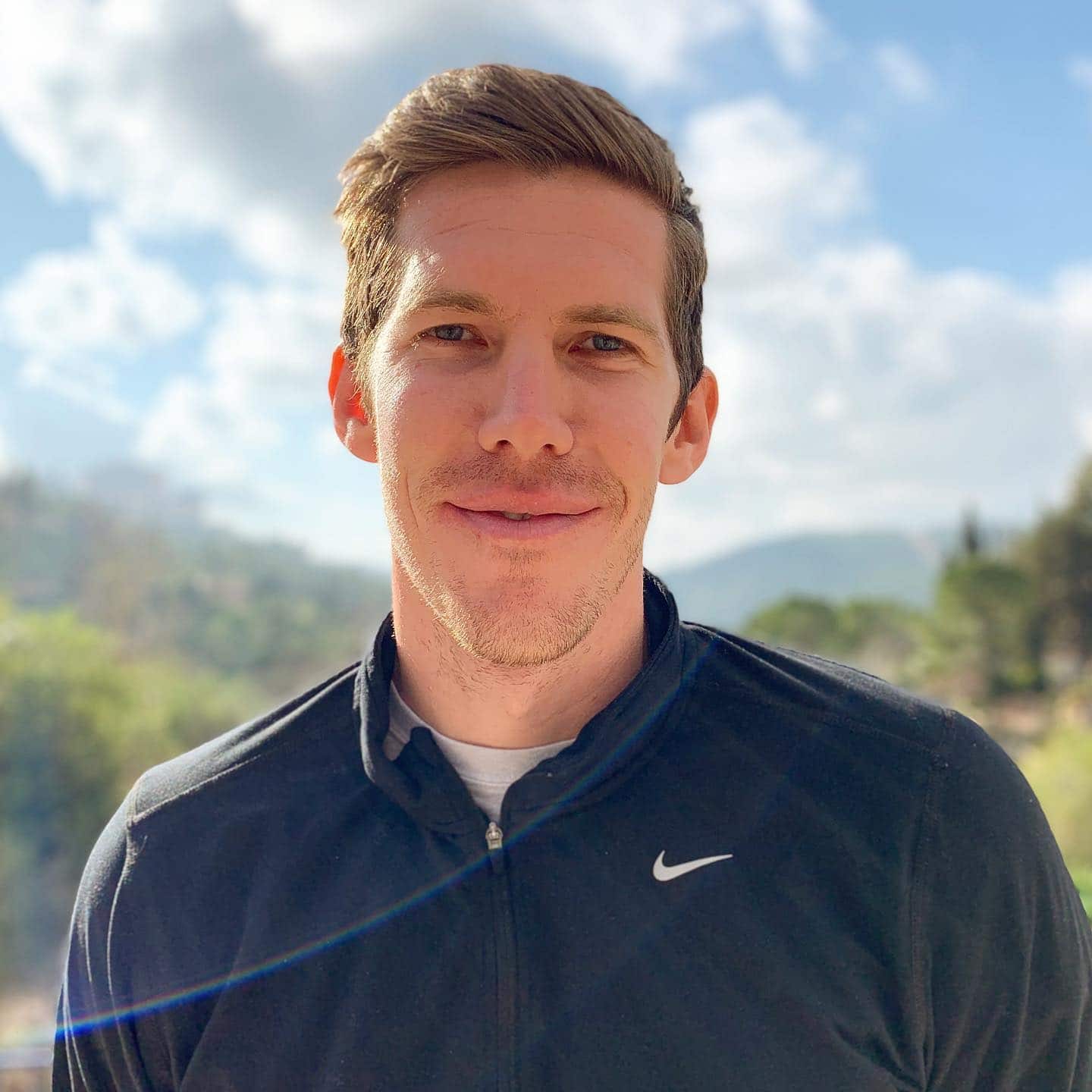 Kyle has a background in sports, fitness/health, and business. However, he also has a passion about researching all topics, and is dedicated to making lists that will help make your life easier.