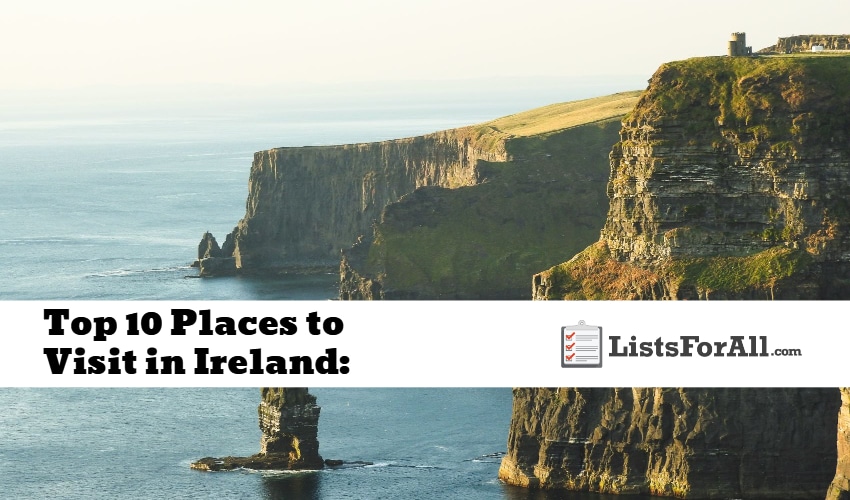 Best Places to Visit in Ireland: Planning Your Perfect Trip to Ireland
Ireland is a nation with a rich history and enchanting natural beauty. Known as the Emerald Isle, visitors are amazed by its rolling green hills, which make up the breathtaking scenery of the island. Combined with its deep cultural roots, Ireland is one of the best European destinations. But with so much to offer, you will need a game plan, and that is what this list of the best places to visit in Ireland is for.
This list of the best places to visit in Ireland will highlight the top places to visit and make sure that your trip is planned to perfection. From the coastal shores of Dingle to the pubs of Dublin, there's something for everyone in this beautiful country off the northern coast of Europe.
Whether you are planning to take in the sights, grab a pint, or visit one of the country's many medieval castles, this list will help you prepare for your Irish adventure. And to help you get there and make the most of your trip, make sure to visit our list of the best travel sites, best travel blogs, and best travel accessories. All of these lists will provide valuable travel resources.
Top 10 Places to Visit in Ireland:
Highlights: Kilmainham Gaol Museum, Guinness Storehouse, Jameson Distillery
About Destination: Dublin is the capital of Ireland and home to the Dublin International Airport, which is the largest airport in the country and where many visitors will begin their adventure. After arriving, visitors can unwind from their flight with a pint of Guinness at one of the city's over 700 pubs. Or, you can go straight to the source at the Guinness Storehouse which offers an interesting look at the brewing process coupled with breathtaking panoramic views of Dublin.
If whiskey is more your thing, one of the best whiskey brands in the world is also located in Dublin. The Jameson Distillery nearby is an experience all its own and offers tours and tastings. For those interested in Dublin's history and museums, the Kilmainham Gaol (pronounced "jail") is a sobering experience. A tour of Kilmainham gives a look into a dark past where political prisoners and revolutionaries spent some of their final days.
Highlights: Very walkable, parks close by
About Destination: Killarney is a small, quaint town nestled in southern Ireland. It's the starting point of the famous Ring of Kerry driving tour route. But with dozens of shops and restaurants located in the town center, you will hardly need a car to get around Killarney.
Visit the nearby Killarney National Park for serene jaunt into nature, or go for a ride on one of the town's many horse-drawn carriages. Muckross House and Muckross Abbey are great stops for history lovers. The Muckross House is an elegant mansion built in 1843, and Muckross Abbey is an Irish monastery that dates back to the 15th century!
Highlights: Gin, ice cream, hiking, shopping, beaches, seafood
About Destination: Dingle is one of the best places to go in Ireland if you want a little bit of everything. For those that love the beach, you can go surfing or swim with Dingle's local bottlenose dolphin, Fungi. For a bit more distance between you and the local fish, fresh seafood is widely available in Dingle's small fishing village.
Among the many shops downtown, you'll find Murphy's famous ice cream. Murphy's is known for its flavors infused with gin from nearby Dingle distilleries. Further inland, there are scenic drives and hiking trails like Mt Brandon where you can get some exercise and enjoy the classic views of Ireland.
Highlights: Scenic views, wild beauty
About Destination: Inishowen is in a remote area that gives visitors a cozily isolated retreat. Home to one of the filming locations for the movie Star Wars: The Last Jedi, the scenic peninsula offers grand coastal views. While there, visit Malan Head, the peninsula's tip, for the best impression of one of the most beautiful places in Ireland.
You can also see authentic thatched cottages from the potato famine of the 1840s or the ancient ring fort Grianán of Aileach. And seafood lovers can find fresh-caught meals in the nearby fishing village of Greencastle. Some lucky visitors may even catch a glimpse of the Northern Lights at night!
Highlights: Fine wool products, bicycle tours, Dun Aengus
About Destination: The Aran Islands are a group of three small islands off the coast of County Galway. Accessible only by boat or plane, you can take a ferry from Rossaveel or Doolin. The ferry takes about 45 minutes to reach Inishmore, the largest of the Aran Islands. There, you can rent a bicycle to tour the island (there are also guided bus tours available).
While you explore the island be sure to visit Dun Aengus, which is a prehistoric fort perched on the edge of an over 300-ft cliff! The Aran Islands are also known for their wool sweaters. You can buy your own sweater (and other wool products) at the Aran Sweater Market. These sweaters are all handmade, so they can be a little pricey, but the quality you get is worth it.
Highlights: Distilleries, monasteries
About Destination: Glendalough is the namesake for the Glendalough gin and whiskey which is popular all over the world. Here, you can sample some fine spirits straight from the source at the Glendalough Distillery. Also, the area is set in a glacial valley that offers beautiful hiking trails for more active visitors.
The region was first settled in the 6th century by St Kevin as a monastic settlement. Due to their age, many of the monastery's buildings have fallen to disrepair but the visitor's center has a model of what they originally looked like and you can still visit and explore the ancient site yourself.
Highlights: Excellent photo opportunities
About Destination: The Giant's Causeway is an intriguing natural sight, and is something you simply must see when you visit Ireland. It features close to 40,000 mostly hexagonal basalt rock columns located on the north coast of Northern Ireland. This stunning geographic phenomenon is free to visit, so it does get busy.
And since it is one of the top places to visit in Ireland, it's best to go early if you want to beat the crowds. When you do go, make sure to bring your camera so you can snap some beautiful shots. Also, on a clear day, you can even see the coast of Scotland in the distance.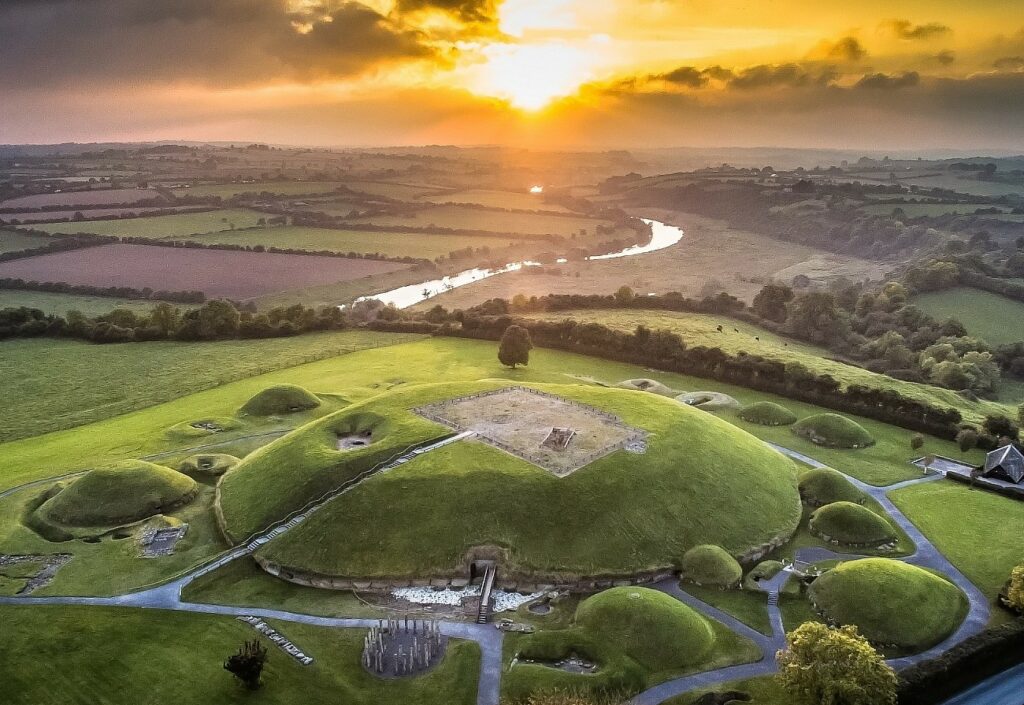 Highlights: Ancient tombs, winter solstice sunrises
About Destination: The prehistoric landscape of Bru na Boinne translates to "the palace of the Boyne." It's located at the bend of the Boyne River, north of Dublin. The main attractions to this area are the tombs of Knowth, Newgrange, and Dowth. These are called passage tombs and served as bases for the early medieval kingdoms of Ireland, homes to the kings of Tara (the region's first name) around the period of 800 AD.
Depending on what time of year you go, spectacular views of the sunrise can be had on the winter solstice, though tickets to be inside the tomb for this event require a lottery drawing. The original purpose of these monuments remains a mystery even today.
Highlights: World-famous scenic views, museum tours
About Destination: The Cliffs of Moher offer one of the most famous views in all of Ireland. This geographic wonder was a featured filming location in the Harry Potter films. Visitors are able to take self-guided walking trails where you can find yourself right at the edge of the 700-foot plummet!
Also, the visitor's center at the Cliffs of Moher also has a museum with lots of information on the Cliffs and their formation, as well as the native flora and fauna they play host to. With over 1.5 million visitors every year, this is without a doubt one of the top places to visit in Ireland.
Highlights: Winding rural paths, numerous stops
About Destination: For road trip seekers, the Ring of Kerry is an adventure you can't miss. The circular route starts in Killarney and continues for 111 miles around County Kerry. With numerous scenic stopping points like Ladies' View and the Torc Waterfall offering some of the most beautiful places in Ireland, the Ring of Kerry is an all-day trip that won't disappoint.
Because of the Ring's length and narrow, winding roads, you may opt to take a guided bus tour instead of driving it yourself. This is especially helpful if you are not very familiar with driving on the left side of the road, as is the law in Ireland.
Best Places to Visit in Ireland Conclusion
Thanks to its beauty and history, Ireland is certainly one of the top travel destinations. Because of this, millions of visitors from all over the world flock to the Emerald Isle every year. They come for the sights, sounds, and tastes that are unique to its shores, and all are left impressed by its grand beauty. With some of the best castles in the world, breathtaking gardens, stunning waterfalls, and so much more, you will have all that you can ask for.
Ireland is also the perfect destination for so many different types of trips. Whether it is a family vacation, a honeymoon, or a group of close friends, Ireland has something for everyone.
Hopefully, this list of the best places to visit in Ireland helped narrow down some of the top choices for your trip. The best part about visiting Ireland is that if you run out of time to see everything, you can always come back.
If any of these happen to be your favorite place to visit in Ireland, feel free to let us know in the comments.