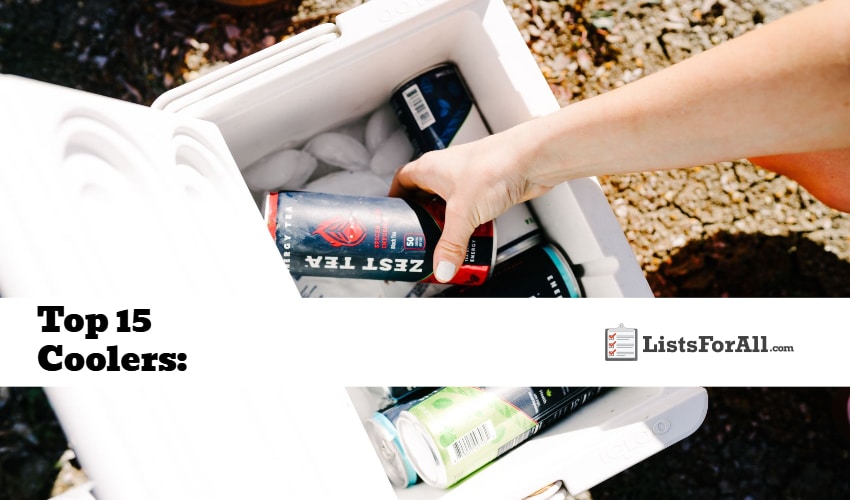 Best Coolers: Finding the Perfect Cooler for You
Summertime is the perfect time to head outside and enjoy some fun in the sun. But don't let the heat get you down – make sure to take your favorite drinks and snacks along with you in a quality cooler from this list of the best coolers.
This list of the best coolers will highlight the top options and help you find the perfect cooler for your needs. From the traditional hard-sided coolers to the latest soft-sided and insulated coolers, this list contains some of the best options on the market.
When you finish this list of the best coolers, visit our lists of the best beaches, the best tailgate games, and the best party themes. All of these lists will give you a chance to use your new cooler.
Top 15 Coolers:
Price: $85.63
Highlights: 70-quart capacity, supports up to 250 lbs as a seat, and weighs 13.4 lbs empty.
About Cooler: With its 70-quart capacity, this cooler is the perfect size – not too bulky, but big enough to carry plenty of drinks and food and fit in most cars' trunks. An added bonus is that this ice chest can support up to 250 pounds for extra seating. And with a weight of only 13.4 pounds empty, it's also manageable to carry for a short distance.
Plus, you don't have to worry about your ice melting any time soon. The Coleman Xtreme kept ice frozen for a full week. It's even got molded cup holders so you can keep your drinks handy and ready for when you're on the go or just relaxing poolside.
Price: $128.10
Highlights: Ice lasts 3-5 days, food-grade safety materials, and a D-seal 15 construction for added security.
About Cooler: This amazing cooler provides optimal ice retention, with the ability to last up to 3-5 days or even longer if pre-cooled. You won't have to worry about cold drinks and delectable snacks going bad during a camping or fishing trip, as this rotomolded cooler ensures that everything stays cold and delicious.
You can also rest assured knowing this top cooler consists of food-grade safety material and is compatible with dry ice – perfect for creating an even better-chilled experience. And when transporting your cooler, use its molded tie-down slats and ergonomic steel handle. For added comfort, security, and convenience, its D-seal 15 construction gives you peace of mind for travel preparations.
Price: $289.99
Highlights: Rotomolded construction, maximum insulation, and extremely tough and durable.
About Cooler: Make every get-together, campout, and weekend excursion an incredible adventure with the RTIC 65QT Hard Cooler. Featuring industry-leading rotomolded construction, this high-performance cooler provides outstanding toughness and long-lasting durability without the ridiculously high price tag.
And although tough and durable, it doesn't come with extra weight – in fact, you can squeeze more into the RTIC 65QT Hard Cooler because of its maximum amount of insulation that helps keep your goods chilled longer. Get ready to be the life of the party or enjoy solo excursions packing a dependable cooler that won't let you down.
Price: $159.00
Highlights: Virtually indestructible rotomolded design, a secure locking system, and a freezer-grade gasket.
About Cooler: This ultimate camping resource was designed with durability in mind, featuring a virtually indestructible rotomolded design and secure locking system. Plus, its enhanced wall thickness with freezer-grade gasket provides superior ice retention and dry ice compatibility, making it the perfect companion for your next outing.
Its no-slip textured lid also includes four molded cup holders and stainless steel hardware-both keeping drinks safe and close at hand. Its folding aluminum comfort grip handle keeps your cooler securely latched while you're on the move. The Camp-Zero cooler was even Grizzly certified to be bear-resistant when used with the appropriate locks.
Price: $450.00
Highlights: Can carry up to 37 lbs of ice, drinks, and food, Easy Grip handles, and keeps content cold for up to 7 days.
About Cooler: This heavy-duty cooler has every feature you could want in one convenient package. Featuring an update to their original Tundra design, this top-of-the-line rolling model can carry a hefty 37 pounds of ice, drinks, and food – eliminating the need to drag it through the sand.
Its new rotomolded construction makes it incredibly durable and strong enough to withstand even the roughest terrains, while its Easy Grip handles provide stability and make it easy to transport. What's more – thanks to Yeti famously over-engineering their products – this premium piece of gear keeps contents cold for up to 7 days.
Not only is this great for long trails in nature, but also for that upcoming family reunion BBQ in summer.
Price: $61.00
Highlights: Keeps items cold for up to 30 hours, can support up to 300 lbs, and has an 18-can capacity.
About Cooler: This cooler can support up to 300 pounds, making it twice as strong as most regular coolers. It has a 17-Quart, 18-can capacity, and its lid opens full 180 degrees to give you easy access to whatever item you need to bring with you. Additionally, the lid will stay open at 90 degrees, so you always have uninterrupted access when looking for something inside the cooler.
This top cooler also has a special compartment that is great for securing smaller items like cell phones, medicine, and keys. Plus, its lid is made with no rust stainless steel, which is recessed to accommodate 1 Liter water bottles. Carrying this around won't be a problem either as it comes with a shoulder strap which doubles as a handle for easy transport.
Price: $169.99
Highlights: Heavy-duty blow-molded construction for increased strength, UV inhibitors to protect from sun damage, and can keep ice cold for up to 5 days.
About Cooler: With heavy-duty blow-molded construction and a reinforced base for increased strength and protection, this tough but lightweight cooler has an ice retention of up to 5 days. It also works perfectly in hot temperatures thanks to UV inhibitors protecting it from sun damage, not to mention the rust-resistant stainless-steel hinge rods and hardware for extended performance.
The rubberized T-grip latches also keep the lid secure, while the threaded drain plug is garden hose compatible and features a non-slip, easy-grip stainless steel tethered, so you don't have any trouble draining away any excess water. The MaxCold body, combined with 20% thicker foam and an insulated lid, offers enhanced cooling powers so you won't worry about melted ice ever again.
Plus, the Cool Riser Technology amplifies airflow beneath the box, keeping all your items cool until you're ready to use them.
Price: $114.99
Highlights: More than 2 inches of closed-cell insulation on its lid, a zipper enclosure, and sturdy shoulder straps for comfort.
About Cooler: The RTIC Soft Pack Cooler 20 Can is perfect for any adventure. With more than 2 inches of closed-cell insulation on its lid and thicker walls than that of the Hopper Flip, you can count on your contents being kept at a reliable temperature all day long.
The zipper closure also ensures that your items stay sealed inside without any risk of spilling or leaking out. And its sturdy shoulder straps make carrying it around easy and comfortable no matter where your journey takes you.
Price: $275.00
Highlights: Rotomolded LLDPE plastic construction to ensure strength and durability, Ecomate insulation for maximum coldness, and a sealable lid gasket for improved insulation.
About Cooler: This revolutionary cooler offers maximum performance and can withstand even the harshest of environments. Its high-performance rotomolded LLDPE plastic construction ensures strength and durability, while its Ecomate insulation locks in maximum coldness.
Plus, the lid gasket seals for optimal insulation, making it a great choice for campers, fishermen, hunters, and anyone else who loves to spend time outdoors.
Price: $325.00
Highlights: TPU-laminated nylon to make the cooler waterproof and durable, bar tack stitching to handle heavier weights, and a magnetic rolltop lid.
About Cooler: The Yeti Hopper M20 Backpack Soft Cooler is the ideal choice for those looking for a cooler that stands up to the extreme elements, no matter the situation. Engineered with strength and durability, this model verges on being over-engineered, and it shows. Constructed using TPU-laminated nylon, not only is it waterproof and highly durable, but also extremely tough.
And thanks to specially designed bar tack stitching, it can handle heavier weights while keeping its integrity intact. For a good level of insulation, this cooler features closed-cell foam and a magnetic rolltop lid to keep everything securely stored away.
Price: $249.99
Highlights: 70-quart capacity, 8-inch insulated walls, and keeps items cold for up to 4 days.
About Cooler: Perfect for camping trips, tailgates, fishing trips, and more, this cooler is designed to provide ultimate convenience and performance wherever you go. It boasts an impressive 70-quart capacity – enough to hold up to 112 cold ones. Plus, its 8-inch insulated walls ensure that your beverages stay ice-cold for up to 4 days.
The Trailmate features oversized never-flat wheels that allow you to tackle rough terrain. They offer superior traction and ground clearance, so you can go wherever you want with ease. And the telescoping handle makes transporting this cooler a breeze. Plus, the Butler tray feature provides a convenient spot for snacks or drinks, and cup holders keep your drinks at arm's reach.
Price: $349.00
Highlights: Pressure-injected lid for maximum ice retention, double wall silicone gasket for a tight seal, and rotomolded construction materials for ultra durability.
About Cooler: Introducing the Bison Coolers Gray Rotomolded Hard Cooler Box: one of the best coolers on the market. These coolers are made with premium cooling features in mind. They have injected pressure into a two-inch thick lid, as well as insulated walls, to ensure maximum ice retention.
These coolers also come with a double wall silicone gasket for a tight seal so you can be sure your food and drinks are always perfectly chilled for that extra cooling effect. Not only do these coolers provide top-notch cooling properties, but they're also made for ultra-durability. They're built with rotomolded construction materials, so you could drive a truck over them – seriously.
Plus, they've included two heavy-duty rubber latches as well as full-length self-stopping hinges so your cooler is secured and won't open unexpectedly or suddenly break without warning.
Price: $92.99
Highlights: Handles up to 20 lbs of ice and drinks, 840-denier UV-resistant nylon exterior to keep items cold longer, and open-cell foam for comfort.
About Cooler: When it comes to staying cool on the go, the Polar Bear Original Nylon Backpack Cooler is just what you need. This lightweight and durable backpack cooler can handle up to 20 pounds of ice and drinks for long-lasting coolness.
Not only does it keep drinks cold for longer than many other models, but its open-cell foam and 840-denier UV-resistant nylon exterior also makes it comfortable to carry even when fully loaded. With its superior insulation quality and stylish design, this backpack cooler will make your summer days easy and breezy.
Price: $75.16
Highlights: MuleSkin fabric for durability, PolarLayer insulation that guarantees 24+ hours of ice retention, and a ventilated backpack strap for easy carrying.
About Cooler: This heavy-duty cooler is designed to fit all your needs, whether it is using it as a beach cooler, out hiking, or for a picnic. With its premium MuleSkin fabric and game-changing IM AirValve, this cooler is built to outlast and withstand whatever comes your way.
Not to mention, its PolarLayer insulation guarantees 24+ hours of supreme ice retention. On top of it all, its lightweight feature will give you the freedom and flexibility you need on your outdoor excursions with a ventilated backpack strap, so both your arms are free.
Price: $101.99
Highlights: Extra deep draw insert, oversized wheels, and locking telescoping handle.
About Cooler: This roller cooler stands out with its unique design and eye-catching mechanical structured appearance. It also has an extra deep draw insert with ample storage capacity that's perfect for toting all of your snacks and drinks. Oversized wheels make it super easy to push or pull across most terrain, while the locking telescoping handle will keep everything in place when on the move.
Tie-down points also ensure that everything remains securely fastened during transport.
In addition to its great design practicality, this cooler even has molded-in side handles, which are great for unloading and loading. Finally, the triple snap leak-resistant drain plug makes sure melted ice never becomes an issue when it comes time to clean up afterward.
Best Coolers Conclusion
Different people have different ideas of what makes the perfect cooler. Some want one that is large and can hold a lot of food and drinks, while others are looking for something smaller and more portable.
No matter what your needs are, this list of the best coolers and one of the above options will have what you need. Before you know it, you will be enjoying a cold beverage on the go wherever you want.
Do you have a favorite cooler? If you do, please feel free to share that below in the comments.