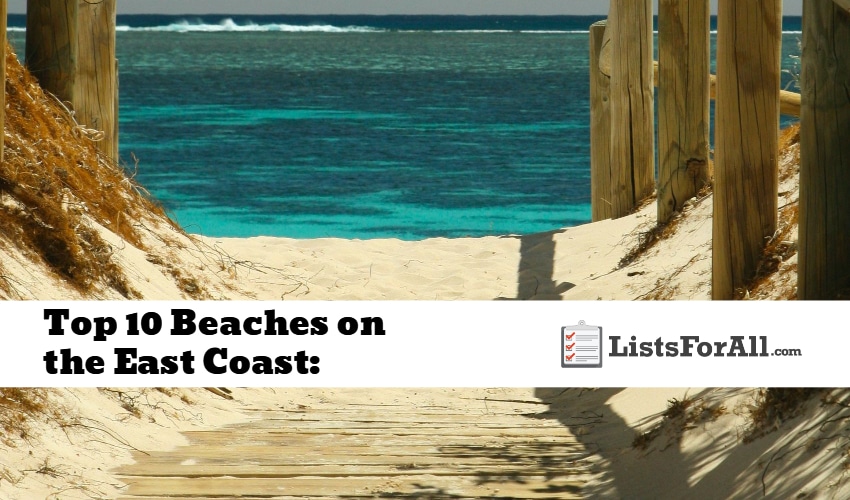 Best Beaches on the East Coast: Discovering the Top East Coast Beaches
When you start searching for the best East Coast beaches to spend your vacation on, you are bound to be overwhelmed. Hundreds of unique beaches line the coast of the US, and it can be challenging to narrow it down to the perfect one. It all depends on what your ideal beach vacation looks like.
With this list of the best beaches on the East Coast, you can zero in on exactly which top-ranked East Coast beach has the features you enjoy most when you visit. Regardless of what you are looking for in a beach experience, this list will have you covered. 
And to better help you prepare for your upcoming trip, don't forget to check out our other travel-related lists, like our top travel sites and our favorite travel accessories. These lists help take away the stress of trip planning so you can start feeling relaxed sooner. And if you are looking for a more in-depth look at any of these destinations, our list of the best travel blogs will have all of the expert travel tips you can handle.
Top 10 Beaches on the East Coast:
State: South Carolina
Highlights: Endless activities, world-class golf courses, and a top spring break location.
About Beach: As one of the most popular beaches on the East Coast, Myrtle Beach provides plentiful activities to choose from. From amusement parks to dolphin watches, everyone can find something exciting to do. Furthermore, Myrtle Beach is a golfer's haven with over 90 renowned golf courses. It is no wonder why thousands flock to the shores of Myrtle Beach for the perfect spring break vacation.
State: Massachusetts
Highlights: Classic New England lighthouses, gorgeous shoreline, and great shopping.
About Beach: This former whaling community has been calling people to its shores for centuries. On the island's north side, you'll find gentler waves and Nantucket's three historic lighthouses. On the south side of the island, the waves are more substantial and ideal for surfing. To say nothing of the charming seaside community would be a disservice. You are bound to find something extraordinary in one of the many tasteful shops and boutiques.
And if you really want to live it up on your trip, there are some amazing beach-side rental properties in Nantucket that you can take advantage of. This will allow you to take full advantage of the beaches and everything else that Nantucket has to offer.
State: Georgia
Highlights: Guided nature tours and the Georgia Sea Turtle Center.
About Beach: Jekyll Island is a nature-lovers paradise. The flawless beaches here are bordered by thousands of acres of forests, where you can join a guided Ranger Walk. This will allow you to spend time enjoying nature like never before, and it doesn't stop there either! Afterward, stop by the Georgia Sea Turtle Center and learn all about their work to help protect and rehabilitate sea turtles.
State: New York
Highlights: Historic charm and pristine beaches.
About Beach: A trip to East Hampton is like a trip back in time. Like many East Coast beach towns, East Hampton retains much of its beautiful history in its homes and buildings. So if you love history, or just enjoy beautiful views, this might be the beach for you. Outside of the history, the five beaches here are immaculate and offer gorgeous views of the Atlantic. All of this makes it easy to see why East Hampton made our list of the best beaches on the East Coast.
State: South Carolina
Highlights: Incredible golf courses and celebrated dining options.
About Beach: Kiawah Island in South Carolina delivers magnificent East Coast beach vacations for golf enthusiasts and beach-goers alike. As a result of the popularity, luxurious resorts with exciting amenities and exceptional restaurants have flourished here. Additionally, when the sun sets, the fun doesn't have to end. Numerous shows take place all year, ranging from comedy acts to classical symphony performances.
State: South Carolina
Highlights: Pleasant climate year-round, water sport rentals, and fun festivals.
About Beach: Owing to the lovely weather all year, Folly Beach is a great vacation spot whenever you need to get away. Since winter temperatures average around 55° F and summer temperatures average approximately 85° F, you can enjoy your beach vacation in January or July.
While you're on the island, rent a kayak or paddleboard to explore the water on your own. You can also join one of their unique, annual festivals, such as the Bill Murray Look-A-Like Polar Bear Plunge held on New Year's Day or their November Jazz Festival.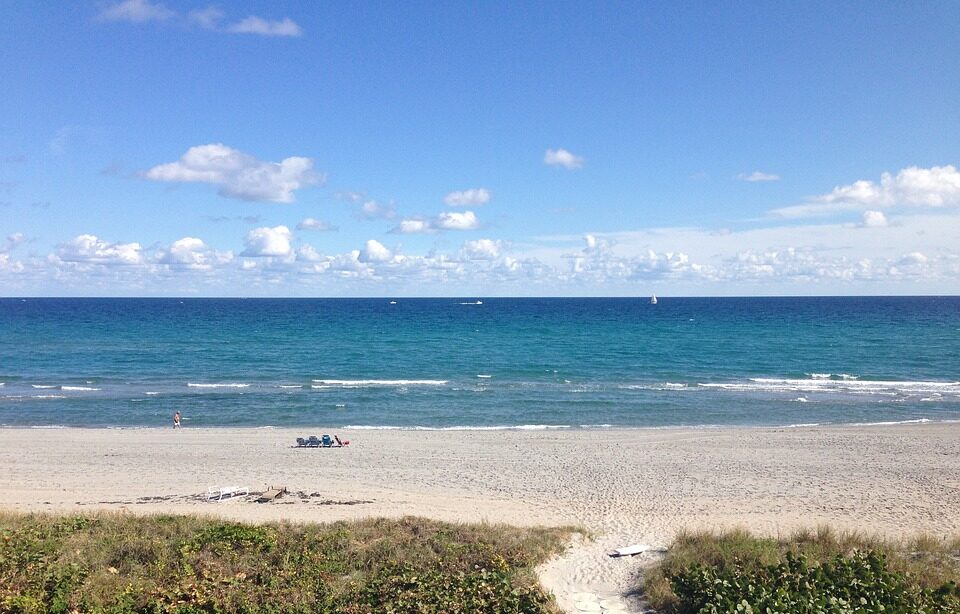 State: Florida
Highlights: Offers excellent beach facilities and a creative community.
About Beach: Not only is Delray Beach one of Florida's top-ranked beaches, but it's also one of the best beaches on the East Coast. The white sand beaches are perfect for relaxing, playing beach games, and whatever other beach activities you may want to enjoy.
While here, you will immediately notice that the municipal beaches feature convenient amenities like showers, bike and towel racks, and drinking fountains. Of course, the dynamic city of Delray Beach is just as deserving of your time. Besides being a beautiful seaside town, you can visit galleries displaying local art and catch an outdoor concert.
State: Rhode Island
Highlights: Stunning views, historic architecture, and a genuine fishing village.
About Beach: You can find the classic East Coast beach town of Narragansett in Rhode Island, nicknamed the "Ocean State." Firstly, catch a theater show or attend a private party at The Towers, a historic events center that reflects the unique architecture of the area. Secondly, if you want a taste of what life is like here, you can head south to the Port of Galilee, a bustling fishing village. And finally, stop by the famous seawall to take in the spectacular ocean view.
State: North Carolina
Highlights: Has fewer people, more space, and ample outdoor activities.
About Beach: The Outer Banks is the ideal vacation spot for those who want to avoid the large summer crowds that most East Coast beaches attract. For this reason, it comes as no surprise that the Outer Banks ranks high on the list of top US vacation spots.
With more than 100 miles of shoreline, you can find your own private paradise. Furthermore, the expansiveness of the Outer Banks allows you plenty to explore in a variety of ways, such as renting water sports equipment or catching an airplane tour.
State: Maryland
Highlights: Great family vacation spot, vibrant culinary scene, and top-rated boardwalk.
About Beach: Ocean City Beach has been named one of the best beaches on the East Coast because of its appeal to families. You'll need to plan your time wisely while visiting, though, if you want to catch all the free activities they offer. For example, you can join a beach dance party or participate in the Family Beach Olympics. Ocean City is also known for its diverse collection of restaurants and its highly acclaimed boardwalk.
Best Beaches on the East Coast Conclusion
And that's our list of top East Coast beaches. Besides having these gorgeous shorelines, states like Virginia, Massachusetts, North Carolina, and Florida are also some of the best states to visit. So make sure you plan some stops on your way to the beach.
With the East Coast as your setting, you can have the perfect, well-rounded vacation any time of the year. With activities for all, land or water lovers alike, and restaurants for anyone's taste, these East Coast beach towns have endless opportunities for you.
As you can tell from this list, the best beaches on the East Coast can hold their own against other top beach destinations. But, if your trip to the Atlantic coast still has you craving more beach time, check out some of the best West Coast beaches and the world's best beaches.
If you have been to any of these beaches on the East Coast, we would love to hear your feedback in the comments below.