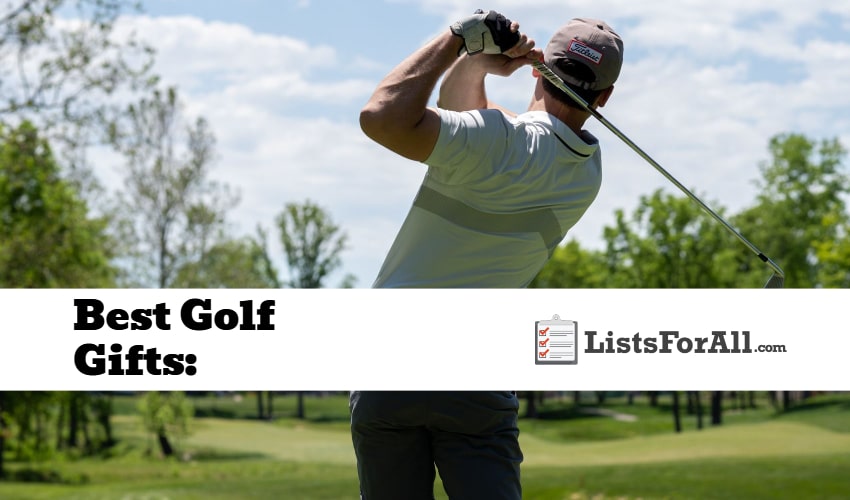 Best Golf Gifts: Finding the Perfect Golf Gifts
If you know someone that loves golf or is just picking it up, this list of the best golf gifts is for you. It will allow you to find the perfect golf gift for players of all levels and also fans of the game of golf. Also, many of the items on this list are also golf training aids that will help golfers develop their game, which will allow your gift to continue to give as they move forward in their golfing career.
This list of the best golf gifts will provide 20 top golf gifts for you to select from for the golf enthusiast in your life. With this list, you can find the perfect golf gift for any level of player, coach, or fan of the game, and know that they will love their gift. 
And don't worry if you are looking for someone that has "everything." This list also has a few unique golf gifts that are sure to impress and that they most likely won't already have. Whether it is a pen holder golf bag or an indoor virtual golf experience, there is sure to be a unique golf gift or two on this list for anyone you are looking for. And of course, it is okay if you also want to grab yourself a gift or two; you have earned it.
After looking through this list of the best golf gifts, we also have a few other sports-related lists that may pique your interest. Our best sports books and best sports movies list will feature all of the sports motivation and inspiration you can handle.
Top 20 Golf Gifts:
Price: $16.99
Highlights: No more bending over to pick up the ball, stretches to 85 inches, and collapses for easy storage.
About Golf Gift: This handy tool can be stretched out to 85 inches, making it easy to retrieve golf balls from ponds, bushes, and other hard-to-reach places. The collapsible design also makes it easy to store and transport, so you can take it with you wherever you go.
And best of all, the Golf Ball Retriever pays for itself in just a few trips to the golf course as you will be able to reach and recover balls that you might've left in the past.
Price: $489.95
Highlights: It is preloaded with golf courses from around the world, a virtual caddie suggests clubs, and the PinPointer feature helps you better aim your shots.
About Golf Gift: The Garmin Approach Golf GPS Watch is perfect for any golfer and easily one of the best golf gifts out there. With more than 41,000 full-color CourseView maps preloaded from around the world, the watch ensures you'll never lose your way on the green again.
The Virtual Caddie feature suggests golf clubs based on the typical distance a golfer hits that club, while the Hazard View allows you to scroll through each hazard on the map quickly. Additionally, the PinPointer feature tells you exactly where on the map you should aim your shot, which will allow you to make every round simpler and easier.
Price: $49.95 (12 count)
Highlights: Expertly designed golf balls, allows for a more consistent flight with less air drag, and an increased drop-and-stop short game control.
About Golf Gift: The Titleist Pro V1 golf ball is designed to offer total performance and longer distance with consistent flight, very low long game spin, penetrating trajectory, and increased drop-and-stop short game control. The softer exterior of the ball allows for a faster low spin casing layer and reformulated 2.0 ZG process core for even more distance.
And the new spherically-tiled 388 tetrahedral dimple design creates a penetrating flight with less drag and greater stability in all conditions. And, since all golfers can use a new set of golf balls, this is one of the top golf gifts and safest bets if you are unsure of what to get the golfer in your life.
Price: $69.69
Highlights: Perfect for all levels of golfers, offers a wide net area, and is quick and easy to set up.
About Golf Gift: This Backyard Golf Net is the perfect way to practice your golf swing with your driver and irons. It is easy to use, quick and easy to set up, and will allow you to get started on your practice sessions right away. This golf training tool will allow players of all levels to practice their swing in their backyard or wherever needed.
Also, with the wide surface area of the net, new players will be more protected from miss-hits as the net will still be able to gather the ball in. If you are looking for one of the best golf gifts to help players develop their swing, this is an excellent option.
Price: $30-$40
Highlights: Comfortable and durable material, anti-odor technology, and comes in a variety of colors.
About Golf Gift: Gear up for your next golf game with Under Armour's Golf Polo. This shirt is made with a textured fabric that is soft, light, and breathable. The material wicks sweat and dries really fast, so you can stay comfortable all day long.
Plus, the anti-odor technology prevents odor build-up, so you can focus on your game. Also, this polo can be worn off of the course as well. So along with it being one of the best golf gifts for men, it is also an excellent gift for men overall.
Price: $199.99
Highlights: Comes with Pin Acquisition Technology and Slope Mode, smaller and lighter than previous models, and can easily be mounted to your golf cart.
About Golf Gift: Looking for the perfect golf gift? Look no further than the Callaway Laser Golf Rangefinder. This brand new and improved model is perfect for any avid golfer. It features P.A.T (Pin Acquisition Technology) with Pulse, which delivers a short vibrating "burst" to confirm that you've locked onto the pin.
It also has Magnahold, a powerful integrated magnet that allows you to securely fasten the unit to the cart frame for quick and convenient access during the round. And don't forget about Slope Mode, which automatically calculates adjusted distances based on elevation changes. All of these features make this a no-brainer gift for the golf lover in your life.
Price: $27.99
Highlights: Keeps hands warm on cold days, quickly heats up, and has three adjustable heating modes.
About Golf Gift: Keep your hands toasty all winter long with this nifty Electric Hand Warmer. This two-in-one device also serves as a power bank, so you can stay connected even when the temperature drops. This hand warmer is made of high-quality ABS material and aluminum and can heat up in just three seconds.
There are also three adjustable heating modes to choose from, plus an intelligent protection system for safe use. So if you know someone that plays all year regardless of the cold, consider getting them this Electric Hand Warmer as the perfect golf gift.
Price: $499.00
Highlights: Accurate and detailed information about a golfer's swing and ball flight, includes data on club speed, ball speed, spin rate, launch angle, etc., and is portable and easy to use.
About Golf Gift: Flightscope Mevo Launch Monitor is a portable and easy-to-use device that provides golfers with accurate and detailed information about their swing and ball flight. With valuable data on club speed, ball speed, spin rate, launch angle, and more, golfers can make more informed decisions about their equipment, technique, and strategy.
By analyzing this data, golfers of all skill levels can identify areas for improvement and make adjustments to their swing that can lead to more accurate shots and lower scores. With the Flightscope Mevo Launch Monitor, golfers can take their game to the next level and have more fun on the course.
Price: $64.99
Highlights: Trunk organizer for golfers, plenty of space and pockets, and fits in most vehicles with ease.
About Golf Gift: The Athletico Golf Trunk Organizer is the perfect car accessory for the golfer on the go. This organizer has a large capacity and comes with multiple compartments, making it easy to organize your gear.
The extra exterior storage is perfect for big golf shoes or extra clothes, while the business card/luggage ID slot ensures you never lose your belongings. And with its lightweight and compact design, this organizer fits in standard lockers and most cars, SUVs, trucks, and vans. So if you know someone that likes to stay organized, consider this golf gift.
Price: $63.99
Highlights: Portable and compact, realistic turf, and has an extended length to work on longer putts.
About Golf Gift: Introducing the Indoor Golf Putting Green – the perfect golf gift for any enthusiast. This portable and compact golf mat is ideal for practicing your golf skills at home, in the office, or anywhere else you might like.
The realistic turf and extended length give you a life-like playing experience, while the smart ball return system ensures you don't have to waste time chasing down balls. With the Indoor Golf Putting Green, you can focus all your energy on making that perfect putt.
Price: $19.99
Highlights: Stylish and practical, simple and easy golf gift, and made from high-quality materials.
About Golf Gift: Looking for the perfect gift for the golf lover in your life? Look no further than the Golf Pen Holder! This stylish and practical desk accessory comes with three different golf club ink pens, making it the perfect way to show your love of the game.
The ergonomic design is made from high-quality PU leather, ensuring that it is both durable and stylish. When looking for unique golf gifts, this has to be towards the top of your list.
Price: $34.99
Highlights: Keeps drinks cold for hours, valuable golf accessories, and is a golf gift that is sure to be used and enjoyed.
About Golf Gift: The perfect gift set for any avid golfer, the Callaway Tumbler and Accessories Gift Set comes bundled with a stainless steel tumbler, on-course golf accessories, and two Callaway Warbird golf balls. The double-wall vacuum-insulated tumbler keeps drinks cold for hours and is dishwasher-safe and BPA-free.
The beveled bottom fits snugly into most cup holders, and the putt-align divot repair tool and magnetic ball marker make it easy to keep your game on track. Just as the golf balls listed above were a safe bet when selecting a golf gift, a tumbler would also be a cool golf gift that all golfers would enjoy.
Price: $134.31
Highlights: Evaluates and provides feedback on your golf swing, easily connects with most smartphones, and is easy to mount on your club.
About Golf Gift: The Blast Motion Golf Swing Analyzer is the perfect golf gift for any golfer. This precision motion sensor easily attaches to the grip of nearly any golf putter, driver, iron, or wedge and connects to your iPhone, iPad, or Android phone via Low Energy Bluetooth.
The smart video feature captures and tracks metrics while you play, and each swing or stroke is saved into your personal history as a shareable clip synced with stroke data. You can even detect key events and identify trends by viewing stroke history.
Plus, capture driving swing or putting stroke metrics and detect key events like loft and lie, total stroke time, and tempo. This golf gift is a must for any golfer that enjoys the analytics and technique of playing golf.
Price: $249
Highlights: Play golf courses worldwide, evaluate your golf swing, and play by yourself or with friends.
About Golf Gift: With Phigolf, you can play a round of golf from the comfort of your own home using your real swing. The swing stick and sensor work with popular golf apps like World Golf Tour (WGT) and E6 Connect by TruGolf.
You can also play on world-famous Championship courses with Phigolf's own golf app. Whether you're a beginner or a pro golfer, Phigolf is perfect for using on your own or get-togethers with friends. It's the ultimate entertaining golf game.
Price: $6.99 (30 count)
Highlights: Perfect Father's Day gift, made of biodegradable wood, and has fun-themed messages on them.
About Golf Gift: Looking for a Father's Day gift that will really make dad feel special? Check out these amazing golf tees. Made of wood and biodegradable, these tees come in a fun Father's Day themed package and say some great things about dad on them. And while they make excellent Father's Day gifts, you could also get them for your dad on his birthday. He'll love using them on his next round of golf and will think of you when he does.
Price: $138.99
Highlights: Plenty of golf storage space, helps keep your home organized and tidy, and allows for quickly finding golf items.
About Golf Gift: This Golf Organizer and Storage Rack is perfect for anyone who loves to golf. It has plenty of space to store your golf bags and gear and consists of top-quality materials that will last for years. Plus, the feet are adjustable, so you can keep it stable on any surface. Don't go another day struggling to find a place to store your golf gear – get this golf organizer today.
Price: $29.99
Highlights: Simple and easy golf gift, allows for six cans to be kept chilled, offers long-lasting cold, and is easy to carry and store.
About Golf Gift: Looking for the perfect golf-themed gift? Look no further than the 6ixPack Insulated Cooler Bag. This practical and affordable accessory is designed to fit in the side pocket of most golf bags, making it easy to bring your favorite beverages onto the course.
The cooler bag is made of durable polyester and features 5mm thick closed-cell insulated foam walls, keeping your drinks cold all day long. Plus, it includes a gel freezer pack and a detachable shoulder strap for trips away from the green. So surprise your friends with this unique and practical golf gift.
Price: $29.99
Highlights: All-in-one golf tool, is durable and long-lasting, and is easy to store in your golf bag or pocket.
About Golf Gift: The Golfer's Best Tool is one of the best golf gifts out there and is perfect for any golfer. This handy tool clips to your belt and provides all the help you need. It offers a magnetic ball marker, club cleaning brush, stroke count clicker (with a quick reset button), golf shoe cleat tightener, club groove cleaner, divot repair tool, bottle opener, and a flat head screwdriver. With this one golf tool, golfers can concentrate on their game without distractions.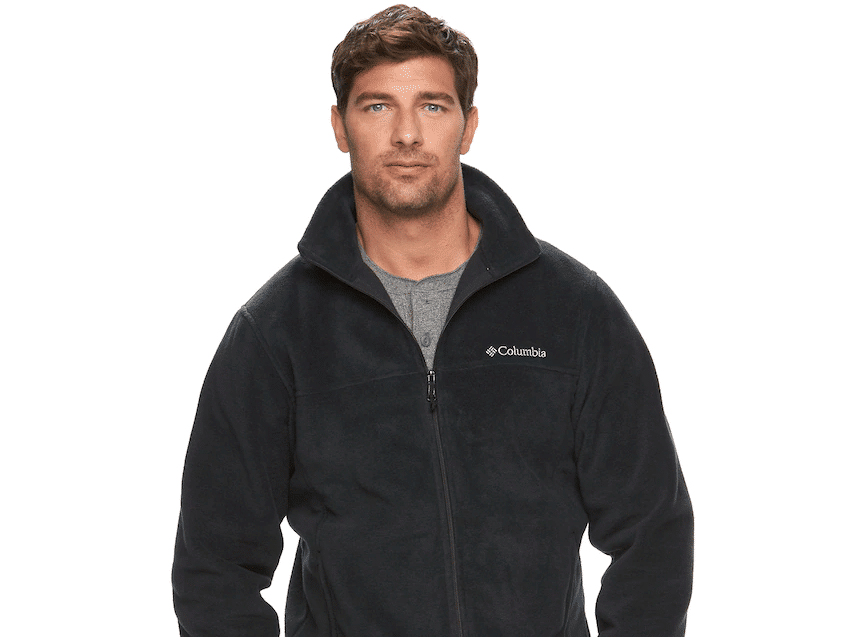 Price: $50
Highlights: Made of quality materials, light and breathable but able to handle the cold, and comes in various color options.
About Golf Gift: Columbia's fleece golf jacket is the perfect gift for any golfer. This jacket is 100% polyester and features a mock neck collar, two zip-close front pockets, and a drawstring adjustable lower body.
It's sure to keep golfers warm on those chilly days out on the golf course. Also, with several different styles and colors, you can pick your gift based on someone's fashion style. And this golf gift can be used off of the golf course as well, making it that much better of a gift.
Price: $20.95 (pack of 2)
Highlights: High-quality materials, designed specifically for golfers, and is extremely comfortable.
About Golf Gift: These golf gloves are perfect for players of all levels and will help to improve any golfer's game. They are durable, sweat and humidity-resistant, and have enhanced breathability. They're also adjustable and very flexible, which will allow you to find the perfect fit for your comfort. With all of this, you can trust your grip on any club head and focus on the perfect swing.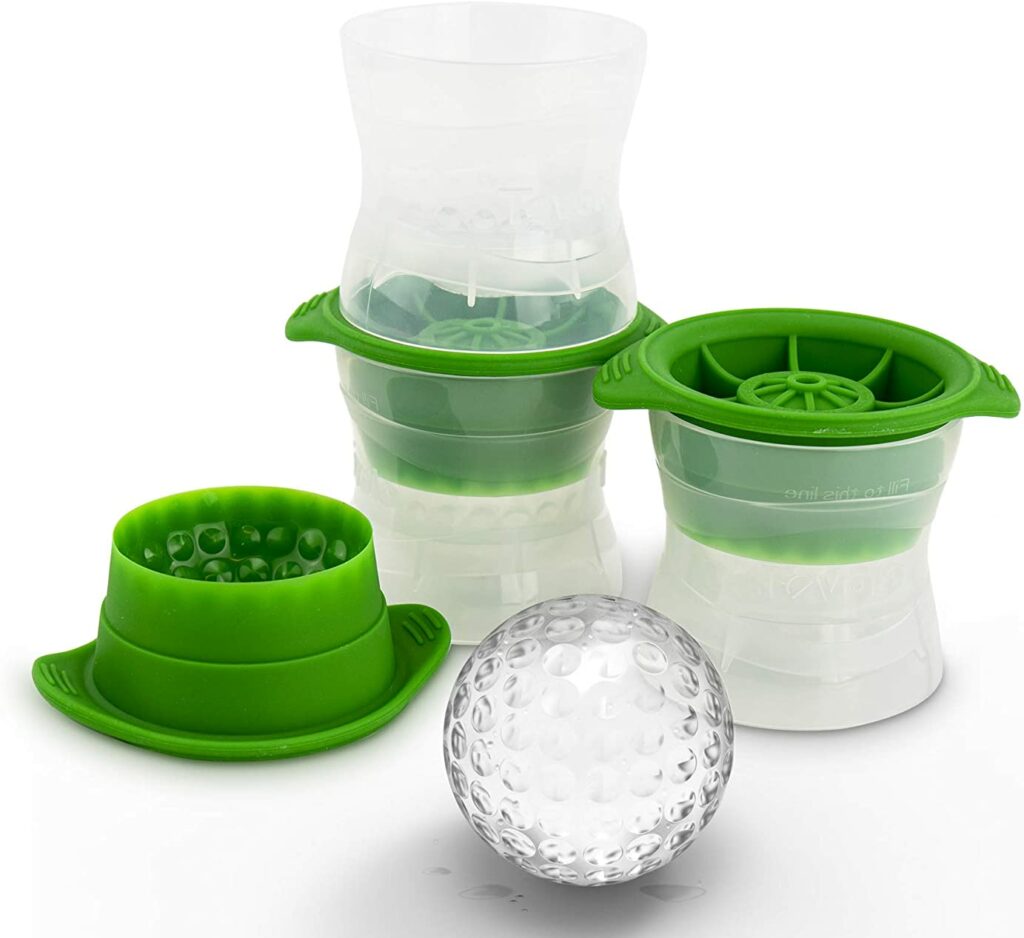 Price: $10.94
Highlights: Fun and simple gift, provides ice cubes that look like golf balls, and are easy to use.
About Golf Gift: Golfers know that a cold drink is the best way to celebrate a good game. With Tovolo's Golf Ball Ice Cube Maker, you can keep your drinks cold and crisp without ruining their flavor. These molds consist of durable silicone and fit in all low- and highball glasses.
Plus, they're stackable so you can keep them organized in your freezer. Celebrate the end of a great day on the green with Tovolo's Golf Ball Ice Cube Maker. If you are looking for something to pair this golf gift with, visit our list of the best whiskey brands and select a quality bottle of whiskey.
Best Golf Gifts Conclusion
A true golfer would be happy with any of the gifts on this list. The reason why is because all of them add value to a golfer or are unique golf keepsakes. Also, the other great thing about this list of the best golf gifts is that there is a wide range of pricing options. So regardless of what your budget is, you can still get a fantastic golf gift for the golf lover in your life. And who knows, if you play your cards right, you may get to also benefit from your own gift.
If you are looking for even more sports-related gifts lists, make sure to visit our lists of the best soccer gifts, best baseball gifts, and best football gifts. These lists will have the rest of the sports fans in your life covered.
Have you used one of these golf gifts before? If you have, please feel free to share your feedback in the comments below.