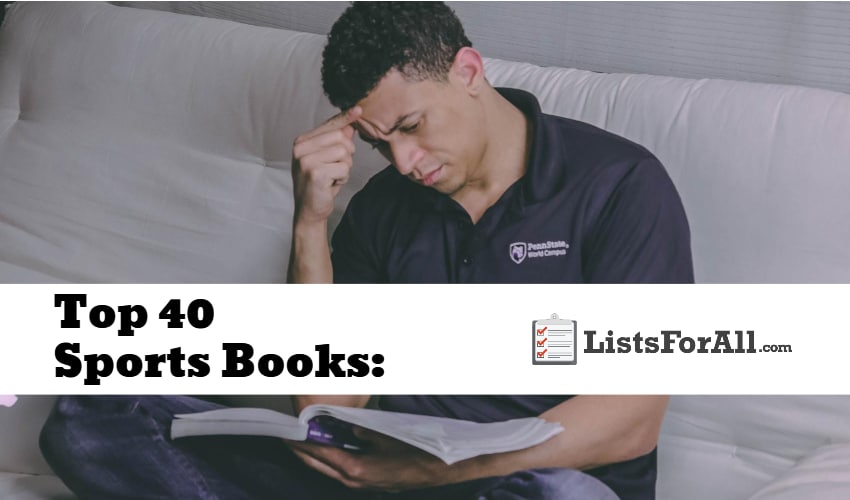 Best Sports Books: Finding the Perfect Sports Books for You
There is just something about sports and how it is able to grip people from all different walks of life. Whether it is a sport that someone is passionate about or simply the story of an athlete or team that succeeded above all odds, sports have a special place in peoples' hearts. It is the excitement of the journey and the knowing that anything can happen.
This list of the best sports books will highlight 40 must-read books for sports fans on a number of different sports topics. From Seabiscuit to the story of Nike to the young surfer girl who survived a shark attack, this list of the best sports books will cover a large spectrum, and each book has inspiration, toughness, excitement, and so much more.
One of the best ways to enjoy sports is by reading about different sports stories that have happened in the past. Sports books allow readers to get an in-depth look at what an athlete was thinking at the time, how the team came together, and so much more. This list of the best sports books will tell some of the most amazing stories that have ever happened in sports.
For even more reading-related lists, make sure you visit our list of the best young adult books, the best authors, and the best mystery books.
Top 40 Sports Books:
Author: Jon Krakauer
Publish Date: 1999
About Sports Book: Mt. Everest is known for its incredible height and the training and will power that climbers will need to climb it. It is also known for its sheer power and the danger that can take place on the climbed. Storms and avalanches can happen without warning and leave climbers in very dire situations.
Jon Krakauer (the author of Into the Wild) shares his personal experience of disaster striking on Mt. Everest and gives a detailed account of that dreadful day in May of 1996 that claimed five lives. Into Thin Air will grip you and provide insight into this tragic day like never before.
Author: Laura Hillenbrand
Publish Date: 2002
About Sports Book: As with most sports stories that inspire, Seabiscuit is the story of an underdog. It follows the journey of a horse that everyone wrote off as undersized and not good enough, but that proved everyone wrong.
And as much as the story is about a horse overcoming adversity, it also follows the story of how the owner, trainer, and jockey all overcame their individual battles as well. In 1938 the story of Seabiscuit dominated the headlines around the world, and today this book is still one of the top sports books ever written.
Author: Michael Murphy
Publish Date: 1971
About Sports Book: Unfortunately, not based on a true story, Golf in the Kingdom is still a gripping book that focuses on the "deeper mysteries of golf." The story follows a young golfer that, while traveling through Scotland, decides to play a round of golf. Before he knows it, he connects with a mysterious teacher named Shivas Irons, and his whole world changes. And while this story is fictional, it covers the mindset of athletes and being able to find Zen while playing at a top-level that is so often hard to reach.
Author: Phil Knight
Publish Date: 2018
About Sports Book: When looking at Nike today and its worldwide impact, it is hard to imagine that it all started with a $50 loan and selling shoes out of the back of a car. But that is how it started, and that is just one of the many obstacles that Phil Knight faced as he pursued his dream of creating Nike.
Shoe Dog will tell the history of Nike and everything that Phil Knight and his early partners and employees went through to bring Nike to where it is today. And, while this book is not based on a specific athlete, sport, or team, it is a must-read for any sports fan, and especially those that enjoy wearing Nikes.
Authors: Daniel Topolski and Patrick Robinson
Publish Date: 1989
About Sports Book: So many times, sports are more than just sports, and when something happens, it represents what is going on in the world. This sports book, True Blue: The Oxford Boar Race Mutiny, highlights this well. It shows the battle between traditional and modern values in the form of a rowing team from Oxford University in 1986/87 that is split on how they should do things.
After the fallout, the remaining inexperienced members of the team must do their best to see if they can pull off the impossible and still compete and win. If you are looking for a good sports book that covers more than just sports, this is the book for you.
Author: Mark Frost
Publish Date: 2007
About Sports Book: To get a better understanding of this book, you have to go back to the story of The Greatest Game Ever Played as it highlights a 10-year-old caddy, Eddie Lowry, who was with Francis Ouimet when he won the U.S. Open Championship. Fast forward years down the road, and Eddie is a successful business owner that challenges another successful businessman George Coleman to a golf bet.
He states that his two employees, who are amateur golfers, can beat any other two golfers in a best-ball golf match. Coleman takes him up on the challenge and then proceeds to bring in the top two golfers in the world to challenge them. What happens next is history and will change the game of golf forever.
Author: Christopher McDougall
Publish Date: 2009
About Sports Book: If you love good sports books about more obscure sports, this is the book for you. Born to Run features the incredible stories of the Tarahumara Indians that can run hundreds of miles without rest or injury. These Indians do their running in the deadly Copper Canyons of Mexico and are some of the best long-distance runners on the planet.
This book not only follows and studies the Tarahumara Indians, but it also follows the stories of America's best ultra-runners as they train, compete, and then ultimately run the Copper Canyons. This is a fascinating sports book and one that might even encourage you to get out and do some running yourself.
Author: Kevin Cook
Publish Date: 2007
About Sports Book: Another excellent golf sports book, Tommy's Honor, covers the story of a father and son that loved the game of golf and continued to help it progress into what it is today. Old Tom Morris was born in 1821 and went on to become the Champion Golfer of Scottland. And as much success as he had while playing the game, his son young Tom was able to surpass his father's skills and went on to dominate the sport before his untimely death at 24.
This moment in life challenged Old Tom as he was left looking for ways to honor his son's memory and keep it alive. As with most of the sports books on this list, this story is about more than just sports and will give you insight into a truly remarkable story.
Author: Arthur Hopcraft
Publish Date: 1968
About Sports Book: There are moments in a sport when changes to the sport form the game into what it is today. The Football Man is going to cover one of these pivotal moments in the sport of soccer (football).
This book is a "snapshot of a pivotal era in sporting history; changes and decisions were made in the sixties that would create the game we know today." Many consider The Football Man to be the best soccer book ever written. It also includes interviews with a number of all-time great players like Bobby Charlton, George Best, and Alf Ramsay.
Authors: Jeff Benedict and Armen Keteyian
Publish Date: 2019
About Sports Book: At the top of the sport of golf for years, Tiger Woods was one of the most popular athletes in the world. This all changed with the reveal of his serial infidelity. This spotlight caused an unprecedented amount of damage and caused Tiger to struggle both professionally and personally.
Jeff Benedict and Armen Keteyian decided to dig deeper into this "second life" that Tiger woods was living to learn more about what was really going on. They talked to over 400 people that knew Tiger Woods in one way or another, and this is what they came up with.
Author: Laura Hillenbrand
Publish Date: 2014
About Sports Book: Also, one of the best sports movies of all time, Unbroken, is the incredible story of American hero Louie Zamperini and his unbreakable spirit. Louie was an Olympian that joined the fight in World War II to defend his country. Before he knew it, though, his toughest challenge was upon him.
It began with being stranded out at sea for 47 days in a life raft before eventually being captured by the Japanese and sent to a prison camp. During his time in the prison camp, he was singled out, and his captors looked for ways to break his spirit. He never broke, though. Even though being challenged with unthinkable physical and emotional challenges, he continued to remain unbroken.
Author: Roger Kahn
Publish Date: 2006
About Sports Book: Jackie Robinson is one of the greatest athletes of all time. Not only because of what he was able to accomplish on the baseball field but because of everything that he overcame off of the field as well.
This book covers part of this journey from the perspective of a sportswriter that grew up near Ebbets Field and then was able to cover the Dodgers in the 1950s. This book is about sports, but it is about so much more as it covers America, adversity, and growth.
Author: Daniel James Brown
Publish Date: 2014
About Sports Book: If this didn't actually happen in real life, it would be a story that would seem too unbelievable to even make up. The Boys in the Boat is a true story, though, and it covers the journey of nine American young men that overcame all odds to compete in the 1936 Olympics. The team was made up of working-class boys that were filled with true grit and went on to beat some of the best rowing teams in the world.
Author: Rick Telander
Publish Date: 2020
About Sports Book: Whether you are a basketball fan or not, Heaven Is a Playground is going to be an interesting read that allows you an insight into a subculture of inner-city basketball. The story takes place in Brooklyn in the 70s and highlights the game of streetball and what it means to so many people.
Author Rick Telander, a former high school basketball player, spent two summers living the streetball life and getting to know the players that spent day after day at the park playing the game they love. He highlights several players and their journey, but he also speaks to the culture and love for the game that streetball produces.
Author: Andre Agassi
Publish Date: 2010
About Sports Book: If you are looking for a book that allows open access to the mind and life of a top athlete, this is the book for you. Andre Agassi is considered one of the best tennis players ever to play the game, but even with all of his success, fame, and wealth, he still felt like he was missing something. His autobiography allows a full look into the highs and lows of his career, his philanthropy, his marriage, and so much more.
Author: John Feinstein
Publish Date: 2011
About Sports Book: One of the best basketball books ever written, A Season on the Brink, covers one of the most successful and, at times, controversial basketball coaches ever to be a part of the game. In 1985/86, author John Feinstein was allowed unprecedented access to everything that went on behind the scenes for the Indiana Hoosiers basketball team.
He was able to attend practices, team meetings, midgame huddles, and more with the team. All of this information led to a book that spent 16 weeks as the #1 book on the New York Times bestseller list, and a book that is considered a must-read sports book today.
Author: David Maraniss
Publish Date: 2000
About Sports Book: It is hard to talk football for very long before bringing up the name Vince Lombardi and his impact on the game. And even though he won five Superbowls with the Green Bay Packers and has the Superbowl Trophy today named after him, it wasn't always easy for him.
When Pride Still Mattered, covers Vince Lombardi's life story and some of the obstacles he had to overcome to experience success. It will also cover the principles, beliefs, and philosophies that allowed him to continue to pursue his dreams.
Author: Bill Buford
Publish Date: 1990
About Sports Book: When it comes to team support and fans that are willing to give their sweat, tears, and even blood to the team, it doesn't get any more intense than the Premier League Fans in England. Outside of the games, there is a separate competition that goes on between the fans known as "soccer thugs" or "hooligans.
These fans take it as personal pride to represent their team and make sure that they are not disrespected, even if that means getting physical. This book is going to give you an inside look into this subculture of England professional football, and even though it isn't always pretty, these stories are gripping and will leave you wanting more.
Author: W. P. Kinsella
Publish Date: 1999
About Sports Book: If you have seen the movie Field of Dreams, you are already going to know the storyline behind this book, and also how amazing it is. For those that haven't seen the movie, though, Shoeless Joe is about the story of an Iowa farmer who hears the mysterious words, "if you build it, they will come."
These words lead him to build a baseball diamond in his cornfield in honor of Shoeless Joe Jackson. Through this journey, there are cherished moments, a celebration of America's favorite pastime, and plenty of father-son bonding time.
Author: Sam Smith
Publish Date: 1993
About Sports Book: As arguably the most known athlete to ever play a sport, there is always going to be a mystery around Michael Jordan and who he really was when playing. The Jordan Rules attempts to pull back the curtain on some of these areas to give light to this subject.
Author Sam Smith gives us a behind-the-scenes look as he was able to witness some of these events and then was able to interview several of Jordan's teammates for more details. As a further note, if this topic intrigues you, make sure to check out ESPN's The Last Dance, as it sheds even more light on Michael Jordan and the Chicago Bulls.
Author: David Epstein
Publish Date: 2014
About Sports Book: Understanding the human body when it comes to sports has been something that has been discussed and observed for as long as sports have been around. Recently, though, there has been a number of breakthroughs in the study of genes when it comes to athletes that excel at their sport.
The Sports Gene will discuss these types of topics and others like whether some athletes are just naturally gifted, or whether it is something that must be nurtured and developed over time. This is one of the best books for athletes or anyone that is interested in learning more about the body's physical abilities.
Author: Claire Fagin RN PhD
Publish Date: 2018
About Sports Book: It isn't always as it seems from the outside, and nothing highlights this better than this sports book. What Made Maddy Run is the story of Madison Holleran and her mental illness, which eventually led her to take her own life.
It is an eye-opening story that encourages us to reach out to others to find out how they are really doing. The book also talks about some of the pressures that young athletes face today and how they can better manage them.
Authors: Mike Tyson and Larry Sloman
Publish Date: 2014
About Sports Book: As great of a boxer as Mike Tyson was, it can sometimes be easier to remember him for his antics (and accomplishments) outside of the ring. Undisputed Truth highlights the unique and interesting story of Mike Tyson and all of the ups and downs that he has had in his career and lifetime.
After reading this book, you will feel inspired, encouraged, and ready to pursue your own goals, while also better understanding that mistakes are a part of life and that they can lead to growth.
Author: Wayne Coffey
Publish Date: 2005
About Sports Book: One of the best hockey books out there, The Boys of Winter, highlights the story of the 1980 U.S. Olympic Hockey team that shocked the world and won Gold. You may have already watched the movie Miracle on Ice, but this book is going to provide a whole new perspective to the story.
It will provide a detailed, inside look at everything that went into winning Gold and upsetting the mighty Russian team. Also, The Boys of Winter will provide a more detailed look at the players and what happened to them after winning. This book would make an excellent hockey gift for any hockey fans in your life as well.
Author: Robert Peterson
Publish Date: 1992
About Sports Book: Only the Ball Was White, highlights the extraordinary talents of African-American baseball players that were not given a chance to play in the Major Leagues, simply because of the color of their skin.
Many believe that if players like Josh Gibson and Satchel Paige had been able to play, they would hold many of the Major League records today. In this book, you will be able to hear directly from players about some of the struggles that they went through, but also how much fun they had when playing the game that they love.
Author: Michael Lewis
Publish Date: 2004
About Sports Book: You may have already seen the movie version of this book where Brad Pitt plays General Manager Billy Beane, but either way, this is still a good sports book and a must-read. If you are not familiar with the story, it is about the Oakland A's and their pursuit to compete with the top money teams in baseball on a much smaller budget.
With computer-generated player analysis and a new theory on players, Billy Beane puts together a team that is able to compete with the best teams in the game. And while Moneyball is a baseball book, it is an excellent read for anyone that enjoys a good sports book.
Authors: John Wooden and Steve Jamison
Publish Date: 1997
About Sports Book: When it comes to discipline and doing things the right way, John Wooden has to be the poster boy. Everything that he did was for a reason, and he understood that life is about character and doing your best in everything that you do. This book is going to highlight these areas and everything else that went into John Wooden's life.
It will talk about his personal philosophy, family, achievements, success, and more. This is an excellent basketball book, but also a book that translates not only to other sports but also life and what you should be doing to live a successful life.
Authors: Bethany Hamilton, Rick Bundschuh, and Sheryl Berk
Publish Date: 2004
About Sports Book: When you think of surfing, you may not be that familiar with the sport. But whether you know the sport or not, everyone is aware of the fact that there are also sharks that swim the ocean waters. Soul Surfer is the story of Bethany Hamilton and the shark attack that changed her life forever. Her story is not one of sadness, though. It is one of faith, courage, and the ability to continue on regardless of what was put in her way.
Authors: Phil Jackson and Hugh Delehanty
Publish Date: 2013
About Sports Book: As one of the best basketball coaches of all time, Phil Jackson was always an outside-of-the-box thinker. The way that he was able to coach players like Michael Jordan, Dennis Rodman, Kobe Bryant, Shaquille O'Neal, and a number of other unique players, speaks to his abilities to connect and communicate with his players.
The fact that he also was able to be a part of 11 Championships shows his ability to lead teams to victory. Eleven Rings will highlight Phil's successes, but also his "Zen Master" philosophy and personal journey as well.
Author: H.G. Bissinger
Publish Date: 2015
About Sports Book: If you are not from Texas, it is hard to fully appreciate what high school football means to a small town. Friday Night Lights does its best, though, to give a glimpse into what this looks like. In this top sports book, you will be able to follow the Permian Panthers of Odessa – the winningest high-school football team in Texas history.
You will be able to follow along throughout a season and see everything that goes into high school football in Texas. Along with this being an excellent read, this book has also been made into one of the top football movies and is also a T.V. series. And, if you know someone that loves football, consider getting them this book as a football gift.
Author: David Remnick
Publish Date: 1998
About Sports Book: Muhammad Ali is one of those rare athletes that has had so much success in their sport, but because of who they are, he has also done so many noteworthy things outside of sports as well.
King of the World is going to highlight everything that went into making Muhammad Ali, who he was both inside and outside the ring. This book will give an in-depth look into one of the most unique personalities in sports history, and one of the best athletes to ever participate in sports.
Author: Richard Moore
Publish Date: 2011
About Sports Book: Slaying the Badger tells the story that is often so common in sports, and that is the story of the veteran champion being challenged by the new up and comer. In this case, though, the veteran and the challenger are both on the same team and must figure out what this dynamic means.
In 1986 French cyclist Bernard Hinault "The Badger" is competing for his 6th Tour de France win to cap off his legendary career. Out of nowhere comes an American challenger that has a chance to bring America its first-ever Tour de France win. What unfolds is that of legend and is a must-read for anyone that enjoys a good sports book.
Author: Gideon Haigh
Publish Date: 2002
About Sports Book: One of the best things about sports is the sometimes unbelievable runs of success that athletes and teams can have. This book is going to highlight one of these times as it follows the life of cricket pitcher Jack Iverson.
Mystery Spinner tells the story of how he was able to come from nowhere to dominate the sport for four years, as no one could figure out his mystery spin. This book speaks to the improbability of sports and what it looks like to continue to follow your dreams.
Author: Michael Lewis
Publish Date: 2007
About Sports Book: As one of thirteen kids and with a mother that struggled with drugs, Michael Oher was in a tough situation as a child. His whole life changed, though, when he was introduced to his new family and the sport of football that he would soon learn to love.
The Blind Side follows Michael's journey as he goes from not having anything to being an NFL football player. This is a story of what love and care can do for someone and how, when given a chance, someone can succeed against all odds.
Author: Richard Williams
Publish Date: 1995
About Sports Book: When watching a sport like racing, there is a full appreciation of the speed and power of the vehicles whipping around the track. There is also an understanding in the back of everyone's mind that something horrible could happen to a driver if something goes wrong.
This was never more felt than in the death of Formula One driver Ayrton Senna. As the greatest driver in Formula One history, Ayrton was at the top of the sport until one fateful day in 1994, the unthinkable happened. This book will cover what went into making Ayrton the best and what challenged him to push the limits of the sport.
Author: George Plimpton
Publish Date: 1966
About Sports Book: With high praise, Paper Lion has been called "one of the funniest and most insightful books ever written on football." The story follows George Plimpton as he begins training camp with the Detroit Lions as a young quarterback.
Plimpton provides a look into the pressures of playing quarterback and being a part of a 60-man roster in the NFL. He does it in a way, though, that will make you smile, laugh, and leave you interested and wanting to read more.
Author: Ken Dryden
Publish Date: 1983
About Sports Book: If you are a hockey fan, this is the book for you. The Game is going to provide a "reflective and thought-provoking look at a life in hockey." It will allow readers to better understand and appreciate the fast-paced game that is played on ice and enjoyed by so many.
In the book, Ken Dryden provides a personal memoir of his time playing the game of hockey, as well as interviews with other notable hockey players. This will allow fans a behind-the-scenes look at what it is like to be in the spotlight, life on the road, and what it is like to be on the ice.
Author: Nick Hornby
Publish Date: 1998
About Sports Book: In this book, it isn't "soccer," but "football," as author Nick Hornby tells of his love for the game of football in Great Brittain. This book is going to follow his obsession with the sport of football from an early age and his pursuit of becoming the ultimate fan.
Fever Pitch follows the sport of football from the perspective of the fan. It shows the thrills of supporting your team when they win, and the agony when they lose a big match. This book is insightful, humorous, and an excellent read for anyone that enjoys a good sports book. This book would also make an excellent soccer gift for any soccer (football) fans in your life.
Author: Thomas Hauser
Publish Date: 2016
About Sports Book: The second Muhammad Ali book on this list, this book is going to be from the perspective of over 200 of the people who know him best. From family members to friends to his competitors, Thomas Hauser interviewed them all and composed all of their thoughts in this book. You will be able to re-live some of Ali's greatest moments inside and outside the ring with more in-depth details than ever before.
Author: Robert Creamer
Publish Date: 1974
About Sports Book: It is hard to talk about baseball without quickly mentioning Babe Ruth and all of his accomplishments. He is often looked on as a folk hero of baseball and a larger-than-life character. This biography by Robert Creamer is going to allow a deeper look into everything that made Babe Ruth who he was.
You will be able to better understand who Babe Ruth was before he became this legendary figure and then who he was at the height of his fame. Whether you are a baseball fan or not, this is an excellent read and would even make a great baseball gift for any baseball fans in your life.
Best Sports Books Conclusion
Reading is a journey like no other. By simply opening up a book and beginning to read, you will be able to transport yourself back into history to be a part of someone else's story. A good author will have you feeling like you are right there with Babe Ruth, Muhamed Ali, and some of the other amazing sports figures that highlight the different sports books on this list.
So take advantage of everything that this list of the top sports books has to offer, begin at the beginning of the list, or pick your favorite first. Either way, you will not be disappointed.
Also, along with being great reads for yourself, these books make excellent gifts for athletes, coaches, and fans of the game. You will not only be able to give your friends and family a gift that they will enjoy but one that will also inspire them to pursue their passions and goals.
Once you finish one of these books, we would love to hear your thoughts on it in the comments below. Just make sure there are no spoilers!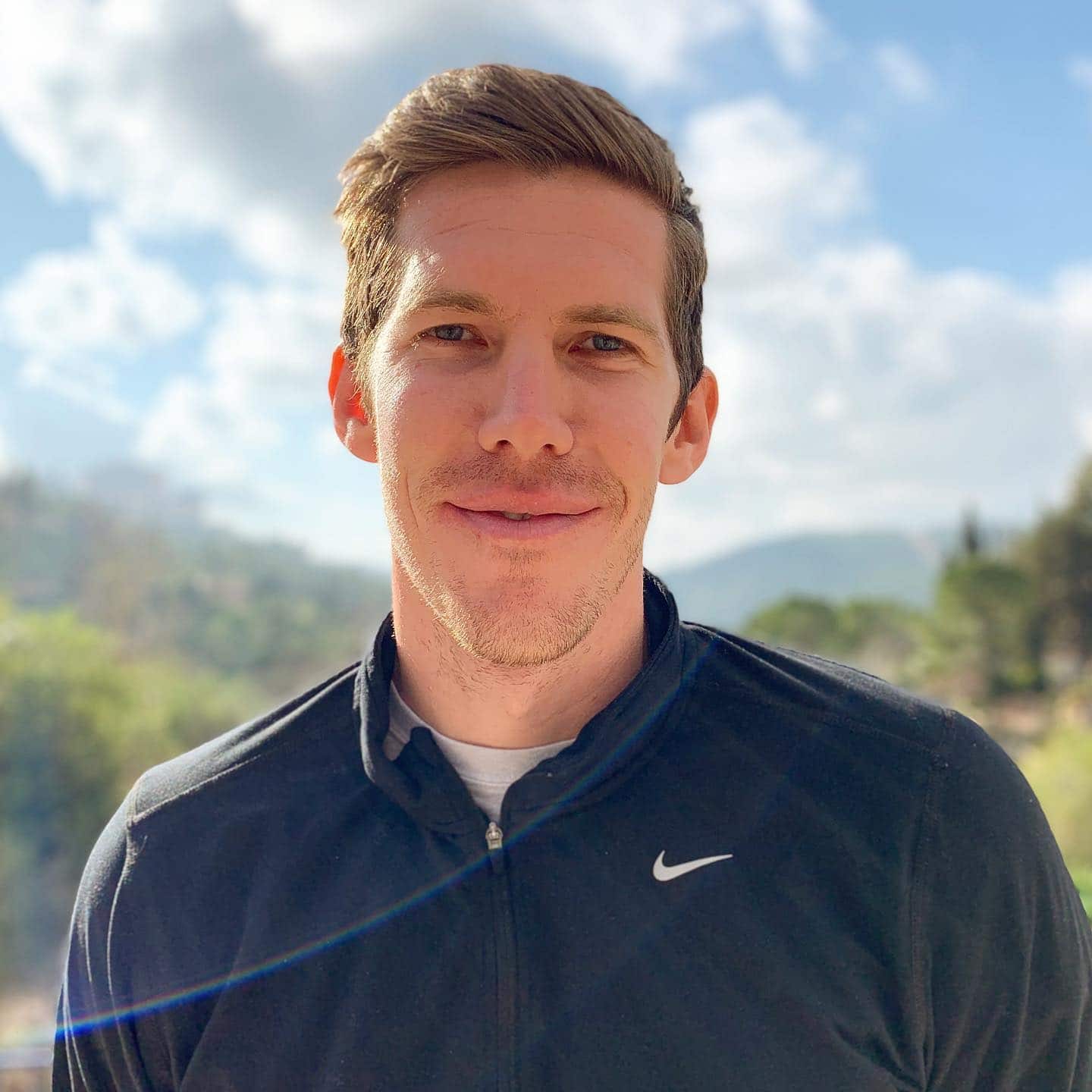 Kyle has a background in sports, fitness/health, and business. However, he also has a passion about researching all topics, and is dedicated to making lists that will help make your life easier.