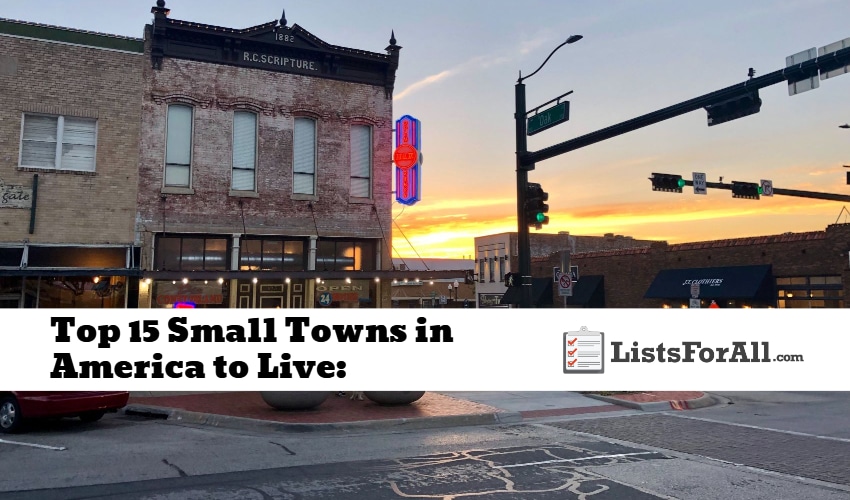 Best Small Towns in America to Live: Highlighting the Best Small Towns to Live in America
If you are looking for that small-town feel, this list of the best small towns in America to live in is sure to provide what you are looking for. Whether you are single, newly married, have a family, or are in retirement, this list has something for everyone.
This list of the best small towns in America will highlight the top small towns across the country. Whether you want to live near the water or the mountains, on the East Coast or West Coast, or whatever other preferences you may have, this list will have something for you
If you have never lived in a small town before, it is an experience like no other. The pace is slower, the people are nicer, and it just seems like there is more time in the day to enjoy the little things. So while cities can be amazing, if a small town is calling your name, this list will have fifteen excellent options for you to pick from.
When you do decide to move to one of the best small towns in America to live in, make sure to visit our lists of the best real estate websites and best moving companies. These lists will make sure that your moving experience is as smooth as possible.
Top 15 Small Towns in America to Live:

Region: Pacific Northwest
Highlights: The "Center of the Universe" manhole, plenty of shopping, and a variety of hiking trails to enjoy.
About Small Town: Located in northern Idaho along Interstate 90, Wallace is a modest gem of the pacific northwest. The historic downtown is walkable with antique shops and restaurants to satisfy travelers. For some history, the Wallace Mining Museum captures the essence of an industry that helped make the area.
And as you travel out of the town, the nearby Coeur d'Alene National Forest welcomes you with hiking trails and ziplines. These provide some of the best views of the Rocky Mountains any traveler could ask for. This picturesque town may be a bit off the beaten path, but it is one of the best small towns in America to live, thanks to its charm.
Region: North Atlantic Coast
Highlights: Has beautiful gardens to enjoy, the Delaware River, beach park, and easy access to city life in Philadelphia.
About Small Town: New Castle sits along the Delaware River, just across the border to Pennsylvania. With easy access to Philadelphia, big-city attractions are not far away. But you won't need them because New Castle offers plenty to see and do. This includes the shores of Battery Park, which is within walking distance of nearby shops.
There are also several historic house gardens, such as the Read House, Dutch House, and Amstel House. The town also has its own entertainment complex, the Mid-Atlantic Grand Prix, with go-karts and axe throwing for a bit of fun. This convenient accessibility and local features make New Castle a great town to call home and one of the best small towns in America to live.
Region: Pacific Northwest
Highlights: Has fewer than 1,000 people in the town, located on the water with plenty of views, and only two hours from Seatle.
About Small Town: While La Conner's name may sound French in origin, the "La" actually represents the initials of Louisa Ann, wife of JS Conner, who owned the town's trading post in the 1800s. Nestled along the Swinomish Channel of Skagit Bay, La Conner sits almost two hours north of Seattle.
So, this small town of fewer than 1,000 people is certainly one of the best small towns in the US to get away from the big city. While you're here, enjoy the Museum of Northwest Art or the Skagit County Historical Museum to learn some history of the area. Or, simply enjoy some wine from one of the many vineyards and cellars in the area.
Region: New England
Highlights: Old fishing town, has an older population, and offers easy access to the water.
About Small Town: Kennebunkport is a beautiful old fishing town on the southern tip of Maine. It's famously known for the summer home of former President George H. W. Bush. This lends a bit of detail about the town's population, primarily citizens older than 45.
Because of this, Kennebunkport is perhaps among the best towns to retire in. But if Kennebunkport's quiet downtown, full of shops and restaurants, isn't enough excitement for you, Portland is not too far away, which has many other coastal attractions (including the Allagash Brewery). So enjoy a quintessential sample of New England while you're living in Kennebunkport.
Region: Midwest / Mid-Atlantic
Highlights: Located right on the Ohio River, an exciting and unique downtown, and access to closeby national parks.
About Small Town: Paducah is right on the Illinois/Kentucky border, with only the Ohio River separating this small town from the next state. Paducah's historic downtown is home to the National Quilt Museum, which houses over 13,000 square feet of fine quilts and hands-on quilting activities.
As you traverse Paducah's downtown, you'll also find its iconic Floodwall murals and great local eats like Kirchoff's Deli and Bakery. Finally, the town's Civil War Museum gives an insightful look into the past; while nearby, you will get access to some of the best national parks in the US and can go hiking, camping, and more. History fans will find Paducah to be one of the best small towns to live in.
Region: Northern Midwest
Highlights: Access to the Great Lakes, college town, and access to nearby hiking and biking trails.
About Small Town: Houghton is in the heart of the Keweenaw Peninsula, which juts out into Lake Superior. This college town hosts over 7,000 students attending Michigan Technological University. With so many full-time students living in Houghton, the town has no shortage of fun activities and entertainment.
So for college students, Houghton may be among the best small cities to live in while attending school. Enjoy the great lakes with a tour of the upper peninsula, or get into the water yourself by renting a paddleboard or wakeboard. Additionally, Michigan Tech has its own series of biking and hiking trails that are open to the public and vary in difficulty.
Region: New England
Highlights: Access to nearby mountains, world's longest candy counter, and is located on the Connecticut river
About Small Town: While Littleton is technically the largest "small town" on our list by area (at over 50 square miles), it definitely lives up to its namesake. Bordered by the Connecticut River to the north and the White Mountains to the south, Littleton offers access to all kinds of outdoor recreation. But you should take the time to enjoy the town's quaint atmosphere, too.
Specifically, the Littleton Area Historical Museum gives a great introduction to the area. Next, take the time to peruse the various antique and specialty gift shops along the town's main street. For example, Chutters boasts the Guinness World Record for the world's longest candy counter. This alone could make Littleton one of the best small towns in America for kids, though you may have some trouble getting them to leave.
Region: Rocky Mountains
Highlights: Access to some of the best ski slopes in the US, gateway to Glacier National Park, and Whitefish Lake.
About Small Town: Whitefish is one of the best small cities in the US for skiers and snowboarders. This is thanks to its many ski resorts (which rank among the most popular ski resorts in the US), including the Whitefish Mountain Ski Resort.
The town is also a gateway to Glacier National Park, which has some of the most spectacular natural views in the world. But Whitefish isn't all about the mountains. It also has a beautiful beach on Whitefish Lake. And don't forget about Whitefish's downtown as it offers plenty of local shops and boutiques to enjoy.
Region: Midwest
Highlights: Plenty of outdoor activities, fun and unique downtown, and closeby fishing.
About Small Town: Park Rapids is a rustic small town in northern Minnesota. Measuring only 7 square miles, most of the attractions in this region find themselves outside the town. Thanks to the surrounding wilderness, visitors to Park Rapids can find a wide variety of woodsy activities. These include a challenge course and fishing tours on nearby Fishhook Lake. But the town does have some interesting things to do as well.
From the Evergreen Gifts & Fun Park, which has bumper boats and mini-golf, to Jasper's Theater featuring live music, there is something for everyone in Park Rapids. And you won't have to walk or drive around town, because there are electric bikes available for rent.
Region: South
Highlights: College town, Ole Miss sports, plenty of history, and a unique energy to the town.
About Small Town: Centered around the University of Mississippi (better known as Ole Miss), Oxford is a different kind of college town than the English city of the same name. Even though Ole Miss is about 800 years younger than the University of Oxford, the Mississippi school has its own well-respected reputation. Ole Miss has some great teams, so Oxford is one of the best small cities in America for college sports fans.
And once the game is over, you can venture downtown for a nice walk around the historic city. After that, Oxford's many museums paint an excellent depiction of the region's past. One such stopping point is the Lucius QC Lamar House Museum, which gives visitors a perspective of the post-Civil War reconstruction era. Ultimately, this is an excellent small city to live in for college students and non-college students alike.
Region: Pacific Northwest
Highlights: Offers a unique and historic downtown, home to several vineyards, and hosts an annual music festival.
About Small Town: Not far north of the California state line sits the picturesque town of Jacksonville. This tiny village takes up less than 2 square miles, but its citizens embody the spirit of small-town charm with the town's motto, "Always a Good Time." Originally founded after gold was discovered nearby in the 1850s, Jacksonville's historic district was designated a national landmark over 100 years later, in 1966.
Today, the town is better known for purple than gold as it is home to numerous vineyards. It also hosts the Britt Festival annually, which has drawn pop, country, and rock music fans to Jacksonville for over 50 years. However, Jacksonville still manages to maintain its small-town feeling even while drawing music festival crowds.
Region: Midwest
Highlights: Founded in the 1880s, visited by Teddy Roosevelt, and has a population of only 100 people.
About Small Town: Medora is the smallest town on our list by both area (0.4 square miles) and population (only about 100 people!) So it is more than appropriate to call it one of the best "small towns" in America. This town was founded in the 1880s along the transcontinental railroad and was even a stopping point for Theodore Roosevelt around that time.
Now, you can visit the national park named after him near Medora. Or, stop by the Old Town Hall Theater and see (almost) the real thing, as portrayed by a Teddy Roosevelt impersonator. And while you are here, don't forget to pay credit to other famous names from the area at the North Dakota Cowboy Hall of Fame. With all of this, it is easy to see why Medora made our list of the best small towns in America to live in.
Region: New England
Highlights: Coastal town with plenty of water activities and sites, full of history, and very walkable.
About Small Town: Before pilgrims ever began to settle the New World, the area of Bristol was occupied by Pokanoket tribes. Since then, it has continued to play an important role in colonization and was even bombarded twice by the British Royal Navy during the Revolutionary War. However, the town is much more peaceful today.
With quiet streets and parks, the town is very walkable. Several museums like the Herreshoff Marine Museum give historical insights into the region. But others, like the Musée Patamécanique (which is only occasionally open to outsiders), are a bit more unique. If you have the chance to see the Musée, it is full of eclectic and absurdist installations that are sure to intrigue visitors.
Region: Southwest
Highlights: Beautiful natural scenery, Hollywood history, and a unique small-town feel.
About Small Town: If you find yourself traveling along the Utah and Arizona border, you will eventually pass through the town of Kanab. Known as "Little Hollywood" for its notoriety as a filming location, the sights around Kanab were made for the silver screen.
Because it's surrounded by breathtaking canyons and caves that glow with red, orange, and pink shades, it's no surprise that filmmakers chose Kanab to make their masterpieces. Some of the most famous movies filmed in Kanab include Gunsmoke, The Lone Ranger, and Planet of the Apes. So settle down in Kanab today and experience one of America's most famous small towns.
Region: South Central
Highlights: The Ozark Mountains, how to famously preserved Victorian-era buildings, and plenty of outdoor activities.
About Small Town: Eureka Springs is a jewel of the Ozark Mountains. Known for its steep, winding streets, Eureka Springs has a unique feel. It is also home to famously preserved Victorian-era buildings. These buildings attract tourists year-round to see the beautiful architecture and experience the town's charm.
Additionally, there are plenty of outdoor activities to take advantage of the Ozark Mountains. But perhaps the most unique attraction near Eureka Springs is the Turpentine Creek Wildlife Refuge, one of the largest big cat refuges in the United States.
Best Small Towns in America to Live Conclusion
Small towns are a big part of what makes America great. The different local cultures, sights, foods, traditions, and more make each place unique and special. And while there are many great places in America to live, this list of the best small towns in America to live has highlighted some of the best, and anyone that is able to call one of these places home is surely blessed.
So what are you waiting for? Pull the trigger and start the process of being able to call one of these amazing small towns your home. If you need to plan a trip to check it out first, visit our list of the best travel sites. This will help you save money and time planning your trip.
Have you been to any of these small towns or live in one now? If you have, please feel free to share all the town's highlights for our readers in the comments below.