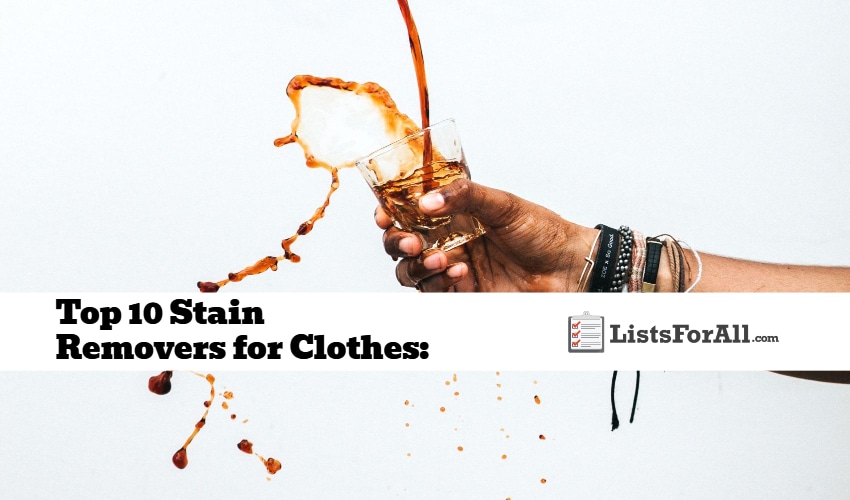 Best Stain Removers for Clothes: Finding the Perfect Stain Remover for You
When it comes to stain removal, there are a lot of different methods and products that you can use. But which one is the best? That is where this list of the best stain removers for clothes can help. 
This list of the best stain removers for clothes will look at the top stain removers for clothes and see how they compare. Whether you are looking to treat a child's regular stains or remove a stain on your favorite shirt, this list has you covered. 
A few other lists that you might benefit from after reading through this list of the best stain removers for clothes are our lists of the best laundry detergents, best dryer sheets, and best fabric softeners. 
Top 10 Stain Removers for Clothes:

Price: $9.99 (6 Fl Oz)
Highlights: Plant-based formula, leaves no residue behind, and works on wine stains.
About Stain Remover: You never need to fret over tricky stains again. Method's Stain Remover is a reliable go-to for any type of stain that may come your way. From food and makeup to oil and grass, this plant-based formula makes it easy to get rid of even the toughest stains.
Grease, blood, grass, oil, food, makeup, and everything in between can be removed with minimal effort or time needed. Best of all, the special formulation ensures that no residue from the stain or cleaner remains. With Method's Stain Remover, you can remove those pesky stains with confidence knowing your clothes will look like new.
Price: $9.99 (8.4 Fl Oz)
Highlights: Works on tough stains like lipstick, mascara, and ink, the applicator top doubles as scrubber, and scores well in tests.
About Stain Remover: Improve your laundry game and make stain removal a breeze with Carbona's Laundry Stain Scrubber. This best-in-class product consistently achieves high scores for its excellent results on tough stains like lipstick, mascara, and ink. It's also one of the few that can effectively lighten red food coloring stains.
Plus, the applicator top isn't just a pretty face; it doubles as an effective tool to loosen offending spots so you can get down to serious scrubbing. Formulated with effective enzymes that lift protein, tannin, and oil-based messes, Carbona's Stain Scrubber is great for most fabrics and won't damage them in the process.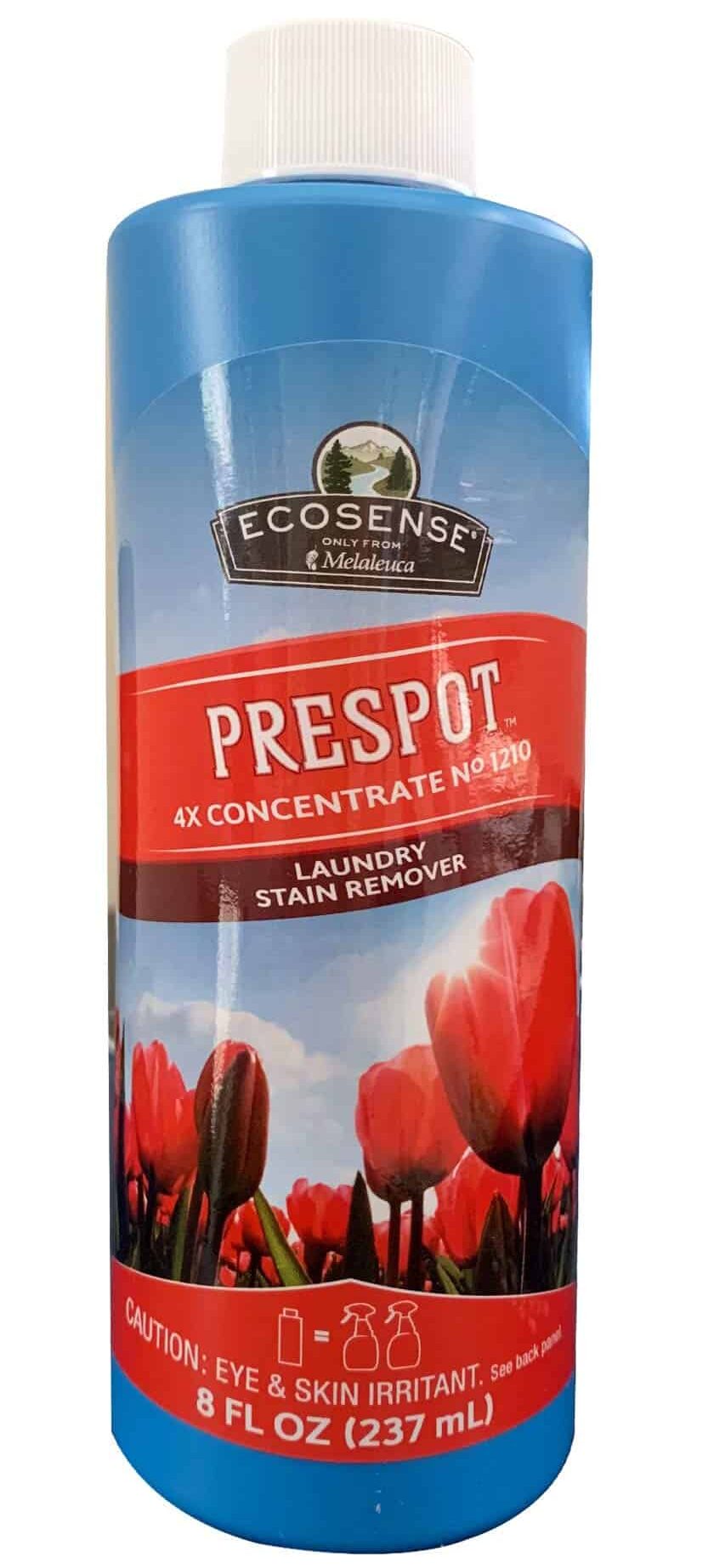 Price: $16.45 (8 Fl Oz)
Highlights: All-natural concentrate, can be applied multiple times, and is powered by tea tree oil and natural enzymes.
About Stain Remover: Perfect for the environmentally conscious, Melaleuca PreSpot Stain Remover is an all-natural concentrate that effortlessly tackles a variety of different stains. Powered by tea tree oil and three natural enzymes – Protease, Amylase, and Lipase – this stain blaster quickly and effectively de-bonds protein stains, tackles starch stains, and attacks oil stains with ease.
To use, simply dilute it with water in order to find your desired ratio before dabbing away at the problem area. You can apply multiple times without any worry of damage to your fabrics. No matter if you're trying to get a tough red sauce stain out of your favorite shirt or are removing food spills from special occasion linens, Melaleuca PreSpot is guaranteed to save the day.
Price: $3.98 (18 Oz)
Highlights: Foam-based formula, no harsh scents or chemicals, and gentle on fabrics.
About Stain Remover:  If you're looking for the ultimate way to remove tough stains from your clothing and fabrics, then Shout Stain Remover is an excellent solution for you. This powerful foam-based formula is designed to break up even the stubbornest and oldest of stains with ease.
From food spills to ink marks, it will quickly get rid of them with no problem -all without harsh scents or chemicals. No need to pre-treat, as this stain remover works like a charm on both fresh and old stains with minimal effort required from you.
Not only that, but this affordable product is a lot gentler on your fabrics compared to some other competitors out there, ensuring that your favorite garments last longer. What's more, its easy-to-use instructions make sure that the application process is both simple and straightforward – so all you have to do is spray and wash away those pesky spots.
Price: $7.74 (3 count)
Highlights: Fits in a handbag, bleach-free formula, and can be used on washable silks.
About Stain Remover: Are you looking for a fast, convenient way to remove everyday stains? Look no further than Tide To Go Stain Remover. These pens are designed with bleach-free stain-removing formulas, so they're gentle enough to use on even washable silks. Plus, they're small and easily fit into any handbag – making them ideal for those unexpected moments while out and about.
These tide pens tackle all of your common messes like coffee, ketchup, and red wine – providing easy stain removal wherever you go.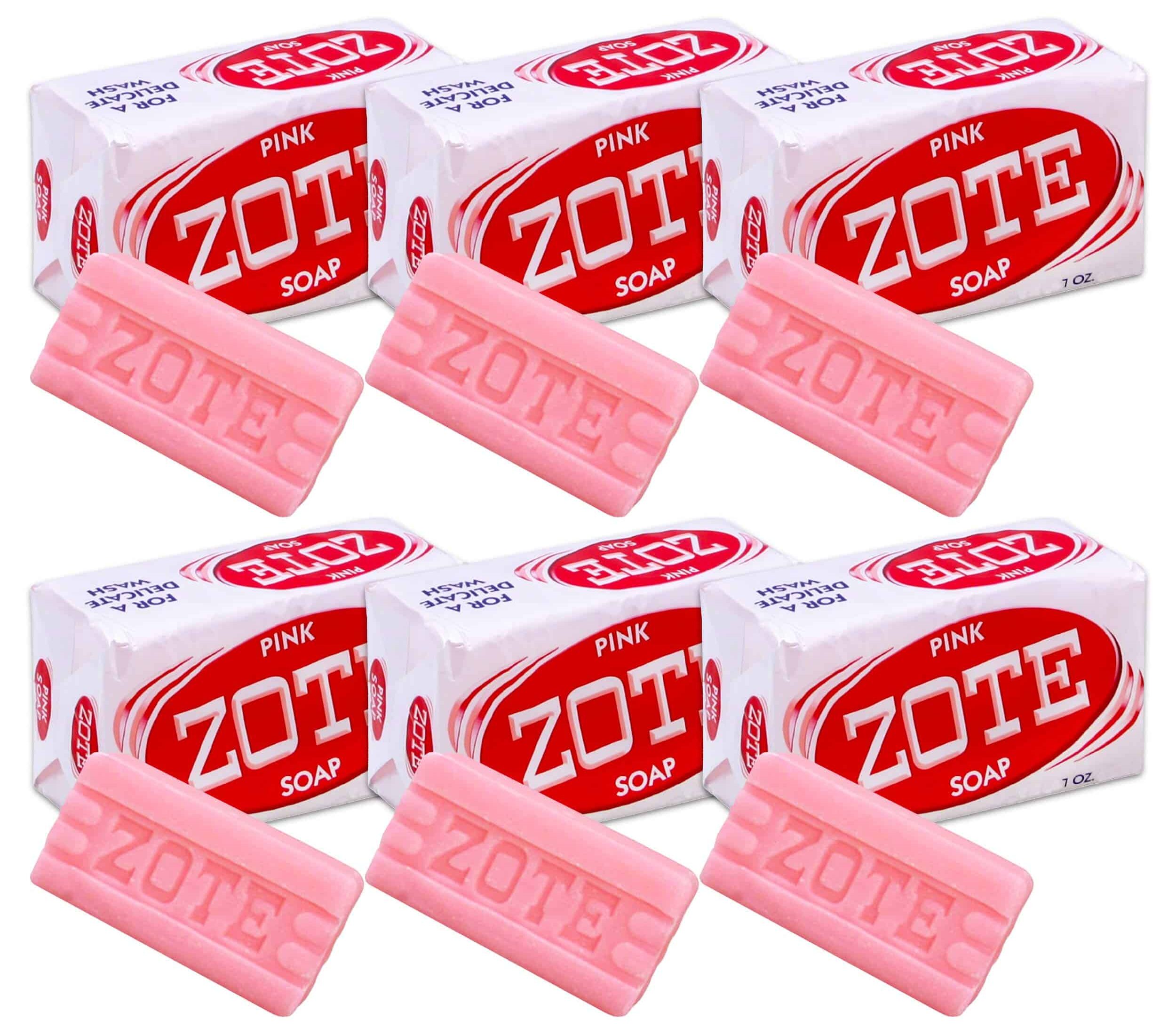 Price: $12.88 (6 count)
Highlights: Formulated with fatty acid salts and optical brighteners, it works on red sauce splatters, and is great for stubborn stains.
About Stain Remover: Make stains a thing of the past with the Zote Laundry Soap Bar. Great for messy chefs, messy parents, and anyone who deals with stubborn stains, this bar is here to make laundry day easier.
Formulated with 66 percent fatty acid salts and optical brighteners, the Zote Soap Bar helps lift even the most ground-in stains before washing. Whether you're dealing with coffee stains, turmeric staining, red sauce splatters, or wine spills, Zote has your back.
Price: $9.99 (2.4 Oz)
Highlights: No harsh chemicals, pleasant scent, and can be used on delicates.
About Stain Remover: Thinking about your laundry and eliminating tough stains doesn't have to start with harsh chemicals. For people looking for an eco-friendly, effective solution, the Ingredients Matter Stain Stick is a great choice.
As one of the best stain removers for clothes, this bar lathers easily when you apply it directly to stains, making it incredibly easy to use. It can handle most fabrics without any issues, including delicates, and the scent is pleasant without being overpowering.
Price: $12.53 (12 Fl Oz)
Highlights: No residue left behind, highly rated, and works on red food coloring stains.
About Stain Remover: Introducing Wine Away, one of the fastest, most reliable stain removers on the market. Not only will it remove wine stains in a snap, but it can also take care of red food coloring, grape juice, and cola stains. And here's the kicker, there is no residue left behind after you rinse.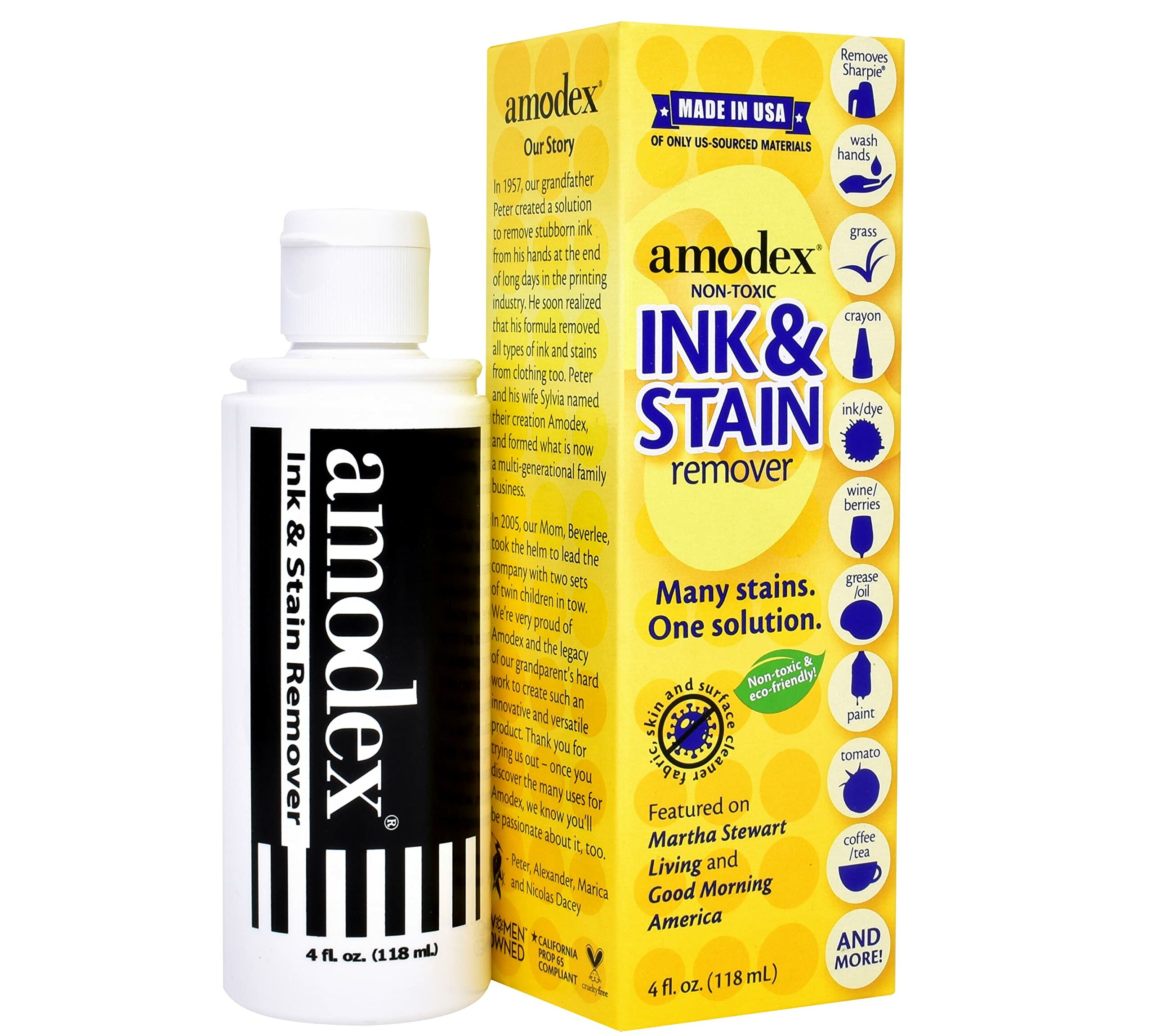 Price: $11.99 (4 Fl Oz)
Highlights: Non-toxic formula, works on ink stains, and is fast acting.
About Stain Remover: Say goodbye to tough stains with Amodex Products Stain Remover. Whether you have a wardrobe full of ink-stained clothes or your home has been the victim of children's messy play, you can easily tackle bothersome marks and spills with this non-toxic formula.
Price: $10.92 (1 stick)
Highlights: Kind to the environment, vegetable-based, and doesn't have a plastic bottle container.
About Stain Remover: If you're looking for an affordable and effective stain remover that's kind to the environment, Meliora Cleaning Products Stain Remover might be the answer. This vegetable-based soap formula is packed with eco-friendly ingredients like coconut and sunflower oils that are kind to your clothes as well as Mother Nature.
Formulated for tough stains yet gentle on delicate fabrics, this bar-style remover is a breeze to use with no need for a spray bottle. It can easily lift dirt, oil, and water-soluble stains with minimum effort. Plus, with no plastic bottle involved, it's great for anyone with an eye for sustainability.
Best Stain Removers for Clothes Conclusion
There are a lot of great options when it comes to choosing a stain remover, and this list of the best stain removers for clothes should've highlighted a couple of great options for you.
However, it's also important to keep in mind that the best stain remover for you may vary depending on your specific needs.
So be sure to consider what type of stains you're dealing with and choose accordingly.
Have you used any of these clothes stain removers? If so, please feel free to share your thoughts in the comments below.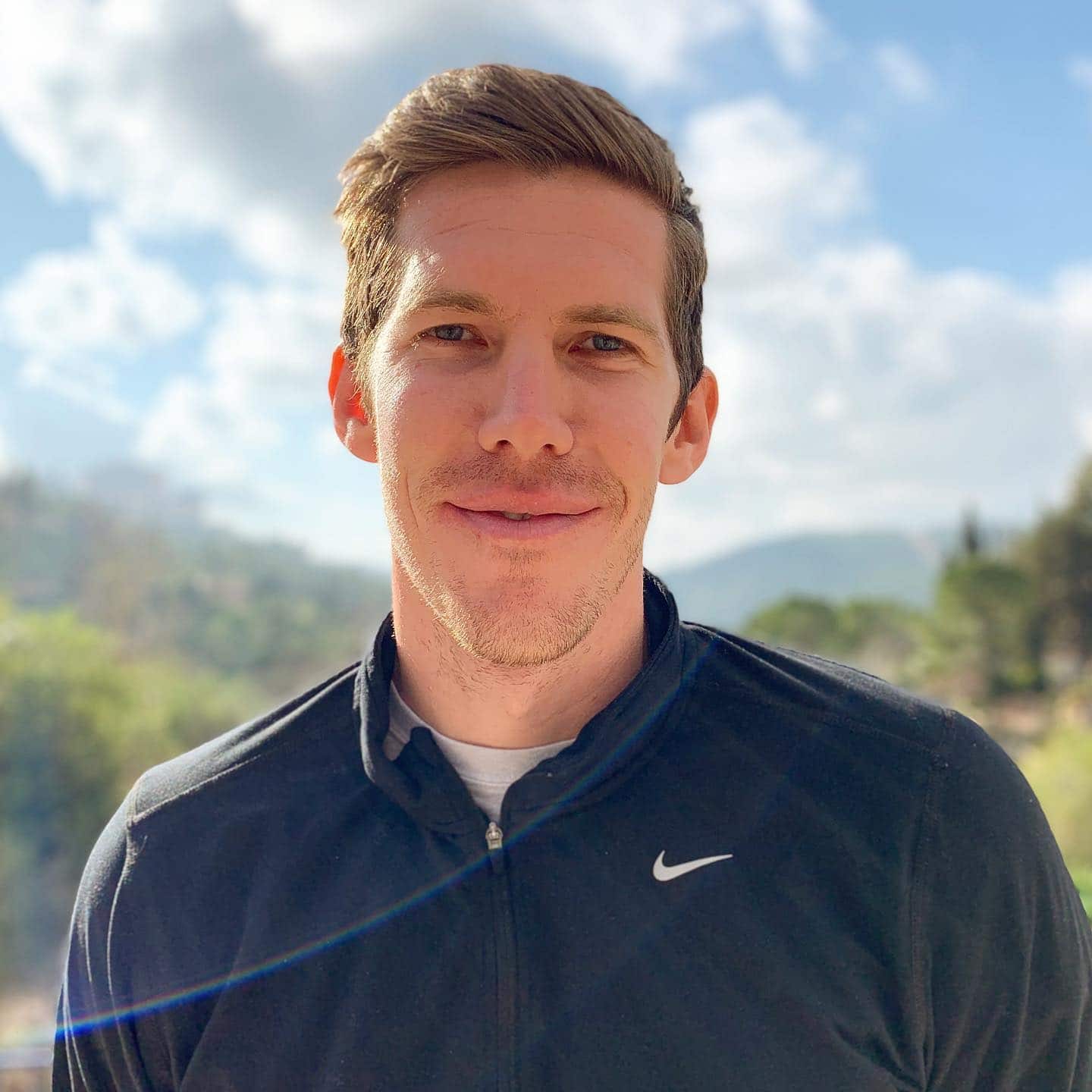 Kyle has a background in sports, fitness/health, and business. However, he also has a passion about researching all topics, and is dedicated to making lists that will help make your life easier.