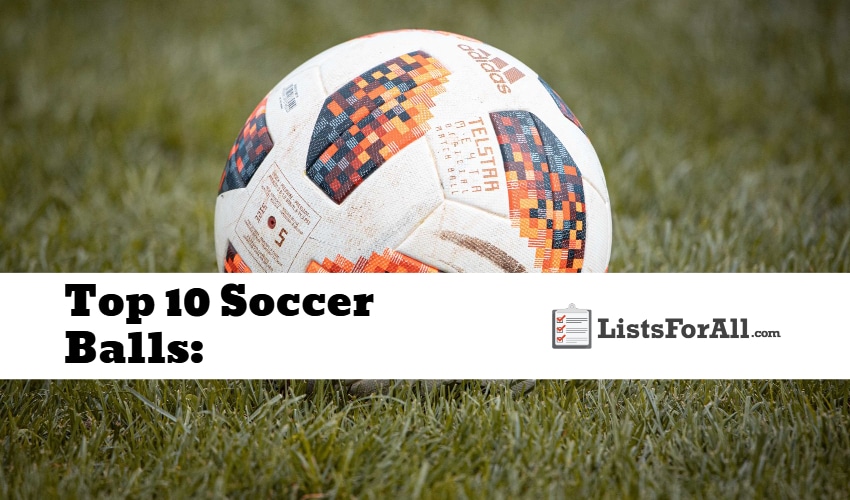 Best Soccer Balls: Finding the Perfect Soccer Ball for You
Soccer (football, depending on where you live) is the most popular sport in the world. It transcends geography, social class, language, etc., and is enjoyed by millions of people worldwide. And for a good reason too! With this list of the best soccer balls, you can join all those around the world who love and enjoy playing "the beautiful game," regardless of whether you call it soccer or football.
This list of the best soccer balls will highlight the top soccer balls and will allow you to find the perfect soccer ball for you. Whether you are just starting out or play professionally, there is a soccer ball on this list for you. You can decide based on materials, design, brand, and so much more to find the right option for you.
These soccer balls are perfect for all different levels of play as well. So whether you want to play pro one day or looking to play a game of backyard soccer, you can find the perfect ball for you. Also, many of these soccer balls would be perfect for soccer coaches to use with their team. You can use them for practice, drills, and even gameplay.
So start looking through this list of the best soccer balls and find the right soccer ball for you or maybe even as a soccer gift for someone else. And after you finish with this list, make sure to visit our lists of the best sports movies and best sports books for some added soccer inspiration.
Top 10 Soccer Balls:
Price: $89.99
Highlights: UEFA EURO 2020 ball, quality material, and durable.
About Soccer Ball: The Adidas Tiro Pro Soccer Ball is the perfect ball for your next match. It features design elements that pay homage to all 12 host cities of UEFA EURO 2020 and is inspired by the world's best players. This ball knows no borders and speaks all languages with its quality construction. Play with friends or in a team with a ball designed for the very best.
Price: $79.23
Highlights: Molded grooves for a more consistent spin, high-contrast graphics, and very durable.
About Soccer Ball: Looking for one of the best soccer balls on the market? Look no further than the Nike Academy Soccer Ball. It features molded grooves designed for a consistent spin when the ball is in the air, making it easier to track. Plus, with high-contrast graphics, you'll never lose sight of the ball. Made with 60 percent rubber, 15 percent polyurethane, 13 percent polyester, and 12 percent EVA, this ball is durable and long-lasting.
Price: $43.91
Highlights: Maintains air pressure longer, patented Hyde cover, and is nylon wound.
About Soccer Ball: Introducing the Goal Master soccer ball from Mikasa Sports USA. This innovative new ball is built with a patented Hyde cover and nylon wound, making it a top choice for players of all levels. It features a unique bladder design that helps it maintain air pressure longer, ensuring you stay in control of the game. Whether you're hitting the field for some competitive fun or just looking to up your skills, this ball has you covered.
Price: $99.99
Highlights: Official soccer ball of the NCAA College Cup Championships, engineered for more power, and has an excellent feel.
About Soccer Ball: Score the winning goal with the Wilson NCAA Forte FYBrid II Soccer Ball. Engineered for explosive power and great feel, this official ball of the Men's and Women's NCAA College Cup Championships is perfect for every game, practice, and drill. Featuring modern graphics that make it easier to track in the air, the Forte FYBrid II is a must-have for any soccer player looking to dominate on the field.
Price: $65
Highlights: Consists of Japanese polyurethane, is durable, and has improved air retention.
About Soccer Ball: The American Challenge Rio Soccer Ball is the perfect ball for collegiate and professional matches. It is made of Japanese polyurethane material that is water repellent and scuff resistant.
The backing material is multiple layers of reinforced, cross-stitched microfoam. This ball also features butyl for improved air retention. And, it is machine stitched with 32 panels. All of this makes it one of the best soccer balls and perfect for any player serious about their game.
Price: $34.97
Highlights: Graphics allow you to locate the ball better when playing, rubber inside reduces air leak, and shiny exterior will keep this ball looking new.
About Soccer Ball: The Nike Pitch Soccer Ball is designed to help you take your game to the next level. With its advanced visual graphics, you'll be able to detect this soccer ball on the field more easily. Plus, the resistant and smooth coating helps keep the ball looking and feeling new, while the rubber inner tube minimizes air leaks for better shape retention. So kick off your next game with a ball that's built to perform.
Price: $49.99
Highlights: Synthetic leather material, better control in wet conditions, and works well on multiple surfaces.
About Soccer Ball: Score big with the Select Numero 10 Soccer Ball. This ball has a new and improved PU synthetic leather material, making it easier to control in wet and moist conditions. The durable cover surface makes this ball an excellent choice for play on Turf and Hard Ground surfaces. So don't miss your chance to dominate the field – pick up a Select Numero 10 Soccer Ball today!
Price: $42
Highlights: All-weather soccer ball, durable, and perfect for all ages.
About Soccer Ball: If you're looking for the best soccer balls around, look no further than the Mitre Impel Training Soccer Ball. This all-weather ball is perfect for practicing your skills at home or with your team.
It features a soft EVA foam backing and Vimini TPU outer texture to give you enhanced grip and control, making it suitable for players of all ages. Plus, with its hard-wearing 30-panel construction, the Impel soccer ball will last long enough to help you reach your goals.
Price: $47.46
Highlights: Hand-stitched, superior durability, and is great for all levels of soccer players.
About Soccer Ball: Looking for an excellent quality soccer ball? Look no further than the Spalding TF-5000 Soccer Ball. This ball is hand-stitched with a tournament composite cover, ensuring superior durability and play-ability.
The latex rubber bladder provides optimal bounce and responsiveness, making it perfect for any level of player. And with its NFHS approval, you can feel confident knowing that this ball meets all official standards. So don't miss out on the perfect soccer ball – choose the Spalding TF-5000 Soccer Ball today!
Price: $159.99
Highlights: Zero-Wing latex bladder, Double-Lock valve, and is extra soft and easy to control.
About Soccer Ball: Select's Brillant Super Soccer Ball is the best ball for anyone who loves to play soccer! The Zero-Wing latex bladder ensures that the ball travels in a perfectly balanced way through the air, and the Double-Lock valve keeps it suitably airtight.
The combination of a finely woven cotton and polyester underlining, together with TEIJIN microfiber material, makes the ball extra soft and easy to kick. The ball is also extremely durable, so you can enjoy playing with it for years to come.
Price: $26.95
Highlights: Glows in the dark, lasts up to 30 hours, and can be used in the daytime as well.
About Soccer Ball: Introducing the GlowCity Soccer Ball – the best ball for playing soccer in the dark! This ball features two LED lights that will illuminate the night for up to 30 hours. The Impact Activated technology will automatically turn on the lights when kicked or bounced, and they will automatically turn off after 30 seconds of non-use.
This ball is made with durable Nylon and is perfect for indoor or outdoor play. Setup is easy – simply inflate using a pump, and you're ready to go! So give the gift of light-up soccer fun with the GlowCity Soccer Ball.
Best Soccer Balls Conclusion
After looking through this list of the best soccer balls, it is easy to see why many of them made the list. The hard part is now deciding which of these amazing soccer balls is right for you. But don't worry; you can't go wrong with any of them! Before you know it, you will be juggling, passing, and having fun playing soccer will all of your friends and teammates.
And even if you don't always have a friend to play with, no worries. Having a soccer ball of your own will allow you to practice anytime that you want to, which will allow your game to improve by leaps and bounds. With a bit of hard work, you can be the best player among your friends and teammates.
If you are still looking for more sports-related lists, make sure to visit our lists of the best footballs and best volleyballs. These lists will have all of your sports balls' needs covered.
Have you played or used one of these soccer balls before? We would love to get your feedback in the comments below if you have.