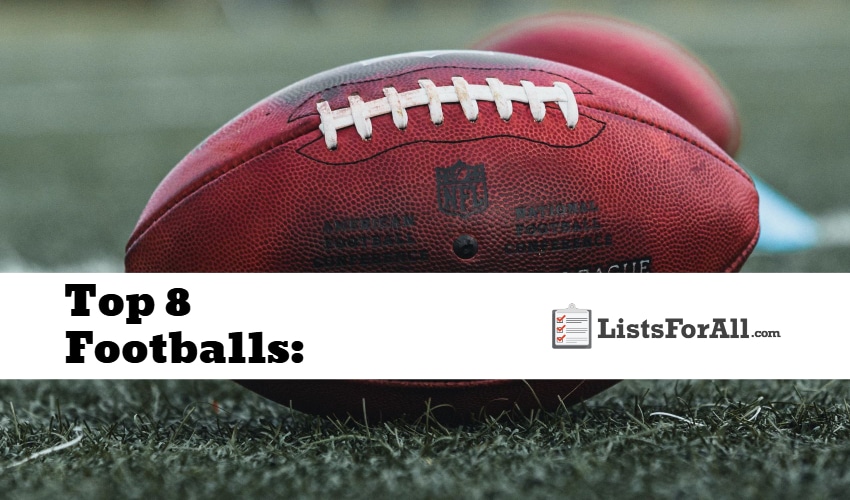 Best Footballs: Finding the Perfect Football for You
Whether you plan to play in the NFL one day, want a ball to throw with your kids, or are looking for the perfect football gift for someone, this list of the best footballs will have something for everyone. They will also come in various sizes (perfect for all ages), price points, and football materials. This will allow you to narrow your search down even more.
This list of the best footballs will highlight the top football options and will allow you to select the perfect football for you. Whether you want a leather football or one that glows in the dark, you can find whatever you need in this list of the best footballs. 
With this list of the best footballs, it isn't just about finding the perfect football; it is about creating memories. There is just something about playing catch growing up that sticks with us long into our adult years. If you think back even now, memories pop up in your mind of playing catch or a pick-up football game with friends in the backyard.
All of this was only possible because of having a football to make those memories. So whether you are looking to find the perfect football for yourself or for someone else, make sure to take advantage of this list of the top footballs. And if you really want to make the most of one of these top footballs, a pair of football gloves will also make a big difference.
Top 8 Footballs:
Football Size: Full
Price: $17.99
Highlights: Official size, NFL branded, and made of high-performance composite material.
About Football: The Wilson NFL Super Grip Football is one of the best balls for playing football. Made of high-performance composite material, it offers the perfect blend of durability and grip.
It's official size and NFL branded, making it the perfect NFL football for players of all levels, but is recommended for players 14 and older. Also, the rubber bladder ensures advanced air retention, so you can trust that it will be ready to go every time.
Football Size: Full
Price: $24.48
Highlights: Synthetic pebbled composite material, NCAA team and logo, and officially licensed by the NCAA.
About Football: The Rawlings NCAA Game Time Football is one of the best footballs and perfect for any fan, especially those enjoying NCAA football. The synthetic pebbled composition enhances grip for easy throwing and catching, while the included black tee/stand is ideal for displaying your team pride.
The ball features a bold, full-color team logo on one side, with the team name, conference, and division on the other side. This officially licensed NCAA product arrives inflated and ready to play.
Football Size: Youth
Price: $74.99
Highlights: Premium leather material, excellent grip and control, and is ideal for ages 12-14.
About Football: Look no further than Nike's Vapor One. This ball was designed with the quarterback's choice in mind, featuring a premium leather cover and precision craftsmanship. With this top football, you can pretend to be the quarterback from your favorite football movie or team.
Plus, extensive research and testing led to the perfect shaping, giving you unparalleled feel and control when throwing. Whether you're playing at the pro, collegiate, or high-school level, the Vapor One is sure to elevate your game.
Football Size: Full
Price: $89.99
Highlights: Used by over 180 NCAA programs, made of quality leather, and offers a softer feel and great control.
About Football: The Wilson GST Leather Game Football is perfect for today's generation of players. Featuring a modernized design and exclusive technologies, this is the official football choice of over 180 NCAA programs and 38 high school football state associations.
The GST is the only ball to offer patented sewn-on stripes and ACL composite leather laces for enhanced accuracy and ball security. With Wilson's exclusive Light Leather Formula, this ball provides a softer feel for greater control. Make sure to pick up a Wilson GST Leather Game Football for your next game!
Football Size: All Sizes
Price: $18.99
Highlights: Easy-grip material, is a synthetic leather ball, and the laces make for a quality grip.
About Football: Champion Sports has you covered when it comes to providing one of the best footballs on the market. This football is designed to play and feel just like a leather game ball, but with the added bonus of being water-resistant.
The easy-grip composite cover is perfect for both indoor and outdoor use, while the 2-ply butyl bladder ensures superior air retention. And don't forget about the laces – they provide an unbeatable grip so you can make every play count.
Football Size: Youth
Price: $11.99
Highlights: Displays your favorite NFL team, perfect for smaller hands, and officially licensed by the NFL.
About Football: Rawlings NFL Downfield Footballs are perfect for anyone who wants an edge on the competition. These footballs have a patented HD GRIP that provides five times more grip than standard rubber patterns, ensuring a stable throw every time. Bold logos decorate the front and back of the ball in team colors, making it easy to spot on the field.
The size is ideal for both young players and adults – small enough to fit in a child's hand but large enough for an adult to really let loose. This football is Officially licensed by the NFL and comes ready to play, complete with a pump.
Football Size: Youth
Price: $29.99
Highlights: Made of composite leather, patented grip technology, and approved by AYF and Pop Warner.
About Football: The Wilson K2 Composite Football is the perfect ball for aspiring young quarterbacks. The PEE WEE size is great for ages 6-9, and the double white grip stripes offer extra finger-point grips when throwing.
The patented Accurate Control Lacing (ACL) provides 174% more grip in all conditions, and the durable composite leather cover combines to offer a more affordable alternative to our famous GST family of game footballs. This junior football is also approved across AYF and Pop Warner for on-field play.
Football Size: Youth
Price: $50
Highlights: It is designed for control and precision, the laces offer extra grip, and it comes in a unique black and gold design.
About Football: This junior football is designed for ultimate control and precision, so you can bomb those hail marys and laser passes across the middle with ease. With its tacky synthetic leather surface, you'll have a tight grip on the ball no matter how wild the game gets.
And with its extruded lace system, you'll have an improved feel and grip that will keep you in control at all times. So don't wait any longer; order your Nike Vapor 24/7 Football today!
Football Size:
Price: $42.97
Highlights: Glows in the dark, is water-resistant, and lighting is impacted-activated.
About Football: This light-up ball is perfect for evening play, with two LED lights that provide up to 30 hours of illumination. It's also impact-activated, so it will light up as soon as you touch it!
The durable exterior and water-resistant design make this ball perfect for any activity, while the included instructions and batteries make it easy to get started right away. Inflate using a pump to start scoring some touchdowns today!
Best Footballs Conclusion
Not only will a football provide hours and hours of fun and memories to last a lifetime, but it will also encourage being outside and active. Using your smartphone to play or use the perfect app is great, but it is also awesome to get outside and be active. And who knows, maybe a football from this list will be the thing that leads to you or someone playing college football or in the NFL one day!
Whether you end up playing for a team or not, though, playing football with friends can be just as rewarding. So make sure to take advantage of this list of the best footballs and find the perfect ball for you.
Also, after you find the perfect football, make sure to visit our lists of the best sports movies and best sports books. Both of these lists will leave you feeling inspired and ready to go! Can anyone say, "Rudy! Rudy! Rudy!"
Have you used one of these footballs before! If so, we would love to have you comment below.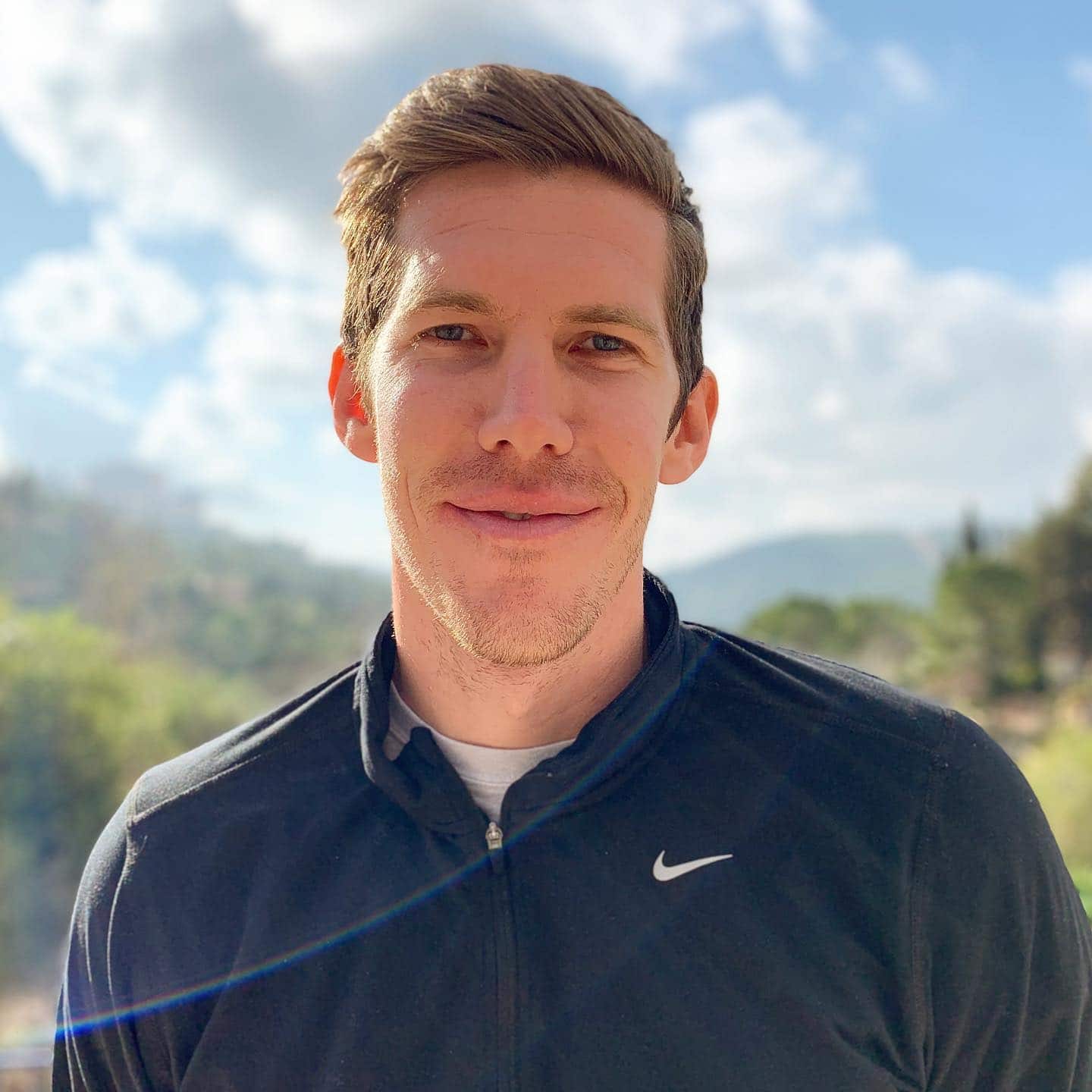 Kyle has a background in sports, fitness/health, and business. However, he also has a passion about researching all topics, and is dedicated to making lists that will help make your life easier.