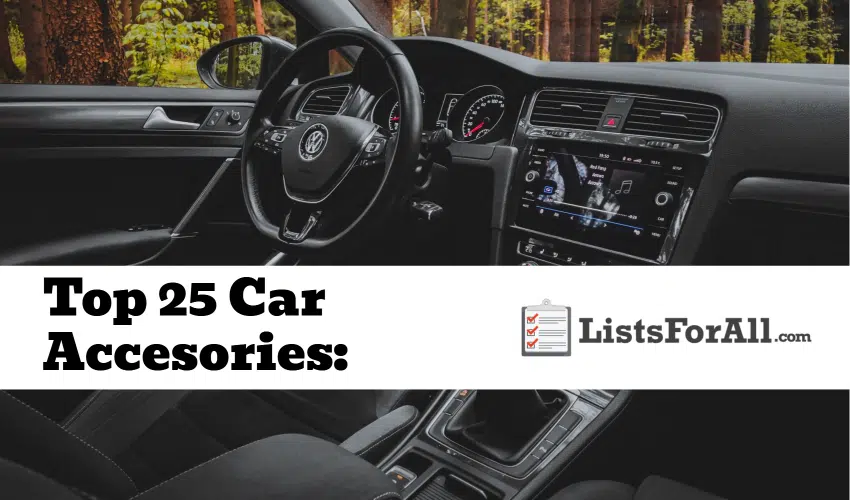 Best Car Accessories: Finding the Perfect Car Accessories for You
Regardless of what make or model your car is, it is yours and something to be proud of. A car is also something that you can personalize to your taste and personality. You can pick the color, size, features, etc., but you can also find the perfect accessories with this list of the best car accessories.
This list of the best car accessories will highlight the top car accessories and will help you deck out your vehicle. Whether it is finding the perfect phone holder or something as simple as car floor mats, this list of the top car accessories will help provide everything you need.
Also, most of the items on this list are not very expensive either. So with a small investment, you could really change the feel, look, and functionality of your car. And while many of these items are for any car, you can also find car-specific accessories as well. Whether you are looking for something specific like C7 Corvette accessories, Ford truck accessories, etc., or just want to make your car more functional, this list will have you covered.
Once you finish with this list, make sure to visit our list of the best travel accessories for even more useful items. A lot of these items will also make great gifts. So whether you are looking for the perfect stocking stuffer or something for someone's birthday, these car accessories are an excellent option.
Top 25 Car Accessories:
Price: $24.99
Highlights: Keeps small items from falling between your seats.
About Car Accessory: We have all experienced dropping a phone or wallet between our seat and the center console and having to squeeze our hand down in between to grab it or wait till the car is completely stopped to get out and get it. Along with important items, it seems like coins and other small items love to gravitate to hard-to-reach areas under your seats.
With this car accessory, you will be able to prevent all of that and still keep your car looking stylish. Just place the drop stop in the gap, and it will do the rest by expanding or contracting to fill the entire gap.
Price: $12.97
Highlights: Allows you to organize the essentials easily.
About Car Accessory: If you like to stay organized, this is one of the best car accessories for you. The sun visor organizer will allow you to store your wallet, phone, sunglasses, and any other small essentials that you might have.
It comes with several pockets, zippable sections, and a mesh holding area. All of this will keep you organized. So rather than having to search through your cup holders, center console, or the seat next to you, you will have everything you need right in front of you.
Price: $6.99
Highlights: Easy storage for backpacks, bags, and more.
About Car Accessory: These backseat headrest hooks are simple but effective. They will allow you to place backpacks, bags, and more on them for easy storage. So whether you have kids you are taking to or from school with their lunches and backpacks, transporting baby products like a diaper bag, or storing groceries after a trip to the supermarket, these headrest hooks will allow you to easily hang items. This will allow for limiting clutter in the back seat and the ability to retrieve items when departing the vehicle quickly.
Price: $13.95
Highlights: Holds/displays cell phone and holds other car essentials.
About Car Accessory: There are plenty of excellent dashboard phone holders out there, and each person may have a different preference, but this was one of our favorites. This holder is sleek and low fitting on the dashboard, it securely holds and displays the phone screen, and it also provides a space to place a key fob, wallet, etc.
With the right cell phone service, you will want to use your phone for navigation, music, etc., and this car accessory will allow you to have a nice and neat place to display and hold it. When not being used, it isn't as bulky and noticeable as some of the dashboard holders out there either, which is nice.
Price: $119.99
Highlights: Quality road footage and GPS.
About Car Accessory: This car dash cam comes with several cool features. It has 4K Ultra HD, built-in WiFi, GPS, and more. And while you don't ever want to have to use a car dash cam, it can really help keep you protected in certain situations where there are multiple sides to a story.
Whether it is a car insurance situation, something criminal, or something else, having a recording of what happened can really help cover yourself. This car accessory also comes with a 30-Day full refund guarantee and a 1-year warranty as well.
Price: $27.90
Highlights: Protects your seats and provides style.
About Car Accessory: Whether you want to keep new seats clean and looking their best or need to cover up car seats that have seen better days, seat covers are an excellent car accessory. This specific car seat cover comes in several different color choices, is easy to install, protects against stains, and will stand the test of time. They are also very breathable, which will provide for more comfort as you do your daily driving.
Price: $14.44
Highlights: Provides colored lighting and fun to your car.
About Car Accessory: If you are looking for a way to add a little bit of fun and energy to the interior of your car, these led lights are an excellent option. They are easy to install and come with an app that makes them even easier to control. With the app, you will be able to quickly change from color to color to color, brightness, strobe, and more. The lights are also easily rechargeable through the USB port in your car.
Price: $25.59
Highlights: Provides safety items in a car emergency.
About Car Accessory: No one wants to break down or have car issues, but, unfortunately, they are a part of life sometimes. This emergency car kit will make sure that you have a few essential items when something like this happens to you.
Some of the items it comes with are a flashlight, jumper cables, poncho, screwdriver, and more. It also comes in an easy-to-store compact bag, so it isn't taking up a bunch of space in your trunk. This is one car accessory that every vehicle owner should get as soon as they purchase their car.
Price: $33.99
Highlights: Protects and covers your backseat.
About Car Accessory: Whether you have a dog or some other kind of pet that you like to take in your car with you, these pet protection seat covers are a game-changer. Rather than having to deal with pet hair, dirt, and scratching up seats, just place this easy-to-install seat cover over your seats, and you are good to go. The material is waterproof and scratchproof, so you can trust that it will do its job. Also, it is easy to clean and is machine washable if needed.
Price: $49.99
Highlights: Hands-free car assistant.
About Car Accessory: Not only is this one of the best car accessories, but it will also help to keep you safer while driving. Rather than having to fumble around with your phone, you can simply speak a command, and Alexa will complete the task for you. Whether it is directions, a phone call, music, etc., you can access whatever you need with a voice command.
With 8 microphones and far-field technology, your commands will not be lost in the noise of the road, A/C, and music either. And, if you are concerned about privacy, there are several privacy controls in place, including a mic-off button.
Price: $12.97
Highlights: Easily accessible trash dispenser.
About Car Accessory: Most of the time, we only throw trash on the floor of the car because we don't have an easily accessible way to get rid of it. Well, with this car accessory, not anymore! This waterproof trash can stores easily in your car and will allow you to quickly dispose of plastic cups, empty fast food containers, and so much more. Rather than going back later and cleaning out your car, you can dispose of your trash immediately and then empty the trash bag as needed.
Price: $21.99
Highlights: Easily organize trunk space.
About Car Accessory: It can be very easy to open up the trunk and throw whatever item it may be in there. What is not as easy, is to find a specific item after multiple items have been haphazardly thrown in the trunk of your car.
The car trunk organizer will make it easy for you to place items neatly in storage and quickly retrieve them when needed later on. It comes with two dividable sections, mesh pockets on the outside, and a flap pocket. It also comes with handles in case you need to pull the whole thing out of your trunk.
Price: $8.49
Highlights: Stylish and protective steering wheel cover.
About Car Accessory: A steering wheel cover is an excellent car accessory for a number of different reasons. It could be to protect your steering wheel from the sun, cover up a steering wheel that is chipping, or simply to add a stylish comfy grip.
Whatever reason it may be, a steering wheel cover is one of the easiest and best car accessories to install and enjoy right away. There are many different steering wheel cover options, but this is one that we liked because it is heat resistant for summer, offers warmth in winter, has excellent grip, and is simple but stylish.
Price: $14.99
Highlights: Protects dashboard from the sun and keeps interior cooler.
About Car Accessory: If you live in a place where the sun is constantly beating down on your parked car, this car accessory is a must. The car sun shield protector will help keep your dashboard from fading and peeling, but it will also help keep the temperature lower in your parked vehicle.
This will keep you from having to deal with extreme heat when you get in your car. These sun shield protectors come in several different sizes, so they are perfect for any vehicle. They also store well when not in use and don't take up much space.
Price: $39.99
Highlights: Protects the lining of your car trunk.
About Car Accessory: Whether you regularly transport messy items or simply want to ensure your trunk interior is better protected, this premium trunk liner is an excellent option. This car accessory is easy to install, offers quality protection, and will stand the test of time. The material is made to withstand cracks and comes with a no-slip grip. This will allow you to place items that are dirty, heavy, etc. on it, without fear of damaging the car trunk surface below.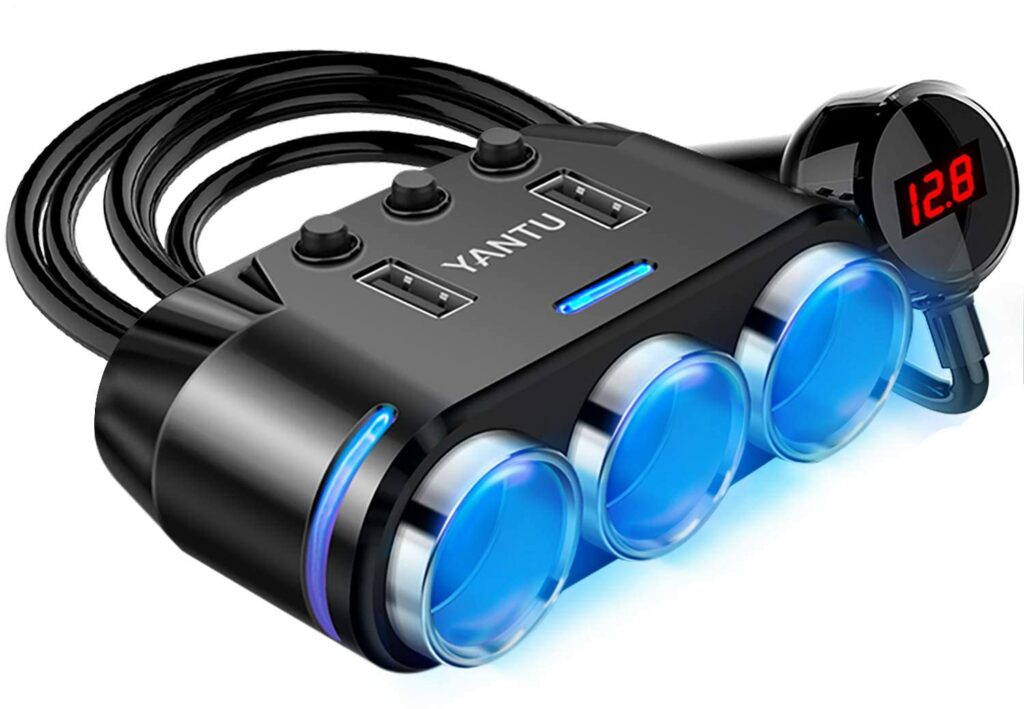 Price: $11.89
Highlights: Provides more plug-in options from your cigarette lighter.
About Car Accessory: If you have an older model car without a USB port, this car accessory will be a game-changer. Using your cigarette lighter, you will be able to add 3 more cigarette outlets and 2 smart USB ports. It also comes with an independent power switch and voltage display, as well as several safety features to prevent current and voltage issues.
Price: $12.99
Highlights: Quality auxiliary cord for smartphone connection.
About Car Accessory: Any good road trip needs an auxiliary chord that can be passed around from one phone DJ to the next for their favorite songs. These long and durable chords will allow for easy use in any size vehicle.
And even if you aren't on a road trip or are driving alone, having an aux chord that can charge your phone as you drive is also very useful. So while this chord won't add to your vehicle's style, it is at the top of the list when it comes to functionality.
Price: Varies
Highlights: Protects the floor of your car.
About Car Accessory: One of the first things to show wear and tear in a vehicle is the floor of the car. With the right car mats, though, you can make sure that this is one of the last things that do.
Whether it is a car mat made for durable protection from daily muddy and dirty boots or one that is a little more stylish and protects from regular use, finding the right car mat for your vehicle can make a significant difference.
Price: $6.99
Highlights: Offers a grippy surface for your cupholders.
About Car Accessory: This will not be the biggest car accessory on this list, but it is a unique and useful item for any car. These coasters will provide a surface that grips and also protects your cupholders from spills.
If you spill or get dirt on one of these coasters, just take it out, clean it off, and put it back in. This is much easier than trying to squeeze your hand into a narrow cupholder to clean it out.
Price: $31.99
Highlights: Provides lower back support while you drive.
About Car Accessory: Whether you drive a lot or simply need some lower back support, this is an excellent car accessory. It is easy to install and will allow you to keep your back in line and be supported as you travel locally or long distances.
The memory foam will allow your back to find the perfect positioning and a level of support. Also, with a 1-year guarantee, you can make sure that this car accessory is perfect for you.
Price: $12.99
Highlights: Easy-to-use, holds your phone in place with a powerful magnet, and can easily be taken down or put up.
About Car Accessory: Looking for a great way to keep your phone within arms' reach while you're driving? Look no further than the Magnetic Phone Holder! This easy-to-use accessory clips onto your car's vents and holds your phone in place with a powerful magnet, so you can easily access it without taking your eyes off the road.
Plus, the included sticker makes it easy to attach your phone to the holder, even if it doesn't have a case. So don't miss out on this must-have car accessory.
Price: $35.00
Highlights: Adds Bluetooth capability to your car audio system, remembers your device, and connects automatically when you're close by.
About Car Accessory: With Firefly, you can easily add Bluetooth capability to your car audio system. This tiny music receiver plugs into your audio system and a USB power source, and pairs with your smartphone.
Once connected, Firefly will remember your device and automatically connect whenever you're close by. So whether you're streaming music from Spotify or just making hands-free calls, Firefly has you covered.
Price: $9.95
Highlights: High-quality flashlight, has a circular, high-intensity beam, and provides nighttime visibility.
About Car Accessory: The Coast G19 LED inspection beam flashlight is perfect for road trips or daily commutes. This high-quality flashlight is a must-have in any glove box or console. With its circular, high-intensity beam, the G19 illuminates only what you want to see. It's also useful for travel, providing overnight flight or back-seat passengers nighttime visibility with little disruption to others.
Price: $24.30
Highlights: Works with 7-11 inch tablets, with or without a protective case, and detachment is simple.
About Car Accessory: Keep your passengers entertained on long car trips with the TFY Universal Car Headrest Mount Holder. This holder works with all 7-inch to 11-inch tablets and is designed for devices that are WITH or WITHOUT a protective case.
The simple detachability makes it easy for kids to use, and they'll love being able to watch their favorite shows or play their favorite games while riding in the car.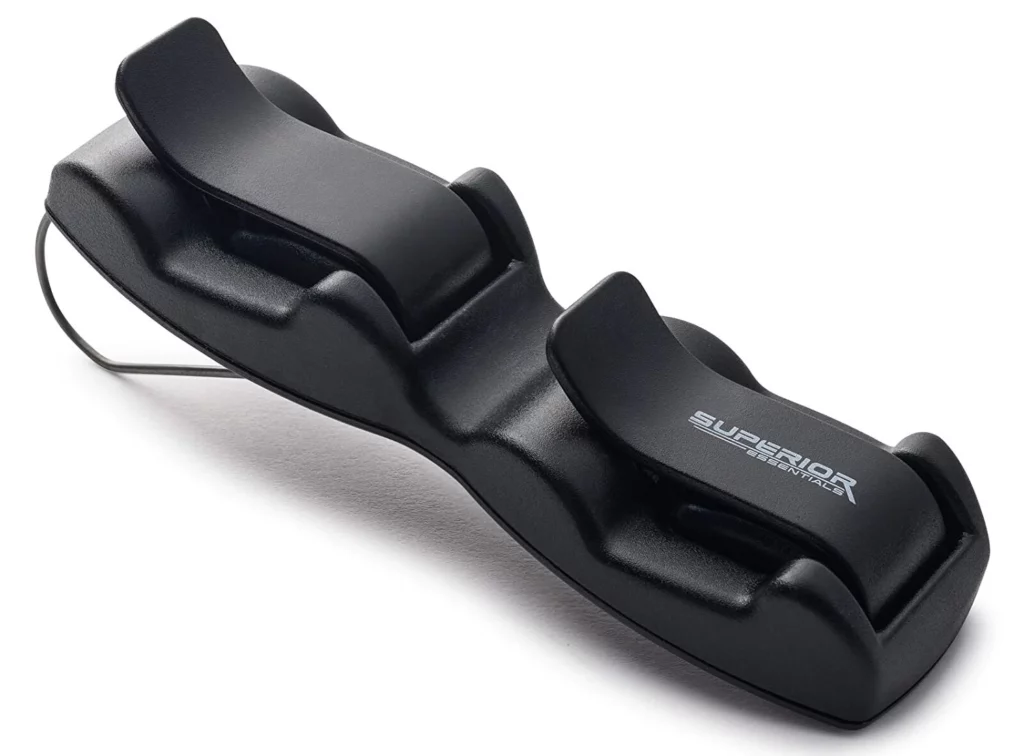 Price: $16.99 (2 pack)
Highlights: Can hold two pairs of sunglasses at once, is easy to use, and makes for a great gift.
About Car Accessory: Superior Essentials Sunglasses Holder is the perfect accessory for your car. This holder can hold two pairs of sunglasses at once, so you and your favorite passenger are catered for.
It's really easy to store your sunglasses securely and keep them accessible in case the clouds clear. Simply slide the sunglasses into the built-in slots on either side of the holder. These sunglasses holders also make a great gift for anyone who loves spending time in the sun.
Best Car Accessories Conclusion
Your car is more than just a car. It is a place where you spend a lot of time, have great conversations, listen to music, enjoy road trips, and more. So the more you can make it your own, the more you will enjoy the time spent in it. That is exactly what this list of the best car accessories is designed to do.
Yes, most of these items are functional, but they will also allow you to put your personal touch and style on your car. Whether it is a steering wheel cover, LED lights, or cup holder coasters, every little upgrade will allow your vehicle to become more of who you are and will allow you to enjoy it that much more.
Have you tried out any of the best car accessories on this list? If so, we would love to hear your personal feedback about them below in the comments.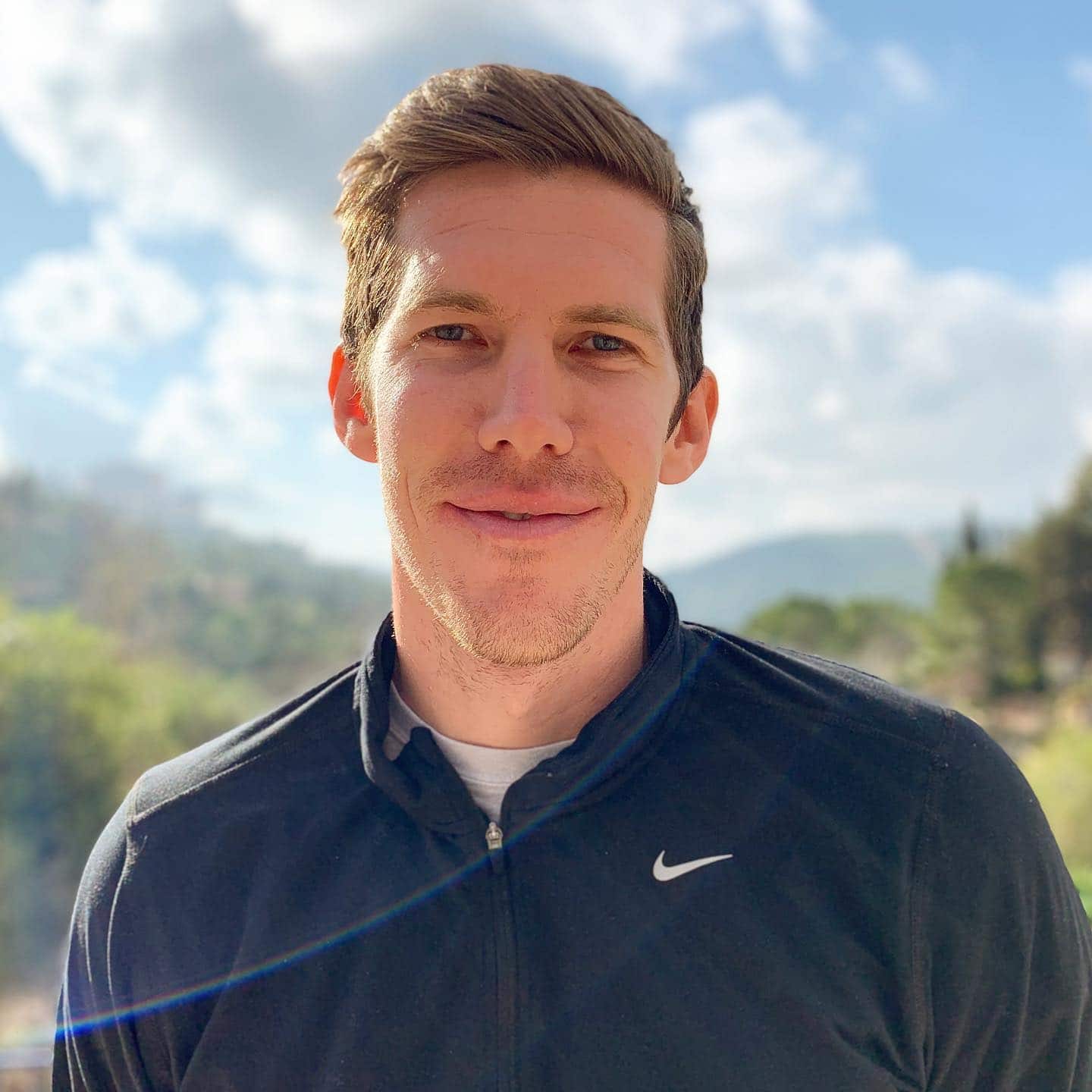 Kyle has a background in sports, fitness/health, and business. However, he also has a passion about researching all topics, and is dedicated to making lists that will help make your life easier.