Lunch Ideas for Kids: The Top 25 List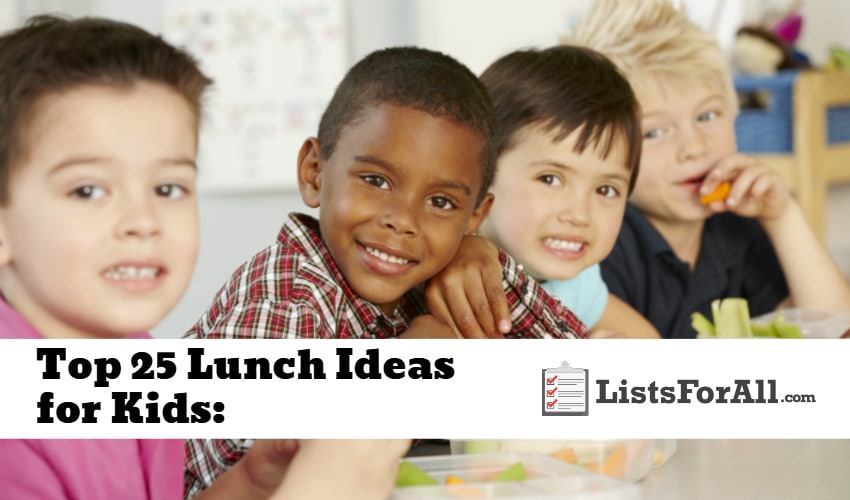 Lunch Ideas for Kids: Tasty, Healthy, and Fun
Brown bagging doesn't have to be boring and repetitive – there are a number of ways to spice up your kid's lunches. In this list of the best lunch ideas for kids, we feature 25 different lunch options – all options that are easy to make and easy to transport.
Even if you have a picky eater, there is bound to be something on this list that will have your child asking for more.
If trying any of these lunch ideas inspires you, visit our list of the best cooking blogs for even more inspiration. And, if you need any of the kitchen tools required to make one of these great lunch ideas, our list of the best kitchen tools is sure to have you covered.
Top 25 Lunch Ideas for Kids: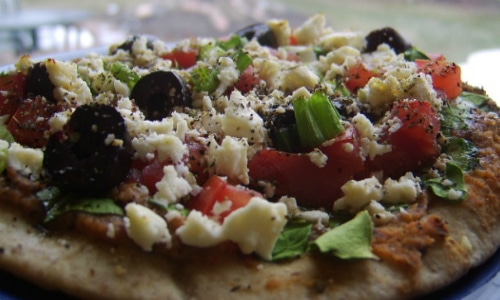 Cooked or uncooked, hummus pita pizza is a tasty alternative to traditional pizza. And, who doesn't love pizza? For additional options mix up the toppings – try meat, tomatoes, different types of cheese, and olives! This is sure to be a lunch fan favorite time and time again.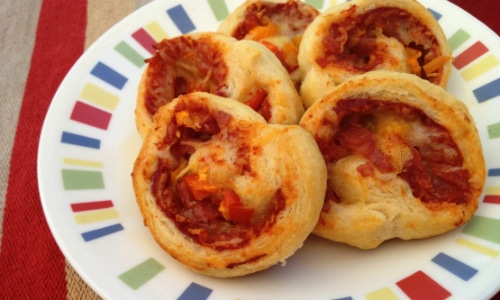 Another great option to traditional pizza, this lunch idea does require cooking, so be sure to make these pizza scrolls the night before (they taste great cold, and store well). For added nutritional value add in some veggies like peppers and spinach.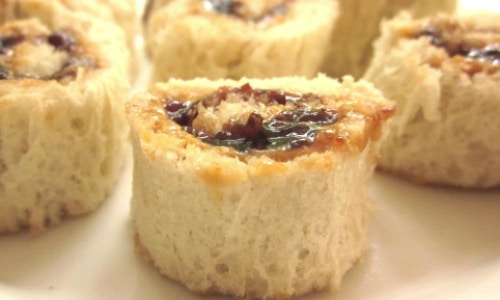 Yes, these are just peanut butter and jelly sandwiches, but when the crust comes off and the sandwich is rolled and sliced into "sushi", this run of the mill lunch idea magically becomes something kids are excited about. As you are probably already aware, the more fun food is to eat; the more likely a child is going to eat it. So if you have a picky eater, give this lunch idea a try.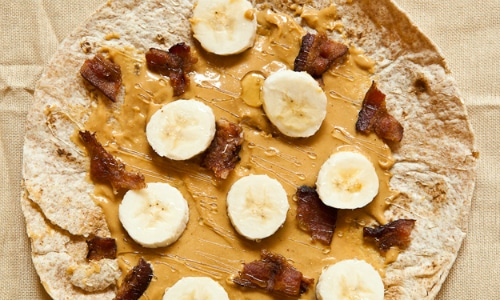 For a fun wrap idea, the Elvis burrito is the way to go. The only cooked ingredient is bacon, so make sure you have some on hand. Other than that, simply add honey and banana with the bacon and wrap it all up in a tasty whole-wheat wrap. You can't really go wrong anytime bananas, peanut butter, and bacon are involved, so be prepared to make this lunch on a regular basis.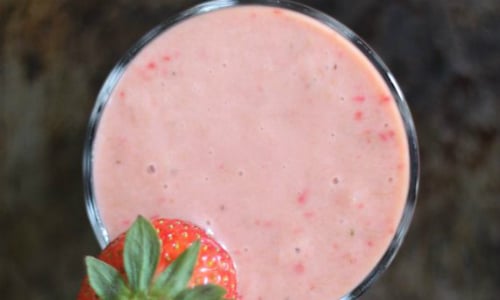 Have a good thermos? Then smoothies are a great lunch option! The thermos will make sure that the smoothie is still cold and refreshing when it comes time for lunch. This recipe provides both fiber and protein, but you can experiment with your own combinations to produce delicious smoothies. Also, for bigger eaters, consider pairing this smoothie up with another lunch option on this list.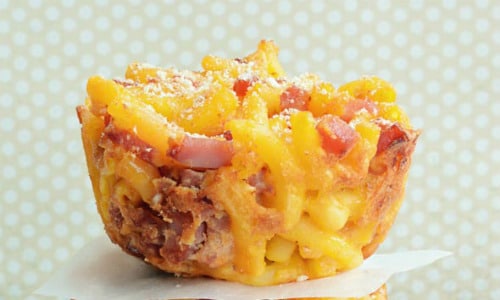 What child doesn't like mac and cheese? Now add in some ham and the fact that it is in cool little muffin bites, and you are going to have a for sure lunch winner. This is a great lunch idea to make all on its own, but it also is a great way to reuse leftovers if you have mac and cheese for dinner.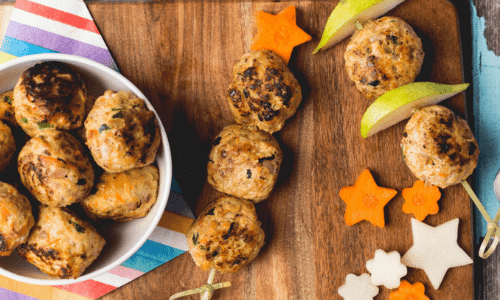 With a prep time and cook time totalling only 25 minutes, these fruity chicken balls both tasty and easy to make. Not only are they going to be filling and healthy, but they are also going to help bring some much-needed variety when it comes lunchbox meals.
The bananas and peanut butter combination are hard to beat. Now add in delicious Rice Krispies and it is almost like a dessert, but still healthy. These banana cereal snacks are a great way to add some flavor to your kid's lunch box without having to go with candy or something else that is unhealthy. They are also very easy to make as well.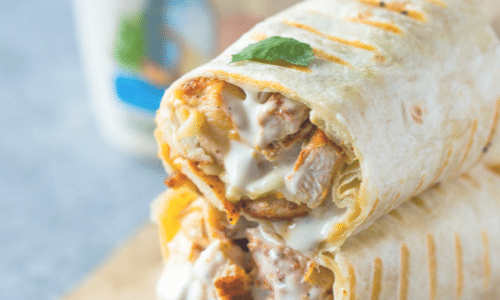 This is a lunch idea that is going to have you wanting to make extras for yourself. These chicken ranch wraps are sure to be a regular in the lunchbox rotation as they are great tasting, healthy, and filling, the lunchbox trifecta. Also, these wraps are easy to assemble and can be made with leftover chicken from dinner the night before if needed.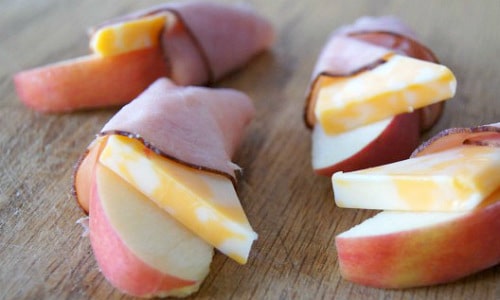 There is just something about the apple, cheese, and ham combination that goes so well together. This lunch box idea is as simple as it sounds in that you are simply going to wrap ham around a piece of cheese and apple. Add in some Ritz Crackers to eat with the wraps, and your child will be the star of the lunch table.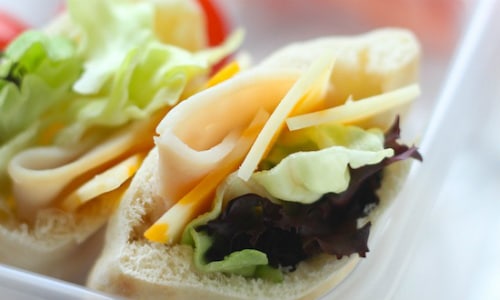 Sandwiches are easy to make, but they can sometimes get a little boring. Pita pockets are just as easy to make as sandwiches, but they will help to provide some lunch food variation. You can get creative with what you stuff your pita with as well.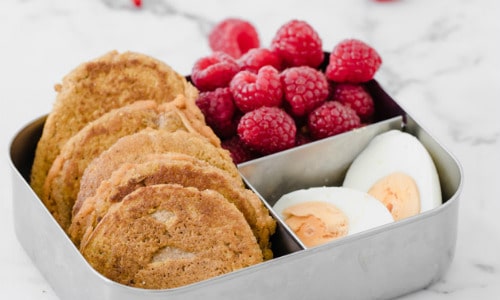 It doesn't have to be fall weather for your child to enjoy some great tasting pumpkin pancakes for lunch. Not your typical lunch idea, as it is actually a breakfast food, but these mini pumpkin pancakes are going to be fun and will help to create a little variation in the monotony that sometimes comes with a repetitive lunch rotation.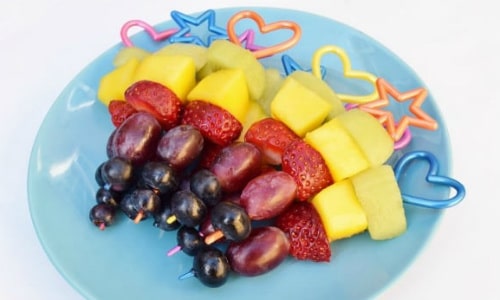 Fruit has never been so fun to eat than with these fruit skewers. With bright colors and patterns, they will help to keep lunch interesting and fun. You will also be able to keep this idea fresh with different fruit options on the skewers as well.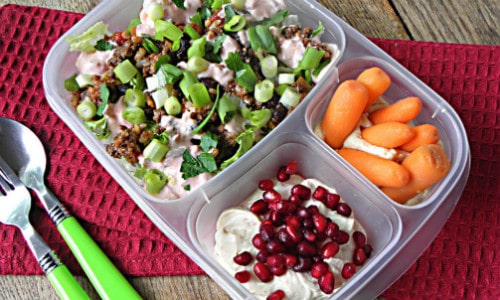 This is a little bit more of a grown up lunch, but can easily be used for a kids lunch as well. This taco salad recipe will require a little bit of planning, but the taste and quality will be completely worth it in the end. It is also going to be a balanced and filling meal as well. To keep this lunch idea fresh, you can also substitute in and out different ingredients.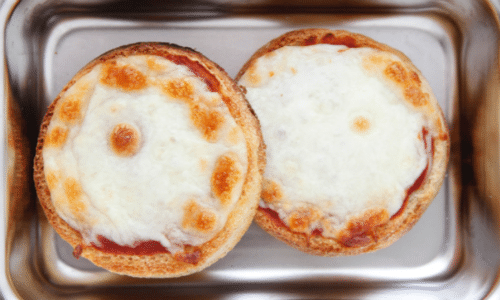 If you didn't do this as a kid, your childhood was severely lacking. These English muffin pizzas are not only delicious and fun, but they are also a breeze to make. Simply put some sauce and cheese on an English muffin and toast it all in the toaster oven. You can even add in some different toppings like ham, pepperoni, or whatever sounds good. They also taste great cold, so no worries if they sit in a lunchbox for a few hours.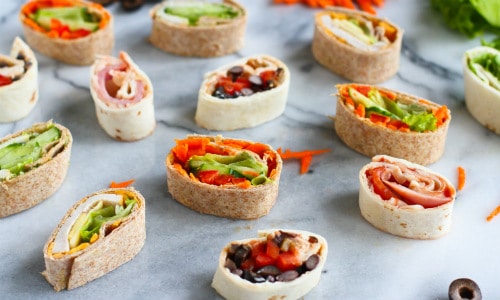 These pinwheel sandwiches are going to allow you to provide some delicious variation to your child's lunches, and they are also easy to make. Simply lay out a tortilla shell, place the desired ingredients on the shell, roll it up, and then slice it into manageable bites. These pinwheel sandwiches will help to keep lunch interesting and fun.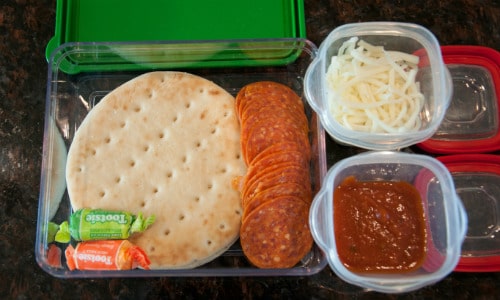 Kids love playing with their food, it is a scientific fact (okay maybe not scientific fact, but still true). These homemade lunchables are going to allow your kids to put together their own lunch in a fun and delicious way. With several different options, you will be able to rotate through all of them, or choose the ones that they like best.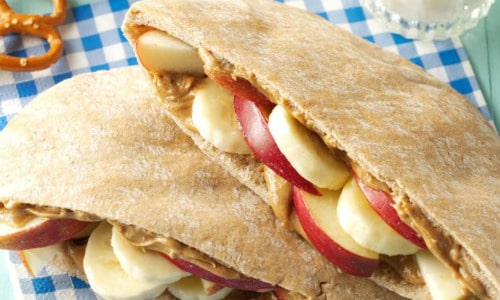 Healthy and great tasting, these fruity peanut butter pitas have everything that you could ask for in a kids lunch. Along with being great for your kids, they are also going to be easy to prepare for you, so if you do not have much time to prepare a lunch, this would be a great option.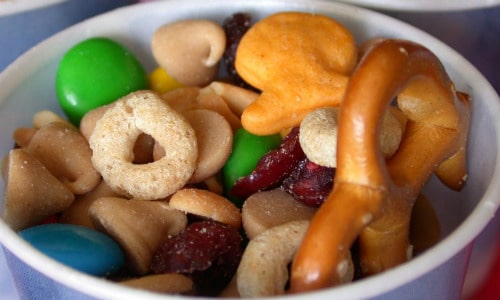 This may not be an entire lunch in itself, but trail mix makes a great snack or add on to a sandwich or something else along those lines. So instead of packing a bag of potato chips in your child's next lunch box, why don't you try out this trail mix?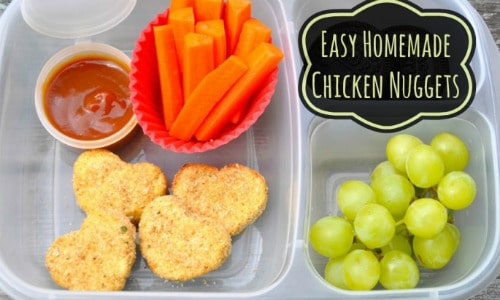 It is hard to go wrong with chicken nuggets, especially if they have a design like these homemade nuggets do. This lunch is going to take a little bit longer to prepare, but your kids will be thanking you in no time flat. Along with being great tasting, having made these nuggets in your own home, you know what all is going into them.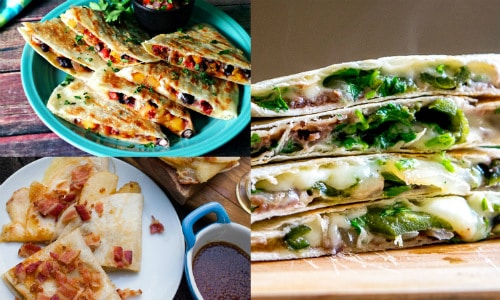 Quesadillas like sandwiches can be pretty much their own lunch category. So if you are able to introduce quesadillas into your kid's lunch boxes, you open up so many more lunch possibilities. A couple of the other great things about quesadillas is that they don't take long in preparation and are going to be filling for your kids.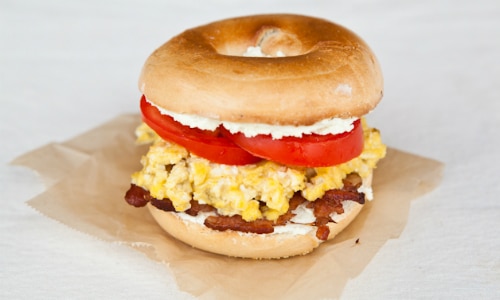 Who says you can't have breakfast for lunch? This bagel breakfast sandwich does require some cooking, but can easily be prepared ahead of time and tastes great hot or cold. You may want to make two though, because you are going to be wanting one yourself after you get finished.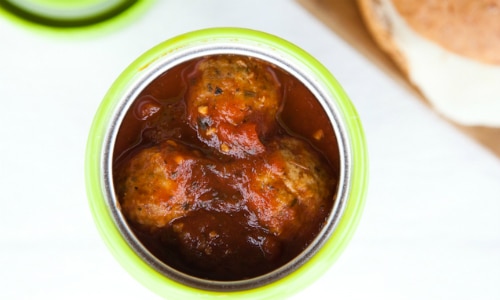 Thermoses aren't just for soup – for this lunch idea, warmed frozen meatballs and jarred tomato sauce hold up great in a thermos and are nice and hot when lunch time rolls around. Pack a hamburger or hotdog bun with some provolone cheese on the side, and your child will have a tasty meatball sandwich after a quick assembly.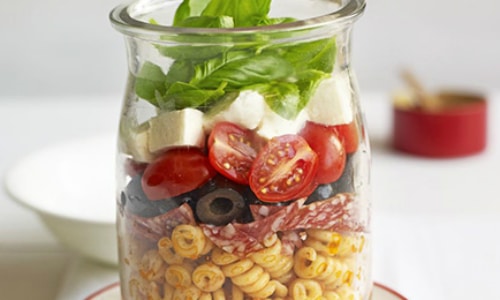 A heartier, kid-friendly pasta salad lunch option, this idea does require a bit of prep, but if you make a good amount, the leftovers hold up well and are great for additional lunches. This lunch option is going to be great because it is not only going to be great tasting, but it is also going to be balanced and filling as well.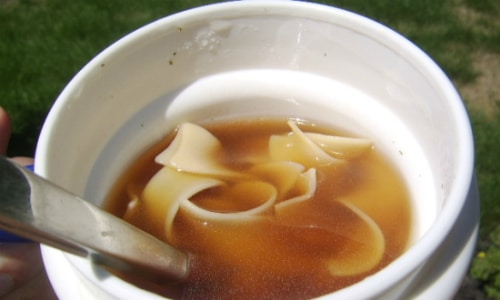 While any type of soup or chili works well in a thermos, this noodle soup recipe is simple, simple, simple, and homemade to boot. Make a large batch and enjoy the leftovers! Add in some delicous bread to dip or crackers that can be crumbled up into the soup, and you will have a for sure winner.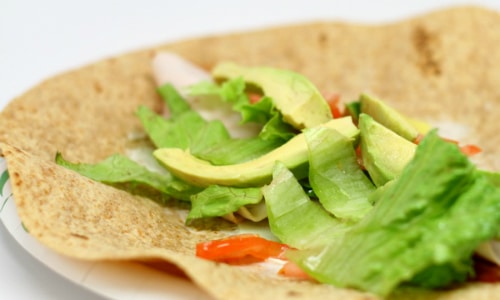 A healthy alternative to traditional sandwiches, wraps are an easy and quick lunch idea. In this wrap recipe turkey, avocado, and Swiss cheese make for a tasty lunch option. Feel free to get creative though and throw in any extra toppings that you think your child may enjoy, or that you want them to be eating.
Best Lunch Ideas for Kids Conclusion
You can't serve peanut butter and jelly sandwiches every day for lunch, or at least you probably shouldn't. That is why we decided to create a list of great lunch choices that are also going to be nutritious for your kids. You will be able to rotate through a variety of different lunch options for your children and keep lunch fun, healthy, and great tasting.
Hopefully, even with picky eaters, you have been able to at least find a few great lunch options to add into your lunch rotation.
Once you have tried a couple of these lunches, please let us know how they turned out in the comments below, or if you have a favorite lunch idea that you don't see on the list, please feel free to share it as well.