Best Things to Do in Amsterdam: Planning Your Perfect Trip
Amsterdam is a city that defies expectations, enchants visitors, and permanently captures their hearts. Amsterdam is a city of permissiveness, red lights, and the same red tulips. It is a bohemian city with European traditions, its own zest, and flowers in every hue under the sun. And with this list of the best things to do in Amsterdam, you can ensure that you take full advantage of your trip.
This list of the best things to do in Amsterdam will highlight the best places to go when you visit Netherlands' capital. Whether you want to take it easy, get out and explore, visit a palace, or whatever, this list of the top things to do in Amsterdam will have you covered.
With an international airport close to Amsterdam, it is also very easy to visit the city. Over 64 million passengers travel through the country each year using Schiphol Airport. The air station is incredibly spacious and comfortable; Amsterdam Schiphol Airport is like a small town where travelers can get all the essential facilities. 
Getting around in Amsterdam is also very easy to do as well. Public transportation in the Netherlands is practical and inexpensive, but many visitors also take advantage of taxi Amsterdam airport and the excellent service available there.
And if you need help planning your trip to Amsterdam, visit our lists of the best travel sites and best travel blogs. Both of these lists will provide all the travel info and inspiration you will need for your trip.
Top 8 Places to Visit in Amsterdam:
Highlights: Take photos with wax celebrities, powerful people, and fictional characters.
About Amsterdam Destination: It will take you a couple of hours to explore this popular museum. It was opened in 1971 and is one of the first wax figure galleries opened. At the start, only 20 exhibits existed, but now there are as many as 50 that you can enjoy. Madame Tussauds Museum is more than your typical museum and is a show that all ages will love and enjoy.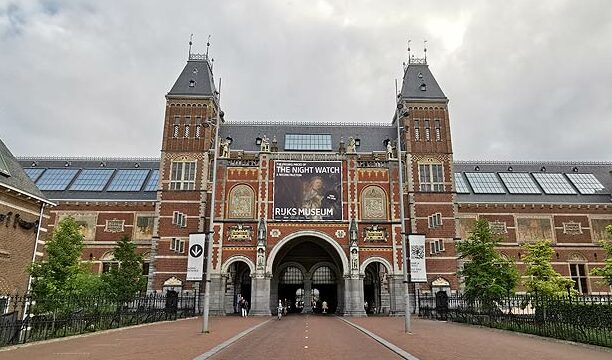 Highlights: Numerous exhibits, features the history of the Northern Netherlands, and also has galleries featuring the works of Italian, Spanish, and Flemish master painters.
About Amsterdam Destination: Located in a magnificent edifice constructed in classic Dutch architecture is one of the biggest and most well-known museums in the world. It began in The Hague in the year 1800 before moving to Amsterdam in the year 1808. The current museum, which takes up a full block, was built in 1885 since the large exhibits could not fit in the previous structure. 
Exhibits in the Rijksmuseum date back to 1100, and the well-known Dutch painter Rembrandt and his work "The Night Watch" are also featured in the museum. Along with artwork created between the XV and XIX centuries, there is also a collection of sculptures, decorative art, and archaeological significance.
Highlights: Very impressive in size and detail, features the fabled titan Atlantus clutching the world on his powerful shoulders, and plenty of history.
About Amsterdam Destination: An enormous structure, the Royal Palace was created by a Dutch architect and is a must-see. It was once a municipal hall but later transformed into the royal family's home and is still in use today.
Public access to the palace is not available during royal occasions, but on other days, parts of it are open to enjoy. The palace's interior has priceless antique furniture, exquisite works of art, and other opulent accents. 

Highlights: Features the city's biggest celebrations, including weddings, festivals, and more, plenty of Amsterdam culture to take in, and tons of great places to eat.
About Amsterdam Destination: Tourists come to Amsterdam's main square for its historical significance and contemporary attractiveness. This location is a dam on the river that was constructed in 1270 to link two towns on opposing banks. With all of the sights, sounds, and people regularly in Dam Square, this is a tourist must when visiting Amsterdam, so make sure to add it to your list.

Highlights: Walk or explore by bike, take a boat tour, and plenty of dining and shops.
About Amsterdam Destination: Take a stroll through Amsterdam's canals and enjoy this unique waterway from land or on a boat. Early autumn gives the canals a unique appeal as the leaves begin to change colors and gradually twirl and fall, covering the water's surface. There are a variety of canal cruises available for visitors to take advantage of.
And thanks to Amsterdam's relatively small size and its canals, you can see the majority of the city's attractions in just one or two hours. This will allow you to appreciate how stunning and distinctive the views of this atmospheric city are.

Highlights: Learn about the human body, the origins and uses of various energies, and more, various interactive exhibits, and plenty of fun.
About Amsterdam Destination: Both children and adults will find the NEMO Museum to be fascinating. Young visitors are drawn in by the ship-shaped building itself and the halls with their deck-like layouts. They will discover the mysteries of genetics and biology as well as the realms of economics and contemporary technologies here.
Visitors enjoy an interactive explanation of physical concepts such as light, sound, the theory of relativity, and energy. This will provide plenty of fun learning opportunities for visitors of all ages.
Also, if you love museums, our lists of the best museums in NYC and the best museums in Washington, DC might also interest you.

Highlights: Hand-painted houses from different time periods of the country, manicured lawns, and huge windmills.
About Amsterdam Destination: There is a vibrant and unique village around Amsterdam that is like an outdoor museum. It is Zaanse Schaanse, a historic town along the banks of the Zahn River. The first draw is already visible as you cross the river bridge: there are more than a dozen windmills that are still operational.
Of course, they are now primarily priceless monuments, but they are amazing to observe in person. Saanse-Schans is, in essence, an authentically preserved Dutch settlement that has persisted since the 17th century. Green lawns, graceful bridges, and opulent homes all appear to have stepped out of a fairy tale illustration. 

Highlights: Plenty of shops, learn about the history of stock trading, watch a fashion show, and much more.
About Amsterdam Destination: The renowned Berlage Stock Exchange building, which bears the name of its architect, is located on Exchange Square. Though it is frequently claimed that the structure has a medieval aspect, it is now a priceless monument of early 20th-century Dutch art deco architecture. 
The structure previously hosted a currency, stock, grain, commodity, and cargo exchange; today, it is home to entertainment venues, a museum, and regular concerts are conducted in the large halls' superb acoustics. As part of the tour program, visitors can view parts of the interior rooms and tower bells as well as learn about the history of the former stock exchange and the building's architect.
Best Things to Do in Amsterdam Conclusion
Amsterdam is an amazing city full of unique culture and plenty of things to explore. And while we are very happy with our list of the best things to do in Amsterdam, there are also many other fun and interesting places to explore outside of this list of the top eight. So along with these top eight destinations, feel free to explore the city and take on any other adventures you may want to.
The other great thing about this list is that as fun as these places all are, many of them will also allow you to learn as you explore. So not only will you leave Amsterdam with plenty of good memories and stories, you will leave that much smarter and more knowledgeable.
Have you been to Amsterdam before? If so, please comment below with any tips or feedback about the city that you think may benefit readers.