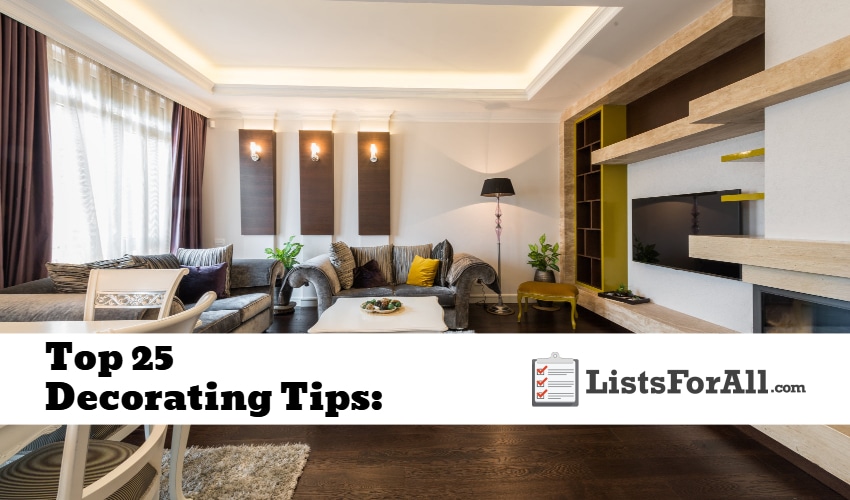 Best Decorating Tips: Finding the Perfect Decorating Tips for Your Home
In an ideal world, an interior designer would perfectly arrange every square inch of your home. If you don't have an interior designer on standby, though, the task falls to you. That is okay, though! Even beginners can create open, inviting areas on a budget with this list of the best decorating tips.
This list of the best decorating tips will help inspire you with 25 different decorating tips for your home. With this list of the top decorating tips, you can turn any space in your home from ho-hum to spectacular in no-time flat.
The majority of the tips on this list of the top decorating ideas are easy to follow as well, so don't think that you are taking on a home renovation by any means. These decorating tips will give new life to your space and ensure that you have a comfortable yet stylish space to call your own.
And, for even more decorating know-how, check out our lists of the best shelving ideas and best IKEA hacks. All of these home-based lists will have you closer to your dream home than ever before.
Top 25 Decorating Tips:
Recommendations: If you are floating furniture on a hardwood floor, try pairing the furniture with your favorite luxury area rug to really tie everything together.
About Decorating Tip: When attempting to make a room look bigger, most homeowners push their furniture against the walls. However, this is not the best way to increase the size perception of a room. Floating furniture away from walls will actually make a room feel bigger.
This can be as simple as moving a chair or small table out into the open. Also, for balance and more natural conversation, try floating the furniture in an H-shape. With two chairs directly across from a sofa and a coffee table in the middle, you will be able to include everyone in the conversation.
Recommendations: You could choose a theme for a specific room or a color pattern. Also, if you are looking to add some character to a room, make sure you check out your local thrift stores and antique shops for some really great accessories at a fraction of the cost.
About Decorating Tip: For a new look and feel in a room, simply change out your accessories. These can include books, throw pillows and blankets, plants, or anything that suits your sense of style. At a fraction of the cost of new furniture, you will be able to spruce up any space with a few key pieces and change them out as often as you'd like.
Rotating accessories and small pieces of furniture is an excellent way to stay on budget and make a notable change at the same time. Accessories are also a great way to incorporate color into a room, which will make it easy to change up your living spaces with the seasons.
Recommendations: When deciding on what paint to use, choose one that goes well with the furniture and other accessories that you already have in the room.
About Decorating Tip: Everyone knows paint is an easy way to bring a much-needed pop of color to a room. But, have you ever painted the back wall of your bookcases? Painting the back wall several shades deeper than the room color is an excellent way to add some visual interest yet still keep with the theme of the room.
Be sure to choose shades that are easy to pair with accessories and that match your existing furniture. Also, for even more of a "Wow! Factor," consider using patterned wallpaper instead. This option can be more expensive but gives you the designer, more expressive freedom.
Recommendations: Cleaning up the clutter outside of a window is a great and inexpensive option to really let the light shine in. Also, make sure to clean windows thoroughly (inside and out) to let in the maximum amount of light.
About Decorating Tip: A well-lit room can make all the difference when it comes to opening up an area. And, while you may not be able to renovate your windows, there are a variety of ways to help improve the lighting of a room. Whether it is trimming trees and bushes back that cover windows or using lighter colors on your walls, there are tricks to improve a room's lighting. So make sure that you are capitalizing on all the great ways to let the light shine into your living spaces.
Recommendations: If you are looking for a mirror with character, visit your local thrift stores or antique shops, you would be surprised at the deals you can find on unique pieces.
About Decorating Tip: If you want to make a room look larger or feel more open, mirrors are an excellent option. The reflection of the mirrors is a great way to improve the visual feel of a room. Also, with many different styles, colors, and mirror sizes, you will be able to find the perfect mirrors to fit your style. You may even want to consider choosing a mirror as a statement piece for a room.
Recommendations: Having all of these types of lighting will allow you to really set the mood at different parts of the day, and also save on electricity as you can specify the amount of light you need.
About Decorating Tip: Not only can layering your lighting improve the design of a room, but it can also help with a room's functionality. The right combination of ambient lighting, task lighting, and accent lighting can really improve the flow of a room.
With all three of these lighting options available, you will be able to set the mood for any occasion. Also, with task lighting, you will be able to shed more light on specific areas of the room to make pieces stand out more.
Recommendations: Vintage Kilim is an Etsy Shop that made our list of the Best Etsy Shops and offers an excellent selection of area rugs to choose from at a great price.
About Decorating Tip: Whether you choose a statement piece area rug or one that blends seamlessly with the room and goes well with your coffee table, furniture, etc., an area rug can do so much. The perfect area rug can warm up a living space and soften hard surfaces. Also, if you enjoy the feel of carpet but enjoy the look of a hard surface, an area rug is an excellent compromise. So add some depth to your room and a pop of color with the perfect area rug.
Recommendations: The right light fixtures can really add to the setting of a room, so really try to pair them up with the existing furniture and accessories of a room.
About Decorating Tip: Updating fixtures is a great way to bring new life to a room while also not breaking the bank. With lighting already being one of the focal points of a room naturally, the perfect light fixture will really help with the design of a room. And, with so many different light fixtures out there, you will be able to find the one that best fits your style.
Recommendations: This is a great way to not only provide some excellent decorative pieces but also display different items that you are proud of.
About Decorating Tip: Do you have items that you like to collect? If you do, show them off as a decorative piece to your guests. Not only will they make excellent conversation starters, but they will also add character to a room. A great way to display your collectibles is with unique shelving. So consider some shelving options that are going to allow you to really showcase your collectibles.
Recommendations: If you don't have as green of a thumb as you would like, make sure to select plants that don't require as much attention and will do well in any environment.
About Decorating Tip: With houseplants of all shapes and sizes available, you will be able to the perfect plant for any area in the house. And, not only will you be able to choose the ideal plant, the right pot and stand can also really improve a room's design. Also, with some houseplants improving air quality as well, greenery has more than design benefits.
Recommendations: You always have the option of going new, but you may find precisely what you are looking for if you go older and look at your local antique shops. And, don't be afraid to barter for a better deal either.
About Decorating Tip: While this decorating tip is going to be a little bit more expensive in most cases, the right custom piece can make a room. Whether it is a couch, table, chair, or whatever, the perfectly placed piece of furniture can work wonders. So come up with a game plan and find the perfect custom furniture piece for the room you are decorating.
Recommendations: With several different styles, sizes, and colors, you should be able to find exactly what you are looking for with this type of shelving.
About Decorating Tip: Whether it is because of lack of space or just because you like the design of it, a ladder for storage is a great option. This ladder storage option is going to be perfect for bathrooms that are lacking in closet space. It will allow you to be able to store essentials like towels and washcloths, but it will also leave room for decorative pieces as well.
Recommendations: As with several of the other decorating tips on this list, custom lighting is another chance to shop at your local thrift stores or local antique shops for great pieces and potentially huge savings.
About Decorating Tip: As mentioned earlier, lighting can be an excellent way to bring life to a room. Well, with the right chandelier or custom lighting piece, you are really going to be able to do that.
Not only will you be able to bring light to an area, but you will also be able to use a unique piece to do it. So try placing a chandelier over the dining room table, the entryway to your home, or wherever else custom lighting would work well.
Recommendations: Make sure you take advantage of all of the free color palettes and resources online when deciding on a color scheme for a room or house.
About Decorating Tip: The right color scheme can work wonders for a living space. So before you start painting or decorating, sit down and figure out the color palette that you want to use. After that, you can make sure that everything falls in line with what you are trying to do. The end product will look so much better because it will show that you planned it out.
Recommendations: Amazon offers a large selection of well-priced decorative pillows and throw blankets to choose from. Also, if you already have some quality pillows and want to spruce things up, you may want to consider some decorative pillow covers instead of buying new pillows.
About Decorating Tip: Not only is this one of the easier ways to spruce up a living space, but it is also one of the comfiest! Adding a couple of throw blankets and pillows can go a long way with providing a pop of color and also making a room feel inviting. So look through your color scheme and figure out what pillows and throw blankets are going to work best for you.
Recommendations: Make sure that you select storage containers that not only look good but make good use of the space they provide.
About Decorating Tip: If you have kids, storage containers are a must. If not, toys, art, and everything else you can imagine ends up being left everywhere. So since you need to get storage, why not get elegant storage containers that will add to the flow of a room? You will not only be able to make sure different items are stored and out of the way, but that the containers add to the design of the room.
Recommendations: Try rotating out your candles for different seasons of the year to set the mood in your home.
About Decorating Tip: Give your house the gift of smelling good as well as some excellent decorative pieces. With a variety of different candle sizes and holders, you can find the perfect candle display for any room.
And, the display is not just for looks as it can provide a good smelling aroma throughout the house when lit. So find your favorite candle scent or a scent based on the season, and you will be able to give your house that extra home feeling.
Recommendations: If you do not want to put a bunch of holes in your wall, consider using picture hanging strips to make your grid.
About Decorating Tip: You don't have to purchase and hang a life-sized picture to make a statement wall in your home. A grid of 9 or 12 smaller pictures will be able to have the same effect. This will allow you to be able to have your statement wall at a fraction of the price. Also, if you have family memories or a collection of photos that you want to display, this is a great way to do it.
Recommendations: Get creative with your items and pick textures and materials that are going to make you happy to be in a room.
About Decorating Tip: Neutral rooms are an excellent option, but in the hands of an inexperienced decorator, an all-neutral room can be flat and dull. To avoid this malady, include a variety of textures and materials in your decorating. Pieces like sisal rugs and silk drapes can help break up the monotony of a room and ensure that neutrals are anything but boring.
Recommendations: Do you have a big family? Show them off with a custom art gallery.
About Decorating Tip: For a truly professional-looking art arrangement, group a variety of pictures together using the same color frames or mats. Spray painting inexpensive frames all the same color lends a cohesive look to your arrangement and ensures that you don't spend a lot.
Or, if you like the look of having differently colored frames as well, that could fit your design style as well. This is a great decorating tip because you can mix and match different-sized frames that you may already have.
Recommendations: While eyeballing a measurement is the easiest way to do it, it is a lot more accurate to break out a measuring tape.
About Decorating Tip: Interior decorators know that the scale and proportion of furniture and accessories should adapt to the size of the room. So finding pieces that fit the size of the room that you are decorating will really help. Similarly, when grouping objects together, odd numbers make for more visually appealing arrangements, so be sure to vary your groupings.
Recommendations: Look online for some great maps to get your collection started off right.
About Decorating Tip: Starting a map collection is a great way to decorate a room – they can serve as art, or blown up, they can act as wallpaper. Maps can also instantly personalize a room if the map reflects the region or someplace near and dear to the owner. Old maps also add a bit of history to a room and can be found in a wide range of prices online.
Recommendations: The great thing about this decorating tip is that your plates do not have to be uninformed. So a great way to get this started is by picking up interesting plates from here and there, and before you know it, you have a unique collection that can be displayed.
About Decorating Tip: Have some pretty, unused plates that are just gathering dust? Why not put those plates to good use in a wall arrangement? With wire plate hangers, plates can easily be arranged on a wall. Try incorporating a variety of sizes, textures, and similar hues for an eye-catching wall plate arrangement.
Recommendations: Before choosing a color, make sure that you step back and take into account all of the different colors that the front of your home is working with.
About Decorating Tip: Curb appeal is just as important as an interior appeal. So why not spruce up the outside of your space by painting the front door a fun, vibrant color? Reds, oranges, and yellows are all bright, cheerful colors for a front door, while blues and pastels also make a great first impression. Also, when it comes to the curb appeal of your home, adding a few pieces of outdoor furniture can go a long way in making your home feel inviting and friendly.
Recommendations: When you are looking to build your collection, don't overlook your local thrift shop. A quick stop-in weekly will allow you to find everything you need for this at a fraction of the cost.
About Decorating Tip: For a fun alternative to stuffy, matched dining sets, mix up your place settings. As long as your place settings share similar hues and sizes, your tablescape will look curated, rather than a hodgepodge of pieces. Plus, mismatched place settings can usually be done on the cheap. So look online and in thrift shops for inexpensive, quality individual pieces.
Best Decorating Tips Conclusion
A house isn't a home until it has been decorated in a way that best fits your personality. So while all of the decorating tips on this list are great, only some are going to fit your style, and that is okay. Choose the ones that best fit what works for you and your house, and you will find that your home flows perfectly the way you want it to.
The majority of the ideas on this list of the best decorating tips are also price-friendly. That means that the next time you are watching a reality TV show on HGTV and get motivated to decorate, it won't end up costing you a fortune. So congratulations, you just got hired as your own interior designer!
Did you try one of these decorating tips in your home? If you did, we would love to hear how it turned out in the comments below.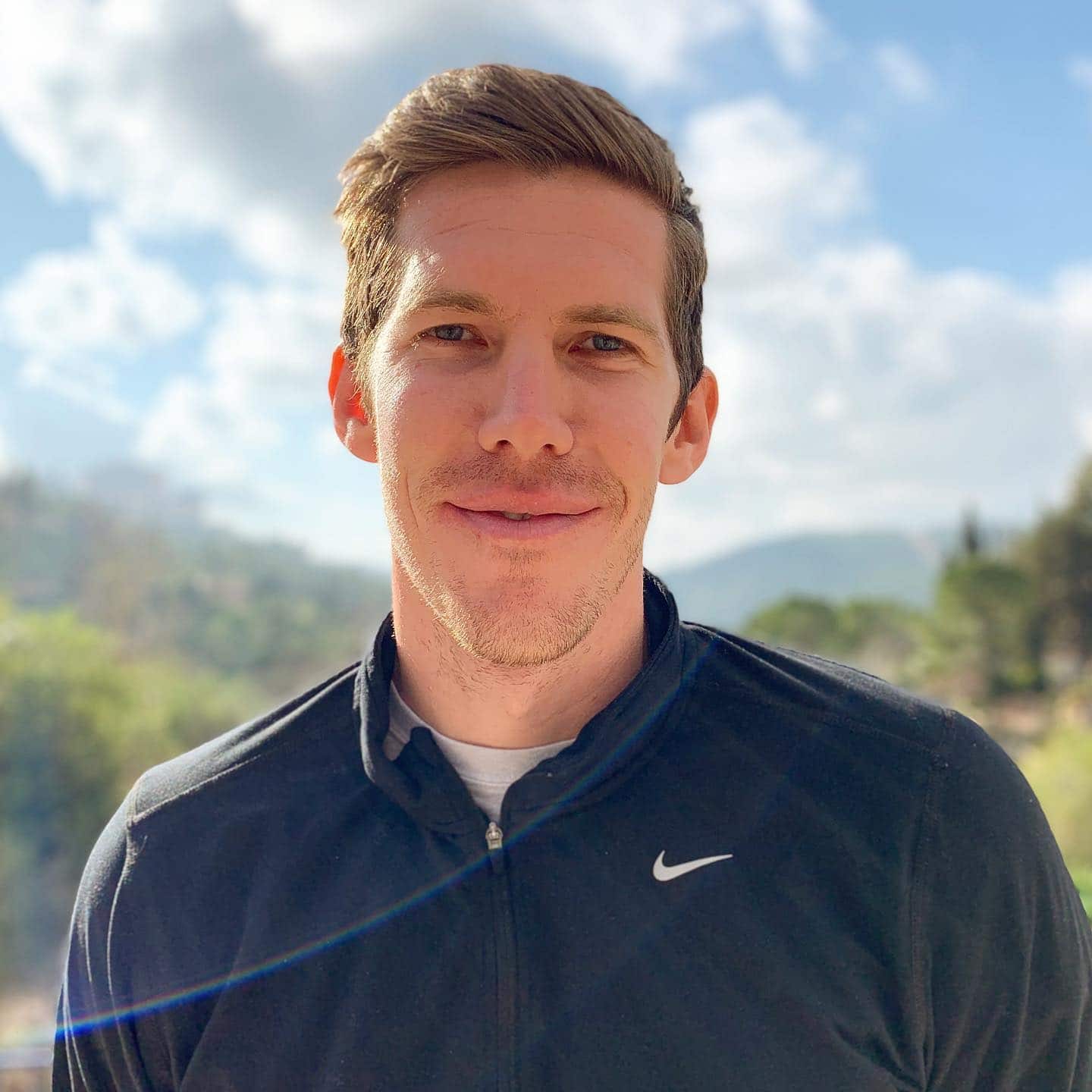 Kyle has a background in sports, fitness/health, and business. However, he also has a passion about researching all topics, and is dedicated to making lists that will help make your life easier.