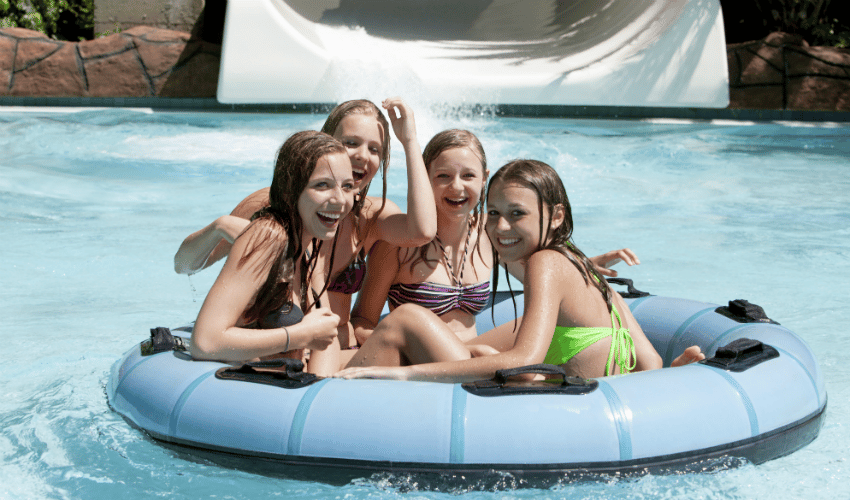 Nothing quite beats a water park on a hot, sunny day. In this list of the best water parks we detail ten water parks from across the globe that are a cut above the rest. With everything from relaxing beaches and lazy rivers, to massive wave pools and terrifyingly high and fast water slides, the parks on this list cover all of the bases.
Many of the parks on this list are also located in popular, scenic locations, making it easy to couple sightseeing with water park fun in one trip. So, if you are a true water park fanatic, check out this list and start marking off your bucket list items!
And, for even more fun, check out our list of the best roller coasters or our list of the best amusement parks.
List of the Best Water Parks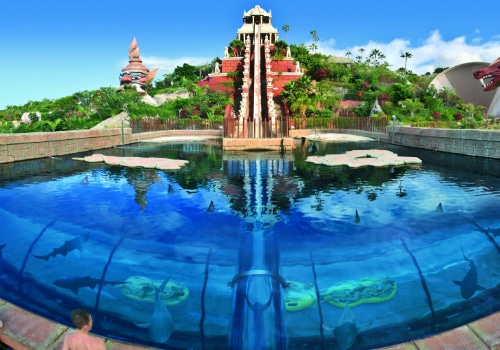 Siam Park, Adeje, Spain 
A TripAdvisor favorite, this Thai themed water park is located in the beautiful Canary Islands. A nine-foot-high wave pool, as well as the "Tower of Power" slide through tanks of sharks and stingrays make for an exciting visit, while lush vegetation and family friendly activities make Siam Park perfect for all ages.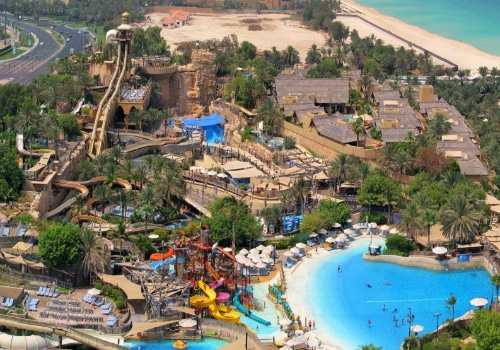 Wild Wadi, Dubai, UAE 
Part of the famed Jumeriah Beach Hotel, Wild Wadi is a wild and wonderful water park in the middle of the desert. There are eight water coasters in the park, heated and cooled wave pools, and one of the fastest and tallest water slides in the world. For true Dubai opulence, this water park is not to be missed.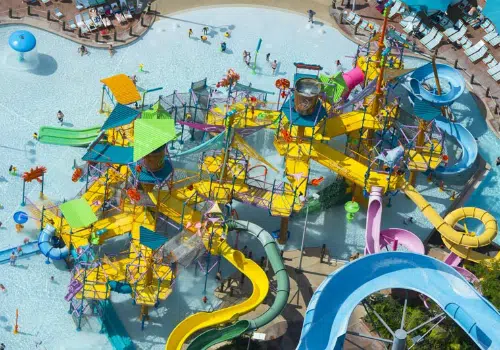 Aquatica Orlando, Florida 
With the water heated to a comfortable 82 degrees Fahrenheit, Aquatica can be visited year round. Part marine park and part water park, visitors can interact with marine life all while enjoying the many water attractions. And for those who just want to relax, the park offers a number of beaches and private cabanas.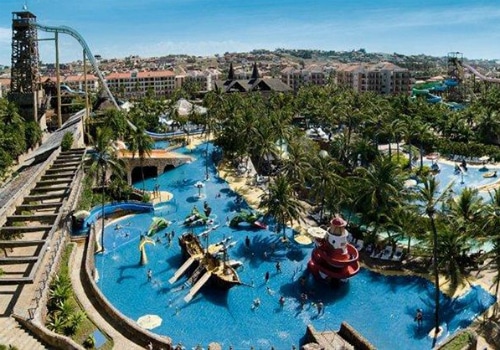 Beach Park Aquiraz, Brazil 
The largest water park in Latin America, Beach Park is 42 acres of fun. At 135 feet and 65 mph, Beach Park boasts the tallest and fastest water slide, making this one water park thrill-seekers need to visit. The Kalafrio halfpipe tube slide is also a visitor favorite and should not be missed.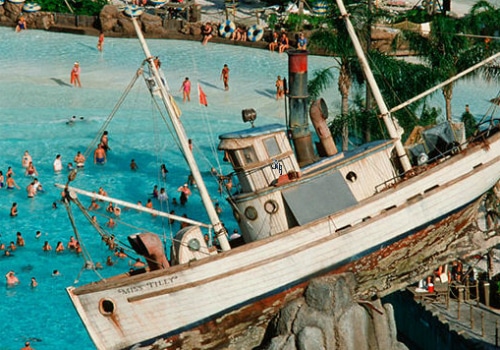 Disney's Typhoon Lagoon Water Park, Orlando, Florida 
With more than 2 million annual visitors, Disney's Typhoon Lagoon is one of the most visited water parks in the world. Boasting true Disney flair, the park abounds with rushing rapids, calm lazy rivers, and relaxing sandy beaches. Visitors can also snorkel with sharks, stingrays, and an abundance of tropical fish in the Lagoon's coral reef.
Tropical Islands Berlin, Germany 
Built inside a gigantic airplane hangar, Tropical Islands is a lush, rain forest inspired indoor oasis that is touted as the largest indoor water park in the world. Just a short drive from Berlin, Tropical Islands features everything from balloon rides to free-fall water tower rides. For a unique water park experience, this is one park that should not be missed.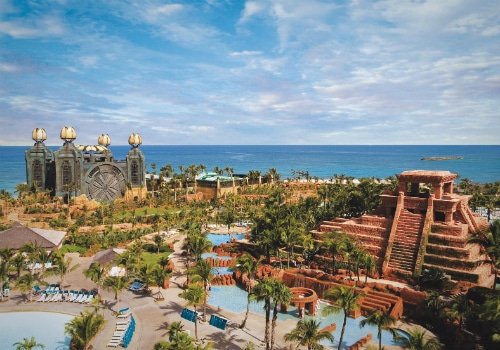 Aquaventure, Paradise Island, Bahamas 
Part of the Atlantis Resort, Aquaventure is 141 acres of aquatic thrills. Popular attractions include a mile-long river rapids attraction, Master Blaster water coasters, speed slides, and slides through a shark-filled lagoon. The park also boasts more than 20 swimming areas and caters to all ages, making this one water park the whole family can enjoy. Aquaventure's second location in Dubai is also just as wonderful as Paradise Island, so if you get the chance check out both Aquaventures.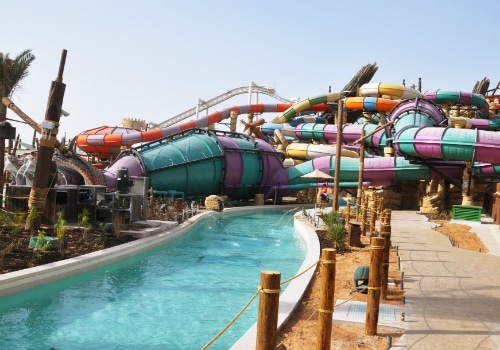 Yas Waterworld, Abu Dhabi, UAE 
Just a short distance from two other parks on this list (Wild Wadi and Aquaventure, Dubai), Yas Waterworld is an Arabian themed water park that truly impresses. Water coasters, wave machines, and a looping slide are just some of the attractions the park has to offer, ensuring that visitors always have something to do.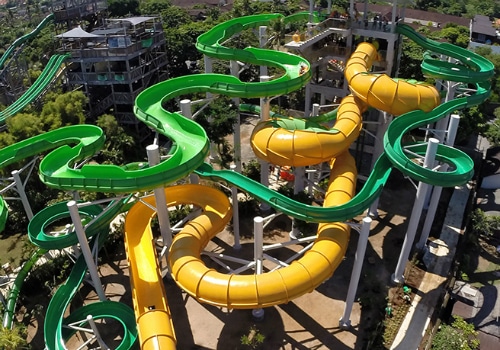 Waterbomb Bali, Indonesia
While not as big as some of the other water parks on this list (Waterbomb is just under 10 acres), the exquisite setting and well-maintained park make Waterbomb one water park that is truly special. As an added bonus, all of the slides and rides also employ salt chlorination, giving your skin a nice break.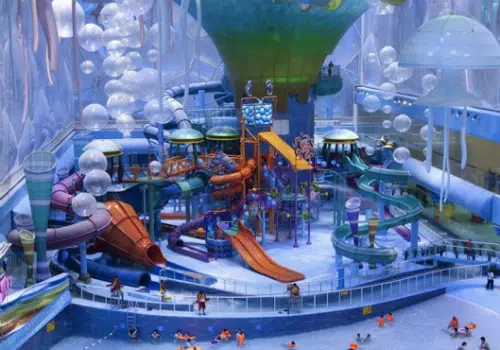 Watercube Waterpark, Beijing, China 
Housed in the Bejiing National Aquatic Center where Olympic athletes once competed, Bejiing's Watercube Waterpark is the largest water park in Asia. In addition to the 13 water slides, wave pool, lazy river, and thrill rides, the park also houses a spa, making it easy to get pampered after a long day of fun.
Best Water Parks Conclusion
I am not sure I have ever heard of someone not having a fun day at a water park, so it was pretty much a no brainer when it came to deciding on whether we would make a best water parks list. There are literally giant indoor water parks, how could you not be impressed with that?
So whether you live close to one of these parks or need to plan a trip, we highly recommend making these water parks a priority in the near future!