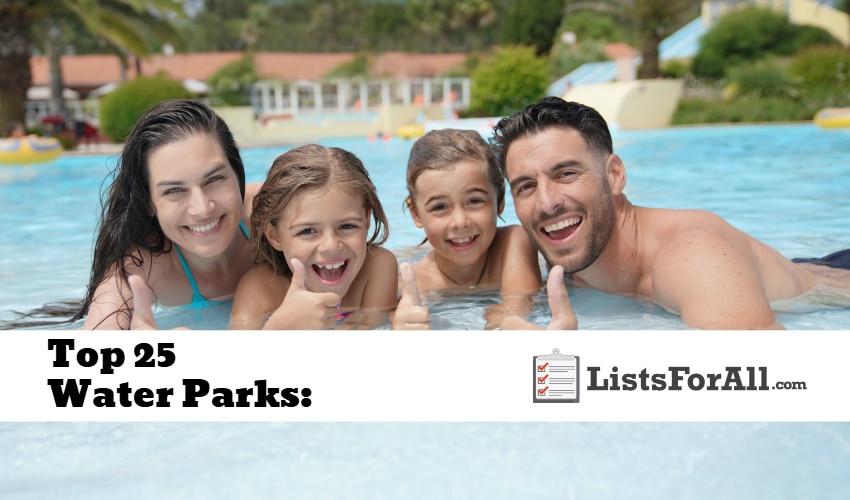 Best Water Parks: Discovering the Top Water Parks
There is nothing quite like a water park on a hot, sunny day. You can enjoy the sun, the cooling waters, and the adrenaline-pumping thrills of all the slides, and it all starts with this list of the best water parks.
In this list of the best water parks, we detail 25 of the top water parks from across the globe. With this list, you can plan out your perfect water park vacation to any of these top parks and make memories that will last a lifetime. 
So, if you are a true water park fanatic and avid adventurer, check out this list and start marking off your bucket list items!
And, for even more fun, check out our list of the best roller coasters or our list of the best amusement parks. Probably not a big surprise, but you'll find out that a lot of our Top 25 contenders are conveniently located near each other. That means that you can plan to visit multiple parks on the same trip to really maximize your vacation.
Top 25 Water Parks:
Location: Adeje, Spain
Waterpark Highlights: Nine-Foot-High Wave Pool and a Slide that Goes Through a Tank of Sharks
About Waterpark: A TripAdvisor favorite, this Thai-themed water park is in the beautiful Canary Islands. The park features a nine-foot-high wave pool, as well as the "Tower of Power," which is a slide that goes through tanks of sharks and stingrays. The park also has amenities such as free WIFI, reserved parking (for a nominal fee of 4 Euros), lockers, and towels. With a variety of other slides and family-friendly activities, Siam Park is perfect for all ages.
Location: Dubai, United Arab Emirates
Waterpark Highlights: Eight Water Coaster and One of the Tallest and Fastest Water Slides in the World
About Waterpark: Part of the famed Jumeirah Beach Hotel, Wild Wadi is a wild and wonderful water park in the middle of the desert. In the park, there are eight water coasters, heated and cooled wave pools, and one of the fastest and tallest water slides in the world.
Amenities and special programs include safety programs for children and special accommodations for younger children. Special incentives are available as well. For true Dubai opulence, this water park is a must.
Location: Orlando, Florida (USA)
Waterpark Highlights: The Water is Heated Year Round, and Marine Life is on Display
About Waterpark: With the water heated to a comfortable 82 degrees Fahrenheit, Aquatica can be visited year-round. Also, Aquatica is part marine park and part water park, which will allow visitors to interact with marine life while also enjoying the many water attractions.
And, for those who want to relax, there are a number of beaches and private cabanas available in this Orlando theme park. The park also provides cost-saving packages as well. They include discounted dual admission tickets, dining packages, and free admission for guests of official or partner Disney hotels.
Location: Aquiraz, Brazil
Waterpark Highlights: Features a Halfpipe Tube Slide and also One of the Highest and Fastest Water Slides in the World
About Waterpark: The largest water park in Latin America, Beach Park, is 42 acres of fun. At 135 feet and 65 mph, Beach Park also boasts one of the tallest, fastest, and best water slides in the world, making this one water park that is a must-visit for thrill-seekers.
The Kalafrio halfpipe tube slide is also a visitor favorite and will leave parkgoers wanting more. Once the thrill-filled day is over, you can relax with shows or family-friendly activities, doubling everyone's fun.
Location: Orlando, Florida (USA)
Waterpark Highlights: Most Visited Water Park in the World
About Waterpark: With more than 2 million annual visitors, Disney's Typhoon Lagoon is one of the most visited water parks in the world. Boasting genuine Disney flair, the park abounds with rushing rapids, lazy rivers, and relaxing sandy beaches.
Visitors can also snorkel with sharks, stingrays, and an abundance of tropical fish in the Lagoon's coral reef. Amenities of the park include kid-friendly activities and bundle packages that include access to multiple parks, meal passes, night-time activities (on select nights), and even surfing lessons.
Location: Innsbruck, Austria
Waterpark Highlights: Features Giant Slides, a Blob, Wakeboarding, and More
About Waterpark: With a stunning mountain backdrop, Area 47 is not your typical waterpark experience. The waterpark is going to use a lake for its water activities rather than human-made pools. With giant slides, a blob, wakeboarding, and so much more, they fully take advantage of the lake as well. Outside of the water, there is beach soccer and volleyball, as well as dining, drinks, and access to Austria's tallest climbing tower. Area 47 is an outdoor lover's dream, both inside the water and out.
Location: Gyeonggi-do, South Korea
Waterpark Highlights: Giant Water Slides as Well as a Relaxing Spa
About Waterpark: Located in South Korea, Caribbean Bay is going to offer something for every water park-goer. From giant water slides like Megastorm to relaxation in the Spa, there is plenty for both adventure lovers and those who enjoy relaxing.
The park is also going to be very kid-friendly as well, with all of the activities that are offered for smaller children as well. Also, color-coded bands match access to parts of the park with your admission price, which will allow for more control over your spending.
Location: Ayia Napa, Cyprus
Waterpark Highlights: Water Slides, Wave Pools, and a Scenic Backdrop
About Waterpark: Surrounded by the Mediterranean Sea, Cyprus is already a water lover's dream destination. Now add in a variety of different water slides, wave pools, and more, and WaterWorld is a one-of-a-kind water park experience. With so many different water slides, you will want to make sure that you have a game plan to get them all in during your visit.
Location: Rio Quente, Brazil
Waterpark Highlights: The Water is Naturally Heated to 99.5°F Year Round by 18 Springs
About Waterpark: Hot Park gets its name from the waters of the park that are naturally heated by 18 springs that encounter volcanic activity. Don't worry; it is entirely safe. These naturally heated waters are a warm and relaxing 99.5°F year-round.
Along with the naturally heated pools, there are slides and rides to enjoy as well. Rides like Giant Slide, Aqua Race, and Half Pipe will all provide fun for thrill-seekers, while children's water playgrounds and more laid-back pools will cater to everyone else.
Location: Alberta, Canada
Waterpark Highlights: Five Acre Indoor Waterpark with Plenty of Slides and a Wave Pool
About Waterpark: You might not think of Canada as having one of the best waterparks in the world, but this indoor waterpark in Alberta is absolutely amazing. This five-acre indoor water playland has slides, hot tubs, children's areas, and so much more.
And, best of all, the indoor tropical temperatures are welcoming year-round for guests. Some of the other highlights outside of the water slides are the wave pools, surf area, zip lines, and cabanas. The park offers birthday, group, and multi-play packages and surfing classes.
Location: Orlando, Florida (USA)
Waterpark Highlights: Virtual Lines for Slides and Plenty of Water Activities for All Ages
About Waterpark: Located in the heart of Disney's theme parks, Universal's Volcano Bay still shines brightly in its own right. With a giant volcano that stands out for miles, and waterslides ranging from relaxing to thrill-seeker, Volcano Bay is a must.
Also, for those who hate standing in lines, all of the lines at Volcan Bay are virtual. This means that all you have to do is sign in with your wearable wristband and then show up when it is your time to ride. In the meantime, you will be able to float, swim, relax, and do whatever else the park offers.
Location: Pigeon Forge, Tennessee (USA)
Waterpark Highlights: Water Slides, a Wave Pool, and Plenty of Kid-Friendly Water Playgrounds
About Waterpark: Located next to the Dollywood theme park, Dollywood's Splash Country offers wet and thrilling fun. Guests will be able to choose from a variety of water slides as well as a wave pool and a lazy river. And for younger kids, there is plenty of young fun like water playgrounds and smaller slides. So next time you are in Tennessee, make sure that you plan enough time for both the theme park and the waterpark.
Location: Novigrad, Croatia
Waterpark Highlights: Features Slides Like Free Fall, Space Rocket, and Sky River
About Waterpark: Located on the Adriatic Sea, Aquapark Istralandia is the perfect destination for a waterpark. Outside of the awesome weather and area, the park also features a large selection of world-class waterslides. Slides like Free Fall, Space Rocket, and Sky River highlight the offerings.
For folks who want to take a break from getting wet, Istralandia also boasts beach volleyball and soccer, as well as a kid's corner and temporary tattoo artistry. With so much more than water slides as well, there is no shortage of water activities.
Location: Hurghada, Egypt
Waterpark Highlights: 35 Different Water Slides and 14 Pools to Choose From
About Waterpark: Jungle Aqua Park is a vast oasis of water fun that offers 35 water slides and 14 pools (some of them heated). Slides and pools are going to be geared for a wide range of guests as well. So whether you are young or old, adventurous or laid back, there is something for you.
Outside of the water, guests will get access to cabanas, relaxation, food, and more. The park also offers a generous all-inclusive package that includes access to food and drink, sports and fitness, rooms, and children's activities.
Location: Pattaya, Thailand
Waterpark Highlights: Exciting Water Slides and Kid-Friendly Water Attractions
About Waterpark: Rated one of the best waterparks in Asia, Ramayana Water Park offers something for all. From thrilling slides to laid-back caves, every guest will have something that appeals to them. Also, with a variety of options for children, Ramayana is the perfect family destination.
Ramayana was also built on the ruins of an ancient city as well. So visitors will be able to "explore the remainders of ancient buildings, walls, and sculptures" in between enjoying different water activities.
Location: Santa Claus, Indiana
Waterpark Highlights: Features Two of the Longest Water Coasters in the World
About Waterpark: As part of the Holiday World theme park, Splashin' Safari is an excellent two-for-one trip. Whether you do Holiday World or not, though, Splashin' Safari is well worth it all on its own. With two of the longest water coasters in the world, Splashin' Safari is off to a great start. Now add in the rest of the slides, pools, kid's areas, and everything else, and you can see why they are one of the best waterparks in the world.
Location: Williamsburg, Virginia (USA)
Waterpark Highlights: World-Class Water Slides, Water Playground, Wave Pools, and More
About Waterpark: Part of Busch Gardens, Water Country USA is a top waterpark on the East Coast. With a variety of slides and rides, everyone in the family will be happy at Water Country USA. Along with the slides and rides, guests will also get access to splash areas, water playgrounds, wave pools, and more. Make sure you plan for at least two days, though, so that you can visit both Busch Gardens and Water Country USA.
Location: Mahahual, Mexico
Waterpark Highlights: Slides and Rides are Based Out of a Giant Mayan-Themed Temple
About Waterpark: This water park is going to take you back in time as it is themed on Mayan Culture. Also, all of the slides and rides are based on a giant Mayan-themed temple. This unique take on a waterpark is going to allow for tons of fun. Highlighting the fun are zip lines, splash zones, lazy rivers, and thrilling slides. So for an adventure-filled day at the park, make sure you visit the Lost Mayan Kingdom.
Location: Wisconsin Dells, Wisconsin (USA)
Waterpark Highlights: Multiple Wave Pools and Water Slides Like Raja, Black Anaconda, and Scorpions Tail
About Waterpark: Spread out over 70 acres, Noah's Ark is one of the largest waterparks on this list. With several children's water play areas, two lazy rivers, and two giant wave pools, Noah's Ark is a massive waterpark. This is all without even mentioning the world-class water slides offered.
These waterslides are highlighted by Raja, Black Anaconda, and Scorpion's tail, all of which will get your adrenaline going. So if you are looking for an epic waterpark experience, look no further than the Wisconsin Dells and Noah's Ark.
Location: Jesolo, Italy
Waterpark Highlights: Thrill-Seeking Water Slides, Relaxing Rivers, and Quality Entertainment
About Waterpark: Italy has a ton of great places to visit, but when it comes to water parks, there is only one place that stands out above the rest; Aqualandia. From thrill-seeking rides to relaxing rivers, they have it all, and for all ages as well. Along with excellent rides, they also offer a variety of entertainment in the park as well. With eight different themed areas to explore as well, Aqualandia is going to provide so much for visitors.
Location: Berlin, Germany
Waterpark Highlights: Rainforest-Inspired Waterpark That is in a Gigantic Airplane Hangar
About Waterpark: Tropical Islands is a little bit unique in that it resides inside a gigantic airplane hangar. This lush, rainforest-inspired indoor oasis is the largest indoor water park in the world. Just a short drive from Berlin, Tropical Islands features everything from balloon rides to free-fall water tower rides.
Not forgetting outdoor fun, Tropical Islands has the Amazonia outdoor area for sun-bathing, water polo, volleyball, or soccer. For a unique water park experience, this is one park that should definitely be on your bucket list.
Location: Paradise Island, Bahamas
Waterpark Highlights: A Mile Long River Rapids, Speed Slides, and a Slide That Goes Through a Shark-Filled Lagoon
About Waterpark: Part of the Atlantis Resort, Aquaventure is 141 acres of aquatic thrills and is the largest water park in the Caribbean. Popular attractions include a mile-long river rapids attraction, Master Blaster water coasters, speed slides, and slides that go through a shark-filled lagoon. The park also boasts more than 20 swimming areas and live marine attractions. This is a water park that caters to all ages and interests.
Location: Abu Dhabi, United Arab Emirates
Waterpark Highlights: Water Coasters, Wave Machines, and a Looping Slide
About Waterpark: Yas Waterworld is just a short distance from two other parks on this list (Wild Wadi and Aquaventure). It is an Arabian-themed water park that is enjoyed by guests from all over the world and was voted the 2018 World Leading Water Park Winner by World Travel Awards. Water coasters, wave machines, and a looping slide are just some of the attractions that the park has to offer. This will ensure that visitors always have something to do.
Location: Bali, Indonesia
Waterpark Highlights: World-Class Water Slides and Salt Water
About Waterpark: While not as big as some of the other water parks on this list (just under 10 acres), Waterbomb still holds its own. The exquisite setting and well-maintained park make Waterbomb one water park that is truly special. As a bonus, all of the slides and rides also employ salt chlorination, giving your skin a nice break.
Location: Beijing, China
Waterpark Highlights: Thrill Rides, a Lazy River, and an in-house Spa
About Waterpark: Beijing's Watercube Waterpark is the largest water park in Asia. It is housed in the Beijing National Aquatic Center, where Olympic athletes once competed. In addition to the 13 water slides, wave pool, lazy river, thrill rides, and kids' area, the park also features an aquatic stage.
Performances include ballets and other musical numbers, all of which are set in a translucent underwater dreamscape. Lastly, Watercube Waterpark also houses a fantastic spa for relaxation and recovery. So get ready to be pampered after a long day of fun.
Best Water Parks Conclusion
If you enjoy a good water park, then this list has to have you thinking of fun in the sun, or maybe fun in a giant indoor water park. Either way, this list of the best water parks cannot be ignored once seen. So start making plans to enjoy some of the different parks on this list.
For all of your travel plans to any of these destinations, make sure to visit our list of the best travel sites. This list will help you save money and time and have you visiting one of these water parks in no time. And, as a lot of these water parks are surrounded by other amusement parks or must-visit destinations in Europe, the United States, and elsewhere, you will have plenty to do outside of the water as well.
Have you already visited one of these water parks? If so, we would love to hear your feedback in the comments below.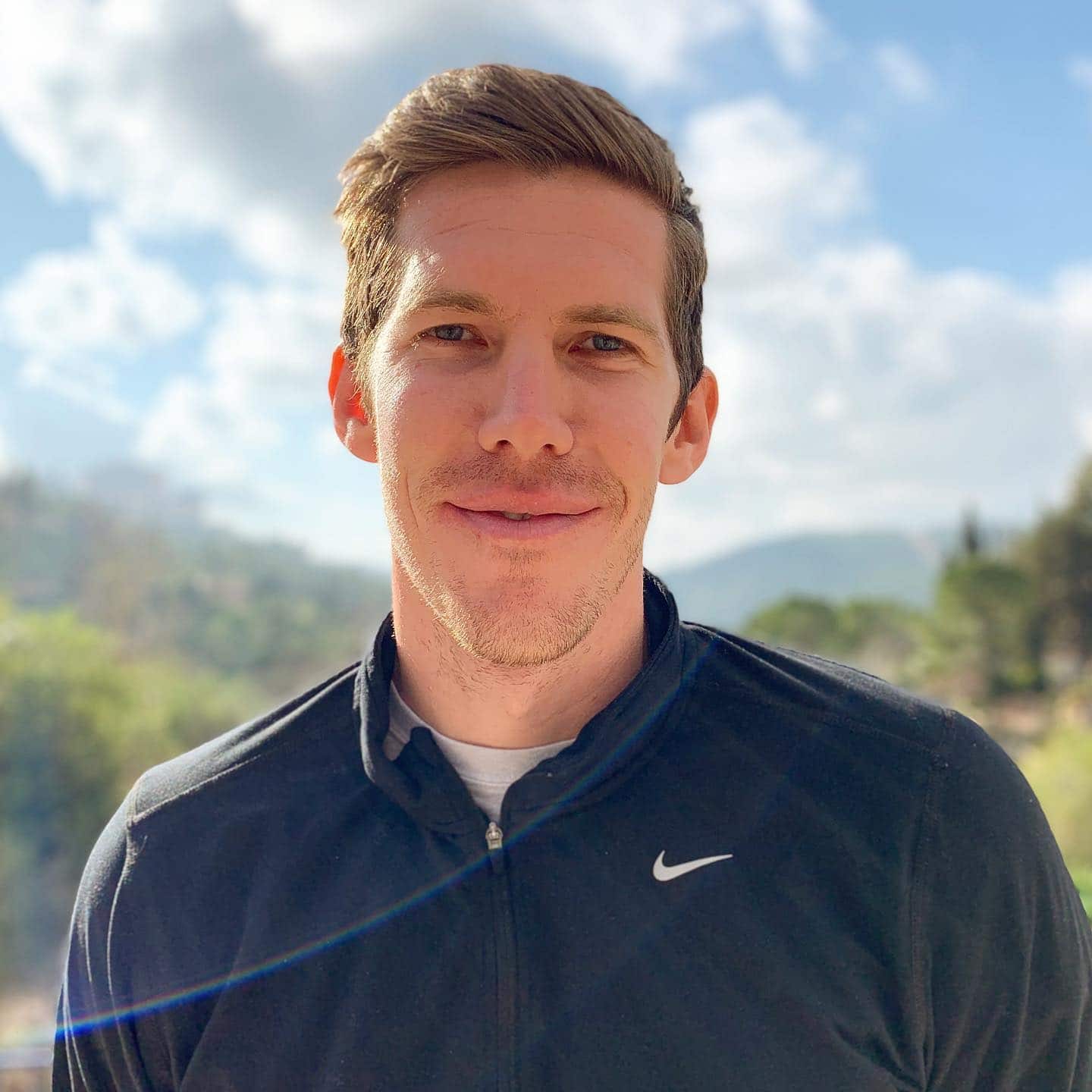 Kyle has a background in sports, fitness/health, and business. However, he also has a passion about researching all topics, and is dedicated to making lists that will help make your life easier.