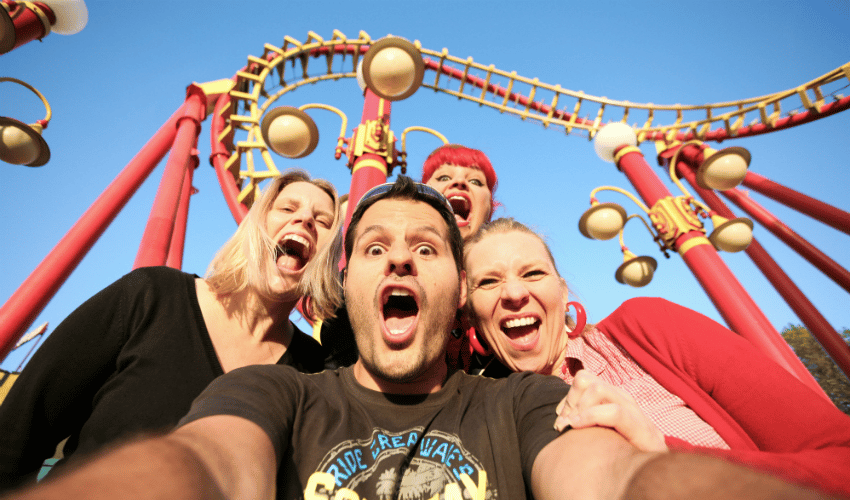 For the thrill-seeking person, roller coasters are a sure fire way to get the heart pumping and the adrenaline flowing. Indeed, coasters today are some of the most impressive feats of engineering, with heights over 450 feet and speeds at almost 150 miles per hour! In this list of the best roller coasters, we have compiled fan favorites, as well as coasters in the top of their class.
Whether you are looking for speed, height, power, or a dizzying array of loops and turns, this list of the best roller coasters is bound to have the coaster of your dreams. Take a look through our list, and if you have your own favorite coaster to add to this list, please comment below. Plan a trip to some of these great roller coasters with our list of the best travel sites.
List of the Best Roller Coasters
Millennium Force, Cedar Point, Sandusky, Ohio
Featuring an 80 degree drop and a roaring 93 mph speed, the Millennium Force at roller coaster mecca Cedar Point is a star among roller coasters. The coaster also features an elevator cable lift system to bring cars more quickly to the top, ensuring that every second of the 2 minute ride is spent well.
Full Throttle, Six Flags Magic Mountain, Valencia, California 
With the world's tallest vertical loop (160 feet), the Full Throttle coaster is the tallest and fastest looping roller coaster in the world. And, for loop fanatics, the 160 loop is done not once, but twice!
Gravity Max, Lihpao Land Discovery World, Taiwan 
To begin, the Gravity Max starts out with an impressive 90 degree, 34 story vertical drop. From there, the two and a half minute 'tilting' ride careens through loops and drops impressive enough to thrill the most avid rider.
El Toro, Six Flags Great Adventure, Jackson, New Jersey 
With the steepest drop of any wooden roller coaster in the country, El Toro has been voted the number 1 wooden coaster in the country. And, while El Toro's appearance makes it seem like a typical wooden coaster, the 76 degree, 176 foot drop makes El Toro a cut above the rest.
Apollo's Chariot, Busch Gardens Williamsburg, Williamsburg, Virginia 
With a 4.1 G-force and a drop of 210 feet, Apollo's Chariot at Busch Garden's Williamsburg is truly a thrilling ride. Also, with nine different hills in the ride, Apollo's Chariot is good for multiple rides.
Takabisha, Fuji-Q Highland theme park, Fujiyoshida, Yamanashi, Japan 
With the steepest drop in the world, the Takabisha coaster is not for those with a weak stomach. Recently built, the 121 degree drop of this coaster is a definite bucket list item for coaster enthusiasts.
Intimidator 305, Kings Dominion, Doswell, Virginia 
As the longest floorless roller coaster in the country, the Intimidator 305 is a favorite among roller coaster devotees. With non-stop action from start to finish, the 2 minute 6 second ride is well worth the time spent in line.
Kingda Ka, Six Flags Great Adventure , Jackson, New Jersey 
Boasting an impressive 128 mph speed, the Kingda Ka is both the fastest and tallest roller coaster in the US. The top elevation of the ride is also a whopping 456 feet, making this ride a must for speed and height enthusiasts.
Formula Rossa, Ferrari World, UAE 
As the fastest coaster in the world, the Formula Rossa at Ferrari World accelerates to almost 150 mph in just under five seconds. And, with 4.8Gs of force, ride goers have to wear safety goggles for the ride!
Top Thrill Dragster, Cedar Point, Sandusky, Ohio 
Yes, the ride is only 17 seconds long, but those 17 seconds on the Top Thrill Dragster are magical! With speeds topping out at 120 mph and a height of 420 feet, this high-powered ride is a must for thrill seekers.
Best Roller Coasters Conclusion
Roller coasters are not for everyone, but for those who appreciate a good roller coaster, this list has to have you fired up and ready to visit some of these great parks!
We wanted to do a good job with this list of providing the best roller coasters in the world, but also finding coasters that are geographically spread out so that you would have a better chance of one being close to you.
Let us know how your death defying roller coaster ride went in the comments below, we would love to hear your feedback!