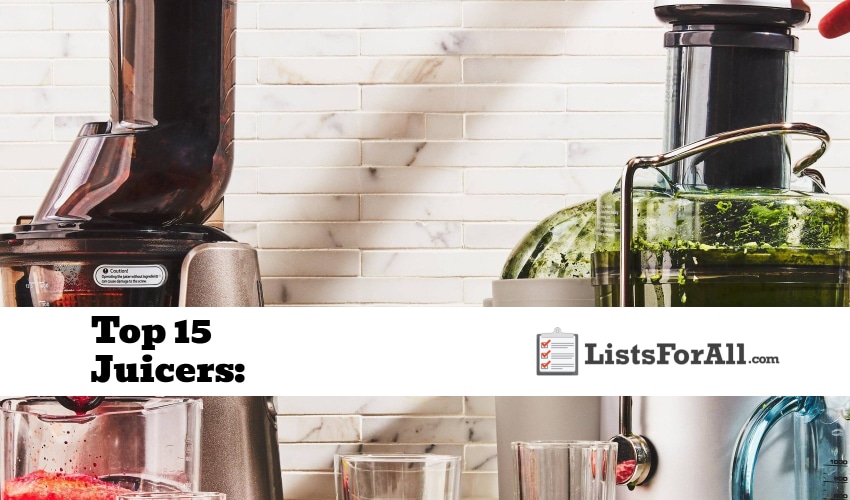 Best Juicers: Finding the Perfect Juicer for You
Staying on top of your health has never been easier than with this list of the best juicers. Before you know it, you will be able to take advantage of all the fruits and veggies you can handle in juice form. You may not be able to consume large amounts of vegetables and fruits every day, but you can still take advantage of all the nutrients in liquid form with one of these juicers.
This list of the best juicers will highlight the top juicers on the market and help you find the right one for you. Whether you are looking to juice every day or every once and a while, this list of the top juicers will have the perfect juicer for you. 
It is as simple as plugging in your juicer, pressing the desired fruits and veggies, and then enjoying a tasty glass of juice. This simplicity will allow you to stay on top of your nutrition and will allow you to live a healthier lifestyle and improve your fitness.
Along with taking advantage of all the benefits of a juicer, make sure to visit our other health-related lists. Our lists of the best men's supplements, best women's supplements, and best fitness supplements will help to complement your fruit and vegetable intake. Before you know it, you will have all the energy you need to live a healthy and active life. And of course, you will also look amazing!
Top 15 Juicers:
Price: $69.97
Highlights: One of the best juicers for making low-foam juices in an instant, it features a compact design, and has a stainless steel cutting disk.
About Juicer: Mueller offers this Ultra Juicer for those looking for an easy-to-use yet powerful juicer. With two different blade speeds, this juicer can be used for both soft fruits and harder fruits and vegetables. Its design features a safety locking arm and a micro-mesh filter.
This filter is easy to clean and ensures foam-less juices that are filled with vitamins and minerals. Finally, the extra-large feed chute limits spillages and ensures long-time, clog-free operation.
Price: $159.95
Highlights: A centrifugal juicer with easy cleanup and assemblage, a titanium-reinforced blade, and an overload LED light to protect against an unsafe operation.
About Juicer: Breville's juicer machine has several great features. Firstly, it comes with a removal pulp container, juicing jug, and a wrapping power cord. These afford easy and compact storage. Secondly, it has a built-in froth separator, a safety locking arm, and a wide fruit chute for a premium and easy juicing process.
Thirdly, the two-speed option allows for ideal flavor extraction from both soft and hard fruits and vegetables. With all of these characteristics, it is no wonder this juicer made our best juicers list!
Price: $379.00
Highlights: It saves on counter space, is perfect for personal-sized juice portions, and comes in multiple colors.
About Juicer: Are you looking for a quality slow juicer that won't take up too much counter space? Look no further than the Hurom HP Slow Juicer. This efficient little machine is perfect for making personal-sized juices without taking up all the kitchen counter.
It comes in a few fun colors, and its small size means it can fit into most cupboards. Plus, at 43 RPM, the Hurom HP Slow Juicer is one of the quickest slow juicers around!
Price: $84.99
Highlights: Has a stylish and sophisticated look, a rotating spout, and a wide mouth for larger fruits and vegetables.
About Juicer: The Oster JusSimple Juice Extractor is perfect for those who want a stylish and sophisticated juicer that is easy to use and easy to clean. The red filter makes it stand out from the crowd, while the rotating spout ensures that your countertop stays clean.
With a wide mouth, this juicer can easily fit large fruit or vegetable pieces, so you don't have to spend time chopping them up. And with a lighted speed dial, you can easily adjust the juicing speed to match your preferences.
Price: $199.99
Highlights: Compact and powerful, quiet when running, and is very efficient.
About Juicer: If you want to get the most out of your fruits and vegetables, look no further than the Nutribullet Slow Juicer. This powerful little machine extracts a ton of juice and does it quietly and efficiently. Plus, it's compact enough to fit in even the smallest kitchens.
Whether you're a seasoned juicing pro or just starting out, the Nutribullet Slow Juicer is a must-have for anyone who wants to make the most of their produce.
Price: $138.99
Highlights: It is a versatile juicer, comes with three attachments, and can handle a variety of items.
About Juicer: The Emeril Lagasse Slow Juicer is a versatile juicer that can easily handle both fruits and vegetables. This kitchen wizard comes with three attachments – a juicer, frozen dessert maker, and pasta maker – so you can create delicious juices, frozen desserts, and pasta dishes with ease.
Another great feature is the LED screen that makes it easy to navigate the juicer's functions and the auto-shutoff feature that ensures safe operation.
Price: $99.99
Highlights: Two-speed modes, easy to disassemble and clean, and comes with a 12-month warranty.
About Juicer: This juicer is easy to use, easy to clean, and will allow for quick and efficient juicing. It also has a quiet motor that operates at less than 60 decibels so you don't have to worry about the volume being too much. And with the year-long warranty, you can make sure that you really like this juicer and that it will last.
Price: $64.99
Highlights: This juicer machine features BPA-free parts, an extra-large pulp container, and a 3-year limited warranty from Hamilton Beach.
About Juicer: This machine is an excellent option for those needing an easy and fast juicer. For example, the removable parts are all dishwasher safe and allow for easy cleaning. And a strainer cleaning brush is included with the machine for fast handwashing.
Moreover, this machine's wide mouth fits whole fruits and veggies, which results in a quicker, more continuous juicing process with less pre-cutting required. Truly ideal for busy, on-the-go individuals wanting to supplement their diet with nutritious and delicious juices.
Price: $89.99
Highlights: A compact cold press juicer ideal for kitchen countertops and comes with a juice extractor warranty and service from Amzchef.
About Juicer: This juicing machine is an excellent option for those searching for a cold press masticating juicer. It uses a spiral system and filter to produce pure cold press juices. This machine can process fruits and veggies and is especially perfect for juicing greens. In addition, it is easy to assemble and clean. Moreover, you can use this machine's pulp to make dehydrated veggie crackers or compost for your garden.
Price: $109.95
Highlights: Heavy-duty masticating juicer, operates with a silent motor, and comes with a 10-year motor warranty and a 3-year accessory exchange warranty.
About Juicer: A cold press machine with superb capacity to separate the pulp from the juice. The result is a reduction in oxidation and delicious, high-quality juices. Also, unlike some cold press juicers, Joccu's juicer has two different speed options for both soft and hard fruits and veggies.
Moreover, this juicer machine can be easily assembled and used by all ages, thanks to the safety feeder chute design. With six colors to choose from, this kitchen appliance is sure to please and will match your home decor.
Price: $129.99
Highlights: A masticating juice extractor, one of the best cold press juicers available, features low-noise operation, easy assemblage, and cleanup, and can handle hard fruits, veggies, and roots.
About Juicer: This powerful slow juicer machine boasts a juicing yield that is 60% more than some centrifugal juicers. KOIOS makes this juicer with a reverse function for higher juice extracting power. This juicer is ETL and FDA certified and is made with BPA-free parts. This juicer is straightforward to use and maintain with easy assemblage and dishwasher-safe parts. Best yet, the motor is covered with a 10-year warranty.
Price: $119.99
Highlights: A versatile appliance, an LED light display, and can extract more than 90% juice from fruits and veggies.
About Juicer: Amzchef makes one of the best juicers on the market. First, this machine has a one-button disassemble design for easy use. Second, this machine is made with food-grade plastic. A food-grade silicon juicer cap also limits the oxidation rate for longer-term juice storage.
Third, two portable juice bottles are included for on-the-go juice enjoyment. And best of all, this machine can be converted into a meat processor or slicer shredder with simple attachments. Clearly, a great choice for dynamic kitchens!
Price: $359.99
Highlights: One of the best celery juicer machines, has two different end caps, a dual-speed feature, and a 15-year coverage on parts and performance from Omega.
About Juicer: This masticating juicer is one of the best juicers for extracting pulp and leaving behind vitamin, mineral, and enzyme-rich juices. It features a low-speed, dual-stage cold press juicing that reduces heat buildup and oxidation.
And the automatic pulp ejection ensures faster and easier cleanup. It also comes with two adjustable end caps. One cap is specifically designed to yield the freshest juice possible when juicing celery. This juicer is also one of the only celery-specific juicers that are available. But don't worry, it works great on more than just celery.
Price: $99.99
Highlights: Made of BPA-free plastic and stainless steel, offers high power juicing with low foam, and comes with a 3-year warranty.
About Juicer: KOIOS manufactures this juicing machine with a strong motor, extra watt power, and a sleek design. It is ideal for making juices without prepping, as the wide-mouth chute can fit whole fruits and veggies.
In addition, this machine has two-speed modes for soft and hard fruits and veggies, as well as a pulse mode. This ensures low clogging and ideal grinding speeds with its thirteen-row, stainless steel saw blades. Without a doubt, this is a powerful and easy-to-use option for juice lovers.
Price: $119.99
Highlights: This cold press juicer operates quietly, is splash-free, and can extract 20% more juice and 30% more vitamins and minerals than most centrifugal juicers.
About Juicer: This is one of the best juicers for those wanting pure, foam-free, and pulp-free juices. It is ideal for veggies and greens and has a juice cup baffle to enhance pulp separation. Also, it is manufactured with an intelligent chip which makes it stop automatically after every 20 minutes of use to protect the motor.
In addition, the small chute and safety lock design ensure safe and easy use for all ages. Finally, all parts are anti-oxidation and dishwasher safe for fresher, better-tasting juices.
Best Juicers Conclusion
As you can see from this list of the best juicers, it has never been easier to enjoy a glass of fresh-squeezed juice. Also, it doesn't have to be traditional mixtures of juice, either. With these juicers, you can follow specific recipes or get as creative as you would like. You can also add protein powders and any other powder supplements as well.
All of this will allow you to stay on top of your health and allow you plenty of energy for daily activities, workouts, or anything else that you enjoy doing. Getting your energy from fruits and veggies will also allow you to limit your caffeine intake as well. You can still enjoy a cup of coffee when you would like, but you won't feel like a zombie if you don't get your daily caffeine.
The energy you will get from fruit and veggies is meant to last and won't come with the crash accompanying most caffeine drinks.<
For even more drink-related lists, visit our lists of the best smoothies, best mixed-drinks recipes, and best whiskey brands. These lists will provide a drink for every occasion and allow you to enjoy the moment.
Have you tried one of these juicers before? If you have, we would love to hear your feedback below. Also, we would love to hear the health benefits of using a juicer regularly.