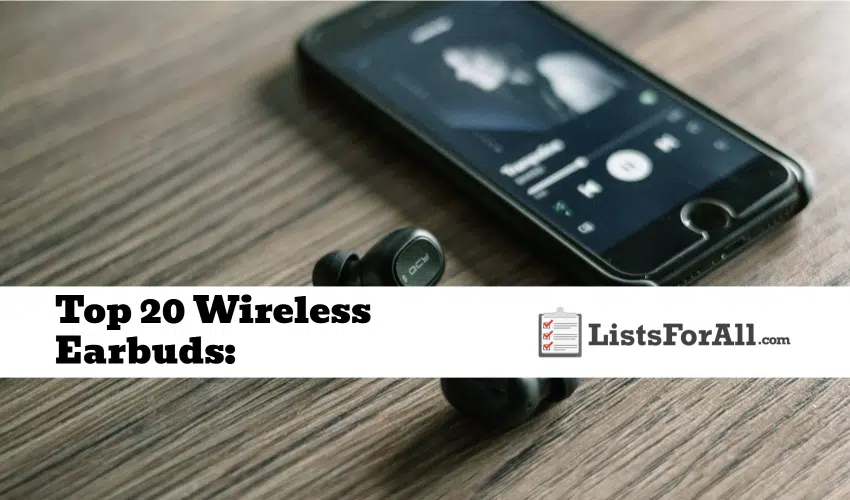 Best Wireless Earbuds: Finding the Perfect Wireless Earbuds for You
If you're like most people, you probably listen to music daily. Whether you're working out, driving to work, or just winding down at the end of the day, music is a great way to pass the time. But what if you could take your music listening experience to a whole new level? With the best wireless earbuds on the market, you can!
This list of the best wireless earbuds will highlight 20 different quality wireless earbuds that you can select from. With this list, you can make sure to find the perfect pair of wireless earbuds for you based on brand, features, budget, or whatever else you might value in a pair of wireless earbuds. 
Wireless earbuds provide an immersive and completely wire-free listening experience that's perfect for any situation. So if you're ready to take your music listening experience to the next level, read on for our picks for the best wireless earbuds available today.
Along with there being no more wires, these earbuds also offer some of the best sound quality you can get in an earphone. They will make you feel like you are right there with your favorite artist or in the middle of an exciting audiobook story. And outside of fantastic sound quality, they are also great looking, have a long battery life, are easy to charge, and can connect via Bluetooth from a good distance away. All of this will provide for one of the best listening experiences you can ask for.
For even more electronics lists, visit our lists of the best Bluetooth speakers and best portable chargers. These lists will help round out the rest of your electronics needs.
Top 20 Wireless Earbuds:
Highlights: Discreet and great fitting, last for over 6 hours on a 90-minute charge time, and come in various colors. 
About Earbuds: These discreet earbuds fit snugly in your ear without drawing attention to the fact that you're using them. For the fashion-conscious, they also come in five different colors to match any wardrobe, and TOZO's wireless earbuds are budget-friendly while coming packed with features including long battery life, instant pairing capability, and water-resistant.
They also have a charge that will last for at least 6 hours and only takes 90 minutes to charge. Also, these earbuds can be charged with a wireless charger which means fewer charging cables to keep track of. And last but not least, these earbuds come in three sizes of ear caps so users can comfortably wear them all day if they wanted to.
Price: $109.00
Highlights: Excellent sound quality, sleek design, and each charge can last up to 24 hours.
About Earbuds: Apple is known for its stylish modern designs, and these earbuds maintain Apple's standards. In addition, the earbuds can be controlled by Siri, so you never have to fumble for the controls on your phone, and the AirPods will pause your sound automatically when removed from your ear.
Another cool feature to note is that while you are using Apple products, you can share the sound between two sets of AirPods. Also, the charging case can charge the AirPods for up to 24 hours after a single charge. All these features make them one of the best wireless earbuds on the market today.
Highlights: One of the best noise-canceling technologies on the market comes in various colors, and a full charge lasts for a day of listening.
About Earbuds: Samsung's earbuds are one of the best options for Android users. They come in many different colors, including red, black, and white. The Galaxy Buds provide some of the best noise-canceling headphones available and allowing you to focus and avoid distracting noises.
They also come with a built-in speaker, which allows you to take phone calls without having to pick up your phone. When it comes to battery life and comfort, a fully-charged case can charge the earbuds for almost a day of listening time, and they are one of the lightest earbuds available.
Highlights: Designed with athletes in mind, has a strong Bluetooth connection, and long battery life.
About Earbuds: Beats Wireless Earbuds are an excellent choice for athletes and those who like to be active. The over-ear design means that the earbuds stay in place even when you don't. Additionally, they are sweat-resistant for further protection against your workouts, making them one of the best earbuds for the gym.
And no matter how long your workout lasts, these earbuds will last right along with you having almost a full day of charge in them. They also have a number of color choices so that you can find the perfect color for your style, and the advanced technology used in these headphones means you'll have fewer dropped connections during use.
Highlights: Plenty of bang for the buck, available in several colors, and shows exactly how much charge is left.
About Earbuds: Available in several unique colors, including green and pink, Occiam earbuds are workhorses. The case shows you the exact percentage of charge left as opposed to the four indicator lights included with most other earbuds.
Also, Occiam's silicone ear cover is perfect for working out and ensures that your earbuds stay in place during strenuous activities. When in use, these earbuds automatically pair with your device and have ear controls so you can change the song or volume without having to pick up your phone.
Highlights: These earbuds are waterproof, have an extra-long battery life, and charge very quickly.
About Earbuds: Anker Soundcore Life earbuds are the perfect everyday earbuds. They offer several features, including noise cancellation, a built-in microphone, and a discreet design. The earbuds are also waterproof, which saves you from the occasional mishap.
These earbuds have one of the longest-lasting batteries, clocking in at 40 hours from a single charge. Along with the long battery life, the earbuds also charge quickly, giving you an hour of listening time from a 10-minute charge. The Anker Soundcore Life earbuds have one of the most reliable pairing methods available, which is one more reason why they are one of the best Bluetooth headphones on the market today.
Highlights: Designed for comfort, are sweatproof for working out, and have a case that shows the exact charging percentage.
About Earbuds: Like some of our other favorites listed above, these wireless earbuds have a case that shows the exact charging percentage. The earbuds are perfect for athletes that don't like the over-the-year silicone pieces that are standard on other sweatproof models. And a single charge can last over 24 hours.
These earbuds are designed for comfort with a unique design that still stays put without having to be jammed into your ear. Also, the connectivity is quick and easy as these earbuds automatically power on and start connecting when the case is open, so there's no delay when you're starting up your music.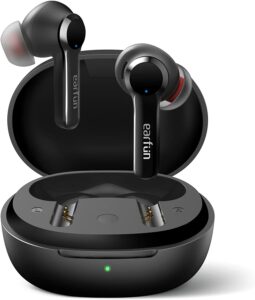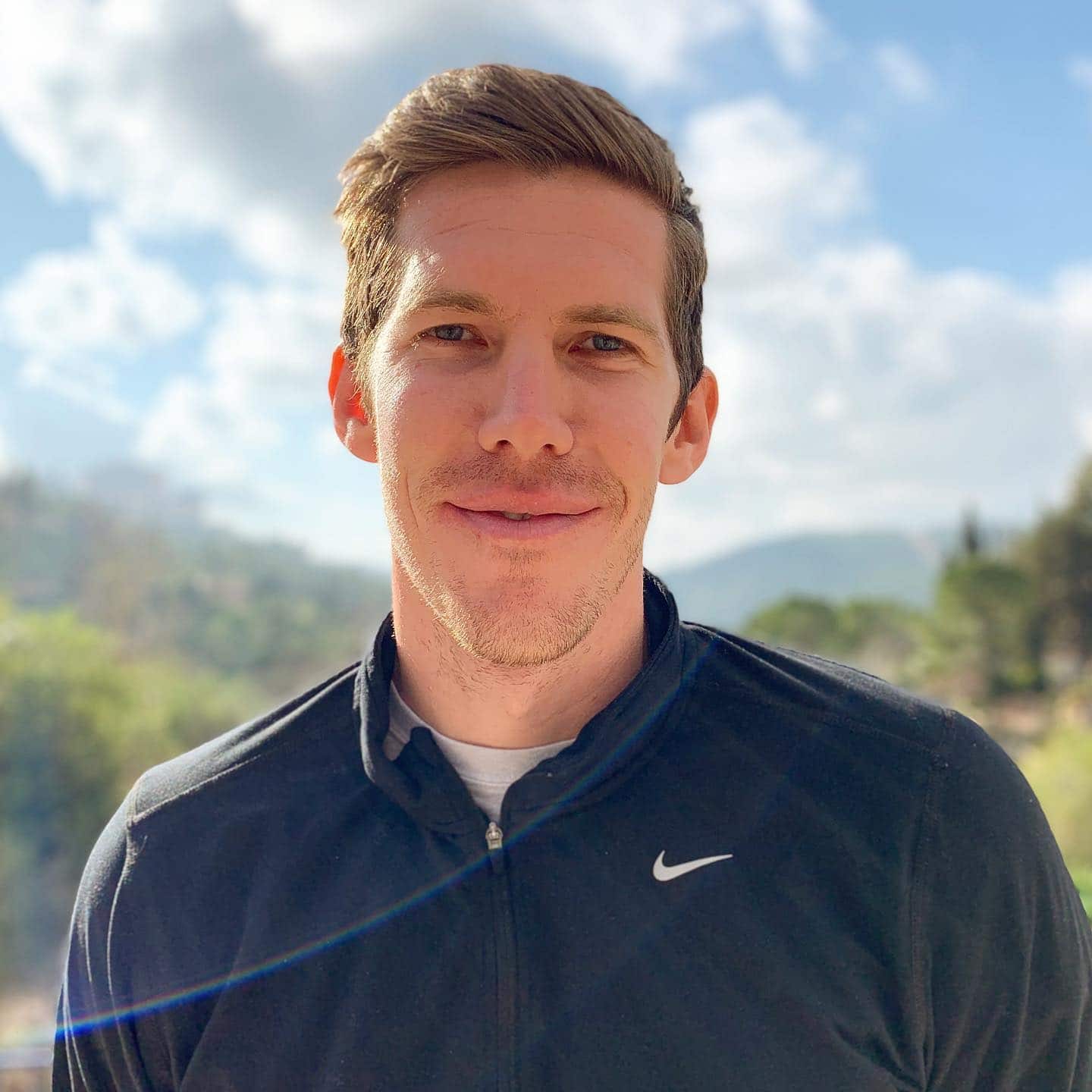 Kyle has a background in sports, fitness/health, and business. However, he also has a passion about researching all topics, and is dedicated to making lists that will help make your life easier.