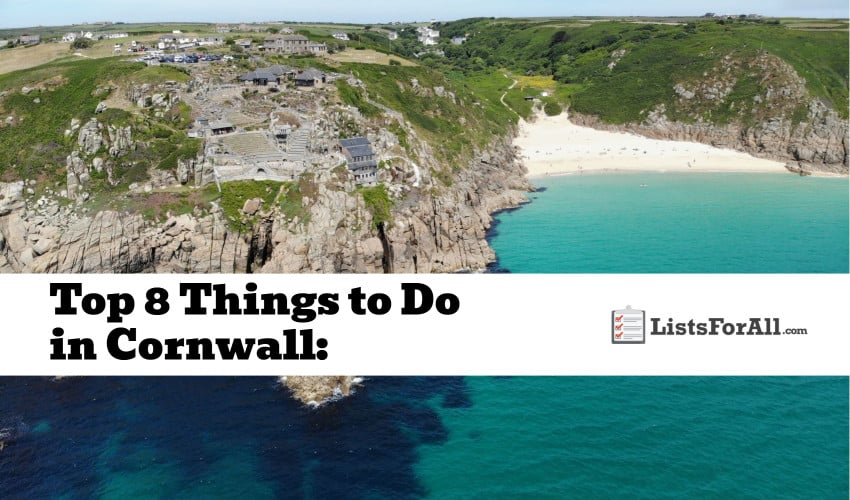 Best Things to Do in Cornwall: Planning Your Perfect Trip
With its stunning coastline, majestic castles, beautiful beaches, and quaint towns and villages, it's no wonder why Cornwall is a favorite destination among British holidaymakers. The historic county has something to appeal to every visitor and is an ideal destination for solo travelers, couples, and families. 
This list of the best things to do in Cornwall will feature all the top options and will help you plan your perfect trip. With this list, you can enjoy all of Cornwall's sights, sounds, culture, etc. Whether you are a solo traveler, traveling with a group, or with kids, this list will have you covered. 
When you finish with this list of the best things to do in Cornwall, visit our lists of the best travel sites and best travel accessories to ensure you are fully prepared for your trip. 
Top 8 Places to Visit in Cornwall
Highlights: The go-to place for a beach holiday in Cornwall, is home to a stunning harbor, and features some fabulous beaches.
About Cornwall Destination: St Ives has everything you could ever want for a relaxing beach getaway. It's an ideal base for your holiday, as it's home to some of Cornwall's best hotels and resorts. There are also numerous fun activities in the area, including boat trips to Seal Island, where you can observe a colony of seals up close.
Porthmeor Beach is a stunning sandy beach, a stone's throw from the town center. It's often bustling with tourists, especially during the summer months. Meanwhile, St Ives Harbour is a lovely place to enjoy a relaxing walk, where you'll find a fantastic array of art galleries, boutiques, cafes, and restaurants. And the iconic Tate St Ives, perched above Porthmeor Beach, is a must-visit for art lovers.
Highlights: Small fishing village, famous for its idyllic beaches and ancient fisherman's cottages, lies in the Southeast area of Cornwall, and is a fun place to explore on foot.
About Cornwall Destination: Polperro is a quintessential Cornish fishing village that seems to freeze in time. It has excellent restaurants and pubs serving locally sourced seafood dishes. A walk in its scenic harbor is enough to appreciate the unique charm of this beautiful fishing village.
Like St Ives, Polperro is an ideal base for your Cornish holiday because the area is home to some luxurious rental cottages in Cornwall, providing a lovely place to stay. These cottages are especially suitable for families and those traveling in groups.
The Shell House is one of the must-see attractions in Polperro. It's a fisherman's cottage decorated with all kinds of seashells, a truly interesting place to see. Among the main reasons people go to Polperro is to hike in its coastal trails, famous for their beautiful scenic views.
Highlights: Associated with the legend of King Arthur, Merlin, and Excalibur, a beautiful village, and plenty of cozy shops and cafes to explore.
About Cornwall Destination: Believed to be the birthplace of King Arthur, Tintagel Castle is a medieval fortification and one of the most spectacular historic sites in Cornwall. Beneath this amazing castle, you'll find Merlin's Cave, about a hundred meters long.
Another attraction worth seeing is the Tintagel Old Post Office housed in a 14th-Century stone house. Its counter is still intact and decorated with black and white photographs, antique documents, and an inkwell. Whether you're a fan of King Arthur or not, Tintagel is definitely worth visiting. It has many specialty shops, cozy cafes, and exoteric haunts, making it a fun place to explore. 
Highlights: Small, picturesque fishing village set amidst the north coast of Cornwall, narrow winding streets and white-washed cottages, and a charming harbor.
About Cornwall Destination: What's great about visiting Port Isaac is you get to explore the coast of Cornwall from a different perspective. It's the perfect place to enjoy scenic coastal hikes. You can also take a fishing trip or a dolphin-watching tour from the harbor. When you visit, you will also have access to Port Gaverne, Port Quin, and Doyden Castle, all of which are worth exploring.
Located about half a mile from the port, you'll find the stunning cove of Port Gaverne. It has a wonderfully sheltered sandy beach with rock pools offering hours of entertainment for small kids. On the west of Port Issac, you'll find Port Quin, which you can reach by walking a 3.5-mile coastal trail. When you get to Port Quin, you'll see Doyden Castle, a tiny castle sitting at the edge of a cliff overlooking spectacular sea views.
Highlights: Spectacular sea views, a charming harbor, and stunning natural attractions.
About Cornwall Destination: Padstow is one of Cornwall's most popular places to visit. Like everywhere in Cornwall, you'll find plenty of coastal trails in Padstow, making it an ideal destination for scenic hikes. When exploring Padstow on a hike, you need to hit the following places – the fabulous family beaches like Hawker's Cove, the National Lobster Hatchery, and the Padstow Harbour.
Located at the mouth of river Camel, Hawker's Cove is a beautiful beach with a vast expanse of sand stretching to about 1.5 miles. A visit to the National Lobster Hatchery is another highlight of Padstow. It's a research and education facility helping to conserve vulnerable lobster populations. After your scenic hike, the best place to relax is at Padstow harbor, where you'll find shops, restaurants, and cozy pubs.
Highlights: Historic Cornish town, nestled along the shores of Mount's Bay, and boasts some of the warmest climates in the UK.
About Cornwall Destination: By simply strolling through Chapel Street, a historic street running from the town center towards the Penzance harbor, you'll appreciate the unique charm of Penzance. You'll find an eclectic mix of shops, hotels, and houses, with some dating back to the 18th century. One of the houses that will stand out is the Egyptian House, which features colorful Egyptian decor and sphinx-like adornments.
 The highlights of your visit to Penzance are the Morrab Gardens and Penlee House Gallery and Museum. Covering 1.2 hectares of land, the Morrab Gardens consist of stunning gardens featuring Mediterranean and sub-tropical plants. The Penlee House Gallery & Museum houses an excellent collection of artworks by the Newlyn School and Lamorna artists.
Highlights: Compact seaside town northeast of Cornwall, well-loved for its chilled-out vibe and beautiful beaches, and is one of the best surfing spots in the region.
About Cornwall Destination: While you can't resist taking a dip at Bude's beautiful beaches, head to the Bude Sea Pool if you want to avoid the giant waves of the Atlantic. Sheltered by the cliffs of Summerleaze Downs, the tidal lido is a much calmer place to swim.
This area has a vast expanse of golden sands with a pretty little harbor where River Neet meets the sea. Another highlight of Bude is the Bude Castle, a castellated mansion with views overlooking Summerleaze Beach, built by Sir Goldsworthy Gurney in 1830.
Highlights: Picturesque Cornish fishing village on the south coast of Cornwall, one of the few villages that managed to retain much of their old charm, and offers beautiful narrow streets home to shops, galleries, and cafes.
About Cornwall Destination: Not many visitors know that Mousehole is home to a small, sandy beach that's safe for even the little kids to swim since it's sheltered. You will find it within the harbor and a popular spot for local families, especially those with little kids.
While you are there,  you can also take advantage of a small number of shops, restaurants, and cafes. And just offshore from the harbor is St Clement's Isle, with clusters of rocks believed to be the home of an ancient hermit.
Best Things to Do in Cornwall Conclusion
As you see, there are many beautiful places to see in Cornwall. Even if you've already been here in the past, there are many more reasons to go back. While it's a popular spot for a summer break, it's just as beautiful in autumn and winter, where you can enjoy scenic coastal walks and cozy pub fires.
So, if you're looking for a fun place to visit in the UK on your next holiday, make it Cornwall.
Have you been to Cornwall before? If so, please feel free to share your feedback below in the comments.