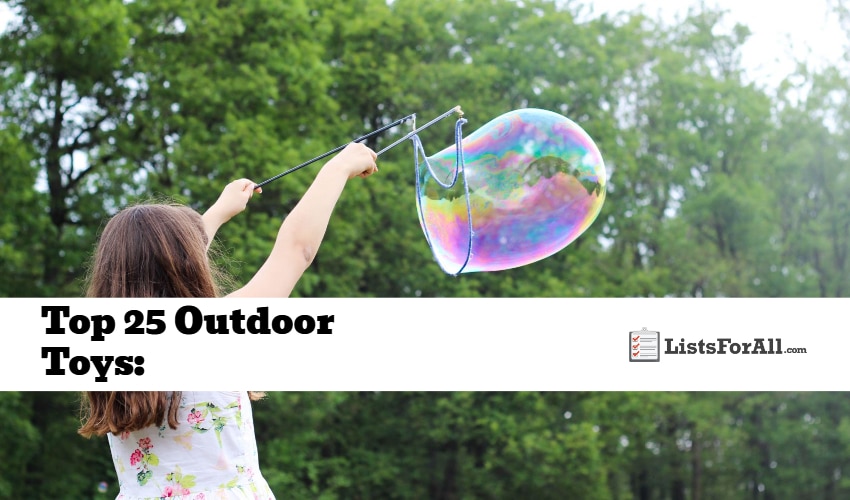 Best Outdoor Toys: Finding the Perfect Outdoor Toys for Your Kids
Do you remember the hours you spent as a kid playing in your backyard? There were so many things to explore and adventures to be had. If you're looking for ways to recreate those memories for your own kids, this list of the best outdoor toys is for you.
This list of the best outdoor toys will feature the top options and will allow your children to have hours of outdoor fun. With this list, you can guarantee your kids will always have something to do when playing outdoors.
A few other lists that you might benefit from after reading through this list of the best outdoor toys are our lists of the best lunch ideas for kids, the best summer activities for kids, and the best apps for kids. These lists are a must-read for parents.
Top 25 Outdoor Toys:
Price: $64.00
Highlights: Helps children master balance, boasts stability and safety, and can be ridden in grassy yard areas.
About Outdoor Toy: Rediscover the timeless joys of childhood with a classic Radio Flyer tricycle. With over 100 years of excellence behind it, this is an excellent outdoor toy for your little one to explore their developing sense of autonomy and mastery.
Boasting stability and safety amid an adventure in motion, your toddler will feel that absolute freedom and independence when they hit the path or backyard on their new Radio Flyer tricycle. From mastering balance to traveling around the neighborhood, they can now have fun (and get some exercise) all on their own schedule.
Price: $24.96
Highlights: Hardy construction, multiple spouts for rambunctious children, and many interactive possibilities.
About Outdoor Toy: This incredible water toy puts a modern twist on one of the best classic outdoor activities, creating a truly unique play experience that both children and adults can enjoy. The hardy construction, in combination with plenty of spouts, makes this sprinkler suitable even for the most rambunctious children.
In addition, its interactive possibilities open up new doors to imagination and exploration. The kids will never be bored when they have this amazing toy to entertain them.
Price: $42.01
Highlights: Helps develop gross motor skills, encourages balance, and keeps children mesmerized for hours.
About Outdoor Toy: Calling all toddlers and preschoolers: say hello to the Fisher-Price Bubble Mower. Do your kids want to feel like a grown-up and copy their parents' activities? Now they can do just that with this outdoor toy mower.
Push it along and watch as bubbles fly through the air – it's a blissful way for your little one to get some fresh air and soak in the sunshine. Not only does this fun activity keep children entertained, but it also helps them develop valuable gross-motor, balance, and visual-perceptual skills – all while having a blast.
Price: $15.98
Highlights: Features 15 different pieces, includes squeezable dragons, and can easily be set up.
About Outdoor Toy: Make your family's outdoor playtime extra magical with the B Bangcool Bubble Wand Set. This special set provides hours of bubble-filled fun and is sure to become an outdoor staple. Featuring 15 different pieces, this Bubble Wand Set offers a variety of ways to create bubbly fun.
From squeezable dragons to spinning wheels, there are so many ways to make bubble creations that will delight all ages. Even better? The combination of iridescent bubbles against the light of the sun will make every playtime mesmerizing.
Price: $6.16
Highlights: Help increase kids' coordination, spinning action that activates a motor to release bubbly streams, and an on/off switch for ease of use.
About Outdoor Toy: Have your kids join in on the sensory play fun as they squish, fidget, and run around chasing streams of bubbles from these bubble-making wings. Perfect for any backyard scavenger hunt or game of tag. The wings are great for helping to increase coordination as kids explore their environment through physical play.
Not only does this provide a unique spinning, fluttering action that activates a motor that releases bubbly streams, but it also encourages kids to be active and have some fun running around at the same time. This is a classic option guaranteed to bring laughs and good times that can go anywhere. With an on/off switch and easy maintenance, this is sure to provide hours of outdoor amusement for all ages.
Price: $34.64
Highlights: Helps children practice coordination, a safe design to prevent tipping, and a low center of gravity that makes it easy for toddlers' hands to hold on.
About Outdoor Toy: Bring a smile to your toddler's face with the Playskool Sit' n Spin Spinning Toy. This classic toy for toddlers is a great way for your little one to have some fun outdoors and practice their coordination.
They'll be able to take advantage of the open air and get their legs turning as they twirl round and round. Not only is it entertaining, but engaging too. Its safe design ensures no tipping over mid-spin, while its low center of gravity also makes it easier for those tiny hands to hold on.
Price: $21.77
Highlights: Solid wooden handles, technicolor metal heads, and hooks for hanging on the wall after use.
About Outdoor Toy: The G & F Garden Tool Set is an excellent tool set for young ones to join their parents in the garden. This complete set includes a rake, hoe, and shovel that all feature functional designs with solid wood handles and technicolor metal heads.
The rubber-coated handles make for easy gripping, plus there are hooks for hanging on the wall after use. Parents will love how these durable tools help their little ones master the art of gardening, while kids will find endless amounts of fun discovering worms and beetles during the digging process.
Price: $25.20
Highlights: Super strong suction cups on the arrows, encourages hand-eye coordination, and an easy-to-use design.
About Outdoor Toy: This toy is great at helping children learn – and have fun – while practicing their hand-eye coordination. Its easy-to-use design makes it perfect for kids, even if they've never tried archery before. Plus, each arrow is equipped with super strong suction cups that make sure this set is perfectly safe for your little ones.
This is one of the best outdoor toys and will give your kids hours of entertainment as they practice hitting their targets. They can also use their imagination as they pick up these bows and arrows designed just for them. Let the adventures begin.
Price: $89.49
Highlights: Arm-powered vehicle, for kids ages 2-4, and a weight capacity of up to 220 pounds.
About Outdoor Toy: Like no other ride-on you've seen before, these arm-powered vehicles are perfect for kids aged 2 to 4 (although they can actually support up to 220 pounds). Young minds will be captivated by the fun shape of the PlasmaCar as they maneuver their way through twists and turns in driveways, cul-de-sacs, or large patios.
The wiggling steering wheel is simple and responsive, allowing your kids uninterrupted fun in an intuitive and relatively safe toy. With parents able to take it for a spin, too, no one has to miss out on the exhilarating rides being had with the PlasmaCar. Choose from four cheerful colors and make sure every summer day is paired with a unique, thrilling adventure.
Price: $34.44
Highlights: Durable and weatherproof, comes in bright colors, and is great for younger children.
About Outdoor Toy: The Little Tikes First Slide is a durable and weatherproof classic that will bring hours of joy to your little one. As parents, sometimes it can be hard to find a trusty piece of outdoor equipment that little ones will enjoy for years without wearing out. Well, look no further – the Little Tikes First Slide is your answer.
With its bright colors and sturdy construction, every young child goer loves sliding down this slide over and over again – playtime fun unlike any other. And it's easy to put together as well. So rest easy knowing you have found a long-lasting toy they can enjoy while also promoting balance and coordination skills.
Price: $89.99
Highlights: Great for solo or social play, comes with nine accessories, and is simple to drain and clean up after use.
About Outdoor Toy: With the Step2 Splish Splash Seas Water Table, your little ones can cool off and stay entertained all summer long. This table is great for solo or social play, allowing two to three kiddos to gather around and have a blast.
Watch as their imagination runs wild with nine fun accessories like the two swimmer figures that come in the set. After hours of splashing around, bringing sea creatures "to life," turning the pieces this way and that, simply drain out all of the water with just one hole in the base that makes cleaning up a cinch.
Price: $34.99
Highlights: Connect spines and balls together to make shapes or tunnels, glows in the dark, and no batteries or bulbs are needed.
About Outdoor Toy: Bring nighttime fun to your kids with Fun Forks Glow Kids Tent. Unlike cardboard forts and blankets draped over furniture, these forts are actually designed for building and playing. By day, your little ones will love connecting the spines and balls together to create cool shapes and tunnels that they can explore.
Then, come nighttime; they will be able to witness the true power of this product as they watch their creation glow in the dark. With no additional batteries or bulbs needed, you know your children are safe while having endless amounts of creative entertainment without having to worry about cost or a mess.
Price: $14.95
Highlights: Four different sports balls, a pump, and plenty of games that can be played.
About Outdoor Toy: This is one of the best outdoor toys because the options for play are almost limitless. Whether it is using a football to play catch, a soccer ball to kick around, or a basketball to shoot some hoops, these sports balls will provide hours of fun. And as much as it is fun to play traditional sports, with these differently shaped sports balls, kids can make up their own games and have a ton of fun that way too.
Price: $159.98
Highlights: 50-foot slackline, many swing accessories, and climbing rings and rope ladders to increase upper body strength.
About Outdoor Toy: It's time to level up your kids' outdoor games with Dripex's Ninja Warrior Obstacle Course. This set is packed with all the exciting features your savvy ninjas need to build killer courses and become even more skilled.
With a whopping 50-foot slackline, kids can practice their balance and agility by walking the line just like a pro. And, with four climb rings, two rope ladders, plus more swing accessories than you can count – the possibilities are endless.
Not only will they have plenty of creative obstacles to keep them occupied for days – parents can rest assured that additional hours outdoors means increased physical activity each day. From upper body strengthening exercises on the rings to tighter balancing skills on the slackline – this set is designed to help children stay active and hone in on Ninja Warrior excellence.
Price: $16.99
Highlights: Powerful LED light, waterproof even if dropped in mud or water, and allows children to keep their hands free.
About Outdoor Toy: This cute headlamp will set them up for a fun exploration of nature after dark. With its bright, powerful led light, they'll be able to see the fascinating night sky and all of its creepy crawlies. It's also perfect for going on night hikes, bushwalks, and neighborhood explorations – all while keeping their hands free. Rest assured that even if they drop it in mud or water, this product is waterproof.
Price: $19.99
Highlights: 20 feet of durable polyester taffeta, a mesh center, and eight handles for multiple children to play.
About Outdoor Toy: Reach for the highest heights of summer fun with Sonyabecca Play Parachute. This outdoor toy offers endless entertainment with its bright and cheerful 20-foot rainbow parachute. Whether your kids are chasing each other around or simply twirling around, they'll be engaging in plenty of playtime activities that get their hearts pumping and minds thinking.
The clever design behind Sonyabecca Play Parachute makes it easy to join in the fun with the eight convenient handles. The durable polyester taffeta construction and mesh center allow for excellent breathability, so children stay comfortable as they frolic outdoors.
And lastly, bring friends and family together with a little friendly competition to see who can use their imaginations in new and creative ways – this playset is perfect for backyard barbecues, playdates, and more.
Price: $12.50
Highlights: A refreshing alternative to technology-based play, encourages physical activity, and helps children make connections between the written word and object.
About Outdoor Toy: GoFindIt Outdoor Nature Scavenger Hunt Card Game is an excellent way to get kids excited and outdoors. This game encourages fun exploration while stimulating creativity and critical thinking. Kids will love finding the objects on each card and making the connection between the written word and the object.
They'll develop an appreciation for nature and all its offerings as they explore and ask questions about what they find. GoFindIt gives children a refreshing alternative to technology-based play with something that engages their minds, powers their imagination, and encourages physical activity in both big spaces and small backyards alike.
Price: $8.85
Highlights: Helps develop gross motor skills, teaches science concepts like cause and effect, and is safe for kid utilization.
About Outdoor Toy: This colorful streamer is not only fun to use, but it will help children develop gross motor skills and practice science concepts like cause and effect as they spin and twirl the ribbon. Featuring brilliant rainbow-inspired colors, your child can create beautiful shapes in the air.
Draw stunning patterns in the sky with Dazzler Ribbon – perfect for executing the most mesmerizing performances. Best of all, University Game's Dazzler Ribbon is safe for kid utilization, so you don't have to worry about them crashing into something while spinning their new toy. Plus, they'll be able to enjoy hours of entertainment outdoors while practicing their creative talents.
Price: $11.34
Highlights: Filled with 33 mini wands, strong bubble fluid, and a compact size perfect for toddlers' tiny hands.
About Outdoor Toy: This amazing wand is filled with 33 mini wands, so your kids can get the most out of each dip and produce enough bubbles that everyone in the neighborhood will be eyeing you with envy. Gazillion has proven to be one of the best bubble fluid producers on the market, so you can rest assured this toy isn't all flash and no substance.
With strong bubble fluid, a durable handle, and a compact size perfect for tiny hands, parents can be safe in knowing their child isn't just getting any old bubble wand but rather an investment that will last.
Price: $16.97
Highlights: Easy to set up, colorful wands that create raining water showers, and will help children stay cool on hot days.
About Outdoor Toy: Introducing CHUCHIK Outdoor Water Spray Sprinkler – one of the best outdoor toys that will keep your kids entertained for hours on end. Take those ordinary sprinklers and make them a million times better with the wild design of this awesome water sprayer.
To get the party started, jump straight into the action as soon as it is set up; watch in amazement as colorful wands spin around to create an amazing display of raining water showers. Your kids will love running through the sprinkler's magical shower, cooling down on even the hottest days. This CHUCHIK sprayer is designed to fit perfectly into your backyard, making it perfect for summer barbecues or birthday parties.
Price: $34.95
Highlights: Makes extremely thick blankets of foam, a great sensory experience, and fun for adults as well as children.
About Outdoor Toy: The Fom Mania Fomalanche Foam Machine is your go-to source for thrilling outdoor fun. This state-of-the-art foam machine brings excitement that the whole family can enjoy. With the Fomalanche foam machine, you can bring a tornado of sudsy bubbles to your backyard for playtime.
Make a thicker-than-you-can-imagine blanket of foam from one end of your lawn to the other. Your little ones will love throwing and catching the fluffy substance or crawling around in it like it's their own personal ball pit. It's an awesome sensory experience, too—they'll get a kick out of feeling the soft bubbles through their fingers and toes.
Price: $179.99
Highlights: Solid construction of heavy-duty wood and plastic materials, foldable design that makes it portable, and a non-slipper ladder surface.
About Outdoor Toy: This solid construction of heavy-duty wood and plastic materials is designed to last for years. Not only is it strong and sturdy, but its foldable design makes it conveniently portable. Take it with you anywhere, from a family trip to the beach to a picnic in the park– this durable climbing ladder and slide offers endless hours of outdoor fun.
Quickly assemble within minutes, and your little ones will be scaling the walls safely and securely due to its non-slippery ladder surface that allows reliable footing. For extra stability, thick upper arms are firmly bolted onto the step panels so they can enjoy their climb without fear of slipping or wobbling. When playtime is over, quickly break down and store away until next time – no mess made.
Price: $28.90
Highlights: 10x magnification, two jumbo eyepieces, and comes with a guide depicting lunar cycles.
About Outdoor Toy: My First Telescope is ready to open up your child's world. With its 10x magnification and two jumbo eyepieces, kids can explore the night skies and nature like never before. Perfect for use before sunset, the telescope lets your young astronomer take in birds and animals or get a look at the moon.
Designed to instill quality science education from a young age, it comes with a guide depicting lunar cycles, which makes learning fun. Its adjustable tripod provides stability while viewing objects far away, and its focus-free design is ideal for little hands that have not yet perfected their control.
Price: $105.99
Highlights: For riders 18 months to 5 years old, adjustable handlebars and seat, and a low-profile design.
About Outdoor Toy: This revolutionary balance bike for young riders 18 months and up to 5 years old encourages children to learn how to center themselves so they can go from learning how to ride a balance bike all the way up to riding a big kid bike with ease.
With Strider Sport Balance Bike, kids will discover the joys of cruising around in no time. Plus, its adjustable handlebars and seat make it perfect for any beginning biker. Just adjust the grips and saddle so your little one can easily get on and off the bike. Plus, its low-profile design enables kids to maneuver easier as they build their confidence when riding.
As parents, nothing is more rewarding than seeing your kids discover new skills while having fun at the same time.
Price: $16.93
Highlights: Foam base and handles, enhances gross-motor and balance skills, and can also be used indoors.
About Outdoor Toy: With a foam base and handles for extra comfort, this toy is an excellent way for them to learn their gross motor and balance skills. Take your little ones outdoors to use this modified pogo stick for hours of fun – set up races, create a path to navigate around, or launch into the air to reach the mailbox.
Its sturdy base ensures more success than a regular pogo stick. So don't let balance hold them back– they can bounce on it with ease.
Best Outdoor Toys Conclusion
Whether you're looking for classic toys or something more unique, there are plenty of fun options to choose from on this list of the best outdoor toys. Before you know it, your kids will be having fun outdoors and getting plenty of exercise as they do.
And as a parent, you can allow these toys to entertain your kids on their own, as well as also jump in and have some fun with your kids.
Do you have a favorite outdoor toy that your kids love? If you do, please feel free to share that below in the comments.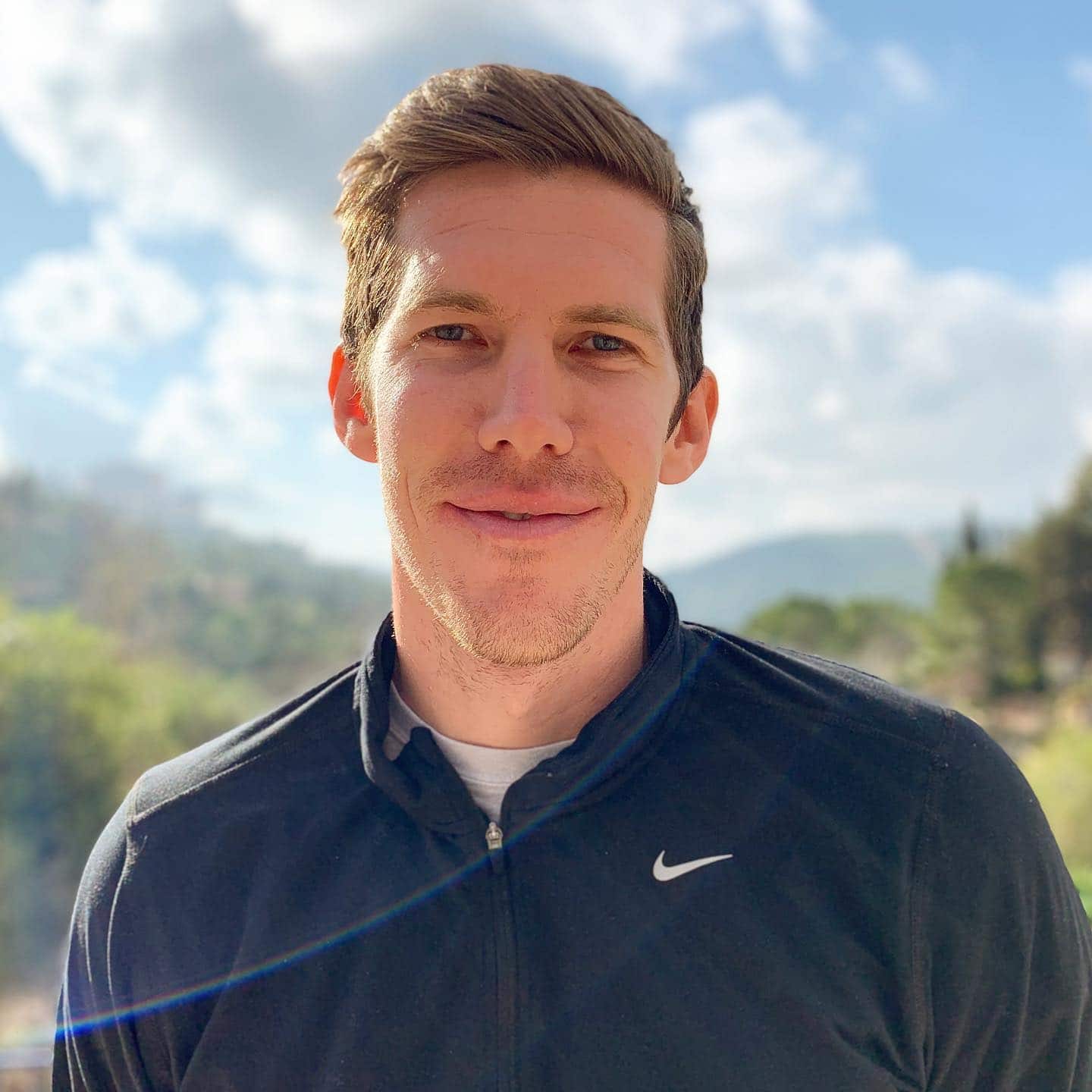 Kyle has a background in sports, fitness/health, and business. However, he also has a passion about researching all topics, and is dedicated to making lists that will help make your life easier.