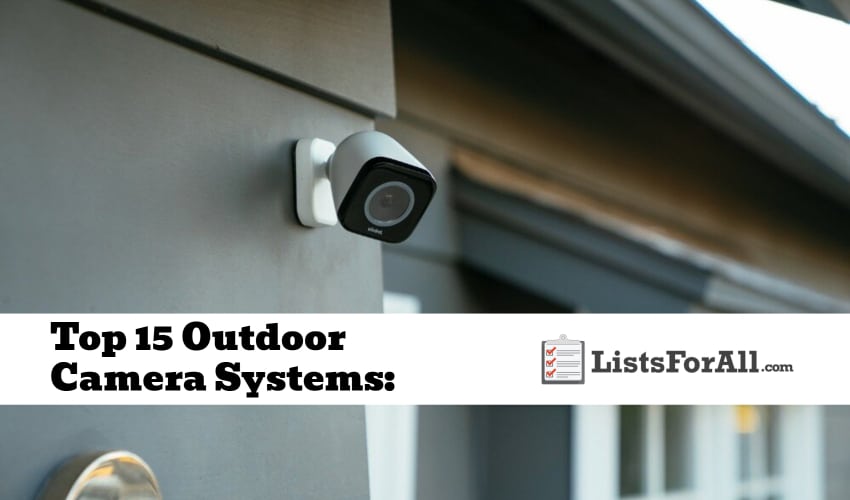 Best Outdoor Camera Systems: Finding the Perfect Outdoor Camera System for You
Do you want to keep an eye on your home when you're not there? Whether at work or on vacation, a good outdoor security camera system can give you peace of mind. In this list, we'll look at the best outdoor camera systems on the market right now. We'll discuss what to look for in a system and compare some of the top models.
This list of the best outdoor camera systems will feature the top outdoor camera options for you to select from. Whether you are looking based on features, brand, app control, or whatever, this list will have you covered and will allow you to find the perfect outdoor camera system for you.
The other great thing about most of these outdoor cameras is that they are very easy to install and use. With minimal setup time, you can have all the visibility you need, and then with your smartphone, tablet, or computer, you can view everything that your camera does.
And don't think that these cameras aren't durable, either. They will stand up to the elements and ensure that you have visibility even in poor weather conditions.
When finished with this list of the top outdoor cameras, visit our list of the best smart home devices, best smart door locks, and best smart lights. These lists will allow you to stay even safer and will add a ton of convenience and money-saving opportunities to your home.
Top 15 Outdoor Camera Systems: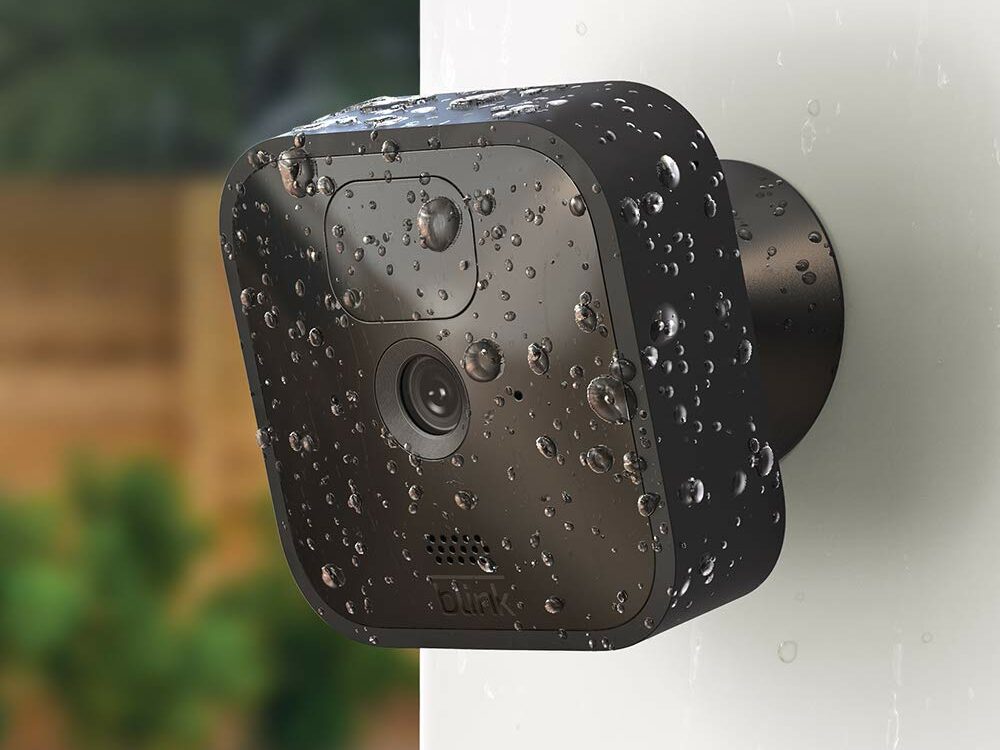 Price: $99.99 (2 Camera Kit)
Highlights: Battery has a two-year lifespan, wireless design, easy installation process, and is compatible with Amazon Alexa.
About Outdoor Camera System: This camera system has multiple features that have helped it land on this list of the best outdoor cameras. Firstly, day and night security is ensured with infrared night vision settings. Secondly, this camera pairs with the Blink Home Monitor app for movement zone customization and monitoring.
Thirdly, you can use your Blink subscription to download and save video and photo clips from the camera to a USB. Finally, the Blink app allows real-time viewing and two-way audio with visitors through this security camera.
Highlights: Waterproofing for use inside or outside the house, compatible with Amazon Alexa, Google Assistant, and IFTTT, and records in full color at night.
About Outdoor Camera System: This camera from WYZE can view and record nighttime in full color. In fact, the new aperture in this camera collects 2x more light! This ensures clear and precise security monitoring at all times.
Also, this top outdoor camera records when movement or noise is detected. Better yet, you can connect with your smartphone and monitor sensitivities and detections from anywhere. Plus, with the MicroSD card add-on, nonstop 24/7 recording is possible.
Price: $239.99 (2 Camera Kit)
Highlights: No need for a monthly subscription, battery operated with 180-day battery life, and waterproofing for use in all types of weather.
About Outdoor Camera System: This security camera set has an ingenious function: human detection technology. This means that the camera can detect body shape and face patterns, eliminating false alerts and giving your whole family peace of mind. In addition, this camera has both color and infrared night modes for ultimate personalization.
It is also well suited for Apple HomeKit for on-the-go and smart monitoring. This camera also offers high-quality HD live streaming day and night.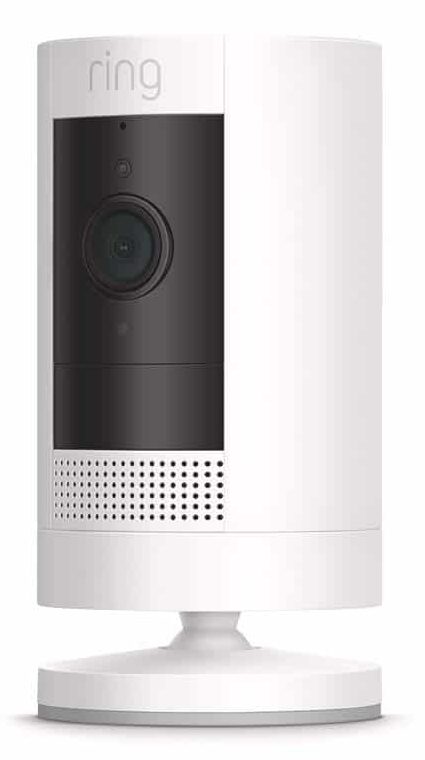 Highlights: Can be mounted almost anywhere, records motion-triggered video, and has a Live View feature.
About Outdoor Camera System: Looking for a top-quality outdoor security camera system that can be used both indoors and outdoors? Look no further than Ring's Stick Up Cam Battery. This versatile camera is powered by a battery, so it can be mounted just about anywhere, and it records motion-triggered video that can be stored in the cloud.
With the Live View feature, you can check in on your home at any time through the Ring app. And with a Ring Protect Plan (subscription sold separately), you'll be able to review up to 60 days of footage and share videos and photos.
Highlights: Features 1080p resolution, two-way audio, 360-degree horizontal range, and free cloud storage.
About Outdoor Camera System: Wyze Cam Pan v2 delivers on its promise of being one of the best outdoor camera systems. For a fraction of the cost of other high-end brands, you get 1080p resolution, two-way audio, 360-degree horizontal range, and free cloud storage. Whether you're looking for a security camera system or just want to keep an eye on your house pet or nanny while you're away, Wyze Cam Pan v2 is a perfect choice.
Highlights: 2K video quality, bright spotlight, and wire-free design.
About Outdoor Camera System: SimpliSafe Wireless Outdoor Security Camera gives you a clear view of what's happening outside your home 24/7. With alerts whenever someone approaches, 1080p resolution and 8x zoom, and color night vision with a spotlight, you'll be able to see the details even in the dark. Setup takes 5 minutes—no wiring needed! And with 2 Wi-Fi antennas for more consistent coverage, you'll be able to keep an eye on things no matter where you are.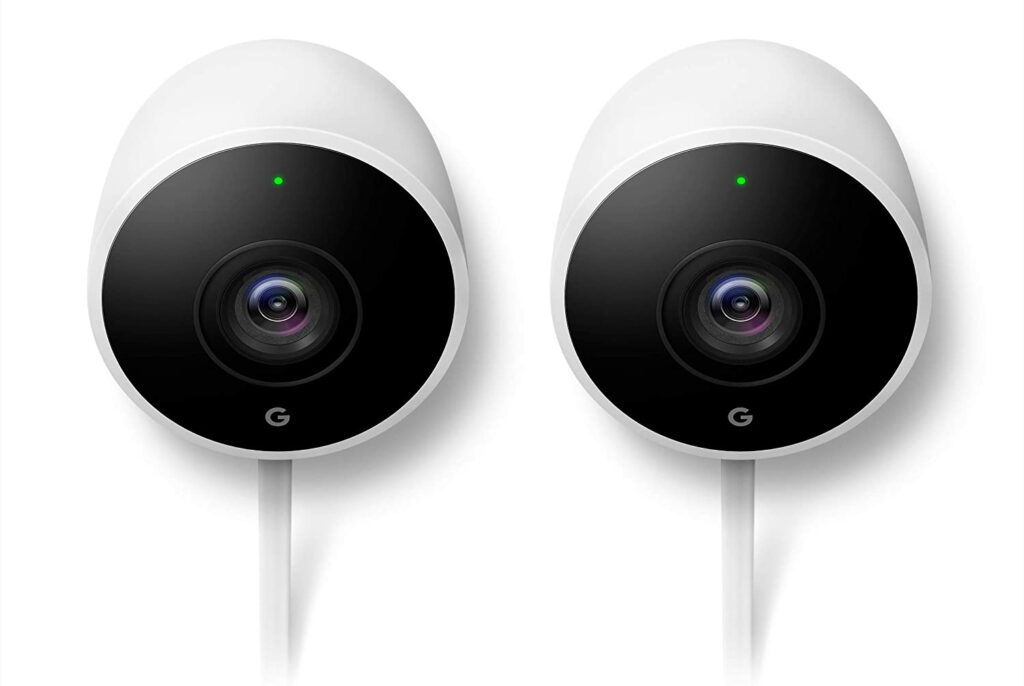 Highlights: Wired camera, has features such as object identification and activity zones, and comes in four unique colors.
About Outdoor Camera System: Google Nest's newest and smartest outdoor camera system, the Google Nest Cam Outdoor Camera System, is perfect for keeping an eye on your property from anywhere. With its latest features like object identification, activity zones, and Google Home app viewing and support, you can be sure that no detail goes unnoticed. The wired camera comes in four unique colors too, so it will seamlessly blend in with its surroundings.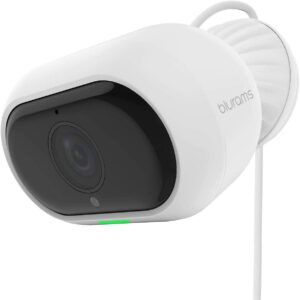 Highlights: Has 1080p video, Smart Detection and Facial Recognition technologies, and a Siren and Flashing Alarm feature.
About Outdoor Camera System: Looking for a top-of-the-line outdoor security camera system? Look no further than Blurams. This Outdoor Pro camera offers sharp 1080p video, voice control, and interaction with other smart devices.
Plus, their Smart Detection and Facial Recognition technology can differentiate between humans, pets, and other moving objects for added security. And if motion is detected, you'll get instant notifications on your smartphone or tablet. With its Siren and Flashing Alarm feature, the Blurams Outdoor Camera will keep your home safe and sound.
Highlights: Is battery and solar-powered, has Wi-Fi connectivity and voice control with Amazon Alexa, and records in HD full-resolution video.
About Outdoor Camera System: REOLINK's best outdoor camera system boasts rechargeable batteries with an installation process of only 5 minutes. They include Starlight Night Vision for colored night monitoring and rolling storage of event videos that save in weekly segments.
In addition, this camera system is remotely controllable through your smart device. It also notifies you immediately of detected motion with push notifications and emails. Best of all, this camera comes with a two-year warranty from REOLINK.
Highlights: Offers a 130-degree wide-angle camera, 32ft night vision range, a fully wireless system, and rechargeable batteries.
About Outdoor Camera System: This camera system is ideal for those living in more demanding climates. It is built to withstand rain, below freezing, and extremely hot temperatures. Moreover, it delivers constant monitoring and notifies you of an alarm through your smartphone.
You can also speak in real-time with visitors through the two-way microphone and speaker—an ideal feature for those who work from home. Better yet, this camera system automatically adjusts to ambient light levels and night vision, providing clear videos that are accessible through the Adorcam mobile app.
Highlights: Solar panel and rechargeable batteries, SD card and Cloud options for storing videos, and a siren to warn off intruders.
About Outdoor Camera System: SOLIOM offers this top outdoor wireless security camera system for those wanting ultimate observation and guarding power. For example, this camera features a 320-degree rotational capacity and a 90-degree vertical pan and tilt.
It doesn't stop there; it also has a 120-degree detecting angle and a 3X digital zoom feature. These features paired with the two-way audio, color night vision, and secure data storage options make this Wi-Fi camera system one of the best.
Highlights: Compressed data and video storage, functions with a single network cable, and records with a 110-degree view angle lens.
About Outdoor Camera System: An outdoor camera system that offers an impressive 120ft night vision capability. Motion detection and monitored areas are completely customizable through your smartphone, with four different recording modes available.
In addition, the system can send push notifications and emails to your phone with screenshots when an alert is detected. All recordings are searchable by day, hour, and minute for easy review. And the ZOSI Client software is free to use, making it easier to access controls and save videos with this outdoor camera system.
Highlights: HD Bullet camera, pre-installed 3TB hard drive, and a pre-paired surveillance kit, camera, and NVR.
About Outdoor Camera System: This security camera doesn't require wires between the NVR and cameras; however, each individual component does require a connection to a power outlet. Once set up, this system offers 24/7 Wi-Fi signal transmission and is compatible with all smart devices and PCs.
Also, it features 65ft night vision, sync-playback, motion detection, and video backup through the app. Best of all, you can adjust email and phone alert notifications through the singular, unique authorized account supported by this system.
Highlights: Has local SD card storage, rechargeable batteries with a six-month lifetime, and a siren and spotlight for secure night surveillance.
About Outdoor Camera System: DCT offers this top outdoor camera system for those wanting more flexibility with security management. For example, through the Vicohome App, this system can support up to eight account users. This enables the entire family to assist with monitoring and alert control.
This system also boasts advanced AI technology that can recognize and distinguish human, pet, and vehicle forms. The result is a security system that you and your family can fully customize for your needs. With a wireless, waterproof and dustproof design, this product is ideal for any outdoor location.
Highlights: Wire-free system that connects directly to Wi-Fi, is compatible with Amazon Alexa, and records in color at night.
About Outdoor Camera System: A security system that is ideal for larger spaces, thanks to the wide 160-degree diagonal view angle. It automatically corrects images and reduces the fish-eye effect for clearer surveillance. This outdoor camera also features two-way audio and smart alerts for people, packages, and vehicles. Ideal for remote communication while away on vacation.
In addition, with Arlo Secure, you can view stored videos for thirty days and receive advanced object detection. It's no wonder this Arlo product made our list of best outdoor camera systems.
Best Outdoor Camera Conclusion
Choosing the right outdoor camera system for your home can be daunting. With so many options on the market, it can be hard to decide which one is right for you. Well, hopefully, this list helped provide some valuable information and at least helped you narrow down your search. Because you really can't go wrong with any of the selections on this list, you can have full confidence in your choice of outdoor cameras.
And since you know that all of these outdoor camera options are solid, it really just comes down to picking the best camera features for your needs. Whether recording larger areas, easier playback, notifications, or whatever you want, you can find exactly what you need with one of these top systems.
All of this will allow you to live with more peace of mind when you are home or out and about.
We would love to hear your feedback on any of these outdoor cameras that you might have tried. So please feel free to share your feedback in the comments below.