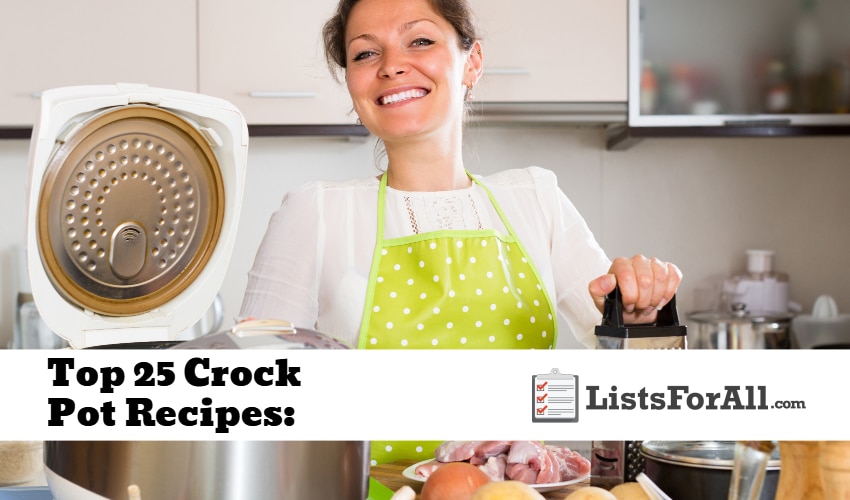 Best Crock Pot Recipes: Finding the Perfect Crock Pot Recipes for You
Slow cooker or crock pot – whatever your family calls it, the simple fact is that a crock pot makes cooking easy and virtually mistake-free. This makes it perfect for busy moms and dads who want to have home-cooked meals on the table without the hours spent in the kitchen. And with this list of the best crock pot recipes, you can make sure that you have a tasty dish each time.
In this list of the best crock pot recipes, we detail 25 crock pot recipes that are a cinch to make and also super tasty. All you need to do is drop the ingredients in the pot, set your timer, and return later for the finished product.
Whether it be for a reunion, a party, a bridal or baby shower, or just a dinner with family, these dishes are incredibly versatile and destined to make any audience say "WOW!" Everything from appetizers to main courses to desserts are on this list, all bursting with flavor. So whatever type of dish you wish to make, we have you covered.
For even more recipe lists, check out our list of the best soup recipes and our list of the best grilling recipes. Staying in to cook never tasted so good!
Top 25 Crock Pot Recipes:
Cook Time: 4 Hours
Primary Ingredients: Pizza Dough, Marinara Sauce, Pork Sausage, and Italian Blend Cheese
About Crock Pot Recipe: You may be thinking that there is no way that you can get a crispy, golden pizza crust in a crock pot. If that is the case, though, you would be wrong. This crock pot recipe is not only easy, but it turns out a pizza that is better than a lot of oven-baked pizzas.
It is just as easy as a frozen pizza but is fresh and can be customized to be as healthy as you would like it to be by changing up your toppings. So next time you are craving pizza, or for game day, use this crock pot pizza recipe.
Cook Time: 5 Hours and 30 Minutes
Primary Ingredients: Chicken Breast, Mushrooms, and Garlic
About Crock Pot Recipe: You don't need to go out to a fancy Italian restaurant and spend high restaurant prices to enjoy a delicious chicken marsala meal, And, while there are a few other steps in this recipe than just dropping in all of the ingredients in the slow cooker and walking away, it is totally worth it.
This chicken is incredibly tender and flavorful with soft mushrooms to pair. To make an already healthy dinner even more nutritious, consider serving your chicken with some pan-seared asparagus, and, for a date night dinner, couple with a nice bottle of Pinot Noir. For the next family dinner or romantic night in, you will have everyone thinking you are an Italian chef.
Cook Time: 2 Hours and 30 Minutes
Primary Ingredients: Chicken Breast, Carrots, Brown Rice, and Mozzarella Cheese
About Crock Pot Recipe: Chicken and rice should be a staple of family dinners. It is not only easy to make, but it is also going to be tasty and filling. With this crock pot chicken and rice recipe, you will be able to create a consistent meal that your family will enjoy every time.
Also, with the ability to add in different vegetables to the rice and chicken, you will be able to have some variation each time as well. This is also an excellent dish for larger group events, so if you are planning a gathering at your house, consider this crock pot recipe for a dish everyone will enjoy.
Cook Time: 4 Hours
Primary Ingredients: Chicken Breast, Broccoli, and Rice
About Crock Pot Recipe: Forget Chinese takeout; this crock pot teriyaki chicken recipe is going to have everything you could want. Not only does it offer the ease of cooking with a crock pot, but it is also delicious with yummy ginger and garlic. This recipe calls for ingredients that are going to bring flavor to the forefront of every bite and can be garnished or rolled in sesame for an added crunchy texture.
Now add in the fluffy white rice and steamed broccoli, and you have everything an Asian-inspired meal could need. Have a picky eater who is not a fan of broccoli? A variety of vegetables pair well with this dish and can easily be swapped out.
Cook Time: 5 Hours
Primary Ingredients: Chicken Breast, Potatoes, and Baby Carrots
About Crock Pot Recipe: It is usually pretty hard to beat a ranch and chicken combination as they pair so well together, and this version is especially tasty. This recipe is going to take full advantage of the ease of using a crock pot and inexpensive ingredients to make for a super quick and easy meal for the whole family.
So the next time you are craving comfort food or need to feed a large group, consider using this crock pot recipe. It can be served alone or with brown rice and can be spruced up with a bottle of red wine for a more sophisticated meal.
Cook Time: 7 Hours
Primary Ingredients: Chicken Breast, Cream of Chicken Soup, and Egg Noodles
About Crock Pot Recipe: If you love chicken and pasta, this crock pot recipe is for you. Then again, who doesn't? Full of flavor, this comfort dish should be a regular dinner staple with your family. This is another great dish to leave cook during the workday and serve as a weeknight dinner.
And, to take a healthier turn with this one, serve with green peas. Along with making a great dinner, it also heats up well for leftovers the following day, or be daring and eat it cold like a chicken salad.
Cook Time: 4 Hours
Primary Ingredients: Chicken Thighs
About Crock Pot Recipe: If you love flavor, look no further than this honey garlic chicken recipe. The chicken will be able to marinate and cook for hours in a delicious honey and garlic sauce that you can come back to later. The end product is fall-off-the-bone chicken that has flavor through and through.
This chicken recipe is inspired by Asian cuisine with an American twist and only has five ingredients. It is excellent on its own or over rice with a side of vegetables. All of this combines for an inexpensive, simple, and delicious lunch or dinner.
Cook Time: 8-10 Hours on Low and 4-6 Hours on High
Primary Ingredients: Chicken Breast, Black Beans, Corn, Tomatoes, and Mild Green Chilies
About Crock Pot Recipe: Although this recipe is more time-consuming and asks for more patience than others, the 16 hours spent slow cooking makes for tender, juicy chicken and makes this recipe well worth the wait. This tasty Southwest chicken is going to be the perfect meat for a taco, burrito, or rice bowl.
The garlic powder, onion powder, cumin, and cayenne pepper all come together for a well-seasoned chicken. With the addition of rice and black beans as the base and all of your favorite toppings, this is a Mexican food lover's dream. So next Taco Tuesday, give this Santa Fe Chicken a try; we promise that it will live up to all the hype.
Cook Time: 3-4 Hours
Primary Ingredients: Steak, White Rice, and Broccoli
About Crock Pot Recipe: This slow cooker beef and broccoli dish is another excellent Asian-inspired meal. The flavoring of the beef is going to go perfectly with the steamed broccoli and white rice. Onions, garlic, and ginger highlight this flavoring, and, with extra sauce in the crock pot, you will be able to smother your rice and broccoli in it as well. This recipe is the perfect way to get the taste of Chinese takeout food within the comfort of your own home and at a lower price point.
Cook Time: 8 Hours
Primary Ingredients: Potatoes, Bacon, Cheddar Cheese, and Cream Cheese
About Crock Pot Recipe: Some soup recipes are starters, and then others are hearty and full meals in themselves. This potato soup recipe is going to fall into the latter category. It sure is filling. The potatoes and ham are the substance of the soup, while the onions and celery are used to add dimension to the flavors and compliment the overall dish.
With a topping of sour cream, bacon, and cheese, you are going to have everything you could ask for – creamy, cheesy, delicious goodness – without the hours spent in the kitchen. So, for the next cold night in, or busy work week, try out this family-favorite recipe.
Cook Time: 7 Hours
Primary Ingredients: Beef Chuck, Red Potatoes, Celery, and Carrots
About Crock Pot Recipe: Perfect for cold days, this beef stew is both great-tasting and filling. With hearty pieces of beef, potatoes, carrots, celery, and more, this stew should be on the top of your cold-day foods list.
To make this stew that much better, make sure that you have a good dipping bread to go with it, or go the extra mile and take this dish from a standard weeknight dinner to a romantic meal by serving it in a bread bowl with a glass of red wine. No matter the event or occasion, this classic dish provides substance and comfort, so on the next chilly day, give this one a try.
Cook Time: 4 Hours
Primary Ingredients: Chicken Breast and Barbecue Sauce
About Crock Pot Recipe: This recipe is so good that it will have you staying in to eat the next time you are craving BBQ chicken. With tons of flavoring, this BBQ chicken can be shredded and used for a sandwich or eaten on its own, and it is great with children. If you do go the sandwich route, make sure to have some coleslaw on hand to top your sandwich with and bacon cheese fries to go on the side.
For a healthier take on this recipe, mix it into your favorite salad mix or serve with green beans or corn. This BBQ chicken is destined to make its way into your regular rotation of weeknight meals or become a cookout favorite.
Cook Time: 4 Hours
Primary Ingredients: Chicken Breast, Tomato Sauce, Mozzarella Cheese
About Crock Pot Recipe: This classic Italian Chicken Parmesan dish tastes terrific and provides a crispy, rich restaurant-quality meal, all with the comforts of staying home. Now, if you are familiar with crock pot cooking, you may be wondering how a slow cooker can achieve any sort of crunch on the chicken while it sits in its own juices.
Well, the chicken is moist and flavorful, and it is topped with crispy bread crumbs to achieve its wonderful texture. All the while, the crock pot cooking gives you the ability to spend less time in the kitchen. Add some pasta for a complete meal, and you will have a family favorite on your hands.
Cook Time: 2 Hours
Primary Ingredients: Dr. Pepper, Canned Cherries, Cake Mix, and Butter
About Crock Pot Recipe: This swift recipe, for slow cookers, is most definitely for the adventurous. The ingredients for this cake recipe are cherry pie filling, butter, cake mix, and finally, Dr.Pepper. Soda is not usually found in cake and may leave some people skeptical, but it makes for an easy and mouthwatering cobbler. This cake is often affectionately referred to as a 'dump cake.'
The reason why is because all you need to do for this recipe is, dump your ingredients into your crock pot and then let them cook. Then when you return hours later, you will have a delicious cobbler. If you have a Dr. Pepper fan in your life, give this delicious cobbler a try! This dessert goes well with a glass of milk or your favorite cup of coffee.
Cook Time: 4 Hours
Primary Ingredients: Hashbrowns and Sharp Cheddar Cheese
About Crock Pot Recipe: This side dish is a breeze to make but is still shockingly delicious. The recipe calls for frozen cubed potatoes, ensuring that even the busiest of cooks have time for this dish. The limited ingredients list also makes for large portions at an affordable price and makes this recipe perfect to take to that family reunion or office party.
It is a winner with picky eaters and kids, and if you really love these cheesy potatoes, turn them into breakfast food with the simple addition of eggs and bacon on the side. Comforting and creamy, you are sure to get rave reviews from these cheesy potatoes.
Cook Time: 4 Hours
Primary Ingredients: Ground Beef, Bacon, Kidney Beans, White Beans, and Pork and Beans
About Crock Pot Recipe: This hearty and delicious side dish is sure to be a family favorite. A sweet and tangy brown sugar molasses sauce marries the three different kinds of beans, beef, and bacon together into one great and tasty dish. And, while great any time of the year, these Cowboy Beans are especially good on a cold evening.
Cook Time: 2-3 Hours
Primary Ingredients: Rotisserie Chicken, Cream Cheese, Mozzarella Cheese, Blue Cheese, Ranch Dressing, and Hot Wing Sauce
About Crock Pot Recipe: This crock pot recipe is excellent as both an appetizer and party food. The buffalo chicken dip in this recipe is easy to assemble and only requires two hours of cooking time. Simple ingredients like chopped rotisserie chicken, cheese, ranch, hot sauce, and butter are easy to obtain and taste magical when combined in this recipe.
The dip can be served with crackers or celery sticks for a healthier alternative. It also goes perfectly with ranch or bleu cheese dip to reduce the spicy factor. The buffalo sauce or spicy foods lover in your family will love having this dish at their next birthday party or at the neighborhood get-together.
Cook Time: 8 Hours
Primary Ingredients: Chuck Roast
About Crock Pot Recipe: A twist on the traditional pot roast recipe, this Mississippi Pot Roast calls for the addition of peppers. The peppers add a nice background note to the tender, delicious meat, and the leftovers (if there are any!) are truly tasty. It is perfect for a family night indoors and is a great way to include some vegetables and fiber into a classic dish.
Serve with crescent rolls or biscuits, garlic mashed potatoes, and your choice of vegetables for a complete dinner. Also, reheating is a breeze for this pot roast, making it a great meal to pack for lunch the next day. If you love a good pot roast, this recipe is a must-try.
Cook Time: 4 Hours
Primary Ingredients: Chicken Breast, Bacon, and Swiss Cheese
About Crock Pot Recipe: Bacon, cheese, and mushrooms – there aren't many combinations that are better than that, and, thankfully, this recipe has all the makings of a staple dinner! Add some chicken to the mix, and you are left with a protein-filled, hearty dish. The ingredients are easy to find and budget-friendly, making this recipe perfect for a special weeknight treat.
To add even more nutritional value, serve with salad or crisp asparagus, and for date night or an adult dinner party, pair this chicken with a glass of Riesling or Merlot wine. This bacon mushroom Swiss chicken crock pot dish will soon become a frequent favorite.
Cook Time: 8 Hours
Primary Ingredients: Ground Beef, Italian Sausage, Bacon, Pinto Beans, and Kidney Beans
About Crock Pot Recipe: This chili crock pot recipe is going to be a step above the rest with its great taste and consistency. Bacon, sausage, and beef highlight the meats in this chili, while a variety of veggies and seasonings bring the beans and everything else together seamlessly.
By the time this chili is done slow cooking, every bite will be a mouthful of flavor. This dish is perfect for winter nights in but can be easily enjoyed all year round, so the next time you are in the mood for a steaming bowl of chili, give this recipe a try.
Best Crock Pot Recipes Conclusion
It is hard to argue against the simplicity of using a slow cooker to make a meal or side dish. These crock pot recipes combine ease and affordability by using only a few ingredients that can be found at low prices in your local grocery store and by generally only taking a few minutes of prep time.
The main problem with slow cooker/crock pot recipes is having the patience to wait hours for your food to finish cooking while enticing smells fill your home, but you don't have to stay and watch these meals. Just dump in the ingredients and walk away. Before you know it, you will have a tasty dish waiting for you.
If you are looking for a great slow cooker so you can make these wonderful recipes, be sure that you check out our list of the best kitchen tools for more information. We have our favorite slow cooker listed as well as every other gadget your kitchen needs to create these dishes and many others.
We would love to hear how any of these recipes turned out for you in the comments below, so please feel free to share, let us know how you liked them, and tell us any creative edits you have made!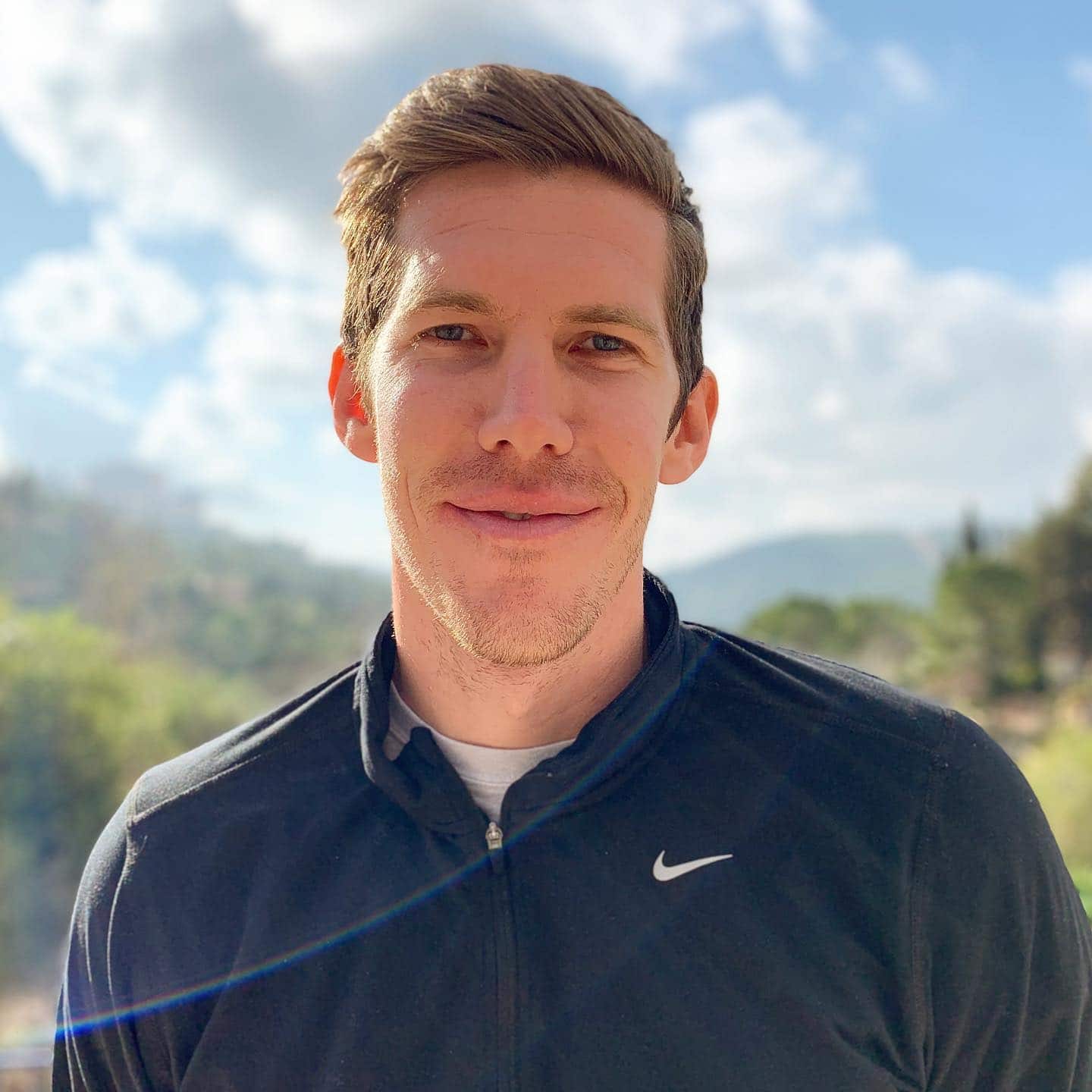 Kyle has a background in sports, fitness/health, and business. However, he also has a passion about researching all topics, and is dedicated to making lists that will help make your life easier.