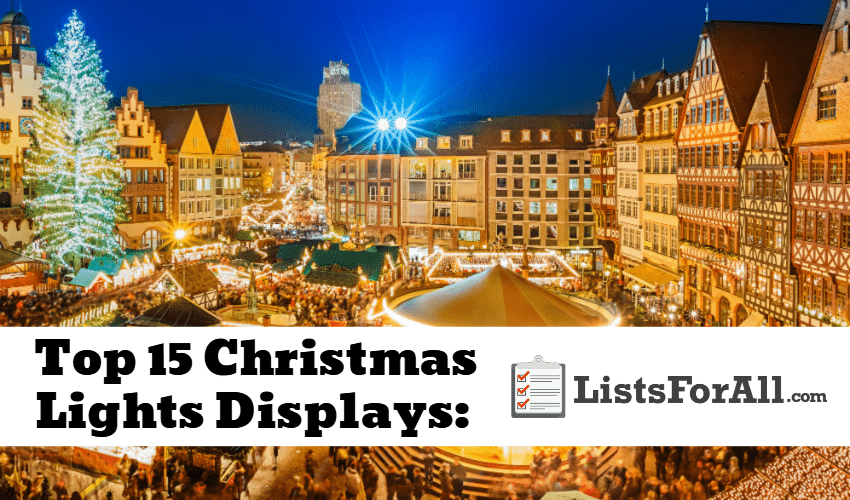 Best Christmas Lights: Highlighting the Top Christmas Light Destinations
Christmas – that magical time of the year when ordinary places are transformed into glittering bastions of Christmas cheer. And nowhere more than the destinations on this list of the best Christmas lights.
In this list of the best Christmas lights, we detail 15 over-the-top Christmas light displays from around the world. Whether you live close enough to visit one of these places or are just looking to enjoy them from afar by looking them up online, this list is going to cover all of your Christmas lights needs.
For even more Christmas-related lists, check out our lists of the best stocking stuffers, best gifts for men, and best gift ideas for women. And if you are looking to plan a trip to one of these amazing destinations, make sure to visit our list of the best travel sites to save both time and money.
Top 15 Christmas Lights Displays:
Location: Vienna, Austria
Highlights: Quaint Streets to Shop From, The Christmas Market.
About Lights: Already a charming city, Vienna truly comes alive at Christmas time. Everything from the town hall to quaint shopping streets that are adorned with dazzling lights. And, in the midst of all of the lights, stands Vienna's famed Christmas market, a truly special experience. Another great Christmas city in Austria is Salzburg, so if you have a chance, give both a visit.
Location: Austin, Texas, USA
Highlights: More Than 50 Light Displays, Almost a Mile Long.
About Lights: With more than 50 light displays under its belt, Zilker Park's Trail of Lights in Austin, Texas, is a truly special light display. The Trail of Lights is approximately a mile long. It will feature everything from a gigantic lighted Christmas tree to an enormous Ferris wheel. Austin is also one of the best vacation spots in the US, so along with being able to see some Christmas lights, there will also be plenty of other fun things to take advantage of as well. 
Location: Gothenburg, Sweden
Highlights: Offers One of Sweden's Biggest Christmas Markets.
About Lights: This sparkling port town shines from all angles at Christmas time. An abundance of twinkling lights stretches all the way down to the harbor. While at the same time, the Liseberg Amusement Park hosts one of Sweden's biggest Christmas markets. For a truly special Christmas light experience, Gothenburg is a great option.
Location: Medellin, Colombia
Highlights: Tropically Inspired Christmas Light Display, Light Displays All Along the River.
About Lights: If you want to feel Christmas cheer but don't want the cold weather associated with it, Medellin offers a fun tropical-inspired Christmas light display. Massive trees are covered in lighted ornaments, and all along the Medellin River, lighted figures twinkle in the night. Who says Christmas isn't the same in warm weather?
Location: Branson, Missouri, USA
Highlights: Millions of Lights Cover the Theme Park, Lights are Coordinated with Music.
About Lights: Silver Dollar City, located in Branson, Missouri, boasts an awe-inspiring light display. Millions of sparkling lights cover the theme park, with many light displays coordinated with Christmas music. If you are anywhere near Branson during the Christmas season, Silver Dollar City is not to be missed.
Location: Pine Mountain, Georgia, USA
Highlights: Millions of Lights Over the Grounds, Offers a Christmas Village, Shopping and Dining.
About Lights: Fun-themed light displays cover the beautiful grounds of Callaway Gardens. In addition to the millions of glittering lights, the resort also offers a Christmas village complete with shopping and dining. Be warned, however – one visit to Callaway Gardens may quickly turn into an annual event.
Location: Hong Kong, China
Highlights: Victoria Harbor Covered in Lights, Lighted Up Shopping Malls.
About Lights: Hong Kong goes all out with its Christmas lights. Victoria Harbor is beautifully lit up, and the city's abundance of shopping malls all put out impressive light displays. This is city living and Christmas beautifully married.
Location: Lake Buena Vista, Florida, USA
Highlights: Disney Inspired Christmas Lights, Millions of Lights on Display.
About Lights: Disney's Hollywood Studios in Lake Buena Vista boasts Jennings Osborne's infamous light display. Millions of twinkling lights greet visitors, along with special Disney touches that are sure to please family members of all ages. If you love Christmas and love Disney, you don't need to look any further than this light display.
Location: Las Vegas, Nevada, USA
Highlights: Option to Drive Through or Take the Open-Air Tram.
About Lights: For more than 20 years, the Christmas lights at the Las Vegas Motor Speedway has been dazzling Christmas lovers. The Las Vegas Motor Speedway gets overtaken by thousands of Christmas lights during the Christmas season. With options to drive through with the family in your vehicle or on the open-air tram, for a magical Christmas experience, the Las Vegas Motor Speedway is the place to be.
Location: Hershey, Pennsylvania, USA
Highlights: Drive-Through Light Display, Hershey Chocolate Themed Lights.
About Lights: Located among the sweet chocolate-smelling hills of Hershey, PA, the Hershey Sweet Lights is a Christmas favorite in Pennsylvania. The drive-through lights display will allow you to enjoy the elaborate light displays and get into the Christmas spirit. Also, if you are in the area for Christmas time, make sure that you check out Hersheypark's Christmas Candylane for even more great Christmas entertainment.
Location: Newport Beach, California, USA
Highlights: Decorated Boats of All Sizes, Watch the Parad From Land or in a Boat.
About Lights: What could make Christmas lights better? How about a boat parade decked out (pun intended) in an impressive display of Christmas lights?! From yachts to kayaks and canoes, this boat parade does it right when it comes to putting on a great Christmas lights display. So if you are near Newport Beach, CA, at Christmas time, pull up a chair and enjoy the Christmas Boat Parade!
Location: Brooklyn, New York, USA
Highlights: Unique Light Displays from House to House.
About Lights: An unspoken competition between neighbors, some of the best Christmas light viewing in New York City and the world are in Dyker Heights, Brooklyn. With some houses spending up to $20,000 in lights trying to outdo their neighbor, the competition is fierce. But that is okay because it means more great light displays for all!
Location: Copenhagen, Denmark
Highlights: Magical Light Display in the Gardens, Offers Rides, Crafts, and Festive Foods.
About Lights: Always pretty Copenhagen transforms Tivoli Gardens, a charming amusement park, into a beautiful light display at Christmas time. Specially designed and curated light displays twinkle between rides, crafts, and festive foods, making Copenhagen a must during the Christmas season.
Location: Madrid, Spain
Highlights: Sponsored by the City of Madrid, Lights Shine Bright Throughout the City.
About Lights: The already famous City Hall of Madrid comes alive during the Christmas season – the city puts on a no holds barred light display here that is sure to impress even the most die-hard Scrooge. For an awe-inspiring light display, Madrid should be at the top of your list. Outside of the lights, Madrid is also one of the best cities to visit in the world, so there will be plenty of other activities to enjoy as well. 
Best Christmas Lights
There is just something about Christmas lights, and as the Christmas season seems to begin earlier and earlier every year, you will hopefully have even more chances to check out some of these great lights in person.
However, even if you are not able to make the trip to see them in person, they are still pretty spectacular to look at online as well! And to take your Christmas dinner to a new level, make sure to visit our list of the best Christmas dishes.
If you have been to any of these Christmas light displays in person, we would love to hear about your trip in the comments below.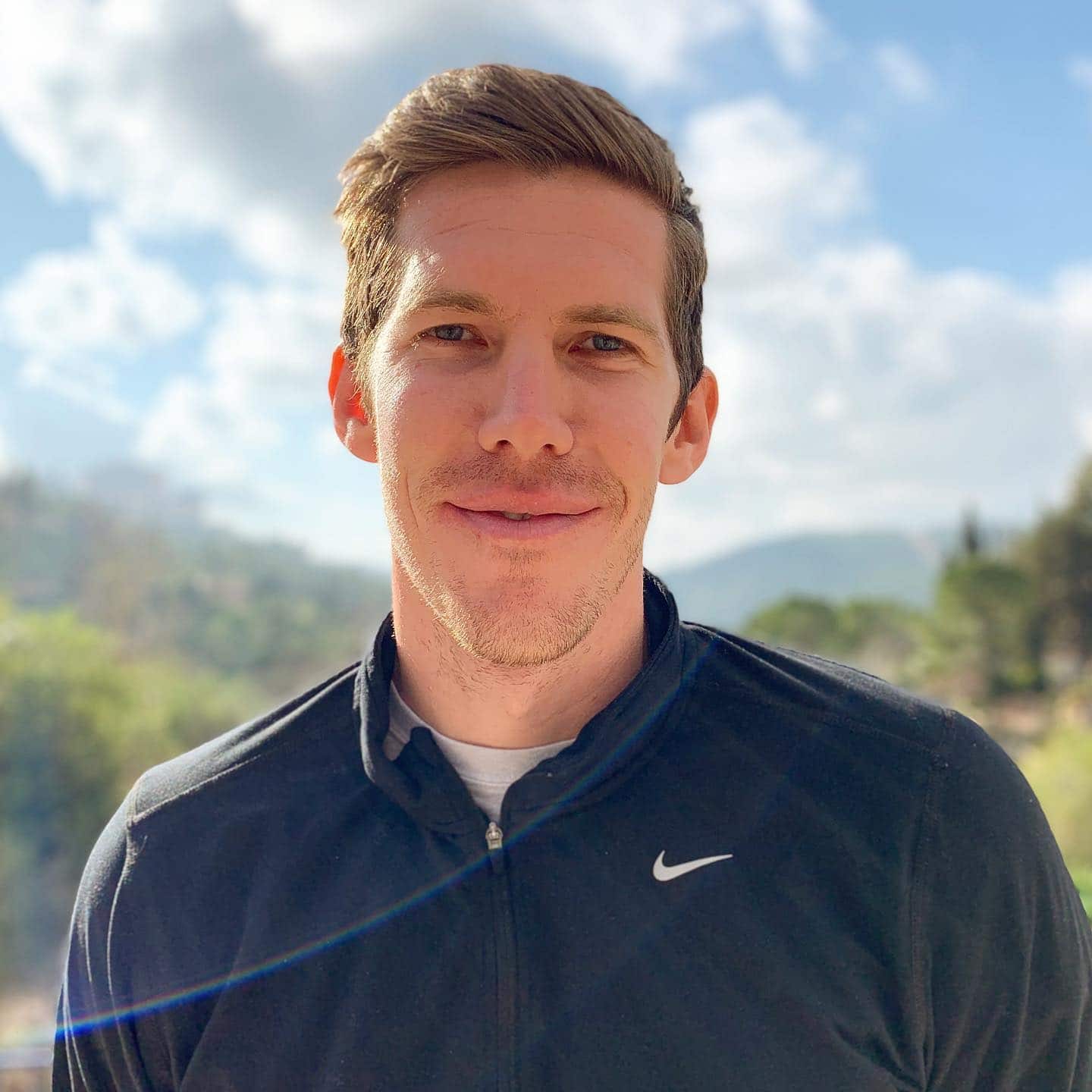 Kyle has a background in sports, fitness/health, and business. However, he also has a passion about researching all topics, and is dedicated to making lists that will help make your life easier.