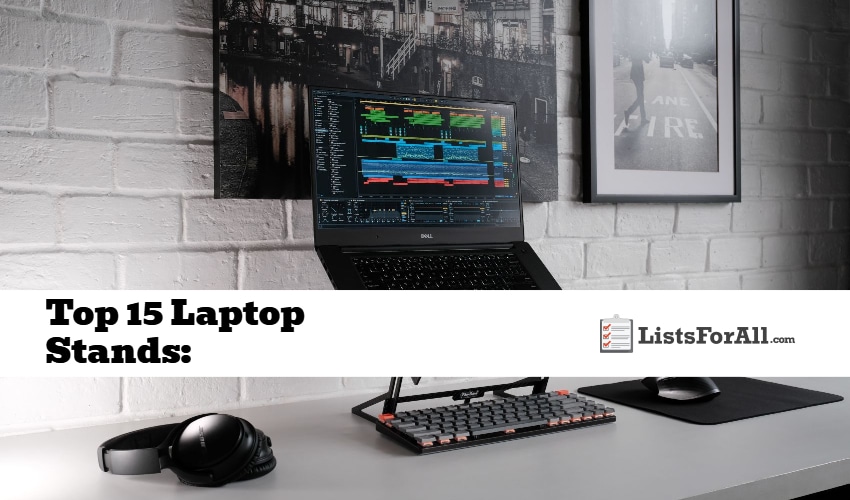 Best Laptop Stands: Finding the Perfect Laptop Stand for You
Do you ever work from your laptop? If so, you may be interested in this list of the best laptop stands. A laptop stand raises your computer to a comfortable height, which can help to improve your posture and comfort. Laptop stands also have the added bonus of helping to keep your computer cool.
This list of the best laptop stands will spotlight the top options for you to select from when looking for a laptop stand. With this list, you can make sure that you find the perfect laptop stand for you based on style, design, budget, and more. All of which will help you stay more productive with work, school, etc. 
After you finish with this list of the best laptop stand, our lists of the best blue light blocking glasses, the best office supplies, and the best office chairs will also provide some more excellent resources for making the most of your workspace.
Top 15 Laptop Stands:
Price: $35.99
Highlights: Aluminum alloy frame, Z-shaped design, and can fit any device up to 17 inches.
About Laptop Stand: Are you frustrated with your limited space and the lack of options when it comes to laptop stands? If so, the BoYata Laptop Stand is the perfect solution for you. This stand is specifically designed to provide you with multiple angles, height adjustment, and increased desk space.
It features a strong aluminum alloy frame that offers sturdy support as well as a stylish, sleek aesthetic. The unique Z-shaped design makes this stand many other stands do not offer; adjustable angles. The silicon pads incorporated into the design also make sure your laptop doesn't slip off unexpectedly.
What's more, is its wide range of laptop compatibility; any device up to 17 inches in size will fit easily onto this one-of-a-kind standoff. Never worry about running out of desk space again. With BoYata, you can easily adjust your desired height according to your needs. The aluminum frame also helps absorb heat from your laptop and keeps it balanced throughout its use.
Price: $74.99
Highlights: Adjustable height, won't collapse on itself, and storage space.
About Laptop Stand: Are you looking for a laptop stand that is sturdy, light, and sleek? Look no further. The ObVus Solutions Tower is an excellent solution for your office needs. Not only is this laptop stand incredibly durable, but it's also designed to keep your laptop at a comfortable height while providing enough space to store other items like a mouse or keyboard.
And thanks to its adjustable height, you can easily alternate between sitting and standing without needing an additional standing desk.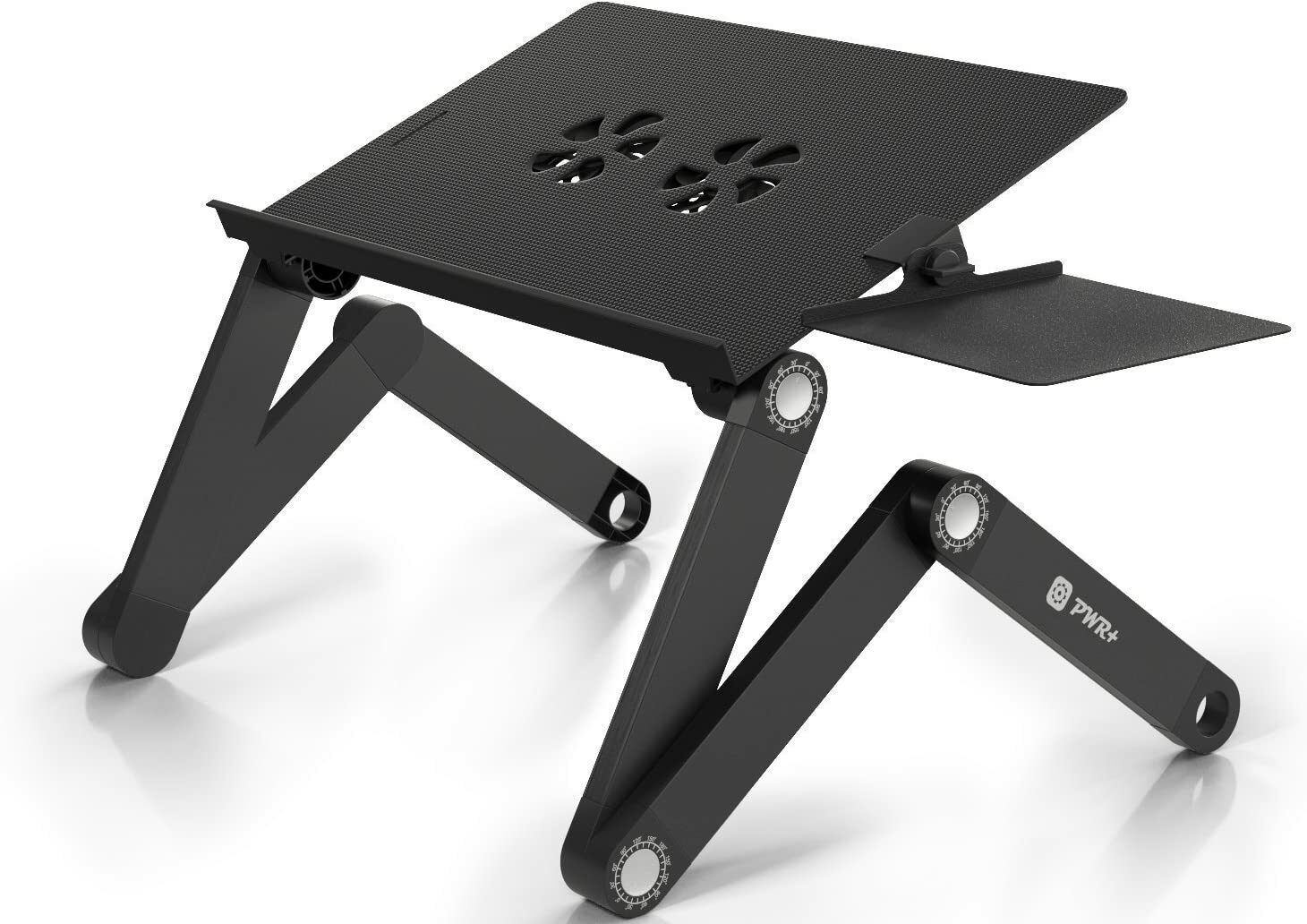 Price: $39.90
Highlights: Adjustable angle of rotation, built-in cooling fans, and stand for an external mouse.
About Laptop Stand: Whether you're in the office, at home, or somewhere in between, this adjustable laptop stand will give you the perfect setup for maximum comfort and productivity. With its adjustable height level and angle of rotation, it's like having your own personal ergonomic advisor at the ready.
And if that isn't enough, it comes complete with built-in cooling fans and a stand for an external mouse, so even those long days of work can feel luxurious.
Price: $28.99
Highlights: Aluminum alloy, elevated up to 6 inches, and two removable support bars.
About Laptop Stand: Are you looking for a laptop stand that is both attractive and economical? Look no further than this Soundance Laptop Stand. This top product offers a super-sleek look, a lightweight design, and a durable aluminum alloy build.
Its ergonomic design allows for comfortable usage and can be elevated up to 6 inches, so you have ample space for your keyboard. Not only does it feature two removable support bars with rubber feet to provide stability, but its open design helps promote better heat dissipation so your devices won't overheat.
Price: $119.99
Highlights: Fits any size laptop or external monitor, ample storage space underneath, and is made from premium-grade materials.
About Laptop Stand: This multifunctional laptop stand offers an easy and convenient way to incorporate a sit-stand routine into your workday with all of your favorite peripherals. Made from premium-grade materials, this sturdy laptop stand is designed to handle all your equipment securely while allowing you to instantly switch between sitting and standing.
Plus, its adjustable height settings let you customize it perfectly to fit any size laptop or external monitor. With its lightweight design and slim profile, the Monoprice Laptop Stand also provides ample storage space underneath that can be used to store all of your office essentials, making it ideal for any workspace.
Price: $425.00
Highlights: 11 different height settings, open-mouse shelf, and lower monitor shelf.
About Laptop Stand: Say goodbye to posture pain and stress with VariDesk Pro Plus 36 laptop stands. This high-quality adjustable laptop stand is the ideal way to get comfortable and stay comfortable throughout your workday. With its versatile 11 different height settings, you can experiment and find out which position suits you best.
Whether you like to sit or stand at your office desk, the VariDesk Pro Plus 36 makes it effortless to switch between both. Worried about dragging out two screens? Don't be. The cleverly designed open-mouse shelf and lower monitor shelf make it easy for you to manage and store your equipment with minimal fuss.
Price: $89.95
Highlights: Provides up to 9 lbs of support, adjustable tilt, and non-slip rubber clams.
About Laptop Stand: For those looking for an easy and lightweight alternative to their bulky office laptop setup, the Roost V3 Laptop Stand is the perfect fit. With its slim design, you'll be able to fit it into your bags with ease while still providing up to 9 pounds of support – making sure that no matter where you go, your laptop will always stay safe and secure.
But the Roost V3 Laptop Stand is not just great for portability; it also comes packed with features like adjustable height from 6-12 inches and adjustable tilt that allows you to reduce eye strain and back pain quickly and effectively. The non-slip rubber clams provide extra stability and are designed to keep your device in place as you work away.
Price: $37.98
Highlights: Two adjustable and removable sides, made of particleboard, and offers room for storage underneath.
About Laptop Stand: The Superjare Dual Laptop Stand is a unique and affordable way to keep your workstation organized and efficient. With two adjustable sides that can be collapsed or removed entirely, you can easily create the perfect setup for both monitor and laptop use.
Whether it's an extra display for productivity or the perfect angled position for gaming, this stand has you covered. Consists of particleboard, so it's strong enough to support your laptop and other items without looking overly industrial – plus, there's plenty of room underneath for storage as well.
Price: $39.99
Highlights: Adjusts from 8.3″ to 9.8″, multifunctional workstation, and portable.
About Laptop Stand: This innovative and adjustable device makes it easy for you to use the laptop in any space, whether lying in bed at home or squeezing into a crowded subway car. Comfortably adjust from 8.3″ to 9.8″ so you never have to strain your neck and eyes when working on your computer anymore.
And after your work is done, the lower laptop stand can also be used as a standing desk at the office, multifunctional workstation, snack tray for TV watching, or even breakfast in bed. Now you can maximize comfort and convenience with this must-have addition to every household.
Price: $49.99
Highlights: Ultra-durable aluminum alloy, protective silicone pads, and large height adjustability range.
About Laptop Stand: The Nulaxy Adjustable Laptop Stand is perfect if you're looking for a reliable, heavy-duty stand. With an ultra-durable aluminum alloy and protective silicone pads, you can feel secure knowing your laptop is safe and sturdy.
Even better, its large height adjustability range and multiple angles provide the most options to customize your experience. And at just 2.1 pounds and compatible with laptops up to 17.3 inches and 44 pounds, this stand is ridiculously versatile, allowing you to easily move from workspace to workspace without breaking a sweat.
Price: $48.88
Highlights: Easily moves between locations, built-in stopper, and generously sized flat surface.
About Laptop Stand: Make work (and play) easier with the Nnewvante Laptop Stand. Whether you're snuggling up in your bedroom or settling into your living room, the Nnewvante easily moves between locations, giving you the perfect ergonomic position wherever you choose to work.
With a generously sized flat surface, it is extra easy to keep your laptop and essentials close by as you move around your home. The unique design of the Nnewvante makes it as functional as it is stylish. A built-in stopper ensures your items won't move or fall off even at an angled position, while a small drawer perfectly stores knick-knacks and other small items for easy organization.
Price: $54.90
Highlights: Sleek anodized finish, adjustable settings, and extra space for the keyboard.
About Laptop Stand: The Rain Design iLevel2 Laptop Stand is the perfect addition to your work-from-home solution. Compact and stylish, with a sleek anodized finish, this stand will fit right in with the rest of your Macbook devices.
Not only does it look good on any desk or table surface, but it provides improved posture and ergonomics. The height gives your eyes exactly the same level as your screen, helping you to sit up straight and steer clear of back pain. Elevate productivity and stay healthy while working – it's all there with Rain Design iLevel2.
But that's not all. This laptop stand also has adjustable settings so you can get into those optimal 90-degree angles for maximum comfort. Its custom design includes extra space for your keyboard when it's not in use, making sure it stays nearby but out of sight when you don't need it.
Price: $59.00
Highlights: Squishy pillow bottom, firm bamboo-top tray, and a slot to hold tablets or phones.
About Laptop Stand: The Yogibo Laptop Stand is the ultimate modern solution for comfort and convenience. This incredible innovation allows you to work from literally anywhere with complete comfort, whether sprawled out on your living room couch or tucked into the back seat of your car.
This convenient stand offers a squishy pillow bottom that's comfortable against your legs and a firm bamboo-top tray to keep your laptop in place as you type. It even features a slot that can hold up tablets or cell phones – perfect for catching up on movies or video-chatting. When the work day has ended, you can take it one step further by using this lovely stand as a drawing board or writing surface.
Price: $59.99
Highlights: Five interchangeable settings, several color choices, and folds up.
About Laptop Stand: MOFT Z Laptop Stand is the ideal solution for working on the go. This compact, slim laptop stand makes it easy to transform any surface into a standing desk. With five interchangeable settings and several color choices, you can easily switch between sitting and standing throughout your workday.
At less than a pound in weight and the size of a magazine when folded up and only half-inch thick, this product is incredibly portable. Plus, it can support up to 22 pounds of weight, so no matter what your laptop's size or type, you'll be able to use this great laptop stand anywhere with ease.
Price: $79.99
Highlights: Aluminum base, black walnut-veneered plywood top, and increased airflow to keep your device cool.
About Laptop Stand: Enhance your workstation and elevate your productivity with the great-looking HumanCentric laptop stand. This minimalist yet sophisticated stand will instantly upgrade any desk setup, allowing you to obtain the ideal viewing angle while keeping your laptop close at hand.
With its sleek aluminum base combined with the natural black walnut-veneered plywood top design, this laptop stand brings a modern flair and style to any workspace. Plus, it acts as a space saver on any desk, ensuring that whatever you need is available without taking up too much of that precious real estate.
Best Laptop Stands Conclusion
If you are looking for a way to improve your posture and comfort while working on your laptop, then a laptop stand may be a good option for you.
With one of the above options from this list of the best laptop stands, you can ensure that you are more productive and more comfortable as you take on any tasks on your laptop. This will allow you to get more done and will also help ensure that you have a better posture as you do.
Please comment below if you have feedback on any of these laptop stands. We know that all of our readers would appreciate your comments.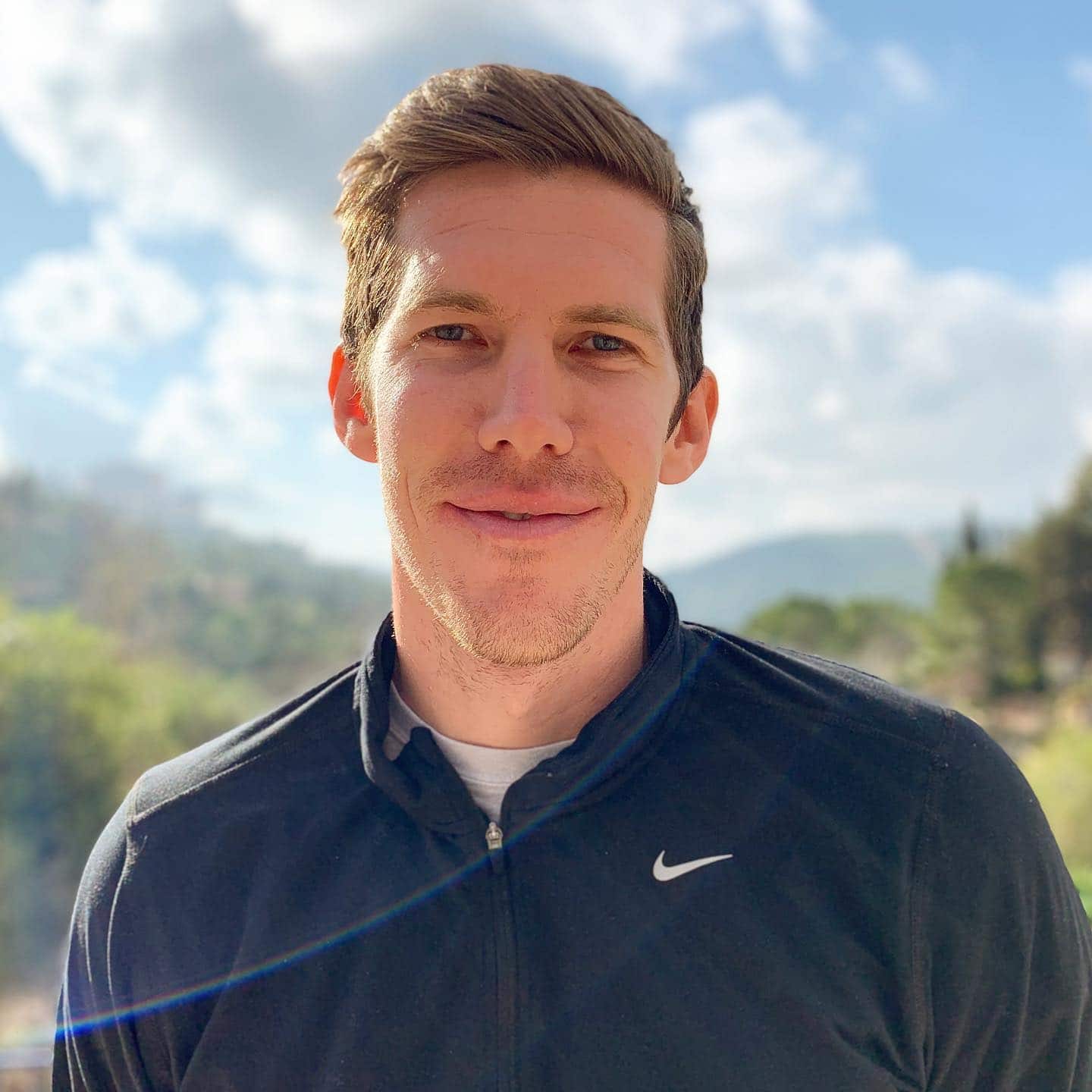 Kyle has a background in sports, fitness/health, and business. However, he also has a passion about researching all topics, and is dedicated to making lists that will help make your life easier.