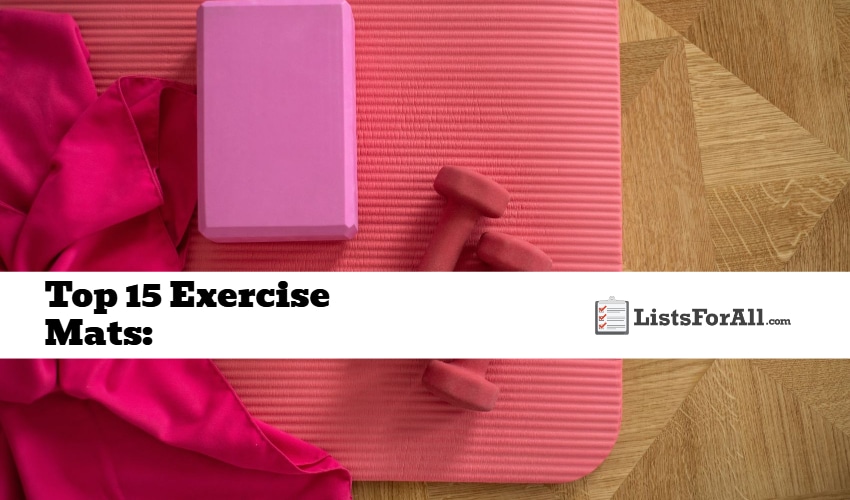 Best Exercise Mats: Finding the Perfect Exercise Mat for You
There are a lot of factors to consider when choosing the right exercise mat. Size, thickness, and material are all important considerations, and with this list of the best exercise mats, you can ensure that you find the perfect choice for you.
This list of the best exercise mats will feature the top options and will help you find the perfect exercise mat for your fitness needs. Whether you're looking for a basic mat to do floor exercises on or something more specialized for Pilates or yoga, these are the best exercise mats currently available. 
When you finish with this list of the best exercise mats, check out our lists of the best workout videos, the best core exercises, and the best jump ropes. These lists will complement your new exercise mat and open up a whole new world of exercise options.
Top 15 Exercise Mats:
Price: $26.14
Highlights: ½" thick material, double-sided non-slip surface, and moisture-resistant technology.
About Exercise Mat: Take your workout anywhere with BalanceFrom Exercise Mat. This premium exercise mat is perfect for workouts ranging from yoga to bodyweight training and everything in between. Whether you are at home or the gym, the BalanceFrom Exercise Mat will help you stay comfortable during your routine.
Its 1/2″ thick material offers just enough cushions for your spine, hips, knees, and elbows while also ensuring a solid foundation as you exercise. Additionally, its double-sided non-slip surfaces provide a confident grip and allow you to keep perfect balance throughout your workout session. What's more? The moisture-resistant technology makes this staple exercise tool easy to clean with soap and water after each use.
Price: $19.61
Highlights: Ultra-durable rubber, 74″ long and 24″ wide, and high-density material.
About Exercise Mat: Do you want to take your gym game up a notch? If so, the Mind Reader All-Purpose Exercise Mat is here to help. Crafted with ultra-durable rubber, this exercise mat has a non-slip design that won't slip out from underneath you, no matter how intense your workout program may become.
This mat measures 74″ long and 24″ wide and is designed to ensure complete comfort while cushioning your body during exercise. Plus, its high-density material helps protect your spine, hips, knees, and elbows from hard floors and keeps you perfectly balanced.
Price: $52.25 – $100.00
Highlights: 3mm and 5mm thickness options, vibrant colors and stylish geometric shapes, and crinkle-resistant.
About Exercise Mat: Crafted with superior craftsmanship, this mat feels soft and supports the body without forfeiting quality. Best of all, it won't crinkle and slide around on hardwood floors like some traditional mats do. This mat is thin enough to stay grounded during yoga poses and cushioned enough to protect sensitive joints during high-intensity exercises such as burpees.
Plus, the 3mm and 5mm thickness options provide just the right amount of thickness for planks while still offering superior grip no matter what surface you practice on. But exercise mats are not just about cushioning and stability stabilization… they're also about design. That's why they've taken extra care in designing their exercise mats with one eye on functionality and one eye on fashion.
The vibrant colors and stylish geometric shapes will bring instant life to any workout space – making it easier than ever before to get motivated for your regular yoga, cardio, or strength training sessions.
Price: $109.99
Highlights: Non-toxic and eco-friendly materials, double-sided non-skid surface, and grooved and matrix-circle underside.
About Exercise Mat: This extra-long and wide mat is your one-stop solution for all types of home workout needs. Whether you're a fan of challenging cardio workouts like P90X and Insanity, dance workouts such as T25 or Zumba, or are looking to set up your own home gym with weightlifting, jump rope, sit-ups, or stretching, the Gxmmat has you covered.
This multifunctional mat is durable enough for use with shoes and works great on most floor surfaces. It is made from non-toxic and eco-friendly materials, so you can exercise safely without any worries. The double-sided no-skid surface ensures enhanced traction and superior grip, while the subtly textured surface prevents you from slipping out of position.
Additionally, the grooved and matrix-circle underside also stops the mat from sliding on smooth floors and makes it ideal for different types of exercises.
Price: $93.62
Highlights: 6mm cushioning, antimicrobial surface, and fast-drying material.
About Exercise Mat: Transform your workout and add an extra touch of luxury with the Manduka Pro exercise mat. This durable, ultra-thick mat is an absolute must for serious yoga, Pilates, and barre fans. The 6mm cushioning offers superior support and comfort as you sink into each pose.
And if you're really working it hard at the barre, the textured antimicrobial surface adds much-needed stability – any leg lifts will be a breeze. Plus, because this mat is so thick, it's excellent for those high-intensity workouts. When there's no time to waste, you can be sure that you won't compromise on form or technique, even when pushing yourself to the max.
And when it's time to pack away? No sweat – this fast-drying and ultra-hygienic material makes cleanup a breeze so you can get on with your day.
Price: $33.36
Highlights: Top-tested mat, textured surface for grip, and provides ample cushioning.
About Exercise Mat: The Gaiam Exercise Mat is the top-tested mat for any exercise enthusiast. Whether you're following a yoga, barre or Pilates routine, this mat is sure to impress as it offers ample cushioning and a textured surface that provides superior grip.
Despite its lightweight and small size, the Gaiam Mat has stood up to round after round of tough laboratory evaluations—proving itself not only capable of providing reliable support but also great portability. Best of all, it has a long-lasting resilience that allows it to maintain cushioning and cleanliness even after years of use.
Price: $149.95
Highlights: Eco-friendly materials, non-toxic, and patterned bottom to stay in place.
About Exercise Mat: Ready to revolutionize your workout routine? Then it's time for Gorilla Mats – the ultimate exercise mat for transforming any room in your house into your very own home gym. Ideal for virtually any exercise program, Gorilla Mats are designed with both durability and comfort in mind.
Crafted from premium eco-friendly materials, this non-toxic mat offers a unique non-slip top layer that boasts unbeatable cushion and stability. Plus, its patterned bottom ensures the mat stays firmly in place whether you're doing burpees or jumping rope.
Price: $49.99
Highlights: 70″ long and 23″ wide, 1″ high-density foam, and anti-tear material.
About Exercise Mat: This mat is jam-packed with features that make it perfect for a range of activities, from yoga to Pilates and beyond. We're talking a whopping 70 inches long and 23 inches wide, made with high-density foam that is 1 inch thick.
It's non-slip, so you can maintain your balance without fear of slipping, too. And it's anti-tear material ensures durability for even those more active forms of yoga. Plus, it makes transport easy by providing straps for easy carrying.
Price: $149.95
Highlights: Alignment markers, ergonomic design, and lightweight.
About Exercise Mat: This lightweight yet durable mat offers superior grip on hands and feet, plus plenty of traction to stay put on all types of floors – from hardwood to carpet. It's designed with helpful alignment markers in place to make it easier than ever to practice your form in yoga poses like lunges and sumo squats.
And best of all, its ergonomic design makes it extra comfortable even during those tough workouts.
Price: $39.99
Highlights: Tri-Fold design, built-in carrying handles, and vinyl surface.
About Exercise Mat: Discover one of the most durable, resilient, and supportive exercise mats today with ProsourceFit Exercise Mats. These mats provide exceptional cushioning, keeping your joints safe and sound during any fitness activity. Take your workouts wherever you go with the convenient Tri-Fold design that compacts down for easy storage.
Plus, it's incredibly easy to take with you on all your fitness adventures thanks to two built-in carrying handles. The vinyl surface is extra tough and resistant to tearing or stretching and is super easy to clean as well.
Price: $29.99
Highlights: Ultra-grippy surface, simplistic design, and 7mm thick.
About Exercise Mat: Be ready to take your workout game to the next level with the Adidas Exercise Mat. Designed with both comfort and stability in mind, this lightweight but durable mat will be your ally while you push yourself to optimize performance. The ultra-grippy surface ensures that it will stay in place while still offering enough cushioning for a comfortable surface to work out on.
Plus, its simplistic design guarantees that it won't disrupt your workouts and will blend into any home exercise space or gym. On top of all these great features, the 7 mm thick fitness mat also boasts quick roll-up storage for convenient transportation and long-lasting use that make it perfect for all levels and styles of training.
Price: $24.99
Highlights: Interlocking tiles, ½" thick, and end borders.
About Exercise Mat: Introducing the BalanceFrom Puzzle Exercise Mat. Stay fit and motivated in your own personalized home gym with these interlocking exercise tiles. These cushioning hardwood mats are 1/2 inch thick, with enough padding to absorb shock and sound while you work out.
The best part is they come as a set of 6 tiles with end borders that make the corners of the mat look polished, so you can design a space that fits all your needs. So if you are looking to cover a larger area, consider some of these flooring pieces rather than a single exercise mat.
Price: $94.99
Highlights: 24 square feet, noise and vibration reducing, and upgraded foam.
About Exercise Mat: With its large 24-square-foot size and high-density foam technology, you won't have to worry about comfort or stability. This mat is suitable for all forms of intense exercise, including HIIT, weightlifting, Zumba, and more.
Not only will it protect your floors during heavy cardio sessions, but it also reduces noise and vibration thanks to its superior craftsmanship. Best of all, the upgraded foam provides extra cushioning and support for your knees and elbows while enduring even the toughest workouts. Finally, you can trust in the tear resistance and wear resistance features of this great mat to keep it lasting well through years of use.
Price: $44.99
Highlights: Real wood and marble designs, high-density EVA foam, and interlocking system.
About Exercise Mat: Welcome to workout luxury. Yes4All Wood Exercise Mats provide the convenience of tiles with the glamour of real wood and marble designs, allowing you to create a home gym that is both functional and aesthetically pleasing.
Made of high-density EVA foam, these durable mats will absorb any shock from those leaps or heavy lifts, offering superior cushioning to ensure safe and comfortable exercise. The special interlocking system allows you to assemble as much space as you need, filling up an entire 48 square feet area, so you have plenty of room for all your workouts.
Spark your creativity with 6 colors available – imitation wood colors like maple and chestnut, as well as gray granite like Florentine and marble favorites like Carrara white.
Price: $19.47
Highlights: ½" thick, shock-absorbing, and a shoulder strap for transporting.
About Exercise Mat: It's time to get fit and stay healthy with Amazon Basics' line of exercise mats. This extra-thick mat is lightweight, portable, and perfect for yoga, the gym, and everyday exercise. With a 1/2 inch of cushioning, you get maximum support and shock absorption while practicing those healthy habits.
The textured foam provides crucial traction and stability so that you can focus on your workout without worrying about slips or falls. And once you are done, simply roll up the mat and store it using the elastic straps that come included. To top it all off, there's also a shoulder strap that makes transporting your mat a breeze.
Best Exercise Mats Conclusion
No matter what your exercise routine looks like, having a quality exercise mat is important. Investing in a mat that is the right size, thickness, and material for your needs will help you get the most out of your workouts.
Be sure to consider your intended use for the mat before making your purchase to ensure you choose the best option for you. But you really can't go wrong with any of the choices on this list of the best exercise mats.
And if you really want to take your fitness to the next level, visit our lists of the best workout supplements, best protein powders, and best BCAAs. All of these lists will help ensure that you are fueled up for your workouts and can maximize your fitness results.
Please make sure to comment below if you have feedback on any of these exercise mats. We know that all of our readers would appreciate your comments.