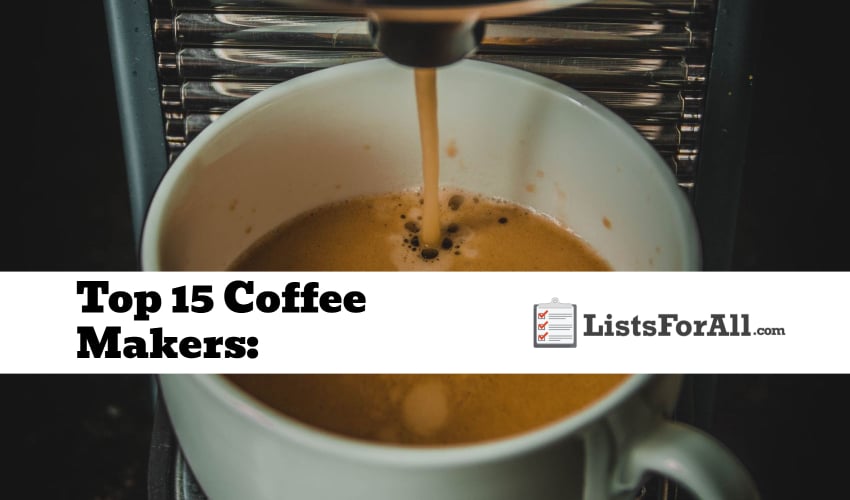 Best Coffee Makers: Finding the Perfect Coffee Maker for You
When it comes to starting your mourning off with a cup of coffee (a non-negotiable for many), you want something simple, fast, and great tasting. And while you can get your morning cup of joe from a variety of places, this list of the best coffee makers will ensure that the best place is right in your own kitchen. No more waiting in line at a coffee shop because you can have an amazing cup of coffee anytime you want at home.
This list of the best coffee makers will feature the top coffee makers and help you find the right option for you. Whether you are looking for a basic, all the bells and whistles, or whatever, this list will have the perfect coffee maker for you. 
These coffee makers will allow you to have a tasty cup of coffee anytime. And with the fast brewing capabilities of these coffee makers, it won't take long, either. All you will need to do is decide on your favorite coffee brand. After that, it is as easy as putting in the grounds, pushing start, and then enjoying a hot cup of coffee a few minutes later.
After you finish with this list of the best coffee makers, visit a few of our other dessert-related lists. Our lists of the best cake recipes, best cookie recipes, and best dessert recipes will provide you with the perfect pairing for your cup of coffee. Because who could say no to dessert and coffee?
Top 15 Coffee Makers:
Highlights: Easy-to-use single-serve k-cup pods, built-in water reservoir, and simple-to-use buttons.
About Coffee Maker: This Keurig coffee maker provides the perfect balance between ease and convenience. Consumers can use this coffee maker by simply inserting a k-cup pod into the machine and selecting a brew size. This model also features a water reservoir that holds up to 48 ounces, which means consumers can make over 6 cups of coffee before needing to refill.
All of this allows for not only being one of the best single-serve coffee makers out there but also one of the best coffee makers overall. Plus, with the ability to order a variety pack of Keurig cups, you can mix up your coffee as often as you would like. 
Highlights: Two brewing options, automatic shutoff, convenient wake-up feature, and the ability to select brew strength.
About Coffee Maker: The Hamilton Beach 2-way brewer coffee maker offers a modern take on a classic coffee pot. While using this coffee maker, consumers can choose between the single cup or full pot brewing options, depending on their needs each morning.
This Hamilton Beach coffee maker also allows users to pick either a regular or bold brew strength and then program it to make the coffee at whatever time they desire. It also features a two-hour automatic shutoff feature for peace of mind for users who are in a rush to get out the door in the morning.
Highlights: Self-cleaning, auto shutoff, and temperature control features. 
About Coffee Maker: It's all in the name with this Cuisinart Perfectemp Coffee Maker. One of this model's top features is the state-of-the-art technology that allows users to adjust the temperature of the coffee to their liking, which makes it easy to keep coffee hot that isn't going to be consumed right away.
This top coffee maker also has a self-cleaning feature to remove the extra hassle of consumers cleaning it themselves. This is a game-changer for those who don't like cleaning (everyone). Finally, it also includes an auto-shutoff feature between 0 to 4 hours, depending on each consumer's needs.
Price: $89.99
Highlights: Removable water reservoir, a 24-hour programmable delay, and hotter brewing technology.
About Coffee Maker:  The Ninja CE251 Programmable Brewer is one of the best coffee makers because of its convenience. The featured technology allows users to customize brew strengths and adjust the temperature to have a piping hot cup of coffee every time.
The water reservoir is also removable, which makes refilling the water simple when it is running low. This coffee maker also has dishwasher-safe parts, allowing for quick and easy cleaning when needed.
Highlights: Drip-free carafe, superior flavor extraction, and always-hot internal water. 
About Coffee Maker:  The BUNN GRB Velocity Brew 10-Cup Home Coffee Brewer has a sleek design and a few key features that help make it one of the best coffee makers. The drip-free lid and spout design provide a mess-free experience for users when they are pouring their coffee into a mug.
This model also allows consumers to brew 4 to 10 cups of coffee at a time and always has internal hot water available. So whether you are looking for a small pot or large, this coffee maker can accommodate your needs. This is perfect for larger families that enjoy coffee. 
Highlights: Dual water window, on/off indicator, easy cord storage, budget-friendly
About Coffee Maker: The Mr. Coffee coffee maker is a budget-friendly, reliable choice that gets the job done. This model has a simple design and features, including a dual water window, an on/off indicator, and a lift and clean filter basket.
All f this allows consumers can have a hot pot of coffee after only a few quick steps. The affordability and convenience of this coffee maker are what helped land it on the list of best coffee makers.
Highlights: Single-serve capsules, large water tank, and fast heat-up time. 
About Coffee Maker: The Nespresso Vertuo Plus Coffee and Espresso Maker allows users to brew a single-serve coffee, single espresso, or double espresso drink at the push of a button. This model features a fast heat-up time and Nespresso's Certifusion technology to help make the perfect cup of coffee each time.
This Nespresso machine also has an auto-shutoff feature to help save energy when it is not in use. It also includes a complimentary set of Nespresso Vertuo assorted capsules to help users get started and find a flavor that they love.
Highlights: High-quality seals, burn guard handle, and easy assembly. 
About Coffee Maker: The GROSCHE Milano Stovetop Espresso Maker lets consumers make espresso or Cuban coffee with only a few simple steps. This budget-friendly coffee maker also boasts plenty of safety features to keep users safe while making their coffee on the stovetop.
This model is available in 3, 6, or 9 cup sizes, so you can decide which size is best for your needs. Although this is not a typical coffee maker, it can still compete with the others on this list of the best coffee makers and offers a great cup of coffee. Plus, it is just that much more fun to use!
Highlights: Anti-drip system, pure flavor system, and a 24-hour programmable timer. 
About Coffee Maker: The Braun BrewSense Drip Coffeemaker features a pure flavor system to maximize the coffee flavor and aromas by adjusting temperature and brew time to each user's liking. This coffee maker also has modern features, including a digital display, 24-hour programmable timer, and anti-drip system.
The simple, straightforward operation of this coffee maker helps make users' mornings a little more hassle-free, which will allow you to sleep in longer or better use this time for other things. Either way, you can know that your coffee will be ready to go when you need it.
Price: $63.87
Highlights: Custom brewing, QuickTouch programming, and streamlined grinding and brewing.
About Coffee Maker: The BLACK+DECKER 12-Cup Mill and Brew Coffeemaker landed on the list of the best coffee makers partly because of its all-in-one capabilities. Users simply insert coffee beans or grounds, click a couple of buttons, and then sit back and wait for this machine to do the rest.
Consumers can also use the auto brew feature to make their mornings a little easier by choosing what time the machine will prepare their coffee. Also, you can brew up to 12 cups of coffee at a time, so if you have multiple coffee drinkers in the house, you will be good to go.
Price: $319.95
Highlights: Features a thermal carafe, temperature presets, small cup mode, and precision brewing capabilities.
About Coffee Maker: Are you looking for a coffee maker that takes your morning brew to the next level? Look no further than the Breville Precision Brewer. This top-of-the-line machine features a thermal carafe and temperature presets that ensure your coffee is always brewed to perfection.
Plus, the small cup mode lets you enjoy a quick cup of coffee even when the carafe is not in place. With its precision brewing capabilities, the Breville Precision Brewer is sure to become your new favorite way to start the day.
Price: $129.99
Highlights: Brews 8 cups of coffee in six minutes, has a thermal carafe, and parts are dishwasher-safe.
About Coffee Maker: If you're looking for a great cup of coffee and don't want to spend all morning waiting for it, the Bonavita Connoisseur One-Touch Coffee Maker is perfect for you. This machine can brew up to 8 cups of coffee in just six minutes, and its thermal carafe ensures that your coffee stays hot until you're ready to drink it. Plus, all of the parts are dishwasher-safe, so clean-up is a breeze.
Price: $319.00
Highlights: Is loaded with features, has a 9-hole spray arm, and can brew 40 ounces in under 6 minutes.
About Coffee Maker: The Technivorm Moccamaster Coffee Brewer is one of the most highly respected automatic drip coffee makers on the market. This machine is loaded with features like a proper brew temperature, sustained brewing temperature, and thermal carafe to help you get the perfect cup of joe every time.
Plus, its 9-hole spray arm ensures even water distribution, and the copper lining helps keep your water temperature consistent. With the press of a button, the Technivorm can brew 40 ounces in under six minutes – perfect for those mornings when you need an energizing pick-me-up!
Price: $209.99
Highlights: Brews a perfect pot of coffee every time, makes sure coffee stays hot, and has an intuitive LED interface.
About Coffee Maker: Everyone loves a good cup of coffee, but not everyone has the time or patience to make it themselves. That's where the OXO 9-Cup Coffee Maker comes in – it takes all of the guesswork out of brewing a perfect pot of coffee and makes sure it stays hot so you can enjoy every last drop.
Plus, with its intuitive LED interface, you'll always know just how fresh your coffee is. Whether you're making a cup for yourself or for a whole group, the OXO 9-Cup Coffee Maker is the perfect way to start your day.
Price: $349.00
Highlights: Has Wi-Fi connectivity, an auto brew feature, and adjustable brew strength and temperature.
About Coffee Maker: Are you looking for a great drip coffee maker that has all the bells and whistles? Look no further than the GE Café Specialty Drip Coffee Maker. This top-of-the-line appliance has Wi-Fi connectivity, so you can use it with the SmartHQ app, Amazon Alexa or Google Home.
It also features an auto brew feature that lets you set your preferred time and carbon water filters to save you from having to use a Brita filter. Plus, you can adjust the brew strength and temperature to your liking!
Best Coffee Makers Conclusion
As you can see from this list of the best coffee makers, it has never been easier to enjoy a delicious cup of coffee anywhere. All you need to do is add one of these coffee makers to the rest of your kitchen appliances. After that, it is as simple as dropping in the coffee, pressing a button, and then waiting to enjoy your favorite blend shortly after.
And, with all of the different features that these coffee makers offer, you can find the perfect one for you. Whether you need a single cup, timer, espresso, etc., you can find what you need. All of this will make your coffee-making experience that much easier and allow you to enjoy a cup of coffee the way that you like it.
For even more drink-related lists, visit our lists of the best smoothie recipes and best mixed-drinks recipes. You can find the perfect drink for any occasion with all of these lists. After that, all you need to do is sit back, sip, and enjoy!
Have you tried one of these coffee makers before? We would love to hear your feedback in the comments below if you have.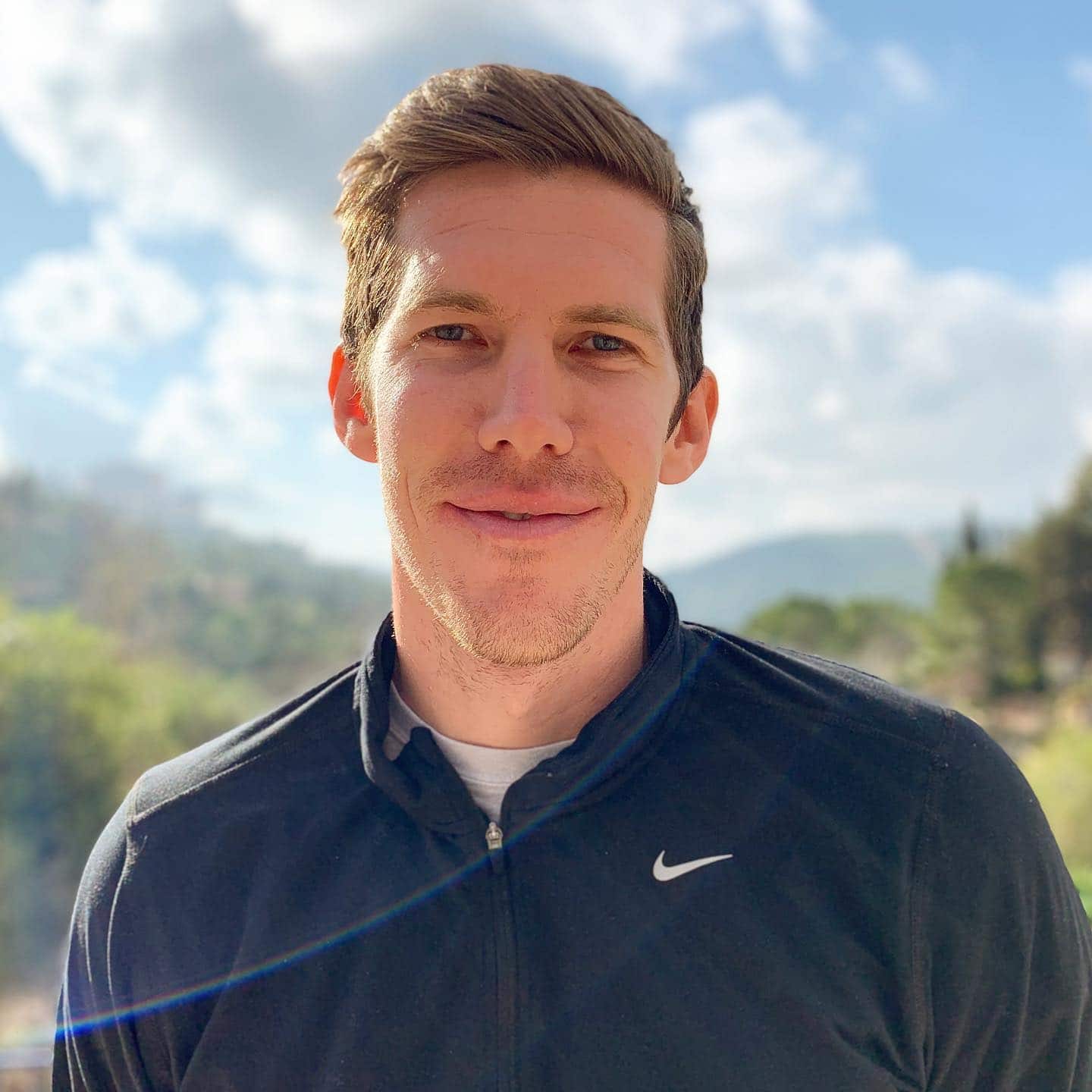 Kyle has a background in sports, fitness/health, and business. However, he also has a passion about researching all topics, and is dedicated to making lists that will help make your life easier.