Ski Resorts in the US: The Top 20 List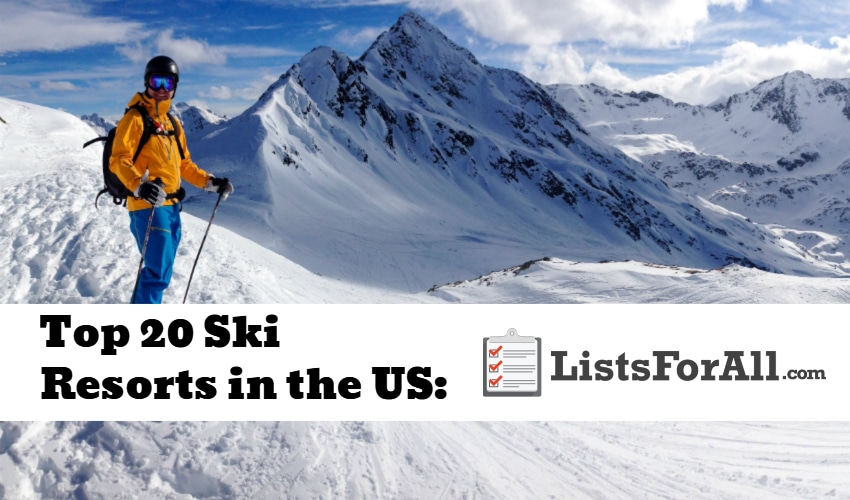 Ski Resorts: The Best in the United States
There is nothing quite like the exhilaration of skiing down a beautiful mountain slope. Especially when you add in a top-notch resort to come back to at the end of the day.
That's why we have compiled a list of the 20 best ski resorts in the US. You will be able to checkout some of the best ski spots all over the US and hopefully find your next ski trip destination.
While this list favors western destinations, we have also included several eastern ski resorts that will please the most particular skiers. Take a look through our list, and if you have skied and stayed at one of our picks let us know what you thought of it below!
Top 20 Ski Resorts in the US:




As the entryway to world-famous Yellowstone Park, Jackson Hole boasts every amenity imaginable, as well as rugged and picturesque mountain scenery. While the Jackson Hole Mountain Resort is the preferred location for both skiers and snowboarders, other popular nearby locations include Snow King and Grand Targhee.




A quaint European inspired village, the town of Stowe boasts 116 trails as well as over 300 annual inches of natural snowfall. Additionally, the town boasts two top-notch hotels, as well as a number of condos and townhomes. Other amenities of the Stowe Mountain Resort include a ski school, spa, wellness center, and a children's adventure center.




With over 5200 acres of skiable terrain, Vail Mountain is one of largest ski resorts in the world. Quality is just as present as quantity, however, with Vail being used by the US Ski Team and having played host to the World Alpine Ski Championships. The village of Vail also offers superb service and amenities, like the impressive 100,000 square foot Arrabelle's Rock Resorts Spa.




Located in beautiful Park City, Utah, Park City Mountain Resort has 7300 acres of skiable terrain. A recent $50 million investment has helped the resort to become one of the premier destinations for family skiing and snowboarding. A vibrant culinary scene in both the town of Park City as well as the resort ensures that when you are done skiing, you have something delicious to eat.




Featuring the highest chairlift in North America and five dramatic peaks, Breckenridge, Colorado is a premier skiing destination. The historic town of Breckenridge also features colorful Victorian houses, a happening arts scene, and a vibrant food scene. For a true skiing experience, Breckenridge is the place to be.




In the heart of the American West and steeped in history, Steamboat Resort in Steamboat Springs, Colorado is an authentic mountain town experience with a touch of luxury. Featuring 165 trails and almost 800 surrounding area ranches, there is no shortage of scenery. Plenty of snow also makes this an excellent choice for serious skiers.




California's highest four-season resort (over 11,000 feet above sea level) is about five hours north of Los Angeles and three hours south of Reno. With stunning views around every corner and great amenities at the resort, Mammoth Mountain Ski Resort is a no-brainer.



With more than 2,000 acres of varied terrain and 3,400 vertical feet, Sun Valley Resort in beautiful Sun Valley, Idaho is a true destination ski resort. Two mountains in the valley provide endless fun, while 13 chairlifts and a "Wundercarpet" make for no wait times. Adventure trails and a full-featured terrain park also add to the resort's appeal, making this an excellent resort for the whole family.


Situated in the largest ski area in the eastern United States, Killington Mountain Resort near Killington, Vermont has the largest vertical drop in New England (just over 3,000 feet). Skiers of all abilities will have fun here, and the 22 lifts (including two express gondolas) help to cut down on wait time.




A great place to ski (or snowboard), Big Bear Mountain Resort has an innovative park design and a variety of word class features spread out over 748 acres. A state of the art snowmaking system ensure snow year round, and a fleet of certified skiing instructors will ensure that skiers of all levels can improve their skills.




A great family-friendly ski resort in the Pocono mountains of Pennsylvania, Camelback Ski Resort is an excellent resort for first-time skiers or for families looking for activities in addition to skiing. With 166 skiable acres, 16 lifts, and 100 % snowmaking on all 166 acres of terrain, Camelback is a great choice for families.




Just outside of Glacier National Park, Whitefish Mountain Resort is nicknamed Big Mountain for a good reason – there are over 3,000 acres to choose from. Vast numbers of both bowl and tree skiing are available, as well as 105 marked trails. Four terrain parks and a skier/boardercross course are also available, adding to the immense appeal of Whitefish.




Snowshoe Resort in West Virginia is an easy drive from D.C. and features 41 trails, seven lifts, and 100% snowmaking. A variety of runs allow everyone from beginners to experts to have fun, while the 257 acres of skiable terrain and 1500 vertical feet ensure that you always have something fun to do.




A no-frills classic Southwest resort, Taos Ski Valley puts skiing first. Powder shots, sharp chutes, cornices, glades, and gentle slopes all make their way into the area terrain, making Taos an excellent resort for skiers of all levels.




Lake Tahoe is not only gorgeous; it also has a number of ski resorts, mountains, lifts, and entertainment options to choose from. Add in the 400 plus inches of snow that pile up each year in the Tahoe area, and ski slopes like Heavenly, Squaw Valley and Northstar become a skier's paradise.




Located just 50 minutes from Denver, Keystone Resort boasts one of the best-ranked terrain parks (A51) in the country. The park also boasts the longest ski day in the state, with slopes open from 8:30am-8pm. Other attractions include AAA 4 Diamond rated restaurants, as well a luxury spa and a 5-acre skating rink.




Situated at 9500 feet, the scenic village of Telluride features some world-class resorts like The Peaks, Lumiere, and Hotel Madeline – all hotels with an emphasis on service and luxury. Telluride mountain terrain is just as varied – a little over half of the terrain is suitable for beginner or intermediate skiers, while popular trails like the See Forever trail are enjoyable for both beginners and experts.




With the most significant vertical drop east of the Rockies, Whiteface Mountain just outside of Lake Placid, NY offers both challenging terrain and beginner to intermediate skiing. In fact, between the mountain's 86 trails, 20% are suitable for beginners, while the remainder is rated intermediate to expert. The village of Lake Placid is also a two time Olympic Village location and boasts a number of winter events and activities.




With great ski-in and ski-out lodging, and a family-friendly atmosphere, Snowmass has a lot going for it. Snowmass is not alone, however – there are three other nearby ski resorts, and one lift ticket provides access to both Snowmass and the neighboring resorts. Snowmass also has the longest vertical descent in the United States (4406 feet) and is only a short drive from the nightlife and action of Vail.




Located around 45 minutes from Salt Lake City, Alta boasts fantastic terrain and powder, as well as relatively cheap lift tickets. When you get hungry from all the skiing on the slopes, Alta also offers two ski-in ski-out restaurants. Take note, however, Alta is for skiers only – snowboarding is not permitted at Alta.
Best Ski Resorts in the US 
Conclusion 
Not only will these resorts provide some of the best skiing in the country, the views and atmosphere of the resorts are also second to none.
Most of the locations in this list of the best ski resorts are located out on the west coast, but as you have seen from the list above, there are still some quality ski resorts located on the east coast as well.
Let us know how your ski trip went in the comments below; we would love to hear your feedback.