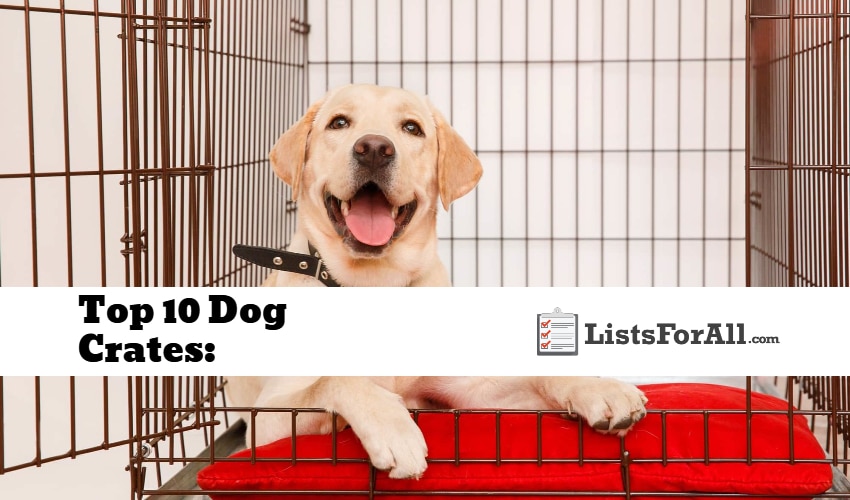 Best Dog Crates: Finding the Perfect Dog Crate for Your Pup
When it comes to finding the perfect dog crate, it isn't just about a place to store your dog when you aren't home. It is about finding a safe place for your furry best friend that is comfortable and adequate for their needs, and that is what this list of the best dog crates will ensure.
This list of the best dog crates will highlight the top dog crates for your furry best friend. With this list, you can find the perfect dog crate to make sure that your dog is safe, secure, and comfortable when you are not able to be there with them. 
Also, many of these dog crates serve different purposes. Some are more stylish, while others are more durable, and some are even made for traveling. These options will make sure that you find the perfect dog crate for whatever your needs are.
With the right dog toys, bedding, food, and water, these dog crates will give you full confidence to leave your pup at home and know that they are okay.
After you finish with this list, make sure to take advantage of all the rest of our dog-related lists. Our lists of the best dog collars, best dog food brands, best dog toothpaste, and more will provide all the resources you and your furry best friend need.
Top 10 Dog Crates:
Price: $38.99
Highlights: A robust and secure metal dog crate that folds down flat for easy storage.
About Dog Crate: This metal, virtually indestructible dog crate from New World Pet Products makes for a perfect indoor dog kennel. Its robust and rigid design is ideal for dogs in the 26 to 40-pound range. A single door and metal latch will ensure that your four-legged friend stays safely secured when being used.
Another great feature is the ability to quickly break down the dog crate for easy storage when not in use. Maybe, add in a comfy blanket or towel for a little extra padding. You never know; you may just see your furry buddy looking forward to some time in this durable dog kennel.
Price: $76.71
Highlights: Soft materials and breathable mesh windows provide maximum comfort for your canine.
About Dog Crate: One of the must-have travel accessories is a safe and reliable travel dog kennel for dog lovers on the go. Among the best dog crates for large dogs is this one from Amazon Basics. This durable dog kennel is perfect for breeds weighing around 76 to 90-pounds but still works great for smaller dogs.
Comfortable polyester fabric is wrapped around a strong PVC frame to provide a secure and safe home for your house pets while on the go. Plus, setup is easy and should only take you a few seconds.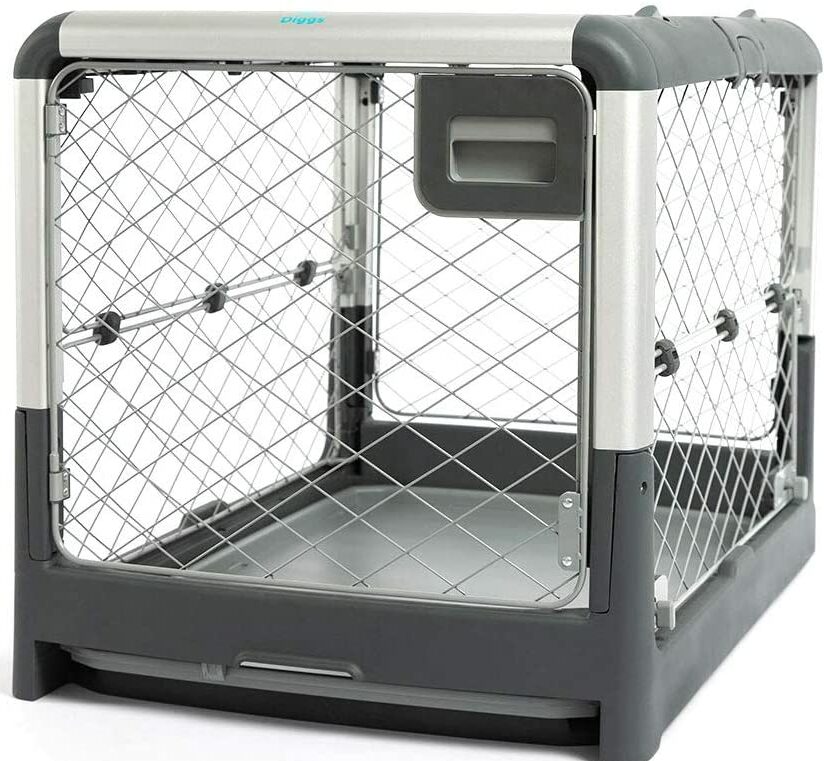 Price: $325.00
Highlights: This durable dog crate is designed to surpass industry standards.
About Dog Crate: This dog kennel from Diggs is one of the best dog crates on the market today. And while it is one of the more expensive dog kennels on this list, you get a wealth of features for the money. The crate, for instance, is constructed of robust high-grade aluminum, reinforced plastic, and a strong mesh steel wire.
What's more, a patent-pending mechanism allows for an easy one-handed breakdown of the entire dog crate. Built-in wheels and a convenient carry handle make transporting and storing this durable dog kennel a breeze.
Price: $260.96
Highlights: This stylish dog kennel will look great in any home.
About Dog Crate: One great decorating tip for all dog lovers- find a dog kennel that matches your indoor style. Like this one from Birdrock Home, for instance. What helps to make this one of the best dog crates available is its versatility.
For example, while it's perfect for keeping your smaller dog safe and secure, this stylish crate can also double as a gorgeous end table or nightstand. Exquisitely designed wood is strengthened by wire mesh to provide your canine companion with an elegant and safe home. Lastly, a brass latch further seals this as one of the best indoor dog kennels you can find.
Price: $116.99
Highlights: This strong portable dog kennel is excellent for indoor or outdoor use.
About Dog Crate: Your canine friend will love the spacious and plush interior of this indestructible dog crate from Petsfit. Plus, waterproof materials make it a perfect choice for outdoor use. Soft mesh windows with zippered flaps allow you to control ventilation, maximizing your furry companion's comfort.
Also, this durable dog crate folds down easily for storage and has a convenient back pocket to hold supplies in. All of this allows this dog kennel to sit securely among the best dog crates on the market today.
Price: $299.99
Highlights: Heavy-duty construction means this dog kennel is built to last.
About Dog Crate: Petgroomingtable provides us with this durable, nearly indestructible dog crate. 20-gauge solid steel is used to produce this escape-proof dog crate that can accommodate the largest of dog breeds. Also part of the secure design, this dog crate features strong double-bolt locks to hold even the most rambunctious dogs.
Even more, a powder coating is applied to the dog kennel to protect against corrosion and rust. The coating helps keep the dog crate easy to clean and ensures you'll have it for years to come. Plus, four swivel wheels allow you to quickly and easily move this heavy-duty dog kennel around your property or inside your home.
Price: $44.95
Highlights: This dog kennel is lightweight and approved for air travel.
About Dog Crate: If you're looking for ways to save money and keep your small dog safe and secure, this dog crate from Petmate may be what you're looking for. This rugged little dog kennel is one of the best dog crates on the market today. And why wouldn't it be? It's lightweight, easy to transport, and approved for use by most airlines.
Two doors, one in front and one on top, make getting to your small dog quick and easy. Plus, vented sides help to ensure your little pal stays comfortable no matter how long the trip is.
Price: $52.99
Highlights: A soft, comfortable carrier that is perfect for small dog breeds.
About Dog Crate: This soft yet durable dog crate from Amazon Basics may be the perfect way to bring your canine friend along on trips. The PVC and polyester construction combine to form a nearly indestructible dog crate. However, the best part about this dog kennel is that your dog's comfort was made the priority.
A soft, comfortable fleece bed lines the bottom of the crate, and multiple mesh windows allow your dog plenty of fresh air and visibility. Plus, included top and side pockets provide plenty of storage for your favorite dog toys and treats.
Price: $44.00
Highlights: This small portable dog pen is perfect for play and exercise.
About Dog Crate: This neat dog pen from IRIS USA is among the best indoor dog kennels you can purchase. It offers a spacious 8-square foot of room for your furry pals to romp and play in. This dog pen is constructed of durable plastic and is designed to hold up against the most energetic pooches while they run around burning off energy.
The ability to order add-on panels will also allow you to conform your dog pen to the size and shape you need. All of this comes together to make this one of the best dog kennels available today.
Price: $179.99
Highlights: Durable and stylish wicker frame.
About Dog Crate: This dog crate is equal parts durable and stylish. The durability will keep your dog safe and secure when needed, and the elegant exterior will help better match your home's interior. If stored outside, the wicker will also double as shading without limiting airflow into the crate.
With a plastic slide-out tray, messes are easy to clean up before reinserting the tray. With a couple of comforts like dog toys and blankets, your pup will have all they need to enjoy their time inside this comfortable and stylish dog crate.
Price: $17.97
Highlights: This durable polyester dog kennel cover provides shade and comfort.
About Dog Crate: This polyester cover from HiCaptain will provide your pet with shade and protection from the elements while they are in their dog kennel. But don't worry, a mesh window provides your canine company with plenty of fresh air and ventilation.
Plus, a large zipper at the top allows you easy access to your dog crate's handle for easy transport. And the side panels can be rolled up and secured to provide your pet with the amount of visibility you choose. It's a great way to make even the best dog crates even better.
Best Dog Crates Conclusion
Not all dog crates are equal when it comes to finding a safe and secure place for your pup to stay. There are also a number of different options that may better fit what your dog needs. This list of the best dog crates not only highlights the top 10 dog crates but also provides some variation for you to choose from. Whether you need something for a large breed dog, a crate that breaks down easily, or one that is more stylish, this list has it all.
So before purchasing one of these dog crates, take a couple of minutes to figure out which will best fit your needs. After that, it is as easy as setting it up and decking it out with a few comforts for your pup. Your dog will enjoy its time in the crate as much as possible, and you will have peace of mind.
And if you want to keep your pup entertained while they spend time in their new crate, visit our lists of the best dog toys and best chew toys for puppies.
If you have feedback on any of these dog crates, please comment on your personal experience in the comments below. We would love to hear what you have to say.