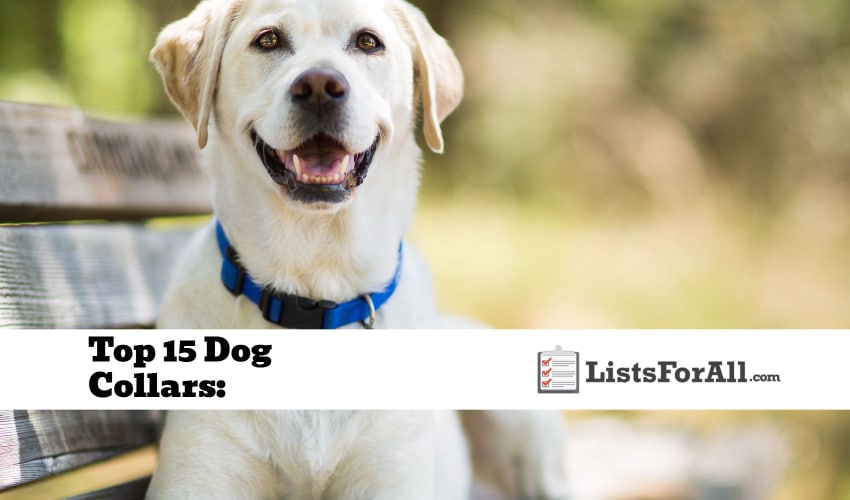 Best Dog Collars: Find the Perfect Dog Collar for Your Pup
Dogs are a part of the family, which means that you need to keep them safe and secure. A good dog collar will help to do that. It will provide something sturdy that a leash can hook to, it will provide identification, it won't be restrictive to the dog, and it can also look good. This list of the best dog collars will help you find a collar that encompasses all of these things.
With this list of the top dog collars, you can find the perfect dog collar for any dog breed, and you can also trust that it will do its job. Your dog will remain safe and secure, and you can rest easy knowing that your dog has a collar on them that will do its job.
After knowing all this, it really just comes down to preference. So whether it is based on the type of material, color, or whatever, you can find exactly what you need. You can even get your dog's name and number in bright colors on the outside of the collar, just in case. And for visibility at night, there is a reflective collar option and a glow-in-the-dark collar as well. This will make sure that your pup is visible at night.
When you finish with this list, make sure to visit our list of the best dog food brands, best dog shampoos, and best dog toys. All of these lists will help your dog feel good, look good, and have plenty of entertainment.
Top 15 Dog Collars: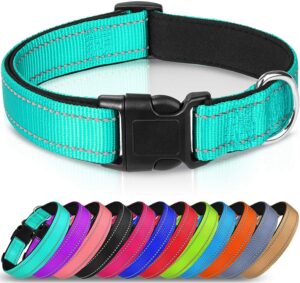 Price: $8.99
Highlights: Stylish and plenty of color options, made with reflective material, and is quick-drying and flexible.
About Dog  Collar: Looking for a stylish and safe dog collar? Look no further than the Joytale Reflective Dog Collar. Made with highly reflective threads, this collar is perfect for keeping your furry friend safe during the day and at night. The durable nylon construction is also fast drying and flexible, making it ideal for any activity.
And with 12 colors and five sizes to choose from, you're sure to find the perfect match for your pup. Plus, the quick-release buckles make it easy to adjust the fit. So give your pup the safety and style they deserve with this top dog collar.

Price: $9.98
Highlights: Made of soft, durable leather, is handmade, and has a quick-release buckle.
About Dog  Collar: The Tellpet Dog Collar is the perfect choice for stylish dog owners. Made of soft, durable leather, this collar is handmade to ensure quality and safety. The quick-release buckle makes it easy to take on and off, while the color accents add a touch of fun. All of this allows this to be one of the best stylish dog collars on the market.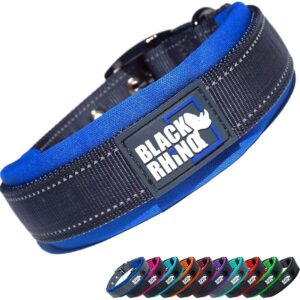 Price: $19.95
Highlights: Extra comfort and protection, heavy-duty hardware, and reflective stitching.
About Dog  Collar: The Black Rhino Dog Collar is perfect for active dogs who need a little extra comfort and protection. The soft neoprene lining helps to prevent irritation around the neck, while the heavy-duty hardware is built to withstand energetic playtime. Plus, the reflective stitching keeps you and your furry friend safe when you're out on nighttime walks.
Price: $10.95
Highlights: Martingale-style collar, made from heavy-duty nylon, and has smooth one-inch wide webbing.
About Dog  Collar: If you're looking for one of the best dog collars out there, look no further than this Country Brook dog collar. Their martingale-style collar is made from heavy-duty nylon and fitted correctly will keep your pet safe while discouraging them from escaping or pulling. Unlike some other brands, the one-inch wide webbing is smooth and extends the life of your collar.
Price: $35.00
Highlights: Training collar, controlled using a remote, and works indoors and outdoors.
About Dog  Collar: Looking for a way to train your dog effectively and easily? Look no further than the PATPET Dog Collar. This collar features two receivers that can be controlled via a remote, making it easy to correct barking, chewing, biting, and other unwanted behavior.
With a large connection range, you can easily train your dog indoors or outdoors. Additionally, the collar is rechargeable and has a long battery life, so you can keep your pooch well-behaved even on long trips. Suitable for dogs 8 to 110 lbs, this collar is perfect for anyone looking to train their canine companion.
Price: $14.99
Highlights: Is made with leather, has gold-plated hardware, and has a budget-friendly price tag.
About Dog  Collar: The Aolove Dog Collar is the perfect option for those who are looking for a fashionable and durable dog collar. Made with leather, this collar is flexible and comfortable for your pooch. The gold-plated hardware provides a touch of luxury, while the budget-friendly price tag makes it a great value.
Price: $12.99
Highlights: Soft, stylish, durable, and can fit most dogs.
About Dog  Collar: Looking for a dog collar that's both soft and stylish? Look no further than this Blueberry Dog Collar. The high-density polyester construction makes this product durable and soft, while the eco-friendly plastic buckles ensure that it's also safe for your pet.
The nickel-free coated D-ring provides even more durability, making this collar perfect for even the most active of dogs. And with the size chart, you can be sure to get the perfect fit every time.
Price: $28.00
Highlights: Made in the U.S., features reflective stitching, nylon webbing, and custom sizes are available.
About Dog  Collar: This dog collar is the perfect choice for dog owners who want the best possible protection and comfort for their furry friends. The collar is made in the U.S. and features reflective stitching to keep dogs safe while they're out and about. Owners can also choose a custom size, ensuring that the collar fits their pup perfectly.
Plus, the nylon webbing is extra strong and durable, making it perfect for even the most active dogs. Although it's a little more pricey than some other options on the market, If It Barks Dog Collar is worth every penny for its quality construction and unbeatable comfort.
Price: $33.95
Highlights: Soft and supple lambskin collar, is lined with padding, and features sturdy stainless steel hardware.
About Dog  Collar: This is one of the most stylish and comfortable dog collars on this list. These soft and supple lambskin collars are lined with padding for superior comfort and feature sturdy stainless steel hardware with a securely latching buckle. Available in a range of chic colors, these leather-padded collars are perfect for any dog – big or small.
Price: $17.99
Highlights: LED light visibility, sturdy and comfortable, and has a long-lasting rechargeable battery.
About Dog  Collar: These bright-lighted LED collars provide the ultimate safety for your dog and will allow for the highest visibility in all conditions. Unlike some other LED collars, this collar is built to last so your dog will be seen in the dark well in advance, providing protection from vehicles and other unexpected dangers during nighttime walks. Plus, the rechargeable battery lasts multiple walks – perfect for busy pet owners,
Price: $11.98
Highlights: Features 35 holes, a secure metal buckle, and comes in 3/4 or 1-inch widths.
About Dog  Collar: The Educator Dog Collar is the perfect solution for dogs of all shapes and sizes. This collar features a whopping 35 holes, as well as a secure metal buckle to keep your pup from pulling loose. It also comes in 3/4- or one-inch widths to accommodate differently proportioned necks. Plus, the extra length can be easily cut down without compromising its integrity.
Price: $7.99
Highlights: Has soft nylon web material, an indestructible buckle, a rust-proof D-ring, and comes in three widths and nine neck sizes.
About Dog  Collar: Looking for one of the best dog collars available? LupinePet has you covered. Their nylon web material is soft and won't chafe or rub against your pup's neck, while the custom-designed buckle is virtually indestructible, and the welded steel D-ring is rust-proof.
These collars come in three widths and nine different adjustable neck sizes (perfect for dogs of all sizes). You can choose from basic solids, eco-fabrics made from recycled water bottles, reflective neons, original designs, and fun seasonal prints. So whatever your pup's style, they have the perfect collar for them.
Price: $11.99
Highlights: Easy-to-see print, different color options, and is made of quality material.
About Dog  Collar: This dog collar is stylish, durable, and perfect for dogs that can sometimes find themselves in unfamiliar areas. These collars are made of the highest quality materials and are customized with your dog's name and phone number.
Plus, the reflective fabric ensures your pooch is safe and easy to spot in low-light conditions. Whether you're taking your pup on a walk or out for a run, make sure they're always safe and easily identifiable with one of these top dog collars.
Price: $14.99
Highlights: Has double thick, one-inch wide nylon, gunmetal hardware, and metal-reinforced eyelets.
About Dog  Collar: Max and Neo Dog Collars are designed with your furry friend's comfort in mind. The sturdy, one-inch wide nylon is double thick, making it more durable and comfortable. Gunmetal hardware – including a securely locking buckle instead of a cheap plastic clasp – adds an extra layer of toughness, while the metal-reinforced eyelets keep the collar looking good wash after wash.
Price: $16.95
Highlights: Tons of customization options, plastic hardware, and uses a clasp instead of a buckle.
About Dog  Collar: GoTags offers one of the best Dog Collar out there. It offers tons of customization options. From adding your pet's name and phone number to choosing from a variety of colors, you can do it all with these dog collars. These collars are also very light and comfortable on your dog as it uses a durable plastic clasp and light, sturdy material. This will allow your furry friend to have the comfort and protection they need.
Best Dog Collars Conclusion
Hopefully, you should have found a dog collar or two that piqued your interest with all of these different options. From here, it is as easy as ordering your choice and then outfitting your pup with their brand-new collar. They will have a comfortable, durable collar that will last and help keep them safe and secure, allowing you to rest easier.
Once you get your dog collar, you can start planning fun activities with your furry best friend. Whether hiking, going for a run, or exploring downtown, you can enjoy all of these activities. You and your pup might even get complimented a time or two on their new collar.
If you are still looking for more dog-related content, make sure to visit our lists of the best dog toothpaste, best dog harnesses, and best dog crates. These lists will help you provide even more great items for your pup.
Have you tried one of these dog collars before? If you have, make sure to comment your thoughts below on what you thought about it.