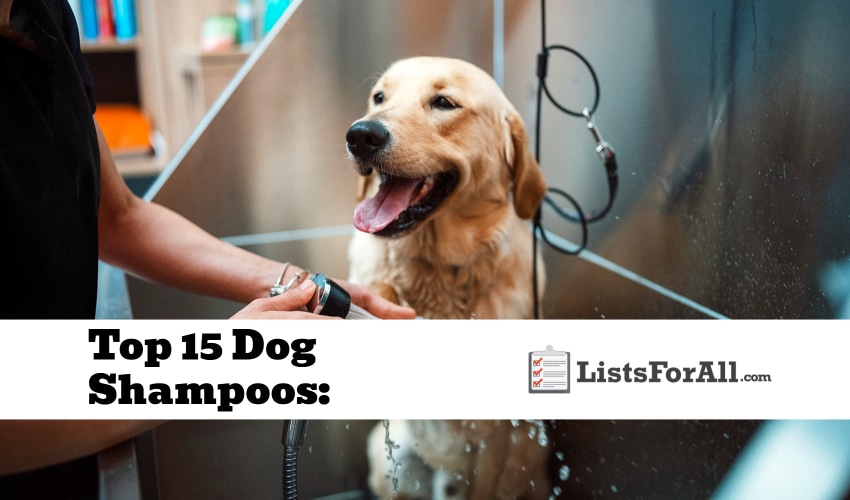 Best Dog Shampoos: Finding the Perfect Dog Shampoo for Your Pup
Whether you have an inside dog or an outside dog, they will eventually get to the point where they need a good washing. A bath will help them smell better for you, and they will feel much better after. This list of the best dog shampoos will make sure that your dog is getting the best of the best. They will not only get clean but have a healthier, stronger coat of fur after.
This list of the best dog shampoos will feature the top dog shampoos and will help you find the right choice for your pup. With one of these top dog shampoos, you can make sure that your pup has healthy fur and is looking its best. 
While each dog shampoo has its unique qualities, all of them are sure to not have any harsh chemicals in them that could be harmful to your dog. This will give you confidence in your dog's shampoo and help to keep your dog looking and feeling its best.
And who knows, after using some of these dog shampoos, your pup may even start to enjoy their bath time! We know that you will enjoy having a clean dog to pet and spoil with affection.
After this list, make sure to visit our list of the best dog toothpaste, best dog food brands, and best dog clippers. These lists will have your dog feeling and looking its best.
Top 15 Dog Shampoos:
Price: $6.41 (16 oz)
Highlights: Suitable for puppies, contains conditioner, and is tearless.
About Dog Shampoo: Burt's Bees makes one of the best puppy shampoos because its tearless formula will not burn their eyes. This 2-in-1 formula uses shampoo to clean and conditioner to soften and condition your puppy's skin and coat. Although formulated for puppies, it is 100% safe for adult dogs as well.
This natural shampoo is free of colorants, fragrances, sulfates, and harsh chemicals. While this puppy shampoo contains the highest quality ingredients, including linseed oil and buttermilk, it is still affordable. Your pup will feel refreshed after being bathed in this PH balanced 2-in-1 dog shampoo.
Price: $10.99 (20 oz)
Highlights: Cleanses and conditions, sweet scent, and natural ingredients.
About Dog Shampoo: This luxury dog shampoo will have your pet smelling sweet and fresh until their next bath. It is one of the best smelling dog shampoos on this list with a coconut and papaya scent. TropiClean is a 2-in-1 dog shampoo that shampoos and conditions. It is safe for adult dogs, puppies, and even cats.
The reason it is safe is because it is paraben-free, dye-free, soap-free, and PH balanced to leave your pet's coat and skin smelling and feeling good. Try finishing up your pet's spa day with a nail trim to leave them feeling spoiled.
Price: $14.99 (16 oz)
Highlights: Fragrance-free, moisturizes dry and itchy skin, and cruelty-free.
About Dog Shampoo: Earthbath Oatmeal and Aloe Shampoo is a great place to start for dog owners looking for the best shampoo possible. This formula is fragrance-free with colloidal oatmeal and organic aloe vera, which helps to moisturize dry, itchy skin. Earthbath products are without gluten, parabens, sulfates, phthalates, and synthetic dyes – all of which make them cruelty-free!
Price: $64.00 (16.9 oz)
Highlights: Top-of-the-line ingredients, calms and cleans the skin, and is all-natural.
About Dog Shampoo: Aesop's Animal Shampoo is perfect for those looking for a higher-end product that leaves their dog's coat with an amazing finish. This shampoo contains lemon rind and tea-tree leaf, which gives it its fragrance while also calming skin as the product cleanses dirt and grime. Plus, this shampoo is all-natural!
Price: $3.99 (18 oz)
Highlights: Helps relieve itchy and irritated skin, is safe for puppies 12 weeks or older, and is pyrethrin-free.
About Dog Shampoo: Sentry Flea and Tick Shampoo is a medicated shampoo that helps relieve irritated skin caused by flea and tick bites. The formula includes oatmeal to soothe skin, and it's safe for puppies 12 weeks or older. Plus, the oatmeal formula helps soothe itchy skin caused by bites or allergies. This top-rated shampoo is free of pyrethrin, a synthetic insecticide that can be toxic, making it a safer choice for your furry friend.
Price: $15.98 (16 oz)
Highlights: All natural and organic, USDA certified, and is available in nine different options.
About Dog Shampoo: Are you looking for an all-natural and organic dog shampoo? Look no further than 4-Legger! Their shampoos are USDA certified and contain ingredients beneficial for your dog's skin.
With nine different options to choose from, they have the perfect shampoo for any dog! Aloe vera, lemongrass, and coconut oil work to moisturize your pup's skin, while oatmeal and lavender help relieve dry and itchy skin. Peppermint and eucalyptus condition the coat, leaving your dog looking and feeling his best.
Price: $14.99 (16 oz)
Highlights: Offers aromatherapy benefits, is made with natural ingredients, and has a refreshing lavender aroma.
About Dog Shampoo: If you're looking for the best dog shampoo that also offers aromatherapy benefits, look no further than TropiClean's SPA Lavish Shampoo. This shampoo is made with natural ingredients and has a lavender aroma that can help soothe an anxious dog during a bath. Plus, it leaves your pet with a refreshing fragrance.
Price: $6.99 (24 oz)
Highlights: Allergy-friendly, used by professionals, and smells great.
About Dog Shampoo: This great-smelling dog shampoo contains oatmeal which provides itch relief by moisturizing dry skin. Besides oatmeal, it is scented with coconut lime verbena, making it one of the best smelling dog shampoos. Not only is this product affordable, but a little goes a long way.
This shampoo is a concentrate which means you don't have to use a lot of it to get a good lather going. Wahl is also a trusted dog brand that has been around for over 50 years and is used by professional vets and groomers.
Price: $11.99 (16 oz)
Highlights: Reduces shedding, contains no parabens or chemical dyes, and promotes a healthy skin and coat.
About Dog Shampoo: This product is perfect for heavy shedders as it works to help reduce your dog's shedding. To maximize its benefits, try using it in conjunction with FURminator's other deShedding products. The shampoo smells amazing due to the papaya and calendula extract it contains.
It is also enriched with Omega-3 and Omega-6 fatty acids to help promote healthy skin and coats. This product is one of the best dog shampoos and can be used regularly for a professional grooming experience in the comfort of your own home.
Price: $7.75 (16 oz)
Highlights: Veterinarian recommended, affordable, and medicated for gentle healing.
About Dog Shampoo: This is the best dog shampoo for dogs that suffer from Seborrheic Dermatitis. This shampoo is medicated with salicylic acid, coal tar, and micronized sulfur to help relieve infections and dermatitis. It also contains colloidal oatmeal and allantoin to provide much-needed hydration and soothe the skin to promote healing.
Veterinary Formula dog shampoo does not contain soap or parabens and is safe to use twice a week until the skin heals. When your dog is suffering from stubborn skin conditions, this shampoo can treat it effectively and affordably. Hopefully, you don't need to use this medicated dog shampoo, but if you do, you will be glad to have it as it is effective and helps to provide quick relief.
Price: $2.34 (20 oz)
Highlights: Provides gentle cleansing, deodorizes, and is excellent for sensitive skin.
About Dog Shampoo: This super affordable dog shampoo is great for deodorizing smelly puppies and dogs. It contains a gentle formula that can be used often, making it one of the best puppy shampoos. Also, this dog shampoo formula contains natural and PH-balanced ingredients. The baking soda that comes in this dog shampoo is effective at absorbing and removing stubborn pet odors.
This will allow your four-legged best friend to smell fresh and clean after being bathed with this deodorizing and kiwi blossom-scented dog shampoo. Since this product is one of the most affordable options on this list, the money saved can be spent treating your pup to a new dog toy as a reward for being good during bath time.
Price: $7.89 (16 oz)
Highlights: Oatmeal formula for sensitive skin, relaxing scent, and quality ingredients.
About Dog Shampoo: JP Pet Oatmeal shampoo is perfect for pets with dry, flaky, and sensitive skin. The oatmeal, aloe, and chamomile ingredients are soothing and moisturizing without irritation. The sweet almond oil scent is relaxing for pups and conditions the fur.
This product is also safe for cats, so it is an excellent solution for a multi-pet household. This brand boasts it has been tested on humans first, which means it is safe for all. Animal lovers can feel good about supporting this brand since they d0nate a portion of the proceeds of each sale to animal and wildlife organizations.
Price: $16.49 (16 oz)
Highlights: Veterinarian formulated, offers itch relief, and can be used as often as needed.
About Dog Shampoo: This gentle cleansing formula does not dry out your dog's skin, so it can be used often to relieve itchy skin caused by allergies or sensitivity. This natural remedy for your dog's itchy skin contains essential oils and natural ingredients like oatmeal, tea tree oil, and aloe.
This formula has no parabens, dyes, or sulfates because it was created to be as safe and natural as possible. Besides itch control, this product deodorizes and leaves behind a fresh scent so your dog will smell great afterward. All of this allows for this to be one of the best dog shampoos on the market today.
Price: $21.10 (16 oz)
Highlights: Premium product, contains silk proteins, and is perfect for all coats.
About Dog Shampoo: This is a premium dog shampoo is formulated for and used by many groomers. The silk proteins in this formula will add texture and body to your pet's coat. And don't be thrown off by the price; you can dilute it up to 24:1, which means a little goes a long way.
The concentrated formula is safe to use directly as well. This mild dog shampoo is enriched with vitamins, essential oils, and aloe vera, which conditions and leaves a lasting, light scent. This unique dog shampoo will make any breed of dog or cat look and smell their best.
Price: $15.15 (32 oz)
Highlights: Soothes skin, neutralizes odors, and provides moisture and shine.
About Dog Shampoo: Nature's Miracle oatmeal shampoo is formulated to neutralize odor without wet dog smell. While it contains colloidal oatmeal to soothe the skin, it also avoids drying the skin out. It is enriched with aloe and vitamin B5 to moisturize your dog's coat and make it shine.
The scent is oatmeal and aloe, which is light, clean, and not overpowering. This is one of the best dog shampoos for getting rid of tough pet smells rather than covering them up. This safe shampoo is formulated specifically for dogs and is guaranteed to get rid of the wet dog smell or your money back.
Best Dog Shampoos Conclusion
When it comes to bath time, most dogs don't really care for it. That doesn't mean that it isn't good for them, which is why you do it (it may also be to help with the smell). So why not use a quality dog shampoo with ingredients that you know you can trust?
This list of the best dog shampoos highlights ten different shampoos you can fully trust to deliver a clean pup without any harsh chemicals. Your dog will look good and smell fantastic, but more importantly, they will be left with a healthier coat of fur and skin underneath. And, of course, their soft and healthy fur will promote even more snuggles.
And to reward your pup for being a good dog while taking their bath, make sure to visit our list of the best dog toys, best chew toys for puppies, or maybe a brand new dog collar to go with their fresh wash.
Have you tried out any of these dog shampoos with your dog? If you have, please feel free to comment below with any feedback that you may have.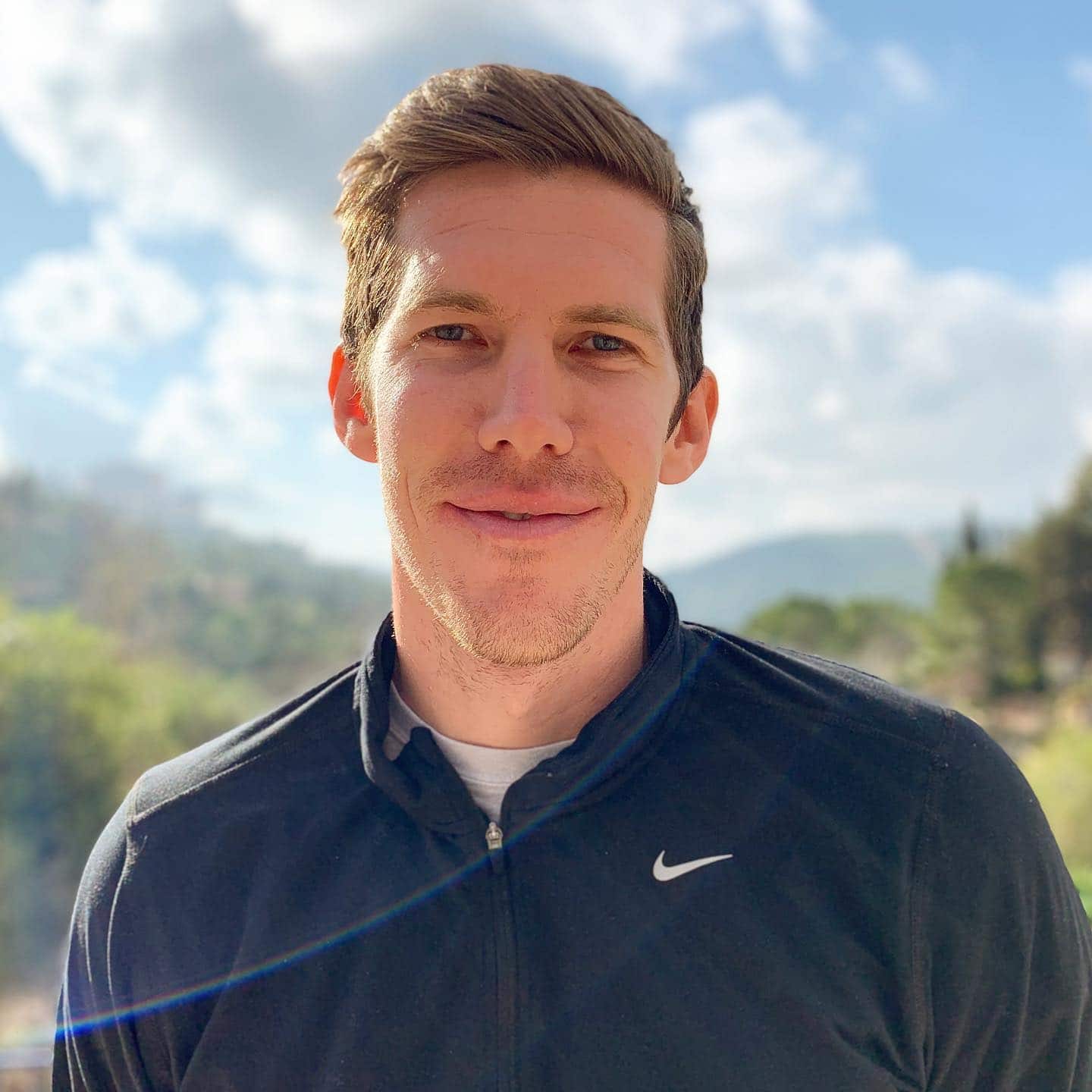 Kyle has a background in sports, fitness/health, and business. However, he also has a passion about researching all topics, and is dedicated to making lists that will help make your life easier.