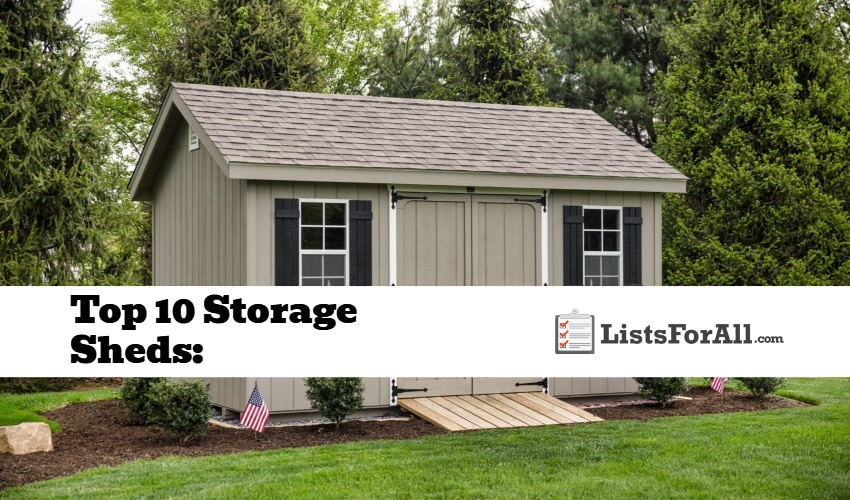 Best Storage Sheds: Finding the Perfect Storage Shed for You
Storage sheds can be a great way to declutter your home and protect your belongings from the elements. But with so many storage shed options on the market, it can be tough to decide which one is right for you.
This list of the best storage sheds will highlight the top options and will help you find what you need for all your storage. Whether you are looking based on size, materials, etc., this list will have you covered with an excellent storage option for you.
When you finish with this list of the best storage sheds, check out our lists of the best weed whackers, best hedge trimmers, and best leaf blowers so that you have something to store in your new shed..
Top 10 Storage Sheds: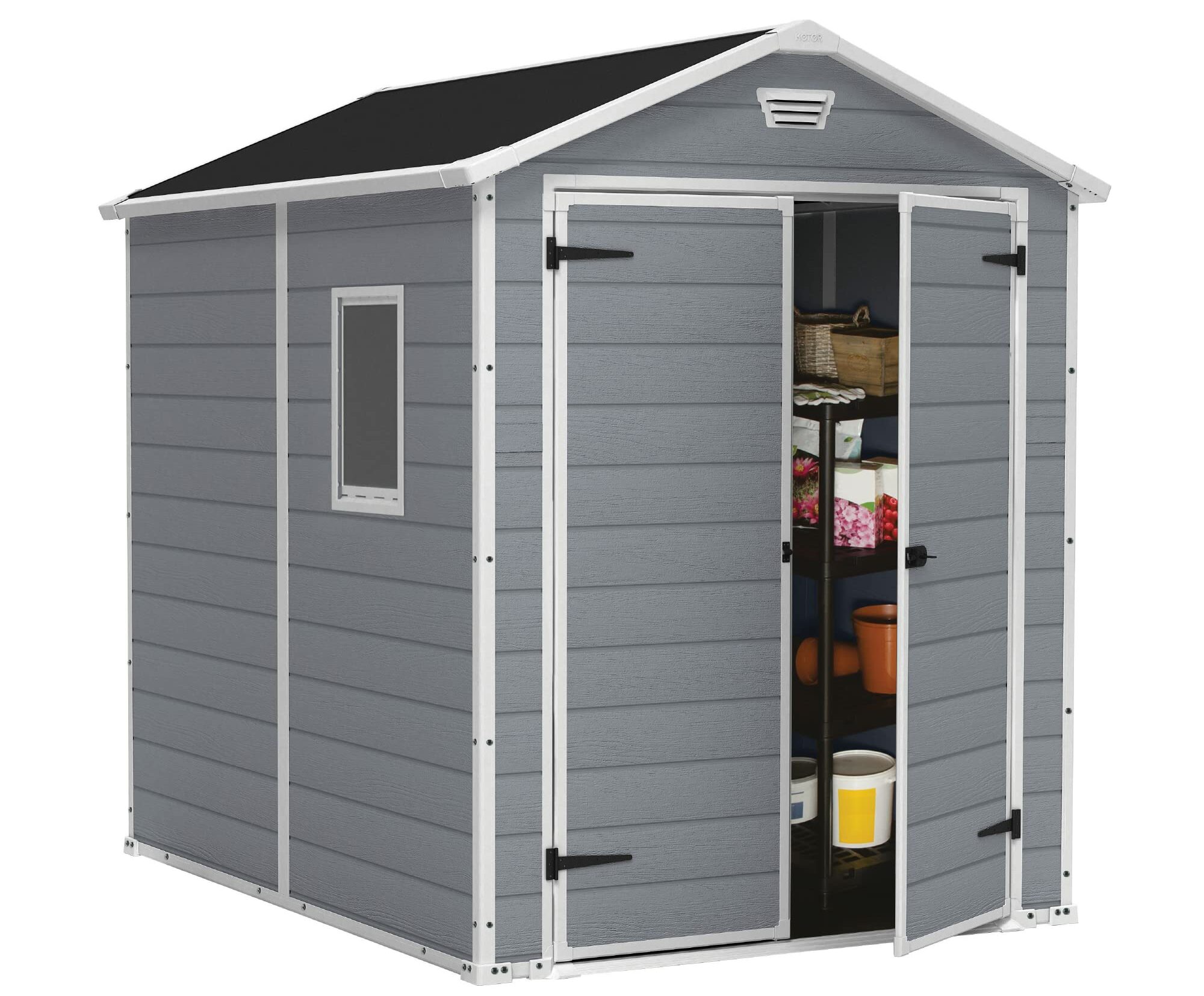 Price: $1,019.99
Highlights: Top-of-the-line plastic, double doors, and 7.6 cubic meter capacity.
About Storage Shed: Constructed out of top-of-the-line plastic, you won't ever have to worry about it warping, rotting, peeling, or denting like wooden and metal variants. Furthermore, its double doors make it incredibly easy to get larger items like lawnmowers and fertilizer bags in and out when necessary.
The cubic meter capacity inside the Manor is a spacious 7.6, which should provide plenty of room for everything you need to be stored away.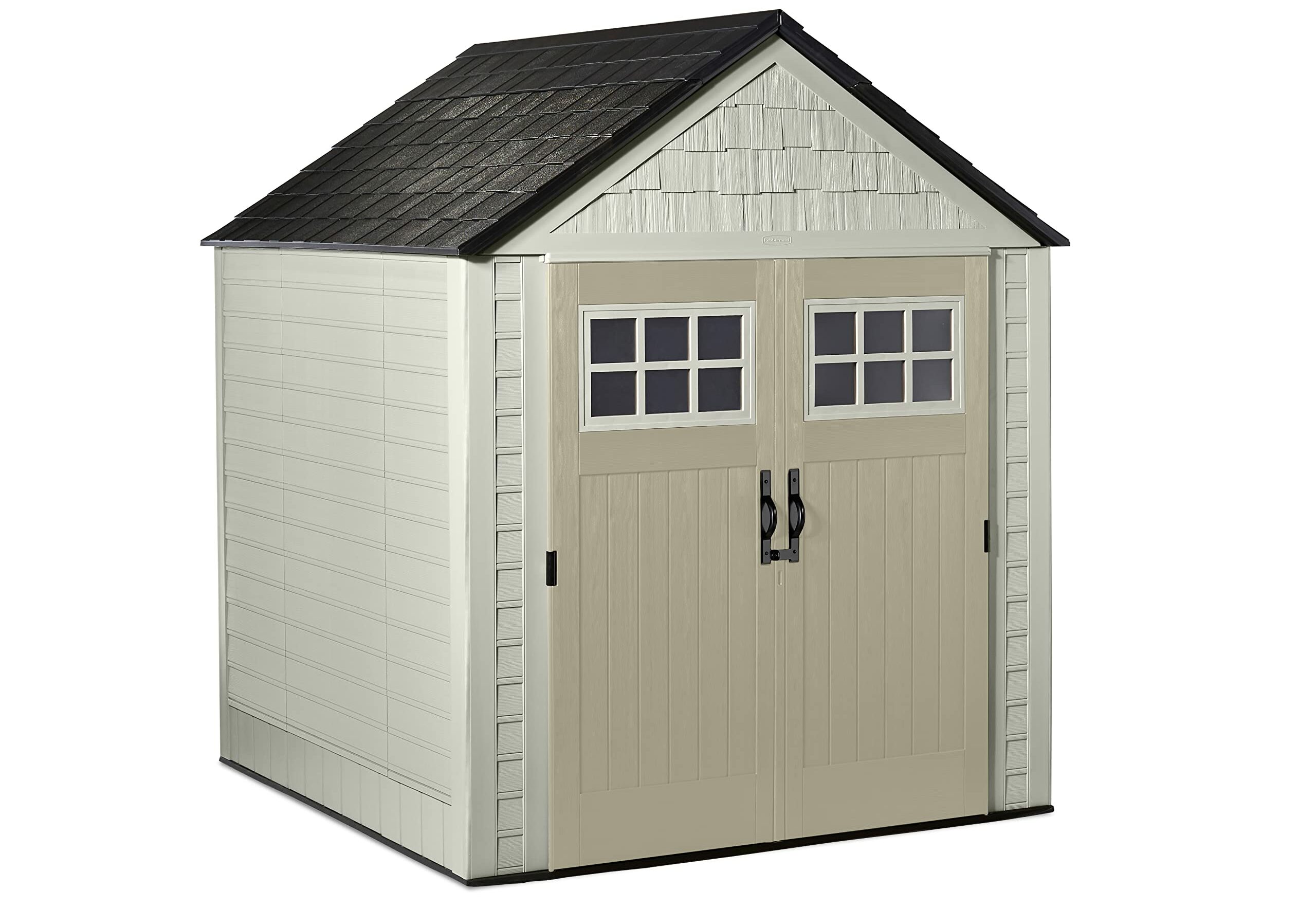 Price: $1,182.19
Highlights: Double-wall construction, customizable interior, and resin material.
About Storage Shed: This shed offers unbeatable protection to keep your lawn and garden items safe from harsh weather conditions. It is also easy to construct, making it an economical choice for backyard upgrades. With this Rubbermaid Storage Shed, storing your outdoor items will no longer be an afterthought.
The durable double-walled construction ensures extra durability and provides maximum protection from impacts and leaks. Don't just settle for basic storage; maximize the potential of your Rubbermaid shed with shelves, pegboards, and utility hooks that let you customize the interior. Stylishly designed, this product will beautifully blend into any outdoor space you have in mind.
And since its resin material won't need repainting or other maintenance work, you can trust the security of your stored items throughout all seasons.
Price: $539.99
Highlights: 8′ x 12′, lockable double doors, and a sloped rooftop.
About Storage Shed: Make the most of your outdoor space with the VEIKOU Storage Shed. This 8′ x 12′ outdoor storage shed is a great way to maximize storage in small areas. Easily store garden tools, bikes, lawnmowers, and more with this spacious shed – the double doors make it easy for you to walk in and access your items quickly.
Consisting of two packages for quick assembly, you can enjoy the convenience of this storage shed right away. The sloped rooftop prevents the buildup of moisture from snow or rain, keeping all your belongings safe and dry. Plus, four vents offer superior airflow, and lockable double doors provide unbeatable security, ensuring peace of mind.
Price: $849.00
Highlights: 159 cubic feet capacity, double-walled construction, and impact-resistant flooring.
About Storage Shed: The Rubbermaid Plastic Vertical Outdoor Storage Shed is an excellent solution for organizing your lawn and garden equipment. With its impressive 159 cubic feet capacity, you will be able to store even the largest items, such as push mowers and adult bicycles.
Constructed from double-walled construction and an extra deep design, this shed offers protection from all elements and is resistant to dents, leakages, rust, or rot – in other words, no maintenance is required. The heavy-duty impact-resistant flooring allows you to keep your items safe without any worries.

Price: $1,743.49
Highlights: Durable resin material, 420 cubic feet of storage space, and 30 PSF floor weight capacity.
About Storage Shed: The Keter Factor Storage Shed is ideal for any backyard. It is made of a strong and durable resin material, making it weatherproof and resistant to the elements. The exterior of this shed will never fade, unravel, or require repainting like wood-type sheds might.
The Factor Storage Shed has internal dimensions of 93 in. W x 93.5 in. D x 94 in. H with 420 cubic feet of storage space on the inside and a floor weight capacity of 30 PSF with a roof weight capacity of 15 PSF. And with its stylish wood-look texture in neutral colors, this Keter storage shed will look fabulous among your outdoor decor.
Price: $953.75
Highlights: Powder-coated steel A-frame roof trusses, UV Protection, and stain-resistant finish.
About Storage Shed: Say goodbye to messy, unkempt yards and hello to order with the Lifetime 6418 Storage Shed. This storage shed offers a reliable and secure way to keep your backyard looking neat and tidy.
Crafted with powder-coated steel A-frame roof trusses, internal walls made from steel-reinforced double polyethylene panels, and metal screws for additional fastening, this lifetime storage shed is designed for extreme durability you can trust. Plus, Lifetime Products offers a 10-year limited warranty that ensures long-lasting use.
UV Protection helps prevent fading and cracking, while weather-resistant seams help keep the interior dry all year round. With a stain-resistant finish that's easy to clean, you won't need to worry about painting ever again. And it includes a peak screen vent cap for airflow and ventilation, so your goods will be safe throughout all seasons.
Price: $169.99
Highlights: Available in a variety of sizes, lockable door, and scratch and rust-resistant.
About Storage Shed: Create additional storage space in your backyard, garden, porch, or utility room with the Greesum Metal Storage Shed. This convenient and spacious lockable shed is available in a variety of sizes, making it perfect for any size space. With its protective film and sloped roof, the metal shed is scratch-resistant and prevents rusting caused by rainwater accumulation while adding extra storage room.
The lockable door ensures safety and prevents animals from wandering in, so you can rest assured that your belongings are safe and sound inside. Plus, this stylish outdoor storage solution is so reliable and secure that you can even use it as a pet house to provide a warm and comfortable home for your furry friends.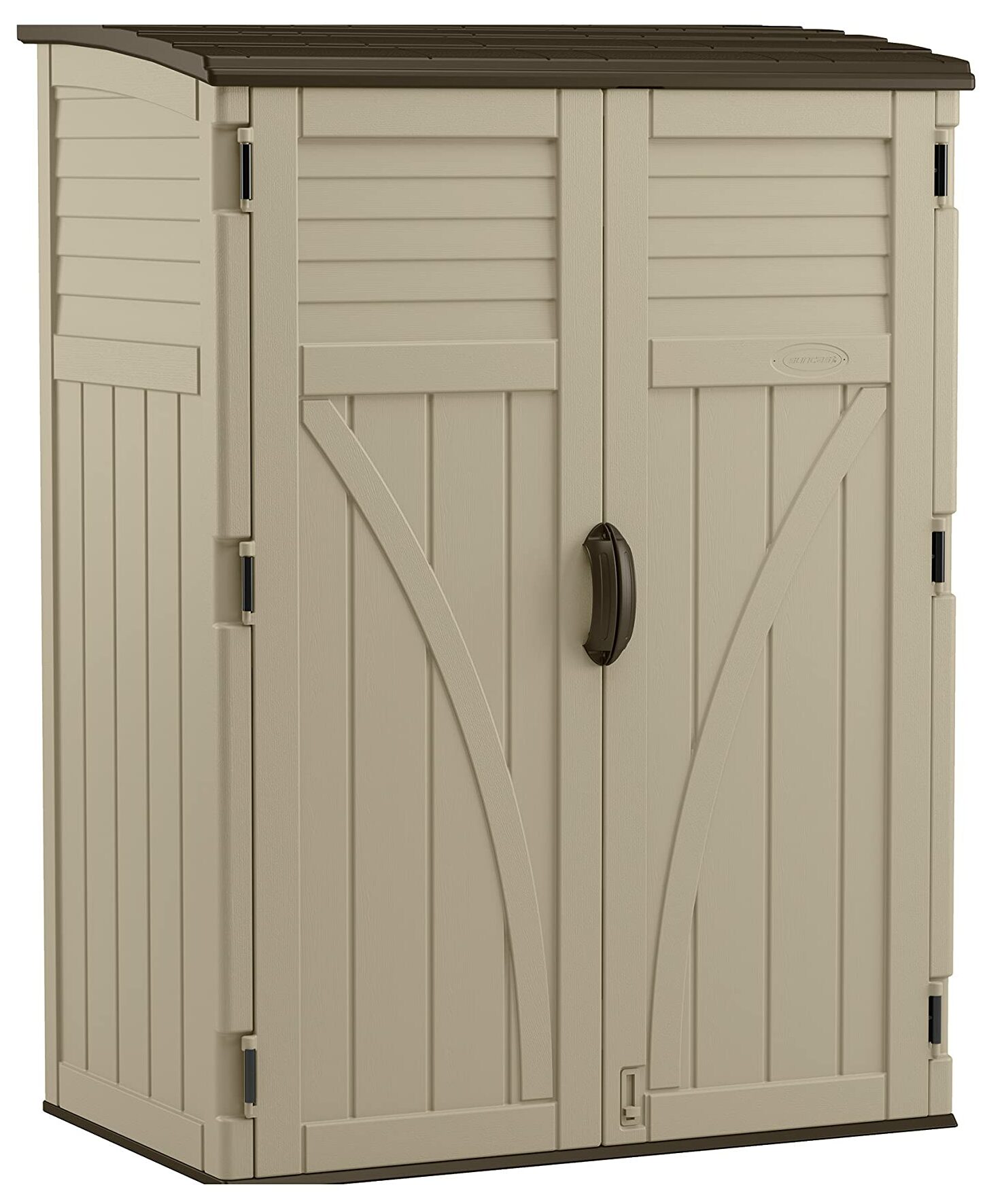 Price: $384.77
Highlights: Multi-resin material, 54 cubic feet of storage space, and an option to add shelves.
About Storage Shed: This Large Vertical Utility Shed is the perfect storage solution for any setting – whether a home or commercial property. Crafted from high-quality, multi-resin material for a durable build that is perfect for long-term use. It measures 52 inches by 32.5 inches by 71.5″ and boasts 54 cubic feet of storage space, ideal for stowing away firewood, tools, recreational equipment, and more.
Plus, this storage shed provides convenient adjoining door handles to attach a padlock and the ability to add shelving. All while being proudly Made in the USA.
Price: $409.99
Highlights: Thickened galvanized steel, ventilated, and sloped rooftop.
About Storage Shed: The MUPATER Storage Shed is the ideal storage solution for those who have the necessity for extra space while also wanting to add a touch of sophistication and style. Unlike other lean-to outdoor storage sheds, this shed is 0.012″ thickened galvanized steel for greater wind resistance than some other materials.
The frame is rust-resistant, and two vents provide you with better airflow for storing tools, bikes, and more. The sloped roof allows your shed to be close to the wall without sacrificing its wind resistance. This house-like sloped rooftop design will keep all your belongings safe from rain and snow, decorating your garden in style at the same time.
Price: $388.76
Highlights: High-Density Polyethylene Resin, double wall panel, and 38 cubic feet.
About Storage Shed: This sturdy piece of outdoor storage furniture is specifically crafted using High-Density Polyethylene Resin, making it highly weather-resistant and UV protected for long-lasting durability. Plus, double wall panel designs make it stronger and give it additional wind resistance and impact protection.
With ample storage space of 38 cubic feet, you will have plenty of room to organize your bikes, garden tools, firewood, trash cans, and more. So whether you're storing items inside or out in the garden, this spacious Kinying Storage Shed is an ideal solution.
Best Storage Sheds Conclusion
If you are looking for a quality storage shed, there is sure to be an option on this list of the best storage sheds that will meet your needs. Whether you need more space in your home or just want to keep things safe from the elements, a storage shed can help.
With these top picks, you are sure to find the perfect storage solution. So take your time and explore the options to find the best storage shed for you.
Please comment below if you have any feedback on any of these storage sheds. We know that all of our readers would appreciate your comments.