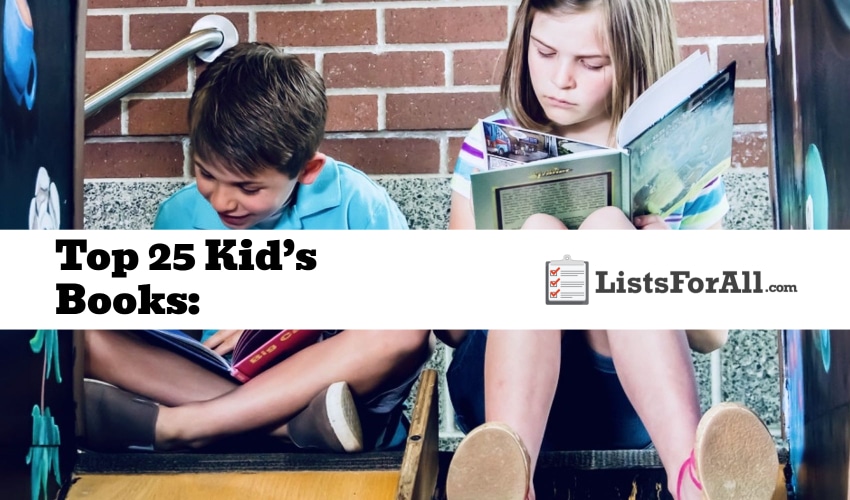 Best Kid's Books: Finding the Perfect Reading Books for Your Kids
Do you have a little one at home who loves to read? If so, you know that finding the right children's books can be a daunting task. With so many books out there, it can be hard to know which ones are worth your time and money. That's why we've put together this list of the best kid's books.
This list of the best kid's books features books that are popular with children and parents alike, and they are sure to keep your little one entertained and learning for hours on end. In addition, we have included a short description of each book, so you can get an idea of what the book is about.
So, if you are looking for some new children's books to read with your little one, be sure to check out our list of the best kid's books. We promise that you won't be disappointed.
And if you are looking for some great ways to provide learning and entertainment to your kids electronically, make sure to visit our lists of the best apps for kids and the best educational apps for kids.
Top 25 Kid's Books:
Price: $5.36
Highlights: A classic children's book, has great pictures for small children, and is perfect for a nighttime routine.
About Kid's Book: There's a reason that Goodnight Moon has been around for decades and is a classic children's book. With its sweet pictures, casual rhymes, and nighttime theme, it's the perfect book to put your little one to bed. Children love identifying the many objects in the room and quickly learn to say goodnight to each of the objects.
This book builds vocabulary and is a wonderful quick read to establish a bedtime routine for your little one. The board book format allows even the smallest child to hold and manipulate the book without ruining the pages.
Price: $5.06
Highlights: Teaches children to name foods, has colorful, engaging pictures, and has a unique artistic style.
About Kid's Book: The caterpillar is hungry. Very, very hungry. The only thing that will satisfy him is eating his way through various foods and the pages of this book! This timeless masterpiece has the added feature of having holes through most pages of the book so that it looks like the caterpillar is actually eating his way through the story.
Children will delight in the color pictures and engaging storyline. Also, if your kid falls in love with this book, the author has written several books with similar artistic styles to keep your kid's interest in books.
Price: $4.59
Highlights: Teaches children the alphabet, full of engaging rhymes, and is a ton of fun.
About Kid's Book: This classic kid's book has delighted children for decades. With bright colors and fun characters, this book teaches children their letters. The book is so fun; they won't even realize that they're learning!
The story is told through rhymes to ensure that your kids are drawn into the book. And over time, they'll learn the rhymes and be able to use pre-reading skills to participate in telling the story with you. Additionally, the board book format fits perfectly into little hands and can be left out for children to play with unsupervised.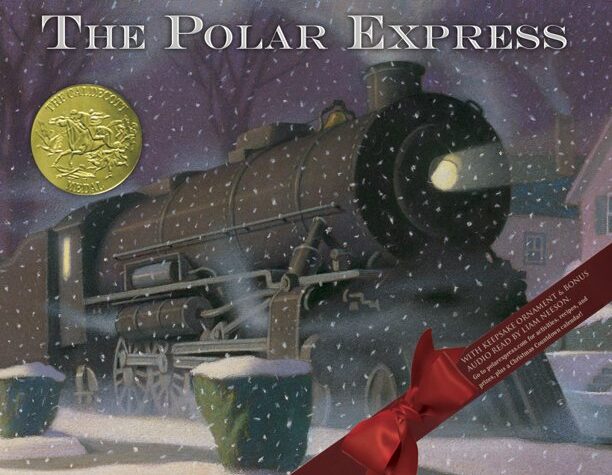 Price: $9.99
Highlights: Full of great morals, beautiful illustrations, and is holiday-themed.
About Kid's Book: Many readers might be more familiar with the movie version of this holiday classic, but the book existed for many years before the movie. This book is perfect for Christmas time snuggles and reading with your child. Celebrate the magic of the holiday season by learning about the true meaning of Christmas.
The story begins on Christmas Eve, and a young boy finds himself on a magic train heading to the North Pole. The story is full of adventure and good lessons, so it's no surprise that it is one of the best classic children's books.
Price: $17.97
Highlights: Whimsical illustrations, a story about friendship, and a true classic.
About Kid's Book: The Giving Tree is one of the longer books on our list and may take a couple of days to read to your child. But it's a great introduction to longer stories and teaching kids to focus. The story is about a friendship between a tree and a young boy. Throughout the young boy's life, he grows and has changing needs which the tree fulfills.
Shel Silverstein has long been known for his delightful drawings and unique take on life, and this book continues to prove his skills. Whether you are reading it for the first time or the 100th, you won't be disappointed by this book which is one of the best kid's books ever written.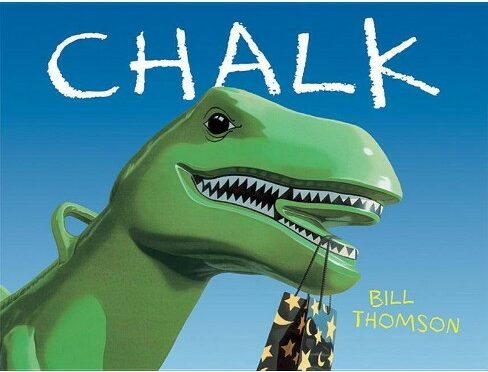 Price: $10.99
Highlights: Beautiful illustration, intriguing stories, and a lesson on images and storytelling.
About Kid's Book: Chalk is the perfect book for kids who love beautiful illustrations and intriguing stories. Without any words, this picture book favorite tells the story of three friends who find a bag of chalk in an empty park.
They use the chalk to draw pictures that come to life, but soon they realize that they need to use their imaginations to fix the problems their drawings create. Chalk is a great way for kids to learn about images and storytelling.
Price: $12.68
Highlights: Showcases the importance of food, tradition, and Native American culture.
About Kid's Book: Fry Bread is one of the best kid's books, and it's easy to see why. Illustrated by Kevin Noble Maillard, this story follows a Native American family as they cook fry bread and showcases the importance of food and tradition in their culture. Fry Bread is an essential read for anyone interested in Native American culture, and it makes a great addition to any child's library.
Price: $17.99
Highlights: Wonderful illustrations, has several follow-ups, and keeps kids entertained for hours.
About Kid's Book: No, David! is one of the best children's books around. Written and illustrated by David Shannon, this book follows the rowdy high jinks of a youngster who just can't stay out of trouble.
With wonderful illustrations and several follow-ups to this 1998 bestseller, little David's nonstop naughty nonsense is sure to keep kids entertained for hours on end. So pick up a copy today and find out why everyone loves this top children's book.
Price: $8.12
Highlights: Uses simple language, has a silly story, and encourages kids to try new things.
About Kid's Book: Green Eggs and Ham is a classic children's book that encourages kids to try new things. After being urged and refusing, the unnamed main character discovers that he actually likes the title dish. The simple language makes it the perfect book for beginning readers, though bookworms of all ages can appreciate the silly story. More than six decades after its 1960 publication, it remains one of the all-time greatest children's books.
Price: $4.79
Highlights: A collection of 18 Black women pioneers, has striking illustrations, and inspires babies and toddlers.
About Kid's Book: Introducing Dream Big, Little One: a board book for inspiring babies and toddlers. This collection of 18 Black women pioneers is perfect for introducing little ones to real-life heroes. With striking illustrations and an informative tone, this book is sure to capture the interest of any reader. So let your child dream big with this motivating board book today!
Price: $10.28
Highlights: The main character is a toy that comes to life, has adventure, and teaches friendship.
About Kid's Book: Corduroy is one of the best children's books that has stood the test of time. Published over 50 years ago, Corduroy is the story of a friendship between a little girl and her teddy bear. The teddy bear comes to life and goes on an adventure to get ready to be chosen by a child.
Both characters start out lonely and learn what it means to be a good friend. The drawings are delightful, and the story speaks to small children who crave friendship just like Corduroy does.
Price: $4.99
Highlights: Creative storyline, teaches children the importance of intelligence, and colorful artwork.
About Kid's Book: If your child loves animals, this book is a perfect choice. This tale involves a fox, an owl, and a snake who all come in contact with a mouse. The mouse knows that each of these animals might try to hunt him, so he creates an imaginary protector called the Gruffalo.
This tale involves a lot of creativity and smarts. Additionally, the book is full of colorful and creative drawings that your child will love and will keep you interested. Children will ask for this book over and over again.
Price: $4.98
Highlights: Written for parents and children, delightful illustrations, and has a sweet storyline.
About Kid's Book: This is one of the most popular children's books of all time. Love You Forever is written as much for the parents as the children. Many parents have been brought to tears while reading this to their little ones.
The story starts with a mother telling a small child that he will always be her baby then follows the relationship through the rest of their lives. Children will enjoy watching the child grow up and get into different situations throughout their lives while being constantly reminded that their parents will always love them, no matter how old they get.
Price: $2.98
Highlights: Sesame Street, fun monsters, and good for laughs.
About Kid's Book: Sesame Street characters have been loved by children for decades. Parents who grew up watching the show now have children who are similarly engaged in the storyline. Grover has long been a fan favorite and stars in this fun book.
While playing on the fun theme that there is a monster at the end of the book and the reader should be cautious, this book is full of laughs. If you're looking for a book full of giggles, this one is sure to hit the spot.
Price: $14.96
Highlights: Choose-your-own-adventure, superhero, and nine stories.
About Kid's Book: What Should Danny Do? is a question that has delighted children for years. This book contains nine separate stories, so you never know how the book will end. The main character, Danny, has many adventures that teach children that they have the power to choose how to act in various situations.
Full of potential discussion questions, this book is great for either a classroom or home setting and is full of emotionally-intelligent conversation starters. The choose-your-own-adventure format puts children in control of the story, and they get to see the results of their choices.
Price: $5.36
Highlights: Animals, pre-reading skills, and bright colors.
About Kid's Book: Brown Bear, Brown Bear, What Do You See? is the second Eric Carle book that we've included on our list. We love his drawing, and his books have wonderful, well-written repetitive parts that are so important for young children to develop pre-reading skills.
The illustrations include numerous animals and bright colors that young children love. Also, the book is a quick read and great for bedtime reading on a night when you don't have a lot of time but don't want to skip your routine entirely.
Price: $4.42
Highlights: Uses rhyming, features a donkey, and is full of laughter.
About Kid's Book: The Dinky Donkey is the second of four books in the Wonky Donkey Series (all of which are great kid's books). This book contains a story about the little donkey who has a child of his own, a little girl, which leads to much laughter as the tale unfolds.
The use of rhymes will engage preschool children, who are the target audience for this book, and the adults reading the book will laugh as they try to read the outrageous rhymes. This book comes in a paperback format which makes it an affordable option compared to other children's books.
Price: $6.98
Highlights: Halloween-themed story, focuses on friendship, and has fun illustrations.
About Kid's Book: Halloween just isn't the same for a little witch without her broom, hat, and wand. The main character loses these items and then spends the rest of the book looking for them. Will she be successful? Only time will tell as she meets friends along the way that help her hunt down her missing stuff.
Is there room on the broom for another friend? Yes! There's always a way to make room for another person. This book is a great way to celebrate both friendship and the Halloween holiday with your little one.
Price: $4.28
Highlights: Classic children's book, family-themed, and is full of wonderful illustrations.
About Kid's Book: I love you to the moon and back is a phrase that has become commonly used to express how much you love your child, and it started with this book. As a parent, it can be hard to tell children just how much you love them, and this book tries to quantify just how vast that love is. With its sweet illustrations and story about love, this is one of the best children's books of all time and will continue to delight future generations.
Price: $13.20
Highlights: Classic kid's book, imagination-fueled story, and is filled with adventure.
About Kid's Book: Where the Wild Things Are has certainly stood the test of time. When Max dresses up in his pajamas and goes on an imagination-fueled adventure, you don't know what's going to happen next (unless you grew up reading this book yourself!). Max takes a boat and goes to an island filled with large and potentially scare monsters only to find out that there's fun to be had. This is a true classic and still one of today's top kid's books.
Price: $14.40
Highlights: Book for older kids, true story, and has an important message.
About Kid's Book: This true story is about children living in impoverished conditions that lack essentials like water. This book is a good reminder that there are a lot of children who live in much harsher conditions. The book tells older kids the story without judgment but can put minor trials and tribulations into perspective. Clocking in at 128 pages, it's the longest book on our list but one of the most important.
Price: $6.97
Highlights: Features monkeys, funny drawings, and a discussion of emotions.
About Kid's Book: Children have a lot of very big emotions in very small bodies. While we, as adults, sometimes tell them to calm down, this book lets them know that emotions are okay. Sometimes, the monkey just needs to be grumpy for a while and feel what he's feeling. This story is fueled with funny illustrations that may be able to cure a grumpy attitude or save a bad day.
Price: $8.55
Highlights: Inspirational, beautiful illustrations, and great moral.
About Kid's Book: This book was a New York Times bestseller for good reason. A modern book that is already one of the best children's books of all time. Told from the perspective of a parent, the book goes through the many hopes and dreams that parents have for their children and the unbounded love that a parent feels for their child.
Children will enjoy the story because of the fun drawings, while parents will enjoy the book because it pulls at their heartstrings. The hardcover version of this book makes a great gift for a baby shower or first birthday.
Price: $10.88
Highlights: Classic book, funny storyline, and a delightful conclusion.
About Kid's Book: Sometimes, you give a mouse a cookie, and then that has unintended consequences. This book which is the first of a series, starts off with a mouse being given a cookie. While that seems harmless enough, the mouse then continues his requests until the house is a disaster.
The book teaches children about the unintended consequences of actions and also points out that maybe it is possible to make too many requests. You and your child will laugh as the storyline plays out and have fun guessing just what the mouse will ask for next.
Price: $6.28
Highlights: Colorful drawings, silly storyline, and a great moral.
About Kid's Book: Who says that giraffes can't dance? Certainly not this giraffe. When the main character is told what his limitations are, he says no thank you and learns how to dance anyway. For children who are often told that they can't do things, this book will speak to them in ways that other books won't. On top of that, the book is full of fun illustrations of a giraffe learning to dance, which doesn't go quite as smoothly as he had hoped.
Best Kid's Books Conclusion
So there you have it! Our top picks for the best kid's books. Whether your child is into adventure, animals, or creative stories, we're sure they'll find a book here that they'll love.
In addition, many of these books teach children about the importance of friendship, family, and self-esteem. This will allow young kids to not only improve on their reading skills but also learn valuable lessons that will follow them throughout their life. So pick up one today to help your child grow into an independent reader that loves reading!
And for more kids-related lists, make sure to visit our lists of the best summer activities for kids, best board games, and best party games for kids. All of these lists will help provide your kids with plenty of fun activities.
Have you read one of these kids' books before? If you have, please feel free to share your feedback below in the comments. Also, if you have a favorite book that isn't on the list, please share that as well.