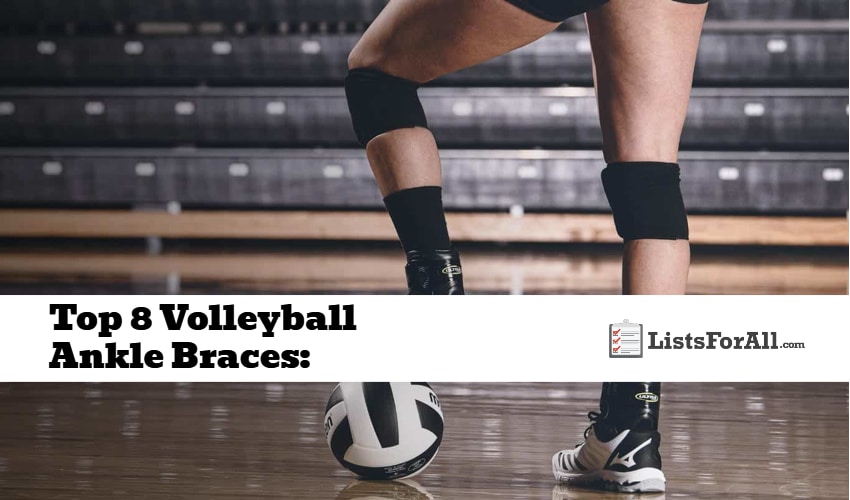 Best Volleyball Ankle Braces: Finding the Perfect Volleyball Ankle Braces for You
Whether you're a beginner or an experienced volleyball player, it's important to protect your ankles from injuries. Wearing the right braces can help reduce your risk of injury, which is why we created this list of the best volleyball ankle braces.
This list of the best volleyball ankle braces will highlight the top options and will help you find the right volleyball ankle braces for you. Whether you're an elite pro athlete or a recreational player, the right ankle brace can give you the added support and protection you need.
Looking for more volleyball-related lists? If so, visit our lists of the best volleyball kneepads, best volleyball nets, and best volleyball training tools. These lists will pair nicely with this one and will allow you to find even more quality volleyball content.
Top 8 Volleyball Ankle Braces:
Price: $49.04
Highlights: Doctor-recommended, provides protection against ankle injuries, and has premium materials for maximum durability.
About Volleyball Ankle Braces: Developed with help from trusted medical professionals, this brace is doctor-recommended and clinically proven to provide better protection against sports-related ankle injuries. Thankfully, it's fast and easy to put on, so maintaining your top game won't require added hassle.
Plus, it's constructed with premium materials that allow for maximum durability, meaning it can easily handle the impact and pressure of intense matches. Whether preventing an injury or helping an athlete recover from one, this anatomically shaped brace does more than just keep itself in place—it gives serious competitors like you ultimate comfort and stability throughout any physical activity.
Price: $129.00
Highlights: Exo-Grid technology that provides compression and stability, i-Fit technology, and lightweight construction with a rigid frame structure.
About Volleyball Ankle Braces: Whether you're a professional volleyball player or a recreational enthusiast, the A2-DX has advanced technologies to give you unparalleled protection and support. One of the most trusted names in the industry, Zamst knows what it takes to make an exceptional product.
Highlighted by its Exo-Grid technology which provides even compression and stability, this top ankle brace was designed with athletes in mind. Plus, the i-Fit Technology ensures this brace molds comfortably to your every movement.
Take your performance to the next level with uncompromising support. With its lightweight construction and rigid frame structure, providing an optimized fit on both left and right sides – there won't be any hesitating over whether or not this volleyball ankle brace will give you all that it promises.
Price: $30.75
Highlights: Crafted with CoolFlex material, an 8-figure stabilizing strap to hold your ankle in a vertical position, and an elastic strap around the top of the brace.
About Volleyball Ankle Braces: Crafted with durable yet lightweight material like CoolFlex, this ankle stabilizer guarantees a proper fit through its contoured tongue. The inner back side is also lined with the same material to offer further comfort in the Achilles area.
An innovative 8-figure stabilizing strap holds your ankle in a vertical position, taking stress off your joints when running or jumping. An elastic strap wraps around the top of the brace to prevent excessive inversion and eversion motion, allowing you complete control when moving around on the court.
Price: $29.97
Highlights: Reinforced laces, hook-and-loop fastening, and contoured straps to provide protection from sideways twists.
About Volleyball Ankle Braces: The reinforced laces and durable hook-and-loop fastening offer two ways to secure your ankle so you can customize the fit to suit your own needs. The contoured straps provide protection from sideways twists, meaning you have full control of both forward and backward movement without sacrificing safety or stability.
Whether you need more flexibility than soft braces allow or less rigidity than a solid brace provides, the Zenith Volleyball Ankle Brace is an excellent choice. This will allow you to stay comfortable, track down the volleyball with ease, and make the play.
Price: $59.95
Highlights: Built with heavy-duty protection material, allows for excellent movement, and breathable ventilation technology.
About Volleyball Ankle Braces: With an easy put-on process and an advanced support system, your ankles are sure to remain protected in any match you play. The Ultra Zoom offers heavy-duty protection material that guards against common injuries such as sprains and twists to keep you playing without worry.
The advanced design also acts as an enhancer, allowing for excellent movement so you can perform with complete confidence. Its breathable ventilation technology keeps your feet comfortable while playing too. You can trust this ankle brace as it has been tried and tested against even the most intense games.
Price: $9.99
Highlights: Optimal pressure on the ankle area, adjusts to embrace your Achilles tendon, and provides a full range of motion.
About Volleyball Ankle Braces: Providing a full range of motion, this is your ideal support system when playing volleyball. The brace will keep up with your energy – with its contoured structure, it's incredibly versatile, fitting any size foot with ease.
Allowing optimal pressure on the ankle area means you can safely recuperate from an injury without compromising support. Even better, it adjusts to provide enough room to embrace your Achilles tendon and makes sure your feet properly make contact with the ground.
Price: $17.97
Highlights: Sleek, low-profile design, helps control pain and minimize swelling, and provides compression and added stability.
About Volleyball Ankle Braces: Introducing POWERLIX Volleyball Ankle Brace, one of the fastest, no-hassle ways to provide superior protection and therapeutic compression for athletes looking to stay safe on the court. With its sleek, low-profile design that doesn't skimp on support, POWERLIX Volleyball Ankle Brace provides excellent compression and added stability so you can get back out there quicker.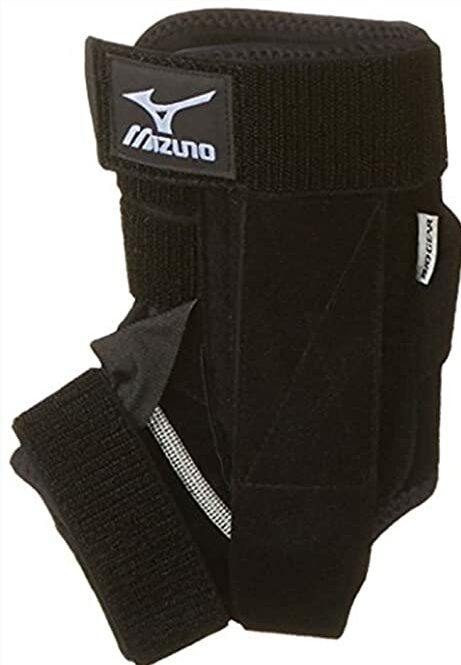 Price: $50.00
Highlights: Unique antibacterial and deodorizing material, lightweight and flexible, and built from decades of experience.
About Volleyball Ankle Braces: Lightweight and flexible for superior performance, this ankle brace also features a unique antibacterial and deodorizing material that you'll be thankful for after long, intense games. Built from decades of experience in the sport and carefully crafted with modern technology, Mizuno has created an excellent ankle brace for those who want to go the extra mile on the court.
Best Volleyball Ankle Braces Conclusion
We hope this list of the best volleyball ankle braces was helpful in informing you about the different types of braces and supports available. Wearing one of these devices can help reduce your risk of injuring yourself while playing and also speed up recovery from a twisted ankle.
Be sure to choose a model that fits well and provides the level of support you need. With the proper protection, you can enjoy playing volleyball with confidence. Also, if you know someone that loves playing volleyball, one of these braces would make an excellent volleyball gift.
And for serious injuries, always consult a trained professional.
Do you have feedback on any of these volleyball ankle braces? If you do, please feel free to share that below in the comments.