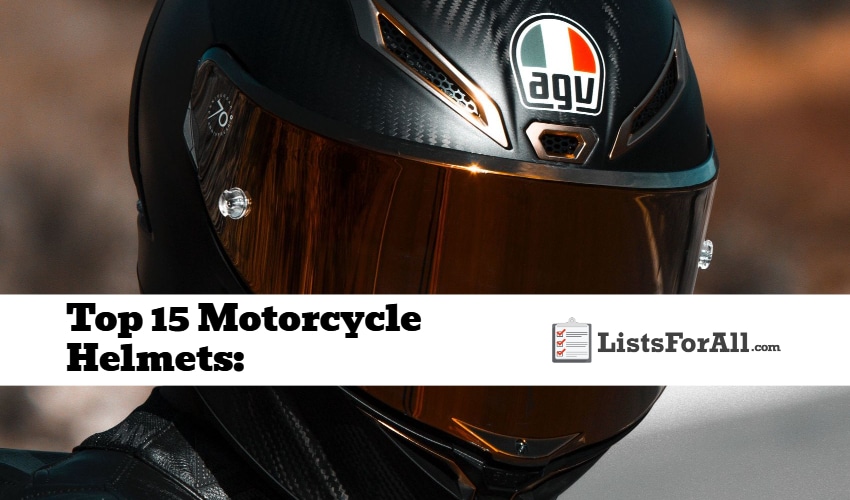 Best Motorcycle Helmets: Finding the Perfect Motorcycle Helmet for You
There are a lot of different factors to consider when choosing a motorcycle helmet, from fit to style to protection, and in this list of the best motorcycle helmets, we'll help you sort through all of the options and find the perfect helmet for your needs.
This list of the best motorcycle helmets will provide the top options and will help you find the perfect motorcycle helmet for all your riding needs. Whether you are looking for a specific helmet style, price, color, etc., this list of the best motorcycle helmets will have you covered.
When you finish this list of the best motorcycle helmets, visit our lists of the best bike helmets for even more ways to stay safe on wheels.
Top 15 Motorcycle Helmets:
Price: $579.99
Highlights: Rated at Snell 2020 with a 5-star rating, superior ventilation and airflow, and ranges of size and shell shapes.
About Motorcycle Helmet: Experience a higher level of riding with the Shoei RF-1400 Motorcycle Helmet. This helmet is designed to enhance your ride and make you feel safer and more comfortable on your bike. Whether you're just starting out in motorcycling or have been cruising the roads for years, the Shoei RF-1400 will exceed your expectations.
You'll love the superior protection it provides; it's rated at Snell 2020, which received an impressive 5-star rating from experts around the world. And with its range of sizes and shell shapes, you can count on maximum comfort and minimum weight to customize it until it fits perfectly.
The Shoei RF-1400 also boasts superior ventilation for airflow during those long rides. You won't have to worry about overheating or getting too hot, and this helmet has you covered even in bad weather or intense sun. It's truly one of the best motorcycle helmets out there – both in style and performance.
Price: $371.35
Highlights: Lightweight at 2.95 lbs, 5/5 star rating from the UK's Sharp Helmet Scheme test, and five different densities of EPS foam.
About Motorcycle Helmet: When it comes to motorcycle helmets, you want the best. And that's just what you get with AGV's K-6 Motorcycle Helmet. This helmet is lightweight and comfortable, testing at 2.95 pounds. You won't be dragging around extra weight while riding your bike or feel any extra fatigue while wearing this high-tech lid.
Plus, the UK's Sharp Helmet Scheme test gave it a perfect 5/5 star rating because of how advanced the design is. AGV's K-6 Helmet uses five different densities of EPS foam so that impact forces are spread as much as possible while protecting your skull. Also, AGV uses state-of-the-art metal visor hinges instead of plastic so that the lid stays locked in place even if you take a spill.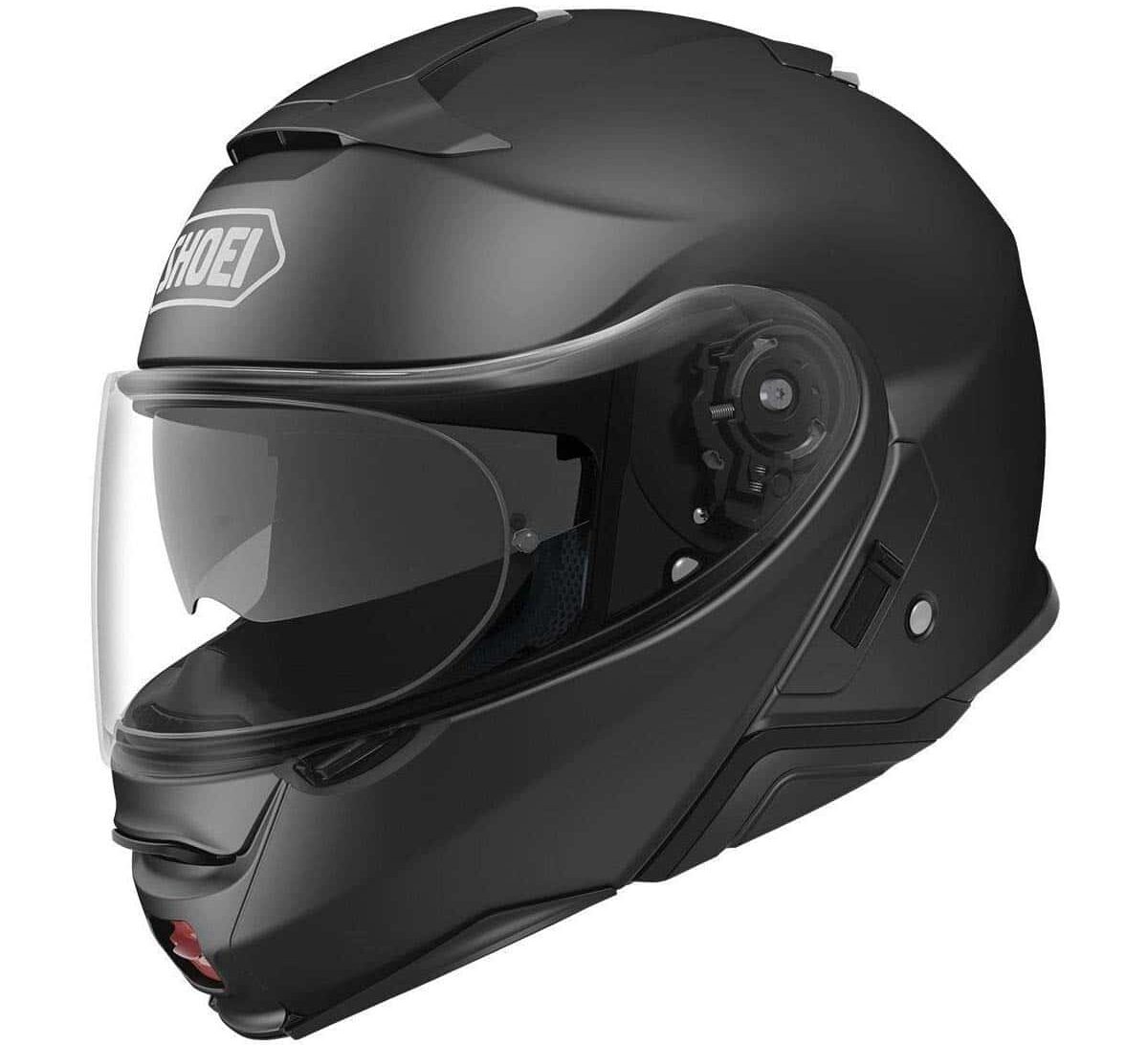 Price: $799.99
Highlights: Matrix AIM shell, three-position upper ventilation system, and Pinlock® Evo fog-resistant system.
About Motorcycle Helmet: This modern, streamlined helmet offers superior comfort with its multi-piece EPS liner and Matrix AIM shell, as well as incredible visibility with the Pinlock® Evo fog-resistant system and internal sun shield.
But that's not all – this fantastic helmet also features a three-position upper ventilation system for dynamic cooling and an innovative top-air outlet design to reduce wind noise for a quiet ride.
Price: $719.95
Highlights: Adjustable ventilation system, improved padding for comfort, and adaptability to individual head size.
About Motorcycle Helmet: This motorcycle helmet is designed to fit a variety of head shapes and sizes, so you can find the perfect fit with it. It boasts advanced features like an adjustable ventilation system, enhanced aerodynamics, and improved padding that offers excellent support and comfort, making it one of the highest-rated helmets out there.
Plus, thanks to its unique shape and design, this helmet provides superior protection while adapting to your individual head size.
Price: $734.95
Highlights: Five-star rated, photochromic visor, and memory foam-like neck collar.
About Motorcycle Helmet: This five-star rated safety helmet offers unbeatable protection and comfort. And with the photochromic visor that darkens in brighter light or goes clear in overcast weather, you get a crystal clear view no matter where your ride takes you. Plus, its memory foam-like neck collar ensures a superior fit with every wear, so it practically melts away on your head.
Price: $249.99
Highlights: Intercom system that allows contact between riders, noise suppression technology, and washable multi-density EPS liners.
About Motorcycle Helmet: Make sure you're ready to ride with the ILM Bluetooth Integrated Motorcycle Helmet. Coming with a battery life of eight hours of talk time and 110.0 hours of standby, as well as an intercom system allowing contact between two riders up to 1,680.0 feet away, you'll have everything you need for your journeys on two wheels.
Just use the one-touch controls to answer or reject incoming phone calls and listen to FM radio, music, or GPS navigation instructions without having to adjust anything. Thanks to the noise suppression technology, you can hear audio at high quality, even when riding at high speeds. Cruise in ultimate comfort, too, since the replaceable and washable multi-density EPS liners keep you feeling safe as well as snug.
Price: $720.57
Highlights: Made to fit larger heads and faces, aerodynamic to make it quieter, and long oval design.
About Motorcycle Helmet: The revolutionary design of this helmet is ready to take your driving experience to the next level. The Quantum-X is a long oval design made to fit larger heads and faces. Thanks to its unique shape, its aerodynamic properties make it quieter and more efficient on long rides.
This headgear comes with all the necessary safety certifications and is top-of-the-line in terms of quality assurance. Moreover, its interior sits comfortably on your head without sacrificing any protection or functionality.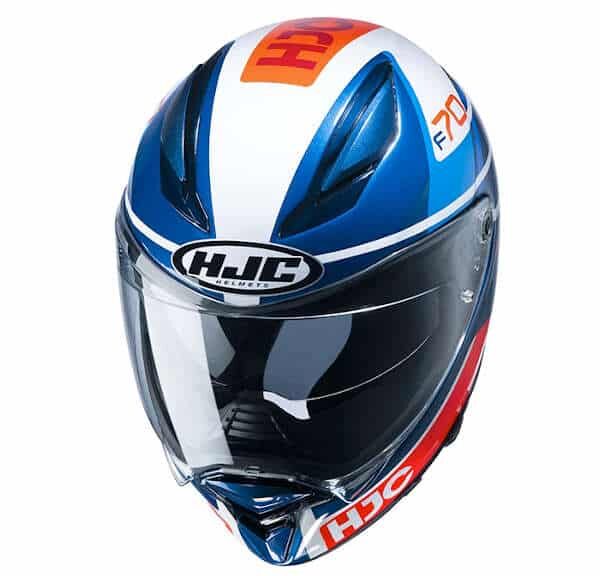 Price: $319.99
Highlights: 5-star rating on the Sharp's test, ultra lightweight at 3.4 pounds, and wind tunnel sculpted.
About Motorcycle Helmet: This top motorcycle helmet offers unbeatable safety and comfort thanks to the UK's stringent 5-star rating on the Sharp's test, along with quick-release cheek pads for added safety in case of an accident.
Plus, at just 3.4 pounds, it won't weigh you down while riding – it's ultra-lightweight, so you can stay safe and comfortable all day long. And for even more added protection, the F70 has been expertly wind tunnel sculpted to minimize howling winds at high speeds, plus a free removable breath guard and chin spoiler.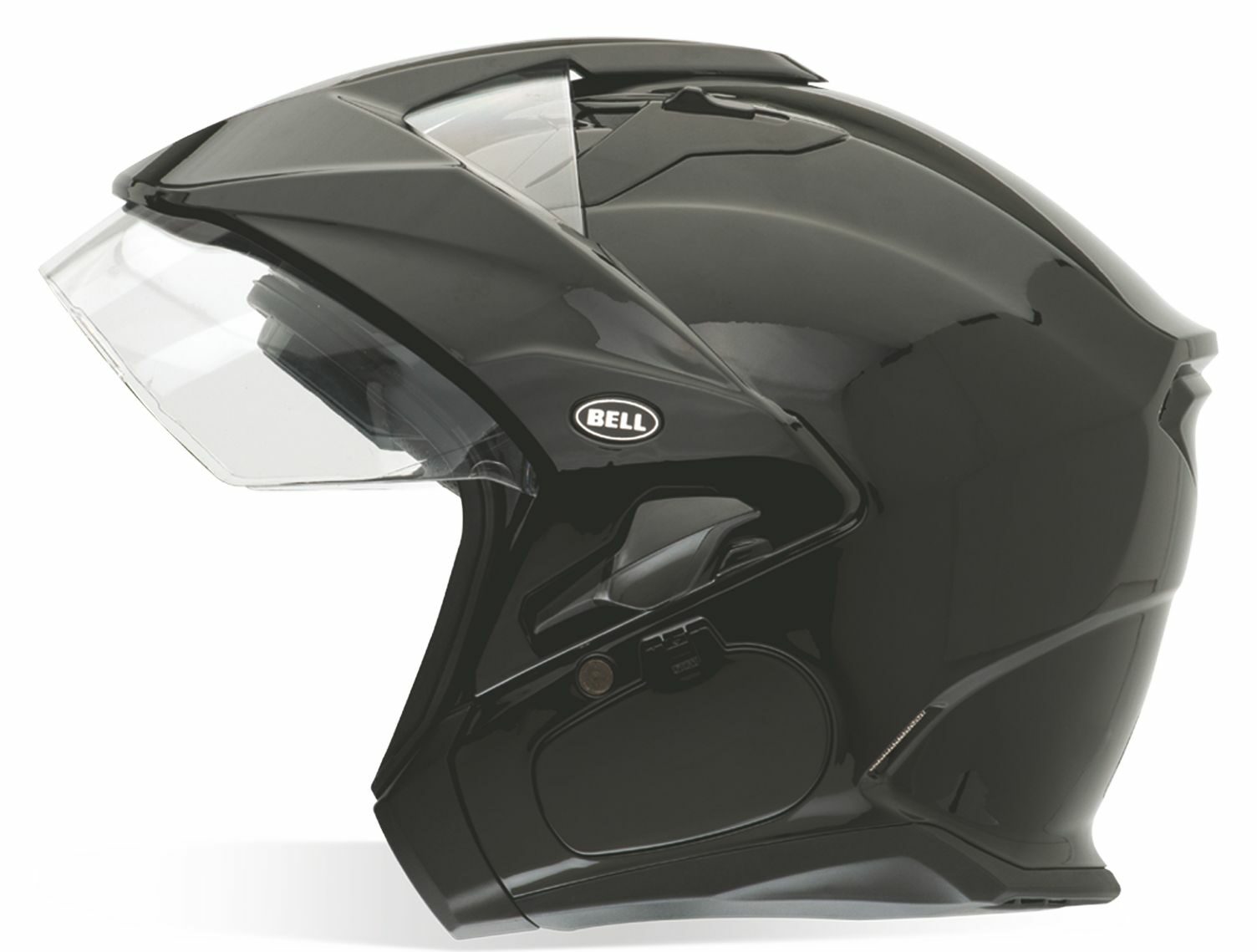 Price: $199.95
Highlights: Bluetooth compatible, adjustable front, and moisture-wicking EPS foam interior.
About Motorcycle Helmet: Introducing the Bell Mag-9 Motorcycle Helmet: The perfect combination of comfort, convenience, and style to enhance your riding experience. With a lightweight polycarbonate shell and moisture-wicking EPS foam interior, you get superior protection while remaining comfortable and cool on the road.
This helmet has an adjustable front that can be worn in seven different positions allowing for easy customization with or without the face shield or visor in your field of vision. Airflow is also not impacted by whether you are wearing the visor and is aided by the Velo Flow ventilation system.
Enjoy all your music and phone calls on the go thanks to the ability to integrate a Sena or Card Bluetooth communication system easily.
Price: $911.99
Highlights: Made with titanium metal, shield change mechanism, and Pinlock insert included.
About Motorcycle Helmet: Lightweight and aerodynamic, this full carbon fiber construction helmet is ultra-sturdy yet surprisingly lightweight for a modular design. The titanium metal used throughout ensures strength and durability, ensuring your ride is as comfortable as it is safe.
Plus, when closed, the unique design makes it look like an all-in-one motorcycling helmet for an alluring streamlined look. Innovative features like the shield change mechanism and drop-down sun visor ensure you experience every second of your journey comfortably. And, with a Pinlock insert already included in the box, fogging up your vision won't be a problem.
Price: $869.95
Highlights: Lightweight at 3lbs 11oz, two-position face shield, and removable neck roll.
About Motorcycle Helmet: The Arai Corsair-X Motorcycle Helmet is built for the thrill of the road. Whether you're zooming along on a crotch rocket, winding through turns on a Harley, or dominating the track, you can trust that your ride is complete with this top-of-the-line helmet. At just 3 pounds 11 ounces, it's designed to be lightweight while still providing full coverage and protection.
With aerodynamic styling and an extremely comfortable fit, this helmet takes riding to the next level with optimal safety and style. The face shield offers two positions and plenty of ventilation so you can keep your visor clear without compromising performance at higher speeds.
Price: $304.95
Highlights: Custom half-helmet design, TCT fiberglass shell, and removable front mask and chin bar.
About Motorcycle Helmet: It's time to make a statement with the ScorpionExo EXO Motorcycle Helmet. This revolutionary helmet is pushing the standard for motorcycle helmets, blowing away outdated designs. This custom half-helmet design provides the ultimate in freedom and protection.
The cool airflow keeps you comfortable on the hottest of days, while the TCT fiberglass shell combines aramid and poly-resin fibers to focus on delivering reliable protection in style. When your ride has you passing miles by, take comfort in knowing you're wearing top-end technology that includes three unique riding configurations, including full mode, 3/4 mode, and 1/2 mode, as well as a removable front mask and chin bar.
Price: $549.99
Highlights: Removable breath box, adjustable face shield, and anti-fog coating.
About Motorcycle Helmet: Tackle all your two-wheeled adventures confidently wearing the KLIM Krios Motorcycle Helmet. This helmet combines the best of road-focused helmets and adventure helmets to give you ultimate versatility on whatever terrain you choose.
The KLIM Krios is designed for both on-road comfort as well as off-road ventilation – its advanced airflow system keeps your head cool and dry wherever your journey may take you. Thanks to its ergonomic design, it fits comfortably without added pressure points, while its extra padding ensures a plush, secure fit – perfect for any type of riding.
Price: $219.95
Highlights: Injection-molded ABS shell, snaps around the eye-port, and different colors and graphics packages.
About Motorcycle Helmet: Thanks to modern technologies, the Gringo is second to none in safety standards, with an exterior constructed from injection-molded ABS shell and interiors made of a three-piece expanded polystyrene safety liner. It's light enough you won't feel weighed down while keeping your head secure on any type of terrain.
But comfort is key when it comes to long bike trips, and this helmet surely doesn't disappoint. Not only does it feature snaps around the eye port for extended vision and visibility, but for maximum convenience, you can further customize your look by adding a visor or bubble shield at your own will. And if that wasn't enough, it also comes in several different colors and graphics packages you can choose from.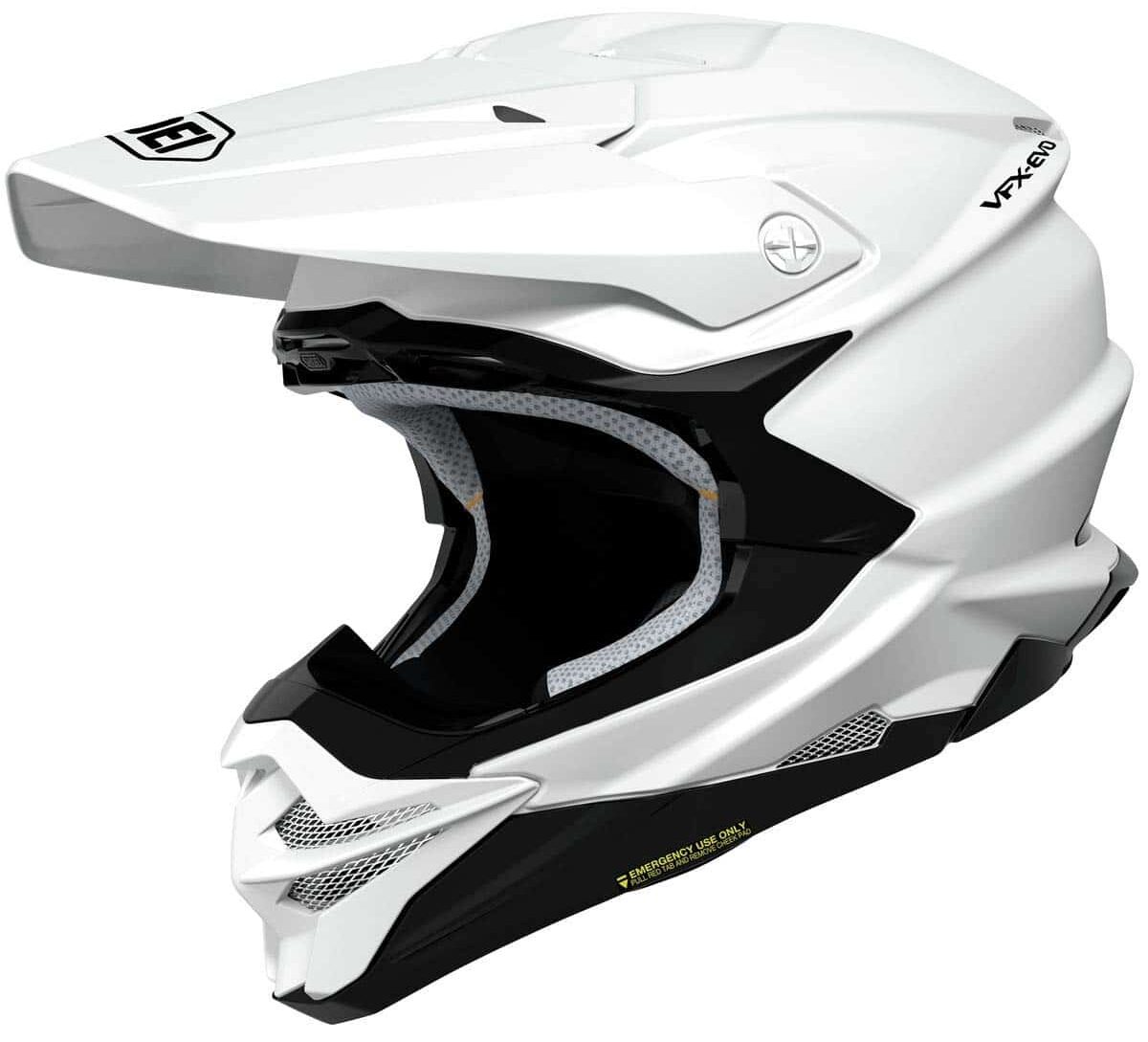 Price: $569.99
Highlights: Engineered for maximum quietness, advanced EVO system, and optimal ventilation in padding.
About Motorcycle Helmet: Protect yourself while having a great time on the dirt with the Shoei VFX-EVO Motorcycle Helmet. Not only does this helmet look rock solid, but it is designed to maximize comfort and protection in a wide range of riding situations. For starters, you'll stay nice and cool thanks to optimal ventilation throughout the padding.
Additionally, there's no need to worry about extra noise from the wind as this heavy-duty helmet is specially engineered for maximum quietness on the trail. To top it all off, safety measures are taken care of with either Bell's MIPS or Shoei's advanced EVO system that protects your head and neck during unexpected spills.
Best Motorcycle Helmets Conclusion
When looking through this list of the best motorcycle helmets, it is important to consider safety and comfort above all else. Different helmets offer different levels of protection, so make sure you choose one that meets your needs.
Additionally, consider the style of helmet you prefer and what fits your head shape best. By taking these factors into consideration, you can find a helmet that will keep you safe and looking great while you ride.
If you have tried any of these motorcycle helmets before, we would love to hear your feedback below in the comments.