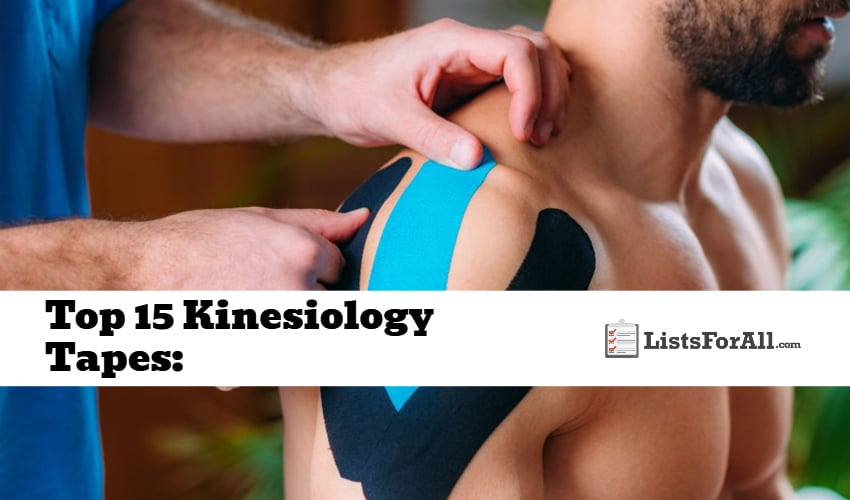 Best Kinesiology Tapes: Finding the Perfect Kinesiology Tape for You
Designed to adapt to the movement of your body, these versatile tapes are popular among athletes, fitness enthusiasts, and anyone seeking natural pain relief, but it all starts with finding the right tape for you, and that is where this list of the best kinesiology tapes can help.
This list of the best kinesiology tapes will feature the top options and will help you find the perfect kinesiology tape for you. Whether you're a professional athlete or simply looking for a reliable solution to aid in your physical well-being, this list will have you covered.
When you finish this list of the best kinesiology tapes, visit our lists of the best stretches, best yoga poses, and best massage guns, as these lists will also help you with recovery and any sore muscles you may have.
Top 15 Kinesiology Tapes: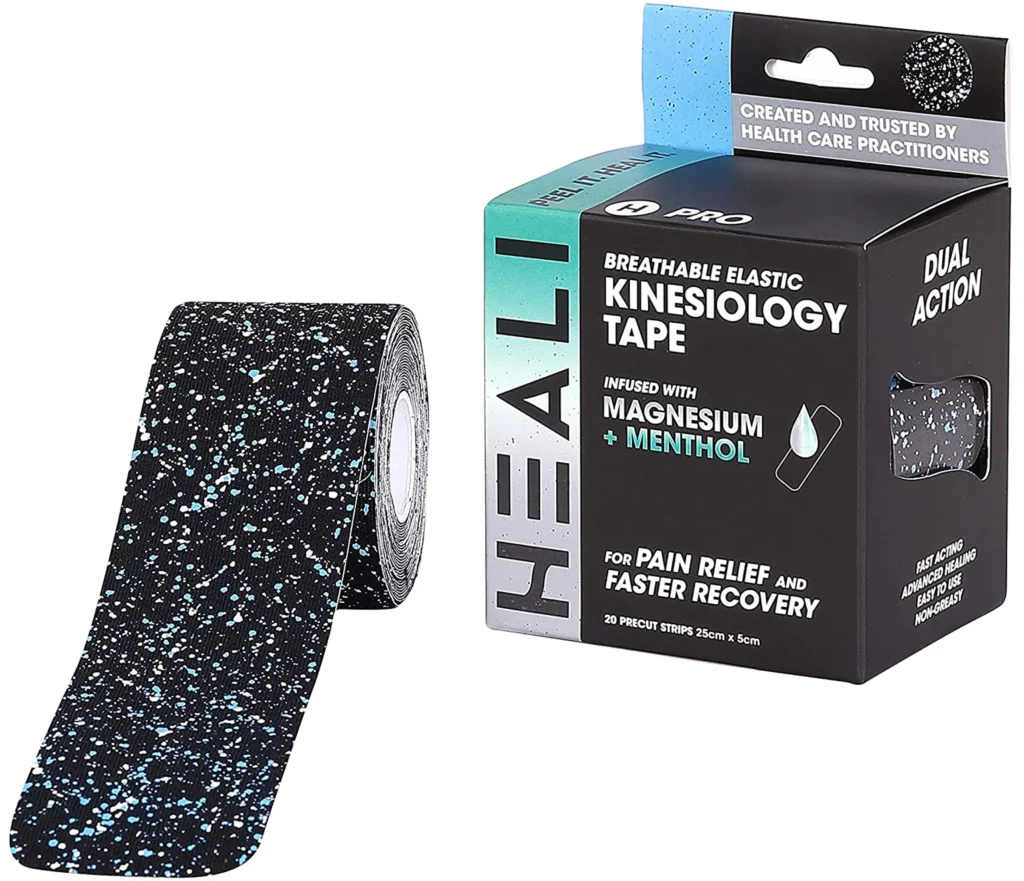 Price: $24.99
Highlights: Infused with magnesium and menthol, pre-cut strips that are easy to apply, and helps with pain relief and faster recovery.
About Kinesiology Tape: Heali tape provides support, pain relief, faster recovery, and style all in one and can help you recover faster from injuries or return to sport quicker. With its unique combination of natural ingredients infused directly into the tape, it's a game changer. HEALI can be worn for multiple days, and its ingredients re-release when wet (i.e., shower and sweat). HEALI KINESIOLOGY TAPE is latex-free, hypoallergenic, FDA and Health Canada approved, and FSA/HSA eligible
Created and trusted by health care practitioners, this top kinesiology tape uses a safe, mild, non-offensive scent suitable for those 12 and over. HEALI comes in a convenient travel tub with 20 pre-cut strips that measure 5cmx 25cm (2″x10″). HEALI is breathable and made with soft Synthetic silk, and for its application, just cover the sore area and let the infusion do the rest.
HEALI's unique combination of infused menthol and magnesium offers incredible health benefits such as temporary pain relief, prevention of further injuries, faster recovery time, support, and so much more.
Price: $16.40 (20 count)
Highlights: Lightweight and strong, breathable cotton, and free from latex.
About Kinesiology Tape: This lightweight yet strong tape will provide you with the extra support you need when you're pushing your body to perform its best. Crafted from breathable cotton and free from latex, this tape provides reliable support while being gentle on sensitive skin.
Plus, every roll comes pre-cut for quick and easy application – perfect when you don't want to waste an ounce of energy before a workout. While KT Tape will stay on for up to three days even if exposed to sweat and water, it also comes in 8 attractive colors for added style and personalization no matter what playing field or racetrack life takes you.
Price: $14.95
Highlights: Superior support, stretchy design, and perfect for a variety of activities.
About Kinesiology Tape: This top kinesiology tape will provide superior support with its XActStretch system – so no matter how strong your workouts are, we've got you covered. This tape is perfect for powerlifters, Olympic weightlifters, and gym-goers who need an easy application of the tape.
With THERABAND Kinesiology Tape, you get a stretch design that helps ensure better fit around the area that needs support and reduces wastage due to wrong measurements.
Price: $13.99
Highlights: Trust by physical therapists, resists sweat and water, and no adhesive residue left after removal.
About Kinesiology Tape: Introducing Hampton Kinesiology Tape, the trusted choice for physical therapists and sports medicine practitioners around the world. With its elastic construction, this tape resists sweat and water, so it will stay in place long after you apply it. And even better–no adhesive residue is left after removal.
They understand that when you're applying a product to sensitive skin, safety is key. That's why this Kinesiology tape is both hypoallergenic and latex-free, designed to meet the highest medical grade standards in a facility certified by world-leading industry authorities.
Price: $7.99
Highlights: Combination of cotton and spandex, latex-free and hypoallergenic, and is water resistant.
About Kinesiology Tape: This top kinesiology tape is crafted from a combination of cotton and spandex to keep your skin feeling soft and stretchy. Plus, it's latex-free and hypoallergenic, so it won't cause any skin irritation. They have ten different colored tapes available, each coming with 20 pre-cut strips to make application simple and easy.
Best of all, this tape is water resistant – so you don't have to worry about it coming off in the middle of an intense workout or sports activity. If you're looking for something that can provide comfortable support while being wallet-friendly, then look no further.
Price: $14.89
Highlights: Won't irritate skin, stretchy and durable, and is ideal for a variety of physical activities.
About Kinesiology Tape: Kinesio Tape is an excellent option for anyone, whether you have easily irritated skin or if you prefer to train in hotter temperatures. This hypoallergenic tape is free of all latex materials, which makes it a great choice for those with more sensitive skin.
They make sure that your experience with their product is up to par, allowing you to comfortably enjoy any workout or exercise regimen with confidence. Get your hands on Kinesio Tape now and take some of the worry out of pain management.
Price: $13.95
Highlights: Premium fabric, lightweight and breathable, and long-lasting support.
About Kinesiology Tape: If you're looking for one of the best kinesiology tapes to help reduce pain and support your muscles and joints, look no further than SB SOX Kinesiology Tape. This premium fabric is lightweight, breathable, and latex-free.
Plus, the adhesive is skin-friendly, so you don't have to worry about any irritation when applying. Whether it's for shin splints, knee pain, or tennis elbow, this top kinesiology tape provides relief and long-lasting support throughout physical activity.
Price: $28.00
Highlights: Superior elasticity, ultra-strong and sticky, and is hypoallergenic.
About Kinesiology Tape: Whether you're an amateur athlete or a professional competitor, RockTape is one of the best kinesiology tapes that can help heal and prevent injuries. From ankle sprains to plantar fasciitis and back pain, RockTape helps treat both sports-related and non-sports-related injuries.
Not only does this high-performance tape use superior elasticity of 180%, but it also allows athletes full motion range – much more so than many competitors who offer just 130 to 150 percent stretch.
RockTape is not only ultra-strong and sticky but also hypoallergenic, latex, and zinc free – allowing you to use it in even the harshest and wettest conditions using H2O adhesive. Not only will RockTape speed up recovery times, but it will also provide long-term gains like an improved range of motion and strength increases.
Price: $10.95
Highlights: Versatile, strong grip, and is comfortable on skin.
About Kinesiology Tape: If you're looking for one of the best kinesiology tapes on the market, look no further. This 2″ x 16.4′ uncut roll provides a versatile way to increase performance and avoid potential injuries at the same time. Nordic's Kinesiology Tape helps the body stay flexible, adding support to weaker joints and restoring strength with regular use.
The tape consists of an ultra-lightweight material that has a strong grip while remaining comfortable against skin. As a result, it's ideal for people who play sports or exercise regularly, as well as those who have chronic ailments or ongoing physical challenges. Plus, its adhesive properties help conditions like shin splints, hamstring pulls, Achilles tendinopathy, calf muscle strains, and more – helping reduce fatigue and joint pain while promoting blood flow for faster recovery times.
Price: $11.99 (2 count)
Highlights: High-quality materials, rounded edges, and pre-cut strips.
About Kinesiology Tape: CKeep Kinesiology Tape is one of the best-in-class tapes for athletes, weekend warriors, and everyday health and fitness enthusiasts. Made with high-quality materials that are as effective as more expensive tapes, CKeep has made having a healthy lifestyle more affordable than ever.
The rounded edges of our pre-cut strips help ensure they stay firmly in place wherever you put them. And with its convenient design, CKeep makes it easy to have healthy exercise anytime, anywhere.
Price: $9.97
Highlights: Ideal for runners, thin and lightweight, and made from soft, breathable cotton.
About Kinesiology Tape: Introducing Sparthos Kinesiology Tape, one of the best kinesiology tapes and a revolutionary product for runners who want to get the most out of their runs. This thin and lightweight tape is made from soft, breathable cotton, allowing it to stretch and move with your body far better than non-stretchy products. Plus, its long-lasting Hypoallergenic adhesive means you won't have to worry about adjusting or replacing it mid-run.
This versatile tape offers additional stability and support for any runners already wearing running shoes for bad knees; with this, you can enjoy even more security in your movements. Even better, Sparthos Kinesiology Tape is 100% waterproof – so if you're often running in humid situations or taking showers right after your run, simply reapply the patch and get back on the trail.
Price: $28.60 (3 count)
Highlights: Pre-cut strips, exceptional adhesion, and is great for those with sensitive skin.
About Kinesiology Tape: Get the support and control you need with the FlexU Kinesiology Tape. With its pre-cut 2 "x10" strips of black athletic therapeutic tape, you can significantly reduce pain points. Give your joints and muscles the compression and brace they need to promote fast recovery, plump circulation, reduce inflammation, and improve mobility in record time.
From Plantar Fasciitis to Achilles Tendonitis and other neuromuscular-related issues, you can count on FlexU Kinesiology Tape to take care of business. Also, this proprietary Rayon fabric sports tape comes with exceptional adhesion that works on sensitive skin while being highly elastic, so it stays on for days through sweat, showers, exercise, gym sessions, sports, and more.
Price: $10.99 (2 count)
Highlights: Water-resistant, can be used while swimming, and perfect for everyday use or strenuous activities.
About Kinesiology Tape: Care Science Kinesiology Tape is one of the best for everyday use and sports use. It provides increased support and stability for muscles and joints without reducing your range of motion. Whether you experience regular aches and pains or are a professional athlete, this tape is durable, lightweight, and comfortable. You can easily apply it to the skin without sacrificing comfort or flexibility.
The water-resistant materials allow you to wear it in the shower or while swimming so that it can support you in any situation. Let Care Science Kinesiology Tape show you why it's been dubbed the "One of the Best Kinesiology Tapes" with its ability to minimize muscle pain with every application.
Price: $7.97
Highlights: Sweat-proof adhesion, the tape can be cut to exact size, and is latex free.
About Kinesiology Tape: This stretchy, water-resistant, and latex-free tape will keep up with you and your toughest workouts. Plus, the sweat-proof adhesive makes it stay in place, so it can keep up with you for up to three days at a time. The roll comes continuous, so you can use as much or as little as needed depending on the intensity of your activity.
To top it all off, this Master of Muscle tape is tested to perform and work hard when you do. Master of Muscle prides themselves on having a product that works well for their customers, but in case you're not satisfied, they offer a full refund–no questions asked.
Price: $13.99 (4 count)
Highlights: Waterproof and breathable, can be cut to any shape or size, and very stretchy.
About Kinesiology Tape: This top kinesiology tape contains premium polyester, making it waterproof and breathable. They understand that movement is essential for life and activities. Therefore, their tape features acrylic glue, which will not irritate your skin while providing good adhesion. Not only that, the stretchability of OBTANIM is incredible – capable of stretching up to 160% of its original size.
This means you can cut the tape into any shape, such as Y-shapes for larger coverage areas. Apart from that, the wide range of uses in high-performance settings makes it extremely desirable for athletes and professionals alike – these include reducing tissue pressure and supporting joints, faster recovery from pain caused by injuries and excessive stress on muscle tissues as well as aiding in swelling reduction by lifting the skin slightly to allow more blood circulation.
Best Kinesiology Tapes Conclusion
With so many different kinesiology tapes available, it can be overwhelming to choose the right one. However, we hope that this list of the best kinesiology tapes has helped you find the perfect one for your needs.
Whether you're looking for support during intense workouts or relief from discomfort and pain, kinesiology tape can provide a natural and effective solution.
So go ahead and try out one of our recommended tapes and discover the benefits it can bring to your active lifestyle.
Do you have feedback on any of these kinesiology tapes? If so, please feel free to comment below.