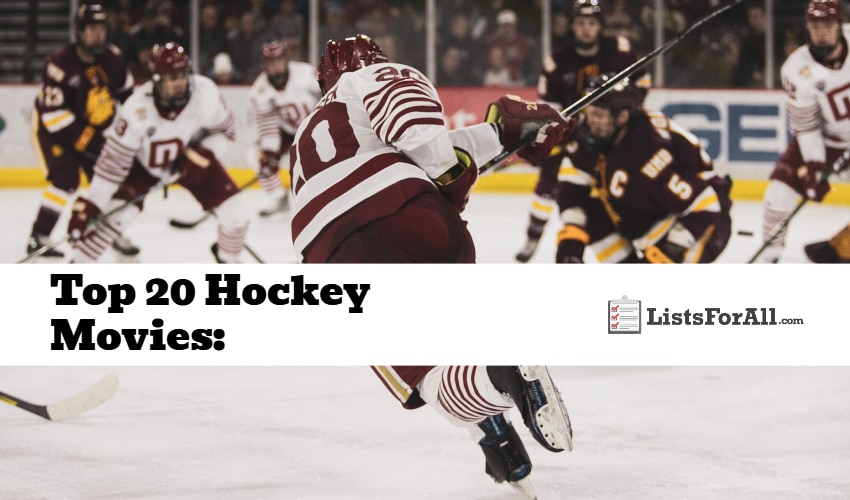 Best Hockey Movies: Finding the Perfect Hockey Movie for You
There are few sports as thrilling as hockey. The speed, the agility, the excitement – it's no wonder so many people are drawn to it. If you're a fan of the sport or just looking for an entertaining movie, here are some of the best hockey movies out there.
This list of the best hockey movies will highlight the top options and will allow you to enjoy some quality hockey action. Whether you are a hockey player, coach, fan, or just love a good sports movie, this list will feature a number of great hockey movies for you to enjoy.
Take a few minutes to check out our lists of the best sports books and best sports movies. They will pair up nicely with this list of the best hockey moves and provide even more great sports entertainment for you to take advantage of. And our list of the best movie websites will allow you to watch these amazing hockey movies.
Top 20 Hockey Movies:
Released In: 1999
Main Actors: Russell Crowe, Hank Azaria, Mary McCormack
IMDb Rating: 6.7
About Hockey Movie: Mystery, Alaska proves that great hockey films can come from the most unexpected places. This heartwarming movie follows an amateur hockey team in the small town of Mystery, Alaska as they prepare for a once-in-a-lifetime opportunity to play against the NHL's New York Rangers. If you love a good underdog story, this is the hockey movie for you.
Released In: 1986
Main Actors: Keanu Reeves, Patrick Swayze, Rob Lowe
IMDb Rating: 6.2
About Hockey Movie: This classic film from the 1980s follows the story of Rob Lowe, who transforms from a finesse player to one who can also pack a punch. The film is loaded with great action scenes, including a training montage with a speed bag and push-ups. And of course, no hockey movie would be complete without a big fight in the final minutes of the championship game.
Released In: 1995
Main Actors: Aidan Devine, Kevin Conway, Robin Gammell
IMDb Rating: 7.1
About Hockey Movie: This Canadian television movie tells the story of Ted Lindsay's and Doug Harvey's formation of the NHL Players Association. With the tagline "The bloodiest fight in NHL history wasn't on the ice," this movie is sure to be a hit with any hockey fan.
Released In: 2012
Main Actors: Jay Baruchel, Seann William Scott, Liev Schreiber
IMDb Rating: 6.8
About Hockey Movie: Goon is a highly entertaining and fun movie about hockey. It will have you laughing and feeling inspired. Doug Glatt, played by Seann William Scott, is a lowly bouncer who stumbles his way into the world of minor league hockey.
With absolutely no talent or special skills, Doug steps into the rink with nothing but heart and the loyalty of his best friend, and he finds success in an unlikely talent – dropping the gloves.
Released In: 2020
Main Actors: Jack Mulhern, Dylan Playfair, Elektra Kilbey
IMDb Rating: 5.4
About Hockey Movie: If you're a fan of hockey, this movie is for you. Bobby Sanders, a Harvard hockey star, pursues his professional dreams and finds himself in the minor leagues of Sweden. Along his journey, he meets an intriguing girl at a local market and begins to realize how his dreams are connected to his childhood.
This critically-acclaimed drama showcases an inspirational story through powerful film direction and stunning cinematography. It captures both highs and lows for a truly captivating viewing experience. Get ready for some emotional moments as you discover what it takes to become an NHL player from another country.
Odd Man Rush gives viewers an honest look into the struggles and successes of a character who puts everything into achieving his professional goals – something we can all relate to in life.
Released In: 1992
Main Actors: D.B. Sweeney, Moira Kelly, Roy Dotrice
IMDb Rating: 6.9
About Hockey Movie: The Cutting Edge is one of the best hockey movies out there. It's a story of an injured hockey player teaming up with a spoiled figure skater to compete as a pair in the Olympics. This story of an injured hockey player teaming up with a spoiled figure skater to compete as a pair in the Olympics is a unique take on a hockey movie and is worth your consideration.
Released In: 1977
Main Actors: Paul Newman, Michael Ontkean, Lindsay Crouse
IMDb Rating: 7.3
About Hockey Movie: Considered a classic comedy from the '70s, the film follows the Charlestown Chiefs, a fictional minor-league hockey team. Led by player-coach Reggie Dunlop (Paul Newman), the team is underperforming and set to disband at the end of the season.
However, when Dunlop discovers a new weapon in the form of the Hanson Brothers – three dirty and violent players – he unleashes them on the league. The results are chaotic and often bloody, but Newman still calls Slap Shot one of his all-time favorite movies to make. Slap Shot is a hilariously entertaining film that any hockey fan will enjoy.
Released In: 2014
Main Actors: 7.6
IMDb Rating: Mark Deakins, Scotty Bowman
About Hockey Movie: If you love hockey, then you'll love Red Army – a documentary about the mighty Soviet hockey team. The film explores how the team became so dominant and also looks at how Russian players were introduced to the NHL after the fall of the Soviet Union.
Slava Fetisov, a Hall of Famer, is one of the key figures in the story, and his firsthand account of the team's journey is both fascinating and inspirational. You'll also get to see how the Soviets "elevated hockey to an art form" during their era of dominance.
Released In: 1983
Main Actors: Dave Thomas, Mel Blanc, and Rick Moranis
IMDb Rating: N/A
About Hockey Movie: In this hilarious movie, Bob and Doug McKenzie (played by Rick Moranis and Dave Thomas) set out to get free beer and end up working at the Elsinore Brewery. Along the way, they uncover a sinister plot by Brewmeister Smith to control people's minds.
Can the McKenzie brothers stop the evil scheme and save the world? They'll also drink plenty of beer along the way. So if you're a fan of hockey or just looking for a good laugh, check out Strange Brew today.
Released In: 2008
Main Actors: Real-Life Actors
IMDb Rating: 7.8
About Hockey Movie: Looking to get the inside scoop on hockey? Pond Hockey is one of the best hockey documentaries. Director Tommy Haines takes a look at the evolution of hockey and how the culture surrounding the sport has changed over time.
You'll hear from NHL stars – past and present – as they share their stories and opinions on the game. Plus, Haines chronicles the first U.S. Pond Hockey Championships in Minnesota.
Released In: 2012
Main Actors: Chris Nilan, Donald Brashear, Marty McSorley
IMDb Rating: 7.1
About Hockey Movie: This film tells the story of some of the toughest players in the NHL during the 1980s, including Chris "Knuckles" Nilan. Knuckles was known for his willingness to fight anyone on the ice, regardless of size or skill.
He was a dominant force in an era when fighting wasn't as regulated as it is now. Directed by Alex Gibney, this film provides an inside look at hockey culture and the people who made it what it is today.
Released In: 2022
Main Actors: Blake Biondi, Elliot Van Orsdel
IMDb Rating: 8.5
About Hockey Movie: Hockeyland is a documentary about high school hockey in rural Minnesota. It's focused on two schools, one of legendary but dwindling status, the other a rising giant. The film captures the passion and intensity these student-athletes feel for the game. It's an emotional rollercoaster of a ride, following the ups and downs of the teams as they fight for victory.
The coaches and players are committed to giving their all on the ice. They come from working-class families and are using hockey as their ticket to a better future. This is a story of hope and determination, of young people chasing their dreams against all odds. Hockeyland is an inspiring film that will leave you cheering for these kids all the way to the end.
Released In: 2019
Main Actors: Bob Probert, Joe Kocur, Don Cherry
IMDb Rating: 7.3
About Hockey Movie: Former NHL hockey player Bob Probert was a warrior on the ice, a true boxer on skates. He was a guy always looking for a fight, which made him a Detroit sports legend. This documentary, Tough Guy: The Bob Probert Story offers insight into his life and career through game footage, interviews with family and friends, and never-before-seen home movies.
Director Geordie Day uses grainy game footage to show what Probert did best: punch people's lights out. Through interviews with teammates, opponents, friends, and family members, we hear about Probert's love of fighting, which was only occasionally interrupted by the game of hockey.
This candid look at Probert's life is both informative and engaging, offering a rare glimpse into the mind of a true tough guy.
Released In: 2004
Main Actors: Kurt Russell, Patricia Clarkson & Noah Emmerich, Gavin O'Conner
IMDb Rating: 7.4
About Hockey Movie: This film tells the story of Herb Brooks (Kurt Russell), a veteran coach who was tasked with leading the United States hockey team to victory at the 1980 Winter Olympics.
Despite being up against some of the toughest competition in the world, including the Soviet Union and Canada, Brooks, and his team persevered and ultimately came out on top. Miracle is an inspiring story of determination and perseverance, and it's a must-watch for any fan of hockey or sports movies in general.

Released In: 2019
Main Actors: Mike Reagan, Greyson Reitmeier, Mason Etter
IMDb Rating: 7.5
About Hockey Movie: If you're a hockey fan, you'll want to check out one of the best hockey movies of 2019 and still currently, Flin Flon: A Hockey Town. This documentary film explores the town of Flin Flon's eccentric obsession with its legendary junior hockey team, The Flin Flon Bombers.
Flin Flon is located nearly 1000 kilometers north of the US border in Northern Manitoba. The small Canadian mining community is also the only city in the world to be named after a science fiction character: Josiah Flintabbatey Flonatin from The Sunless City.
Released In: 2020
Main Actors: Kane Van Gate, Pavel Barber
IMDb Rating: N/A
About Hockey Movie: Following the adventures of Kane Van Gate and his friends as they travel across British Columbia, meeting other hockey-obsessed characters along the way, the film offers an intimate look at the sport and its many devotees. From various sources, the film covers all corners of the hockey world and is sure to educate and entertain viewers of all ages.
Released In: 2000
Main Actors: Kevin Zegers, Oliver Muirhead, Jamie Renée Smith
IMDb Rating: 4.1
About Hockey Movie: If you're looking for one of the best hockey movies, MVP is a great choice. This charming film tells the story of Jack, a fun-loving chimp who loves to play ice hockey. The friendships he forms and the predicaments he finds himself in are all a part of the adventures of this rookie player who skates fast, shoots hard and drives everyone bananas.
Released In: 2017
Main Actors: Ajuawak Kapashesit, Wayne Baker, Sladen Peltier
IMDb Rating: 7.3
About Hockey Movie: This powerful, emotional drama stars Saul Indian Horse, a young Native Canadian struggling to survive residential school and racism in the 1970s. Though Saul is an incredibly talented hockey player, he must battle stereotypes and personal demons as he finds his own path in life.
Indian Horse takes you on an unforgettable journey through joy, sorrow, and coming-of-age wisdom. It's sharply written with wonderful performances from the entire cast that will draw out strong emotions from viewers. You'll catch a glimpse into the challenging world of Canadian residential schools and experience first hand what it was like for Saul as he deals with potential alcoholism.
Released In: 2020
Main Actors: Brayden Belmore, Julia Tronchin, Austin Tschetter
IMDb Rating: 3.5
About Hockey Movie: Starring Billy Dombrowski and a rag-tag group of kids, this film is sure to melt your heart and have you cheering on these underdogs as they attempt to form a winning hockey team.
Through their journey, they must band together and learn to trust in each others' abilities in order to succeed. It's a thrilling ride from start to finish and one that will leave you inspired and rootin' for these kids all the way.
Released In: 2016
Main Actors: Scott Parker, Brian McGrattan, Chris Chelios
IMDb Rating: 7.4
About Hockey Movie: Do you love watching hard-hitting, fast-paced action on the ice? Then you need to check out Ice Guardians. This 2016 documentary explores the role of "the enforcer" in professional hockey and makes a strong case for why these players are essential to the sport.
You'll see some of the best (and most violent) hockey fights captured on film and hear from players, doctors, and fans about the important role that enforcers play in keeping the game safe. Even if you're not a huge hockey fan, Ice Guardians will change the way you think about the sport.
Best Hockey Movies Conclusion
These are some of the best hockey movies out there and will provide you with hours of entertainment. If you're a fan of the sport or just looking for an entertaining movie, be sure to check out one (or all!) of these great films.
From classic tales to more modern releases, there's something for everyone. So put on your favorite team's jersey and get ready for some great entertainment!
Also, these hockey movies make an excellent hockey gift for any of the hockey fans in your life. So you might want to consider getting one or two of them as a gift. And if you are looking for even more great hockey content, check out our lists of the best hockey skates and best youth hockey sticks.
Please make sure to comment below if you have feedback on any of these hockey movies. We know that all of our readers would appreciate your comments.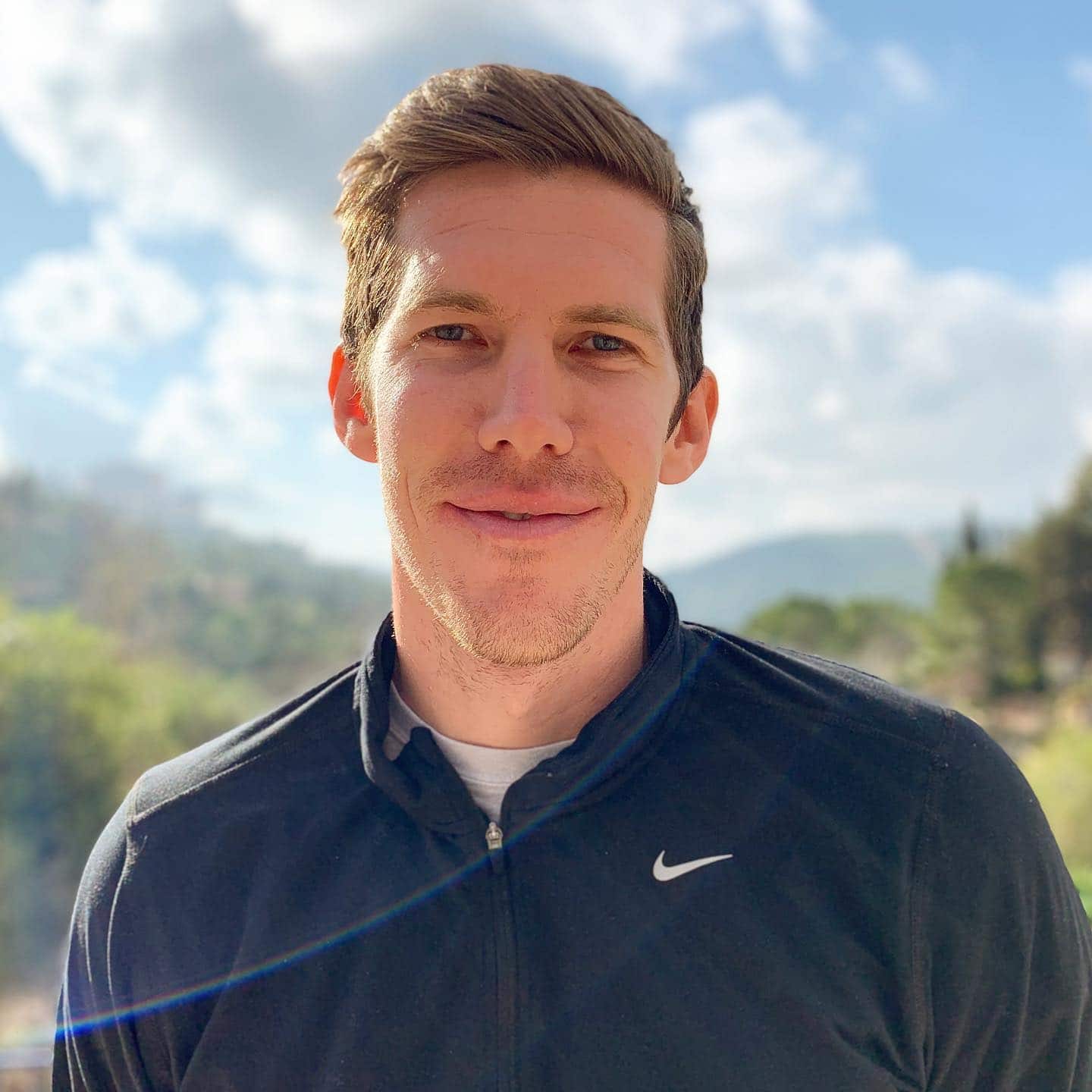 Kyle has a background in sports, fitness/health, and business. However, he also has a passion about researching all topics, and is dedicated to making lists that will help make your life easier.