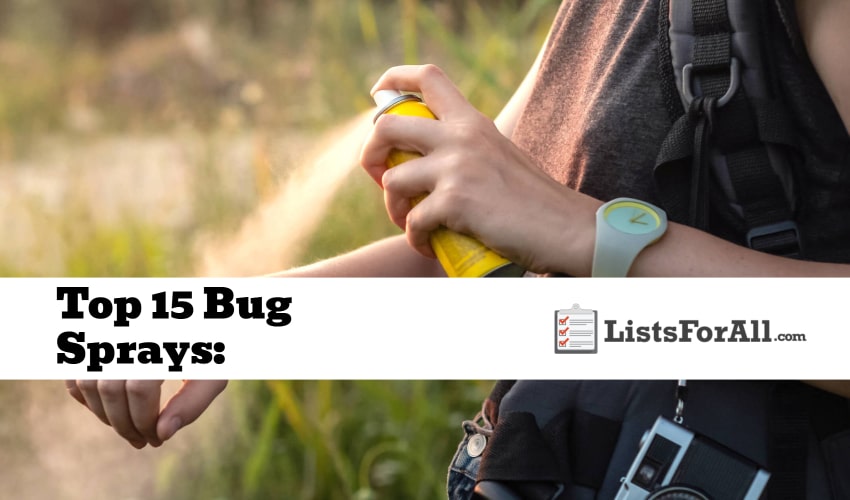 Best Bug Sprays: Finding the Perfect Bug Spray for You
There are so many things to enjoy when it comes to being outdoors—the weather, the sights and sounds, animals, etc. What is not so enjoyable are the little, tiny flying bugs like mosquitos that are looking to feast on your blood. With this list of the best bug sprays, these tiny little pests will be a non-factor, and you can enjoy all that the great outdoors has to offer.
This list of the best bug sprays will provide you with the top bug sprays and will help you find the right one for you. Whether you are looking for a bug spray based on ingredients, brand, etc., you can find what you need on this list. 
Also, these bug sprays will not be harmful to you with any dangerous chemicals. Because as much as you want to keep the bugs away, you don't want to do it at the cost of harming your health in other ways. Many of these bug sprays are long-lasting, which will allow you to simply spray and go without constantly reapplying.
And last but not least, these top bug sprays won't overwhelm your sense of smell. You won't have to hold your breath or gag every time you apply it.
After you finish with this list of the top bug sprays, visit our lists of the best outdoor clothing brands and best hiking trails in the US. These lists will provide even more outdoors know-how and inspiration.
Top 15 Bug Sprays:
Price: $12.99 (2 Count)
Highlights: Has long-lasting protection, and contains DEET, which deters mosquitos from landing on your skin.
About Bug Spray: This bug spray is a top pick for outdoor physical activity. This spray has long-lasting protection guaranteed and a dry, weightless feel. This brand has a variety of great products for every occasion and activity. They contain a crucial chemical, DEET, that repels insects from even landing on human skin. This should definitely be a top contender for your hunt to find the best bug spray.
Price: $13.50 ( 2 Count)
Highlights: Is plant-based, has an amazing scent, is formulated from eucalyptus and lemon oil, and offers 6-hour protection.
About Bug Spray: This REPEL Bug Spray is a must-have in your hiking and camping bags. With its plant-based ingredients, this spray builds a protective barrier between unwanted insects and your skin and gives a refreshing aroma. You no longer have to push through the unpleasant smells that normally come with bug repellents and instead enjoy the fresh scents of eucalyptus and lemon.
Price: $15.95( 2 Count)
Highlights: Uses natural ingredients, has no harsh chemicals, and has a refreshing citrus scent.
About Bug Spray: Ben's 30 Bug Spray is an effective bug spray without all the harsh chemicals. This organic, DEET-free formula uses natural ingredients like citronella and eucalyptus oil to repel mosquitoes, spiders, ticks, and more. Plus, it's non-sticky and has a refreshing citrus scent. So ditch the toxic sprays and switch to Ben's 30 Bug Spray for safe, effective protection against those pesky critters.
Price: $11.99 (4 Fl Oz)
Highlights: Has natural plant-based oils, contains no dyes, synthetic fragrances, or harsh chemicals, and has CDC-approved ingredients.
About Bug Spray: Natural, effective, and affordable. What more could you ask for when searching for the best bug spray? Murphy's Naturals Bug Spray is a big hit with its all-natural ingredients approved by the CDC and its amazing Lemon Eucalyptus scent.
It consists of 30% lemon eucalyptus oil and 70% deionized water and ethanol made from corn. It is excellent at repelling mosquitos for up to 6 hours and saving the planet while doing so!
Price: $9.99 (4 fl oz)
Highlights: Made with essential oils, all-natural, and provides excellent protection.
About Bug Spray: Sun Essential Oils Bug Repellent will help you keep pesky bugs at bay. Their natural bug spray consists of essential oils known to deter mosquitoes, ticks, and other blood-sucking critters. With a combination of thyme, lemongrass, citronella, lavender, geranium, grapefruit, and cedarwood oil, you can enjoy your outdoor activities without worrying about being bitten.
Price: $18.99 (2 Count)
Highlights: Is a natural insect repellent, offers a vanilla scent, contains high-quality ingredients, and is effective on adults, kids, and even some house pets.
About Bug Spray: Bug Soother Bug Spray is made from high-quality ingredients that you and your skin will love, but bugs will hate. It should definitely be considered as one of the best bug sprays for any outdoor adventure you may have planned. This product can be used for backyard barbecues, camping, fishing, etc., and will repel even the peskiest bugs in nature. In addition, it is also safe to use on your pets as well.
Price: $17.95 (6 oz/ 2 Count)
Highlights: Is a DEET-free formula, has an easy spraying application, offers up to 12 hours of protection, and is made from 20% Picaridin.
About Bug Spray: Natrapel Bug Spray is a top-of-the-line, DEET-free product that gives you and your family up to 12 hours of long-lasting protection in the wilderness. With its intentional and CDC-recommended ingredients, it is one of the best mosquito repellents available.
Its formula containing 20% Picaridin will give you guaranteed long-lasting protection. You also no longer have to worry about your personal belongings becoming ruined by this spray. The DEET-free formula guarantees no melting of jackets, fishing lines, and other plastics upon use.
Price: $10.99 (8 fl oz)
Highlights: No artificial chemicals, uses oils, and does not irritate the skin.
About Bug Spray: All Terrain Herbal Armor is one of the best bug sprays and is without artificial chemicals. This natural insect repellent uses oils to help ward off insects and has a relatively inoffensive smell while being safe for skin and the environment. It can be reapplied as much as needed without irritating the skin.
Price: $9.95 (4 fl oz)
Highlights: Offers pleasurable scents, is composed of essential oils and plant-based preservatives, and is chemical-free.
About Bug Spray: Quantum Health Bug Spray makes you and your family's health a top priority. With their all-natural ingredients and pleasurable scented essential oils such as cedarwood, lemongrass, peppermint, and citronella, both your skin and nose will thank you for choosing this bug spray.
Price: $7.88 (4 fl oz)
Highlights: Offers up to 10 hours of complete protection, is a 100% DEET formula, gives protection against various mosquito-carrying diseases, and offers a wide variety of products.
About Bug Spray: Coleman 100 Max Bug Spray will give you full-spectrum protection while out in the woods. Its 100% DEET formula is some of the most potent mosquito protection. This product will give you up to 10 hours of full-spectrum protection, not only from annoying bug bites but all unwanted diseases that bugs sometimes carry.
Price: $14.50 (2 Count)
Highlights: Contains Aloe and Vitamin E, gives a refreshing scent, has a light clean feel, and offers a 360-degree pump.
About Bug Spray: Cutter Skinsations Bug Spray will give you a sensational result on your skin when applying. The Aloe and Vitamin E in this product will leave your skin soft and smooth, as well as properly protected from unwanted insects.
In addition, the 10% DEET within the formula helps to repel any mosquitoes carrying diseases or viruses such as Zika, West Nile, Dengue, and Chikungunya. These fast-acting ingredients repel mosquitos and ticks, gnats, biting flies, chiggers, and fleas. This full-spectrum protection makes this repellent a favorite in the hunt for the best bug spray.
Price: $4.99 (2 fl oz)
Highlights: Is derived from essential oils, is DEET-free, contains plant-based ingredients, is non-greasy, and has never been tested on animals.
About Bug Spray: Your children's safety and health are your top priority, and Babyganics Bug Spray understands that. With its DEET-free formula, you no longer have to worry about harmful chemicals or toxins living on your child's skin. This formula comes from plant-based ingredients and natural essential oils.
With these gentle yet effective ingredients, this spray is one of the best insect repellents for your little ones. Your children will love its non-greasy feel and the pleasant aroma of Citronella, Peppermint, Rosemary, Lemongrass, and Geranium oils. And you can put your worries to rest, knowing your children are well protected from unwanted insects and any harmful chemicals.
Price: $18.99 (24 fl oz)
Highlights: Scent-free, kills insects on contact, and evaporates quickly from your skin.
About Bug Spray: Sawyer Premium Permethrin is a scent-free bug spray that kills ticks, mosquitoes, and other insects on contact. It's perfect for keeping your clothes and camping gear safe from pesky critters. Plus, it evaporates quickly from your skin, so you can enjoy your time outdoors without worrying about reeking of bug spray.
Best Bug Sprays Conclusion
Now that you have all the bug protection you need, it is time to get outside and enjoy all that nature has to offer. You will be protected from the bugs and can enjoy hiking trips, picnics, backyard barbecues, and anything else outdoors you might want to do.
Also, you can easily bring these top bug sprays with you as they are excellent travel accessories and small enough to transport in a purse or backpack. You can simply pull it out, give a couple of sprays, and know that you are protected from all the tiny insects around you. And anyone traveling or adventuring outdoors with you will be glad that you brought it along!
Have you tried any of these bug sprays? Please feel free to share your feedback in the comments below if you have. We would love to know your personal feedback.