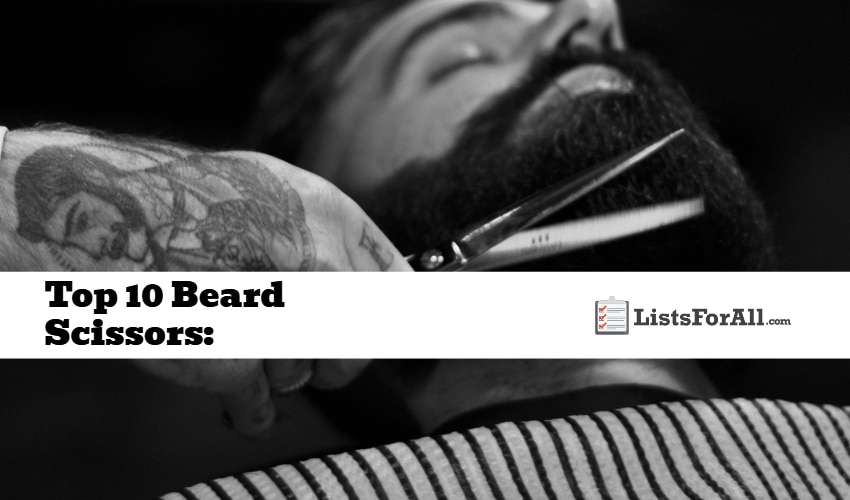 Best Beard Scissors: Finding the Perfect Beard Scissors for You
In order to keep your beard looking its best, you'll need to trim and groom it regularly, which is where this list of the best scissors can help. Beard scissors are the perfect tool for achieving this – they're small and precise, making them perfect for trimming facial hair.
This list of the best beard scissors will feature the top options and will help you find the perfect beard scissors for you. With this list, you will have all you need to keep up with the latest trends in fashion, from sleek minimalistic designs for those who prefer their facial hair simple or bold statement-making styles.
When you finish with this list of the best beard scissors, check out our lists of the best hair trimmers, best shampoos, and best conditioners. All of these lists will have your hair looking its best.
Top 10 Beard Scissors:
Price: $21.99
Highlights: 5″ length, adjustable tension screw, and two silicone rings to fit different finger sizes.
About Beard Scissors: An excellent tool for all your grooming and trimming needs, these bear scissors are an excellent option. Thoughtfully designed with a 5″ length – just right to suit facial hair – a tension screw (with adjustable leaf-spring), sharp convex blades, two silicone rings to fit different finger hole sizes, and a leather pouch for travel and convenience, Ontaki Beard Scissors are amazing value for money.
Price: $49.99
Highlights: Adjustable tension knob, professional-grade quality steel, and finished with a black and gold coating.
About Beard Scissors: Featuring state-of-the-art technology crafted from professional-grade quality steel and finished with a smooth black and gold coating, these scissors are made for precise trims and smoothing – just like a barber would do. And not to mention, they're tastefully high-end looking.
But the convenience doesn't stop there. What's unique about this product is that it comes equipped with an adjustable tension knob to customize your precise cut speed.
Price: $24.99
Highlights: Curved razor edges, Japanese stainless steel, and resistant to rust.
About Beard Scissors: These top-notch scissors are crafted from the highest quality Japanese stainless steel and feature curved razor edges and an adjustable screw for precise tension adjustment. Plus, their blades don't pull or tug at those sensitive hairs, keeping you comfortable throughout the trimming process.
Price: $39.95
Highlights: High carbon stainless steel, set of scissors, and comes with a pair of tweezers.
About Beard Scissors: Grow and groom your beard with the ultimate premium Suvorna Beard Scissors. This all-in-one styling kit has everything you need to look your best with sharp and precise edges. Crafted from the finest high-carbon stainless steel, you can trust that these instruments won't fail you.
Each type of scissor is designed to serve its individual purpose effortlessly – whether it be the beard and mustache scissors, nose and ear scissors, or small general-purpose scissors. Additionally, the set includes a pair of tweezers to grab those hard-to-reach hairs.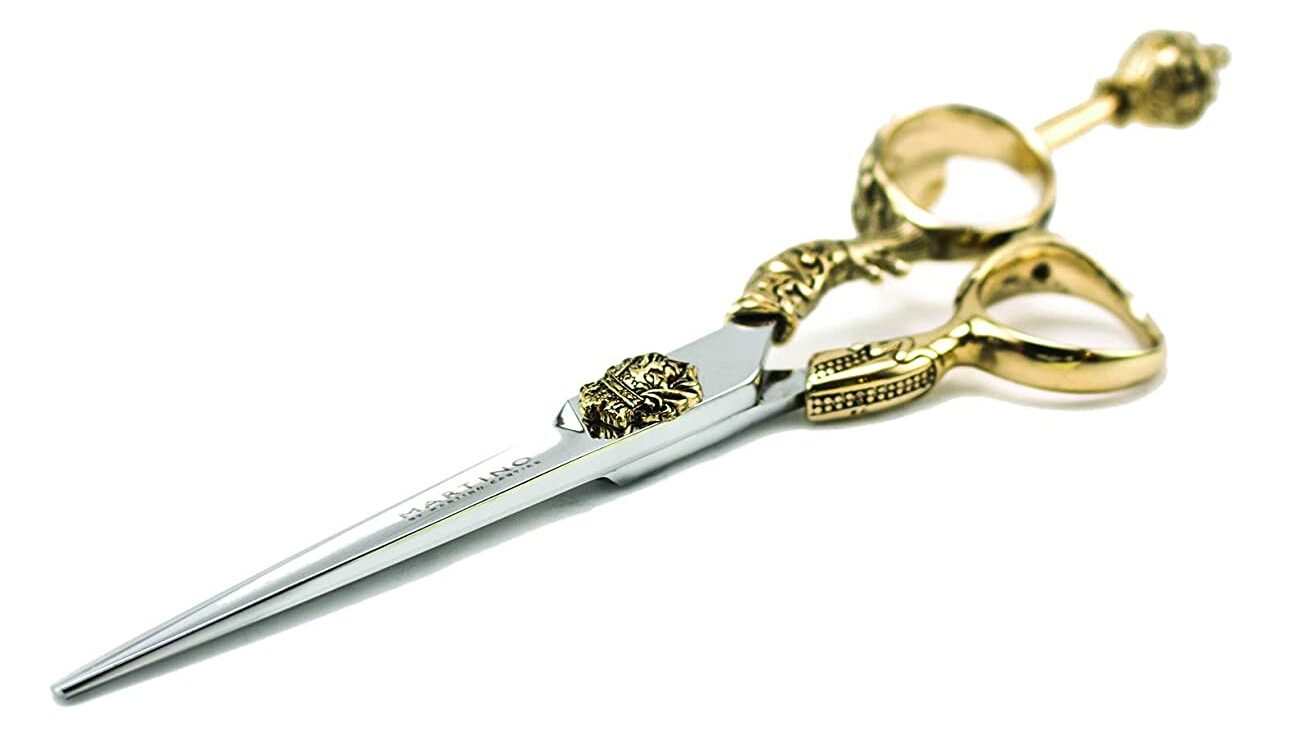 Price: $299.00
Highlights: Hardness rating of HRC 61-64, powerful enough to cut through thick beards, and top-of-the-line quality.
About Beard Scissors: For the modern-day king, Martino Royal Beard Scissors are an excellent choice. Stylish and fierce, they offer more than just good looks — these stunning shears are also top-of-the-line quality.
Crafted with a hardness rating of HRC 61-64, these scissors will provide a sharp and precise cut every time for a luxuriously groomed beard. And these scissors don't just look good, either. They come with enough power to cut through even the thickest of beards.
Price: $14.97
Highlights: Smooth-cut hand-sharpened blades, strong strength steel, and packaged in lubricating oil.
About Beard Scissors: For the true beard connoisseur, Equinox Professional Beard Shears provide a superior trimming experience. Lightweight and easy to maneuver, these sophisticated shears allow you to swipe through your facial hair with enhanced accuracy and precision.
Crafted with smooth-cut hand-sharpened blades and strong-strength steel, Equinox shears give an effortless yet balanced trim in just a few snips. Plus, they come conveniently packaged in a plastic vacuum casing containing lubricating oil, which can be easily washed off before use. Achieve professional results even at home with the convenience of these top beard scissors.
Price: $20.00
Highlights: Japanese stainless steel blades, 5.6 inches, and extra-long finger rest.
About Beard Scissors: These amazing beard scissors are one of the best on the market, with Japanese stainless steel blades that are incredibly sharp and 4.5 inches in size, perfect for hard-to-reach areas.
Not only are they ergonomically designed with a comfortable handle, but they also feature convenient tension screws for adjustable tightness and an extra-long finger rest for more control as you style. And if that wasn't enough, these incredible scissors come in two stunning colors (silver and black) that will look great in any bathroom.
Price: $5.52 (2 count)
Highlights: Surgical-grade stainless steel, rounded tips, and rust- and stain-resistant.
About Beard Scissors: Discover a quality way to keep your beard looking neat and groomed with Utopia Care Beard Scissors. These premium scissors are made with surgical-grade stainless steel for five times longer sharpness, ensuring your beard will be trimmed with finesse and precision.
The rounded tips of the blades protect against chaffing or injury that can come from bad trimming, as well as giving you more control while trimming nose hair, ear hair, and mustache. Plus, they won't rust or get stained easily and come at a bargain price.
Price: $20.00
Highlights: Japanese stainless steel, mustache comb made of ox horn, and 6.25 inches.
About Beard Scissors: Introducing Lucky Franc's Beard Scissors: one of the best beard scissors out there. These high-quality Japanese stainless steel scissors will keep you looking sharp for years to come. They come complete with a mustache comb made of real ox horn material, so you can reliably groom your facial hair with ease and precision.
With 6.25 inches of overall length and a 2.5-inch blade size, you'll be able to tackle even the mightiest of beards without any hassle. Not only that, but the finger rest is designed with right-handers in mind, so everyone can be sure they're getting the perfect trim every time.
Price: $5.99
Highlights: Extra sharp pointed tips, rust-proof, and 100% steel construction.
About Beard Scissors: Whether you're a professional barber, a hairdresser, or just taking care of your own facial hair, the Motanar Beard Scissors are excellent for all of your cutting needs.
With 100% steel construction and extra sharp pointed tips, you can make sure that you're always getting an accurate and safe trim with every use. This pair of scissors is not only strong and dependable in construction, but it's also rust-proof for long-lasting performance.
Best Beard Scissors Conclusion
There you have it – the top picks for the best beard scissors. We hope this list has helped you narrow down your options and helped you find the perfect pair of scissors for your needs.
With one of these pairs of scissors, you can look your best every day, and especially good for those special date nights or any other time you want your beard to shine.
And for even more of your cutting needs, our lists of the best hair-cutting scissors, best fabric scissors, and best fishing scissors will have you covered.
Please make sure to comment below if you have feedback on any of these beard scissors. We know that all of our readers would appreciate your comments.