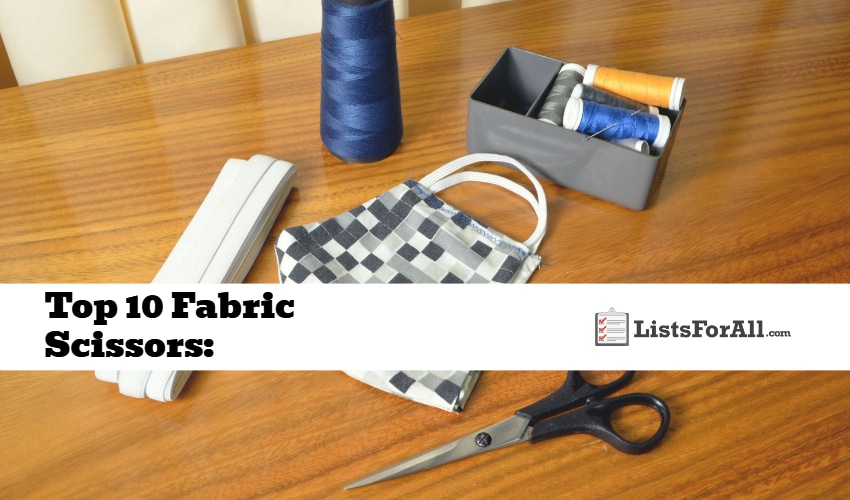 Best Fabric Scissors: Finding the Perfect Fabric Scissors for You
Fabric scissors are an essential tool for any sewer, crafter, or DIY enthusiast. But with so many different types and brands of fabric scissors available, it can be difficult to know which ones to choose, but not anymore with this list of the best fabric scissors..
This list of the best fabric scissors will point out the top selections and will help you find the right fabric scissors for you. With this list, you can make sure that you have the right scissors for all of your fabric-cutting needs and can take on your next sewing project with confidence. 
When you finish with this list of the best fabric scissors, check out our lists of the best fishing scissors, the best dog grooming scissors, and the best hair cutting scissors. With these lists, you can have the right scissors for any type of cutting you need.
Top 10 Fabric Scissors:
Price: $19.80
Highlights: 8-inch stainless steels, bent-handle design, and ergonomically sculpted soft-grip handle.
About Fabric Scissors: Cut through hard materials with ease with Fiskars Softgrip Fabric Scissors. Boasting a long and impressive 320-year track record of performance and quality, Fiskars is the industry leader in ergonomically designed scissors for all your cutting needs. These versatile 8-inch stainless steel blades are perfect for any fabric: from light synthetics to heavy multi-layers.
Experience unparalleled accuracy and comfort with the signature bent-handle design, which keeps the material flat, ensuring impeccable precision. Also, the ergonomically sculpted soft grip handle further boosts user efficiency while reducing hand fatigue and soreness.
Price: $44.98
Highlights: 9″ shears, high carbon steel construction, and metal handles.
About Fabric Scissors: These heavy-duty 9″ Dressmaker Shears offer unbeatable results every time, ensuring you get accurate and clean cuts in no time. Whether you're cutting out large patterns or quilting fabric, these scissors are built to last with their sharp blades and strong tips, perfect for slicing through even the thickest seams.
These tailor scissors feature high carbon steel construction that gives these scissors an elegant colored finish that not only looks beautiful but also helps protect against corrosion. As if the robust build quality and sharpness weren't enough, these shears come with metal handles for additional comfort and an optimal grip during use – never worry about achy hands again.
Price: $9.99 (3 count)
Highlights: Stainless steel construction, 2mm blade thickness, and cuts a variety of materials with ease.
About Fabric Scissors: Introducing the iBayam Fabric Scissors – the perfect tool for all your crafting or cutting needs. From delicate fabrics to tougher materials, these scissors can handle it all.
High-density stainless steel construction ensures maximum strength and long-term use, so you'll never have to worry about having a dull blade. And with a 2mm blade thickness, you can cut through even the toughest of projects with ease.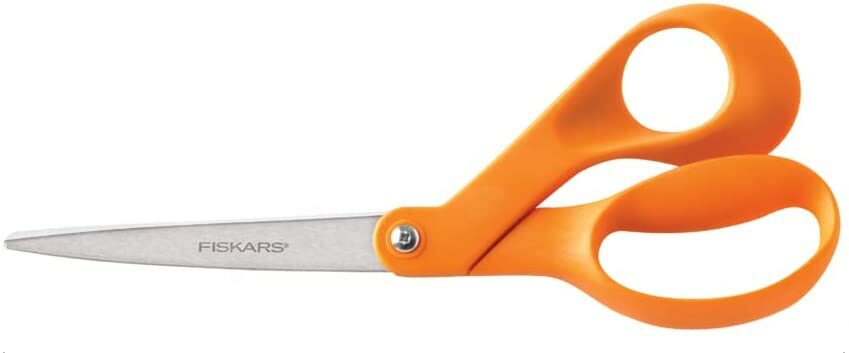 Price: $9.37
Highlights: 8-inch stainless steel blades, orange handles, and cuts up to five layers of fabric at once.
About Fabric Scissors: These ingenious scissors come in a classic, recognizable orange, perfect for making a statement. But don't be fooled; these scissors are more than just a pretty face – they provide the precision cutting and dexterity you need for all kinds of fabrics.
With 8-inch high-grade stainless steel blades and a bent handle for maximum control, these are hands-down some of the best fabric scissors. Whether you're cutting denim or silk, up to five layers of fabric at once – these all-purpose Fiskar fabric scissors will get the job done quickly and easily. Plus, their sculpted design fits comfortably in your hand while you work so they won't tire out your fingers.
Price: $23.62
Highlights: Curved blade, rust-resistant, and corrosion-resistant handles.
About Fabric Scissors: These top fabric scissors are the ideal addition to any sewing kit, combining long-lasting durability with a comfortable grip. With a unique shape that fits perfectly into your palm, you can enjoy pain-free cutting all day long. The curved blade is designed to easily cut through multiple layers of fabric without binding or sticking, making it an absolute must-have for quilters and sewers everywhere.
Whether you're starting on a new project or finishing up an old one, these scissors are made to give you precise and accurate cuts every time. From heavily embroidered fabrics to lightweight knits, these scissors will get the job done quickly and professionally. And with rust-resistant blades and corrosion-resistant handles, these scissors will last you for years.
Price: $29.99
Highlights: 8-inch shears, a bent handle for easier gripping, and large finger loops.
About Fabric Scissors: Gingher has created an excellent pair of fabric scissors to satisfy your sewing needs. These 8-inch shears offer precision and accuracy for every project, letting you cut with confidence. Forged from durable steel, this product can handle wear and tear.
With a redesigned handle featuring large finger loops, you won't tire out as quickly when making adjustments. Plus, the bent handle gives full control of your fabric and keeps it flat while cutting. The ultra-sharp precision-ground blade design ensures each cut is precise and accurate down to the tip.
Plus, its lightweight and ergonomic design makes it simple to glide through even thick fabrics in one smooth motion. All these features come together to give professionals and hobbyists alike all they need to remain productive during their projects.
Price: $17.97
Highlights: Serrated blade for better cutting, doesn't snag on delicate fabrics, and eliminates frayed hems.
About Fabric Scissors: These unique fabric scissors feature a serrated blade that grips your fabric for clean, precise cutting with ease. Slippery fabrics like chiffon, silk, and satin are no longer a challenge – goodbye, frayed hems. With their smooth blades, you'll be able to effortlessly slice through your fabrics without snagging or catching on delicate or tricky fabrics.
Price: $32.26
Highlights: Stainless steel blades, ergonomic handle design, and extra-long blades.
About Fabric Scissors: Handi Quilter's Fabric Scissors are the perfect tool to help you get crafting. Designed with painstaking attention to detail, these stainless steel blades are guaranteed to cut through layers of materials like a hot knife slicing through butter.
With an ergonomic handle design and extra-long blades for increased reach and maneuverability, getting an ultra-precise cut has never been easier. These specialty scissors are ideal for quilters who need to cut batting often and will provide many years of quality use.
Price: $9.99
Highlights: Grippy textured handles, cuts without fraying, and the handles reduce stress on fingers while cutting.
About Fabric Scissors: These fabric scissors are designed with comfort and creativity in mind. Whether you're tackling a project for yourself or your family, these fabric scissors will get the job done quickly. The handles of this pair of scissors are not only comfortable but also provide better maneuvering due to their grippy texture.
This reduces stress on your fingers so that you can take on larger projects and cut them for longer periods. In addition, these innovative scissors allow room for creative edge designs, cuts without fraying, and intricate zig-zagging patterns.
Price: $13.99
Highlights: Three times harder than normal stainless steel, can cut through up o 16 layers of material, and is rust and adhesive resistant.
About Fabric Scissors: With strong stainless steel blades that are three times harder than normal stainless steel, these fabric scissors can easily cut through up to 16 layers of any material. You can trust these durable scissors for all sorts of tasks, from sewing, quilting, tailoring, and dressmaking to cutting patterns and more.
Plus, the multi-color titanium coating makes them resistant to rusting and adhesives, so you're always ready for whatever craft, or DIY project comes your way.
Best Fabric Scissors Conclusion
There are a lot of factors to consider when choosing the best fabric scissors for your needs. But if you take your time looking through this list, you should be able to find a pair that will work well for you.
With the right pair or scissors, you can cut through fabric confidently and ensure that your material will line up correctly later when you put it all together.
Please make sure to comment below if you have feedback on any of these fabric scissors. We know that all of our readers would appreciate your comments.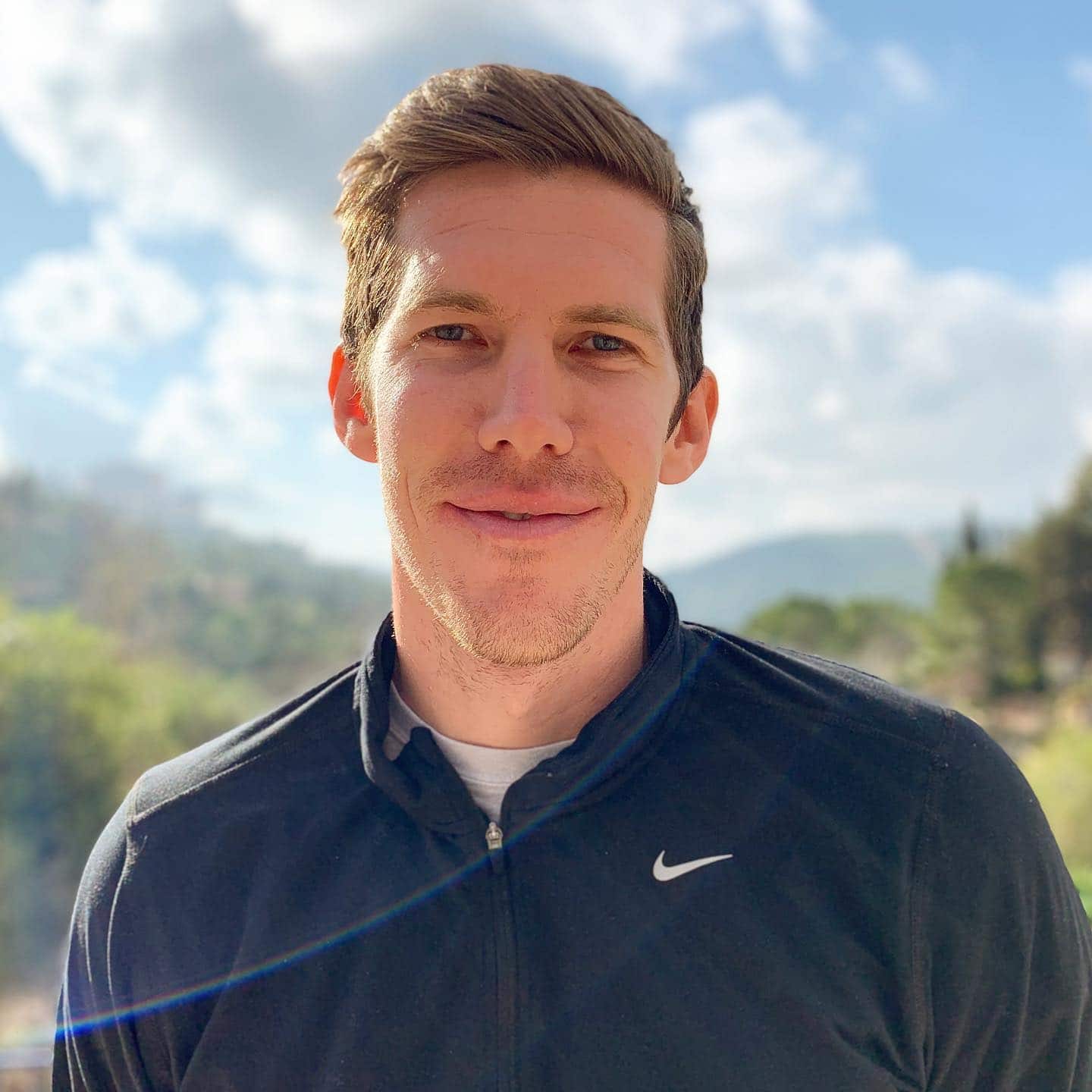 Kyle has a background in sports, fitness/health, and business. However, he also has a passion about researching all topics, and is dedicated to making lists that will help make your life easier.