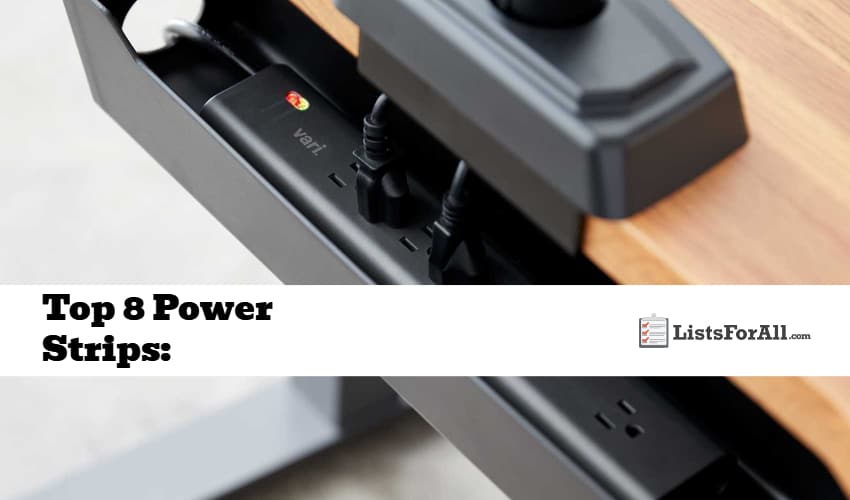 Best Power Strips: Finding the Perfect Power Strip for You
To get the most out of your electronics, it's important to use a power strip. A good power strip should offer ample outlets, be durable, and have a surge protector, and that is where this list of the best power strips comes into play.
This list of the best power strips will highlight the top power strips to ensure that all your electronics are protected. With this list, you can find the perfect surge protector for you based on several different factors like size, budget, and more.
Looking for more electronics-related lists? If so, visit our lists of the best projectors, the best portable chargers, and the best cell phone tripods. All of these lists will help to round out your electronics needs.
Top 8 Power Strips:
Price: $19.94
Highlights: 12 outlets, 1-in, 2-out RJ11 inputs (DSL or telephone ports), and coaxial cable connections.
About Power Strip: The Belkin 12-Outlet Pivot Plug is an excellent power strip for those who have a lot of large plugs. With four outlets in the middle and eight rotating outlets on the sides, this power strip gives you plenty of options for connecting a wide array of oversized plugs without having to lose neighboring outlets.
This model also includes 1-in, 2-out RJ11 inputs (DSL or telephone ports) and coaxial cable connections, making it the ideal way to protect your telephones, fax machines, modems, or cable/satellite box from power fluctuations.
Price: $46.99
Highlights: Six independent outlets, the Kasa app, and ETL-certified surge protection.
About Power Strip: The Kasa Smart Plug Power Strip is one of the best ways to control all your devices and appliances in one place. With six independent outlets, you can remotely turn each on or off each one with the Kasa app or voice commands.
The built-in USB ports are excellent for charging phones, tablets, and other devices. ETL-certified surge protection protects your sensitive electronics from sudden power surges.
Price: $29.99
Highlights: A 6 ft cable, Anker's PowerIQ technology, and thick rubber coating.
About Power Strip: This power strip features 12 AC outlets and 3 USB ports, allowing you to charge multiple devices at once. With a 6 ft cable, it's great for use at home or at the office. The 12 AC outlets provide surge protection up to 4000 Joules, making sure your devices are always safe.
The USB ports are powered by Anker's PowerIQ technology, meaning you'll get a fast and optimized charge for your USB devices. And with thick rubber coating, integrated copper wiring, and flame-retardant casing, you can rest assured that the Anker Power Strip is built to last.
Price: $33.15
Highlights: A joule rating of 4,320, two USB-A ports, and 2.4Amps of charging power.
About Power Strip: If you're looking for a high-quality power strip, the APC Power Strip is a great option. With a joule rating of 4,320, it is a great choice for protecting your home electronics from power surges and lighting.
The 12 outlets allow you to plug in multiple devices at once, and the four widely spaced outlets make it easy to plug in power bricks without compromising other outlets. The two USB-A ports with 2.4Amps of charging power make it easy to fast-charge your devices, making this power strip a great all-around option for your home or office.
Price: $12.45
Highlights: A handy 4-foot braided power cord, a flat plug design, and an integrated circuit breaker.
About Power Strip: This power strip features six outlets, so you can plug in and power up to six devices at once. Plus, it comes with a handy 4-foot braided power cord, so you can easily reach all your devices. And the flat plug design is discreet and space-saving, so it won't get in the way of your furniture or media.
Plus, the integrated circuit breaker and automatic shutdown technology help to keep your devices safe from overload and surges. So rest assured that your devices are safe and sound when plugged into the Philips Power Strip.
Price: $31.99
Highlights: Features an independent switch on each layer, supports worldwide voltages, and has a vertical tower design.
About Power Strip: Each layer of this power strip has an independent switch, so you can save electricity when not all outlets are in use. Additionally, it's designed to support worldwide voltages (110V-240V), meaning it can be used practically anywhere. Plus, with its vertical tower design, the JACKYLED Power Strip takes up minimal space and won't block other outlets.
Price: $18.30
Highlights: 8 outlets, a max. electrical rating of 15A/120V/1800W, a green LED indicator, and a back keyhole.
About Power Strip: Their 8-outlet surge protector is great for use in your home or office and features a max electrical rating of 15A/120V/1800W. Plus, its fireproof MOV technology offers added protection against surges and spikes.
The green LED indicator at one end lets you know that your surge protection is active and that all outlets are grounded for safety. Their power strip also includes an on/off switch with a 15 amp overload resettable circuit breaker and can be easily mounted to a wall using the back keyhole.
With its widely spaced outlets and sliding covers, the Amazon Basics Power Strip is user-friendly and excellent for use with all types of devices.
Price: $49.89
Highlights: An integrated 12a circuit breaker, diagnostic LEDs, and 880 joules of protection.
About Power Strip: This surge protector features two outlets and offers complete AC protection against dangerous power surges, spikes, and line noise. The integrated 12a circuit breaker protects all outlets and shuts down connected equipment in case of overload, while the diagnostic LEDs confirm power, protection, and line fault at a glance. With 2880 joules of protection, you can rest assured your equipment is safe from damage.
Best Power Strips Conclusion
If you're like most people, you have a few electronics that need to be plugged in at all times. Whether it's your laptop, phone, or tablet, having an outlet nearby is a must. This means having a power strip that is up for the task, and that is exactly what you can find with one of the above options.
One of these top power strips will allow you to enjoy all of your electronics in your home, office, or wherever. And if you are looking for a single plug option, visit our list of the best smart plugs for all of your needs.
If you have tried any of these power strips before, we would love to hear your feedback below in the comments.