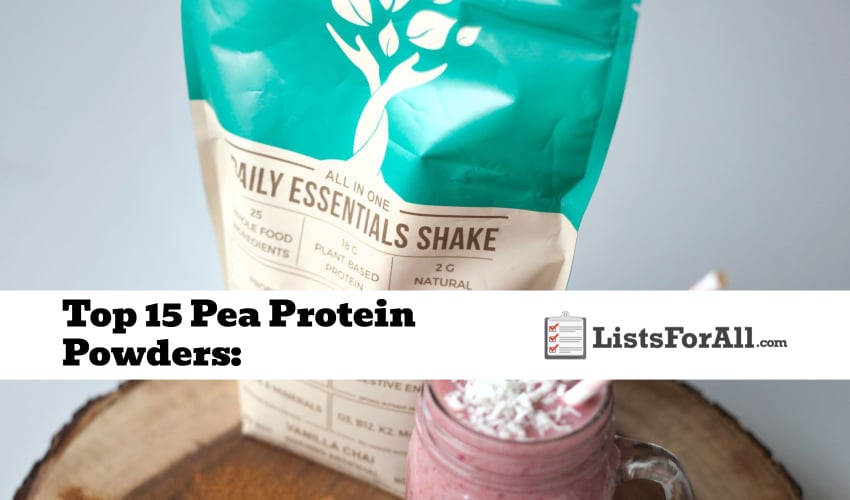 Best Pea Protein Powders: Finding the Best Pea Protein Powder for You
Quality can come from a variety of different quality sources, and one of the best is peas. This might not have been the first thing you thought of when considering a protein supplement, but get ready to be amazed. With this list of the best pea protein powders, you can find a protein source that is great for you and also great tasting.
This list of the best pea protein powders will highlight 15 different clean, organic, great-tasting pea proteins that are ready to provide your body with all the protein it needs. These top pea proteins will allow you to maximize your workouts and develop your body like never before.
Whether you exercise at home as you can or spend six days a week at the gym, you will have all the protein you need. The other great thing about this list of top pea proteins is that they mix well in shakes, smoothies, baking, and more. So if you aren't fond of drinking protein, this will allow you to disguise it.
After you read through this list of the best pea proteins, make sure to visit our other health-related lists. Our lists of the best supplements for men and the best supplements for women will help make sure that your health needs are taken care of.
Top 15 Pea Protein Powders:
Price: $19.97 (1.50 lbs)
Highlights: A delicious non-GMO, vegan, gluten, soy, and cholesterol-free pea protein powder option.
About Pea Protein Powder: This is one of the best pea protein powders available because it contains 22g of 100% plant-based protein per serving, along with probiotics from fruits and veggies. In addition, this powder is mixing-friendly and can be used with water, milk, or in baking recipes.
Moreover, Purely Inspired makes all the flavor options without artificial sweeteners and colors. In fact, with 5g of carbs and only 150 calories, this top protein powder is a fantastic option for muscle building, protein supplementation, or meal replacers for the whole family.
Price: $39.99 (31.75 oz)
Highlights: Organic, non-GMO pea protein powder that is free from all major allergens. Also, voted one of the best-tasting pea protein powders by using customers.
About Pea Protein Powder: Plant Fusion produces a pea protein powder with 21g of plant protein per serving with only 130 calories. In particular, they incorporate several organic superfoods and greens to achieve a rich supplement powder-free from artificial sugars and other ingredients.
In addition, this product is infused with amino acids and digestive enzymes to ensure muscle building and full incorporation of each serving. It is an excellent option for those looking for a pea protein powder that can hold its own against animal-based protein sources.
Price: $49.99 (16 oz)
Highlights: Has no artificial contents, is certified by Informed Sport, and tastes great.
About Pea Protein Powder: This organic, plant-based powder is sourced from premium peas and contains nothing artificial. It's sweetened with monk fruit and fermented sugarcane, making it a tasty addition to shakes and smoothie bowls. Plus, it's screened for banned substances and certified by Informed Sport to ensure that it's safe for athletes.
So if you're looking for a quality source of protein that also tastes great, Ritual Essential Protein is the perfect choice.
Price: $59.95 (37.99 oz)
Highlights: Available in chocolate and vanilla flavors, features 2 billion CFUs of probiotics, and is NSF certified.
About Pea Protein Powder: This supplement is made from a combination of pea and pumpkin protein and is available in both chocolate and vanilla varieties. Plus, it features 2 billion colony forming units (CFUs) of probiotics, which can help support digestive health and immunity.
What's more, all Ladder products are NSF Certified for Sport, ensuring safety, purity, and quality.
Price: $37.99 (1 lb)
Highlights: All natural protein, made with just one ingredient, and is unflavoured for a versatile option.
About Pea Protein Powder: Are you looking for a quality, all-natural protein powder free of GMOs, soy, dairy, and gluten? Look no further than Growing Naturals Pea Protein. This powder is made with just one ingredient and is easy to incorporate into your favorite recipes, including shakes, smoothies, and baked goods. It's also unflavored for a versatile option that will complement any dish.
Price: $22.96 (2.2 lb)
Highlights: One-ingredient product, unflavored, versatile, and is available in different sizes.
About Pea Protein Powder: BulkSupplements Pea Protein Isolate is an easy, cost-effective way to up your protein intake. This one-ingredient product is unflavored and versatile, making it perfect for all kinds of diets. Plus, you can get as much or as little protein as you need with different sizes available.
Price: $23.95 (2.62lb)
Highlights: Free of unwanted additives, features hydrolyzed pea protein, is vegan, and meets GMP standards set by the FDA.
About Pea Protein Powder: HydroPea Organic Pea Protein is an affordable, organic protein powder free of pesticides and unwanted additives. It features hydrolyzed pea protein that helps break down proteins into smaller chains of amino acids, which may enhance absorption and reduce the gritty texture often found in other powders.
It's also vegan, gluten-free, soy-free, sugar-free, and dairy-free. Plus, it meets Good Manufacturing Practice (GMP) standards set by the Food and Drug Administration (FDA).
Price: $16.99 (2 lbs)
Highlights: One of the simplest pea protein isolates, free from gluten, and is diverse.
About Pea Protein Powder: Pea protein powder from Anthony's is a hassle-free, transparent option. Firstly, the sole ingredient is pea protein isolate; this powder contains no other additives and remains keto-friendly. Secondly, each 10g serving contains 8g of pure protein, less than a gram of carbs, and only 35 calories.
Thirdly, each batch undergoes testing to ensure a 100% gluten-free product. Finally, this powder is unflavored and can be used in almost anything: shakes, smoothies, bowls, baked goods, yogurts, and protein bars.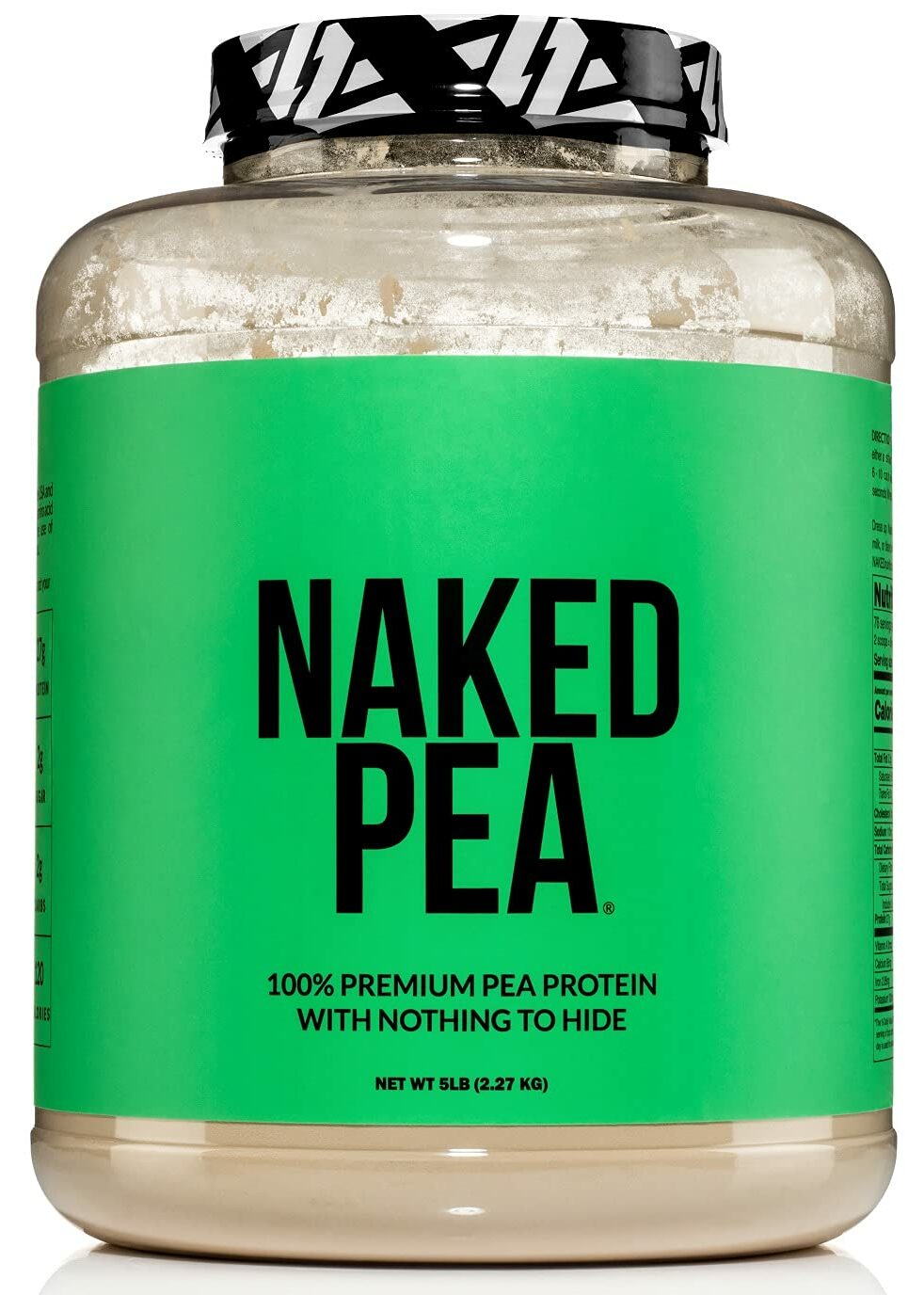 Price: $54.99 (5 lbs)
Highlights: Non-GMO, high-protein powder that is made from environmentally friendly farmed yellow peas with no added ingredients.
About Pea Protein Powder: An incredible option for those looking for a powerful, 100% vegan protein. Each serving of Naked Pea contains 27g of protein and 5.7g of BCAAs with only 120 calories. In addition, they make this powder via water extraction; this ensures that it is naturally gluten, soy, chemical, and additive-free.
Moreover, environmentally friendly farms in the US and Canada provide the peas for this product. Naked Pea's protein powder is pure and ready to use in protein shakes and more for those interested in effective protein supplements and muscle building.
Price: $39.55 (7 lbs)
Highlights: A soy-free, plant-based protein powder for performers that is backed by testing and certifications for clear-minded muscle building.
About Pea Protein Powder: NOW Sports offers a competitive non-GMO pea protein powder that delivers 24g of protein per serving, and less than 1g of carbs, in 120 calories. In addition, this powder contains high amounts of BCAAs and arginine to assist with complete muscle recovery after in-person or video workouts.
Most of all, third parties test each batch of this pea protein powder for more than 220 banned substances and post the results online. Likewise, the laboratory and testing methods of NOW Sports have also been GMP Quality Assured. Without a doubt, this is an excellent option for consumers interested in a tried and tested protein powder.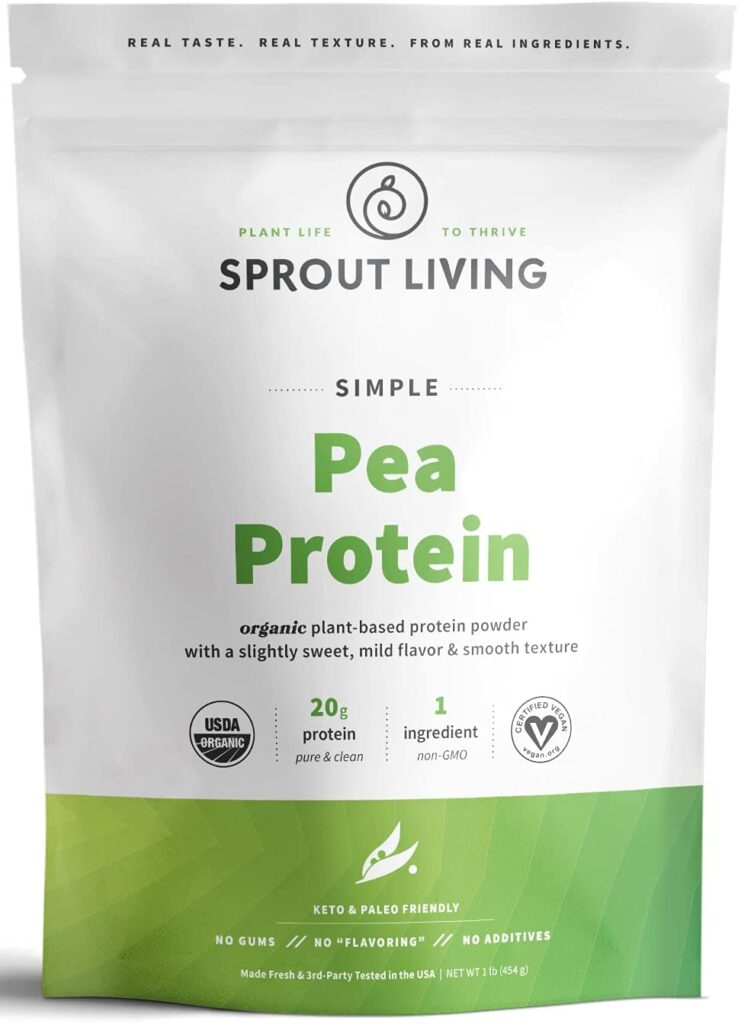 Price: $19.95 (1 lb)
Highlights: Sprout Living offers one of the best pea protein powders. Water processed, made in the US, keto-friendly, and free from gums.
About Pea Protein Powder: This non-GMO pea protein powder option is made from yellow peas from the US and is naturally gluten and soy-free while also keto-friendly. Furthermore, it contains 20g of protein and 100 calories per serving and a complete profile of amino acids.
This pea powder is unflavored, making it easy to add to almost any recipe. Most importantly, third parties test each batch to ensure no artificial or natural flavors, sweeteners, gums, or other fillers.
Price: $35.95 (2.7 lbs)
Highlights: Low in sodium and rich in calcium, iron, and amino acids.
About Pea Protein Powder: In fact, this just might be the best pea protein powder for muscle building, as each serving contains 30g of protein and 5.5g of BCAAs in 141 calories. Furthermore, SoLo's powder is four times lower in sodium than all other competitors, thanks to an extra step that removes unwanted sodium after protein extraction. In addition, this non-GMO and unflavored powder is paleo and keto diet friendly and is made in GMP-certified facilities.
Price: $13.83 (1.2 lbs)
Highlights: A hypoallergenic, non-GMO pea protein powder rich in dietary fiber and free from cholesterol.
About Pea Protein Powder: Vegansmart offers their pea protein powder as a vegan competitor to other protein powders. It is gluten and soy-free and perfect for on-the-go protein or as a meal replacer. It makes an excellent meal replacement because each serving contains 20g of vegan-certified protein with 2g of dietary fiber and 130 calories.
This powder also has a unique amino acid profile and minerals. Accordingly, the naturally flavored vanilla and chocolate options are perfect for shakes and smoothies and can be readily mixed into a pre and post-workout drink.
Price: $13.99 (24 oz)
Highlights: An organic, non-GMO pea protein isolate boasting a protein content of 80% and backed by a money-back guarantee.
About Pea Protein Powder: This pea protein isolate is packed with 8g of protein per 10g serving. It is 100% pure pea protein with no added ingredients and is therefore naturally gluten-free. Made from organic yellow peas and unflavored, it contains zero carbs and 37 calories per serving.
Moreover, each batch is laboratory tested for quality and, due to its negligible flavor, each serving is ready to blend or mix into protein-rich drinks and foods. A simple plant-based option that is perfect for those wanting a protein-dense powder for muscle building and nutritional support.
Price: $38.36 (34.18 oz)
Highlights: This product from Nutrasumma ranks among the best pea protein powders because of its fermented and pure quality.
About Pea Protein Powder: Nutrasumma offers a fermented pea protein isolate with no added ingredients and 20g of protein per serving. In truth, its fermented nature allows for easy digestion and preserves bioavailability; and as such, this powder is perfect for individuals with sensitive stomachs.
In addition, they make it under GMP standards and add no artificial colors, sweeteners, or flavors. In fact, this powder has 0g of sugars, only 2g of carbs, and 100 calories per serving. Nutrasumma uses North American sourced peas to make this gluten and soy-free option. Because of this, it can be consumed raw or baked.
Best Pea Protein Powders Conclusion
We have all heard the phrase, "health is wealth," and it is so true! The more you invest in your body and its health, the more it will pay you back over time. This list of the best pea protein powders will allow you to do just that. It will provide a quality protein source that doesn't have all the extra fillers and chemicals. This will enable you to trust the protein that you are putting into your body.
Having a great source of protein will also allow you to better feel and see the results of exercising. You can do pushups, bodyweight exercises, or lift heavy weights, but if you aren't providing your body the needed nutrition (in this case, protein), you won't see the results you want. With a protein supplement, your body and muscles will have everything they need to grow big and strong.
Have you tried one of these pea protein powders before? If you have, we would love to hear your feedback in the comments below.